Pino Pascali was an Italian artist, a pioneer of the Arte Povera movement – a group of artists who used ordinary, everyday objects to create poor art in order to express their anger to the commercialization of the art world. Pascali's work leaves the viewer with an active brain, a colorful memory, and an understanding of what it truly means to think outside the box.
Pascali's Background
Pino Pascali was born in Bari, Italy in 1935 and moved to Rome in 1955 to learn scene painting and set design at the Academy of Art. Pascali worked as an advertisement illustrator and designer for a number of years before his first solo exhibition in 1965 at the Galleria La Tartaruga. In 1955, Pascali left the science-oriented school that he attended in Bari, and went to a secondary school specialized in the arts. In 1956 he enrolled at the Accademia di Belle Arti in Rome, on the scenic design course. Before Pascali graduated in 1959, he worked as an assistant scenic designer in many RAI productions and additionally collaborated with the Studio Saraceni, Lodolofilm and Incom as a set designer, graphic designe, scriptwriter and creative writer for television advertising, making sketches, creating characters and shorts for the ads.
Style of Pino Pascali
Pascali's sculptures function both as constructed objects and also as a distinct visual code. Each of his pieces are substantially different from the next, creating a level of variety and spontaneity. Pascali is associated with Post-Minimalism and, specifically, with the Italian Arte Povera movement, whose protagonists sought to incorporate everyday life into art through the use of natural, organic and, often, unorthodox materials.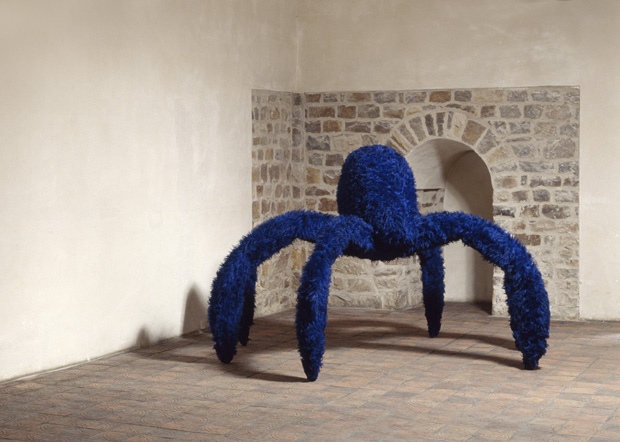 Pascali's Works - Fake sculptures, Weapon series and Reconstructions of Nature
In 1966, Pascali had a solo exhibition at the L'Attico Gallery in Rome. There, Pascali showed his Fake sculptures, a series of shaped-canvases that first appear to be solid sculptures but are actually paintings that present abstract forms suggesting animals, plants and landscapes. Soon after, Pascali created his Weapon series, which is perhaps his most famous group of works. Assembled from found materials and painted olive-green, it faithfully recreates every detail of the weapon it mimics. However, as the weapon cannot fire or kill, it becomes an innocent, oversized toy.
As the artist states, 'the first games I played were based most of all on war. My toys were piles of objects found in the house, which represented weapons. For example, a bean became a bullet, a broomstick and a box held together with a rubber band became a rifle, a rolled-up piece of paper tied to a stool was a cannon, a saucepan was a helmet, two pieces of wood nailed together were a sabre, three pieces of wood an aeroplane and so on.' This quote shows the roots of the strong connection of these war items as toys to a strong war presence in his childhood.
The work titled Bridge may have the appearance of a primitive rope bridge, but it is constructed of steel wool, a modern industrial product. This is the most ambitious of the works in Pascali's last series, Reconstructions of Nature - besides Bridge, it includes a human trap, jungle vines, and an animal skin all crafted of unlikely materials such as rubber and fake fur.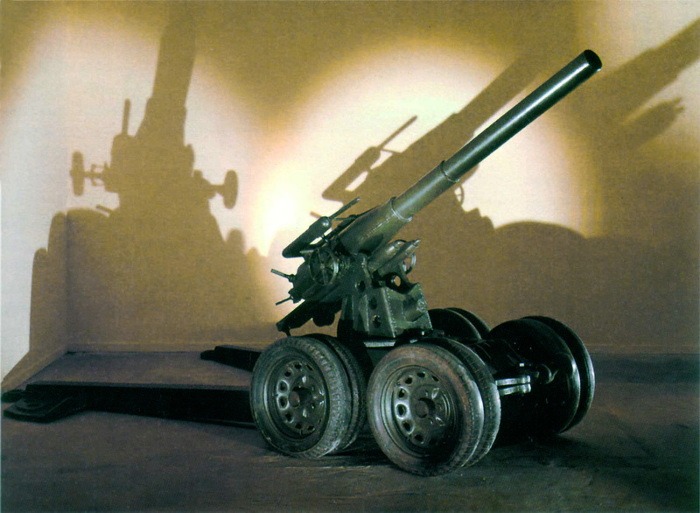 Pino Pascali's Death
In 1968, Pascali died tragically in a motorcycle accident at the young age of thirty-two. In his short yet vital career, Pascali displayed a subtle and sophisticated approach to the canon of sculpture. His oeuvre has served as an important contribution to post-war art.