When you think of robots, you think of toys for children and sci-fi. An idea of them being a constant source of inspiration for someone's work simply doesn't occur. Pixel Pancho, a young Italian artist is one of the robot aficionados, and they have been the focus of his career so far. This interest in all machine-like creatures derives from the thought that men are heroes that project their desires for immortality on these machines. He likes to base his art on the space where it will appear, whether it's a wall somewhere in the streets or it's a gallery, and the choice of space is not necessarily conditioned by any other factor than the artist's feelings at the particular moment.
Men project their desires for immortality on these machines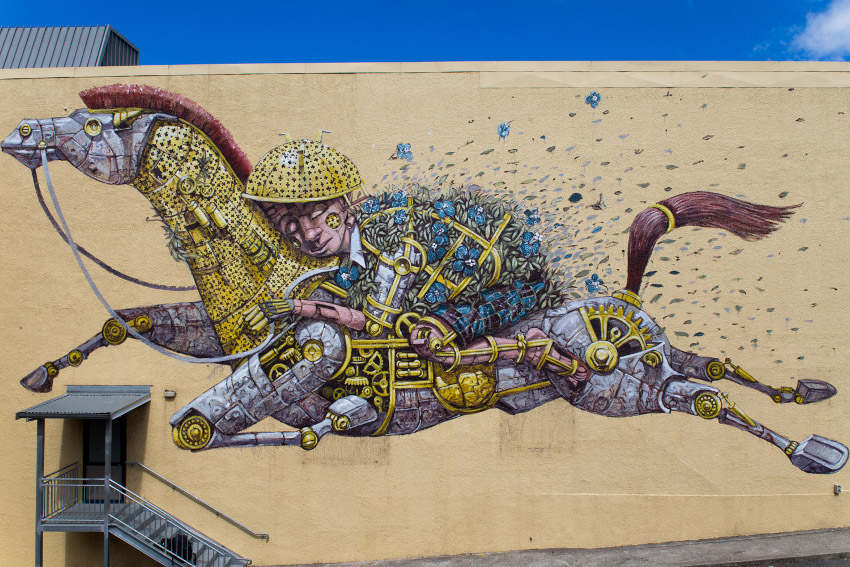 Life in the Streets
Pixel Pancho is an Italian street artist who specializes in large wall murals and by working constantly with an earthy color scheme to convey a more ancient feeling, Pixel creates robotic creatures inspired by different environments: the beach, the forest, the Sci-Fi universe. The artist uses a wide variety of mediums such as tiles, wall painting, sticker/poster art and more. He was born in Torino. As a child, he developed a passion for art. His grandfather was a hobby painter and taught him everything he knew about colors, shapes and the sense of art. As a result, he was soon convinced that his future lay in the art world, so he started working on his art by himself and continued that way. He studied at the Academy of Fine Arts in Albertina and finished his studies at the Academy of Fine Arts in Valencia, Spain. While following his studies, and especially during his time in Spain, Pixel Pancho became well known in the world of graffiti and street art. He was inspired by life in the street and by his fellow art students. Pancho began to use the walls of the Spanish city as his canvas and expanded its collection of works. Later Pancho traveled extensively between Valencia and Torino and on his way he painted different streets. While making art he increasingly developed himself. He worked on walls and tiles and created posters and stickers.
Even as a child, he was certain that his future is bound to art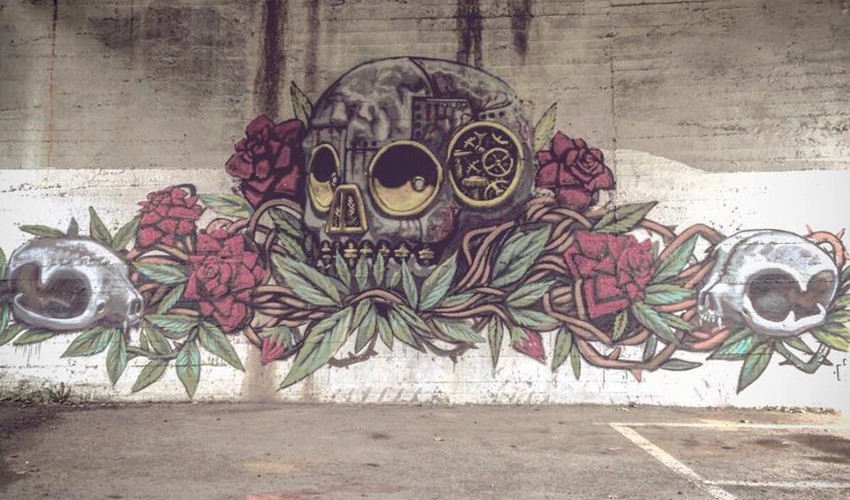 Metal, Rust, and Oblivion
Pixel Pancho gets inspired by famous artists and let their styles influence his work. So he developed his own style from multiple influences from the art world. Surrealist Salvador Dali, historical painter Joaquin Sorolla and the political artist group El Equipo Cronica are great examples for Pixel Pancho. He combines their particular styles with his own style, therefore, a unique mix of styles exist which is really impressive. He was once filmed while creating his artwork 'DJ Robot'. Pixel Pancho certainly has something with robots. He works with a wide range of topics, but the robot is surely more common than all other subjects he likes to use. Pancho gives a good explanation for using them. In an interview, he says he is driven by a forgotten world which is hidden under a thick blanket of dust and dirt. There are robots that are dented and broken to rot in the ground. The rusted iron of their body is falling apart as if they were discarded into oblivion. By using the robots in his works, these robots will get a new life.
The robot is surely more common than all other subjects he likes to use
Androidèi
For the greater part of our history, humans have been trying to explain nature phenomena by turning to divinities for answers, something that will explain the world to us. The latest solo Exhibition of Pixel Pancho, titled Androidèi, is leaning to that tradition. Since robots have marked his career, he's found a way for them to became one with the gods, creating a single entity in which the sacred elements and the supernatural mingle and become iron and oxide. The artist expresses himself through visionary metaphors, where the men are always the protagonists, but they never appear in flesh. Instead, their flesh is a sensitive iron, their souls being the part of the gear. The robot is a man, his skin is bound to decay and rust, and the man deeply fears it. Technology has allowed the humans to turn from gods to robots in their search for perfection and immortality, to go beyond the limits of the flesh and thought. These Androidèi are our fears, but also our hopes.
The robots have become one with the gods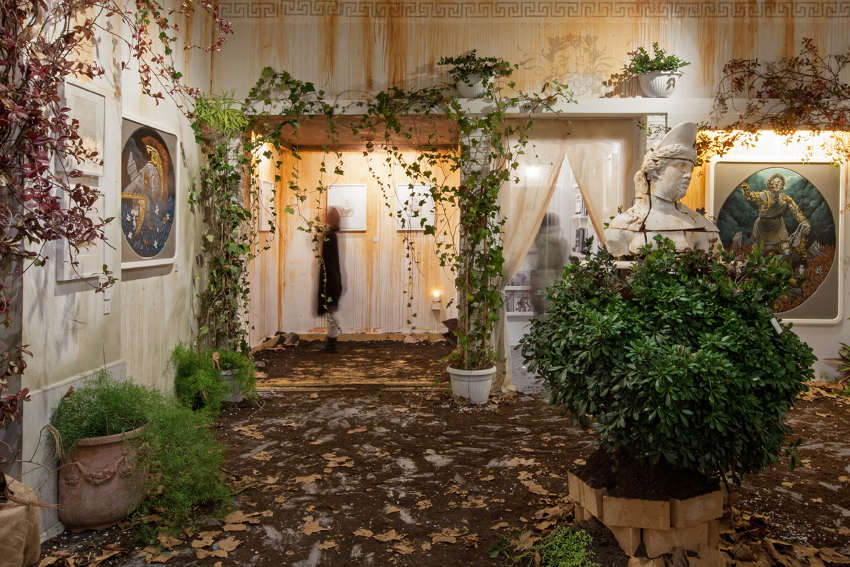 Achieving Immortality
''My art is my life.'' Even when he's not creating, the research for the next pieces occupies the most of his thoughts. Pixel's style has evolved over the years, and he's to thank all the new experiences he's made, the places he's seen and the people he's come in contact with. All of them add a little something to the process or the ideas. In the end, the work of Pixel Pancho is a constant reminder of the human's desire to explain everything, to know everything, to achieve immortality, often forgetting our humanity along the way.
He is represented by GCA Gallery and Pretty Portal.
Pixel Pancho is based in Torino, Italy.
Images copyright Pixel Pancho.
All images used for illustrative purposes.