Deemed as one of the of the most innovative artists still active today, Polly Apfelbaum pushes past the traditional disciplinary forms while simultaneously urging the viewers towards indulging in the pure aesthetic joy her work provides. She constructs her art from small pieces that, on their own, have little to no meaning and are of modest design at best. But when Polly puts a couple of thousands of those pieces together into a mash of pop madness, her art gets that recognizable look that immediately strikes the audience. Polly may have started her career from an interior designer's standpoint but she finished with something much greater than that.
The Artist's Life: Polly Apfelbaum from NYFA on Vimeo.
The First Glance At Polly
Polly Apfelbaum (American b.1955) is primarily an installation and mixed media artist. She is best known for what she likes to call fallen paintings whose concept transcends the boundaries between paintings, sculpture and installations - it seems that this is the missing link connecting these arts into one coherent group. Polly's strongest feat is without a doubt her masterful command of the color palette. You can find pretty much any color you can come up with inside her work. Also notable in her art is Apfelbaum's skillful implantation of shape and form, what she calls systems upon the big, macho structures of the canvas. Although famed for her playful and witty approach to art, it should be noted Polly tackles more weighty subjects too, such as feminism and popular culture. She's inspired by the so-called Outsider art and the expressive potential hidden inside colors and shapes. These influences took their toll on Polly during the late 70s when she first moved to New York City after graduating from the Tyler School of Art in Pennsylvania. Even though her creative side was apparent before New York, the 70s can be considered to be the real beginning of her artistic career cause it was then she held her first successful exhibition. However, the popularity she has today did not come until the 90s and her large-scale brilliantly hued floor pieces, composed of patches and strips of hand-dyed fabrics.
Polly was made famous for her large floor pieces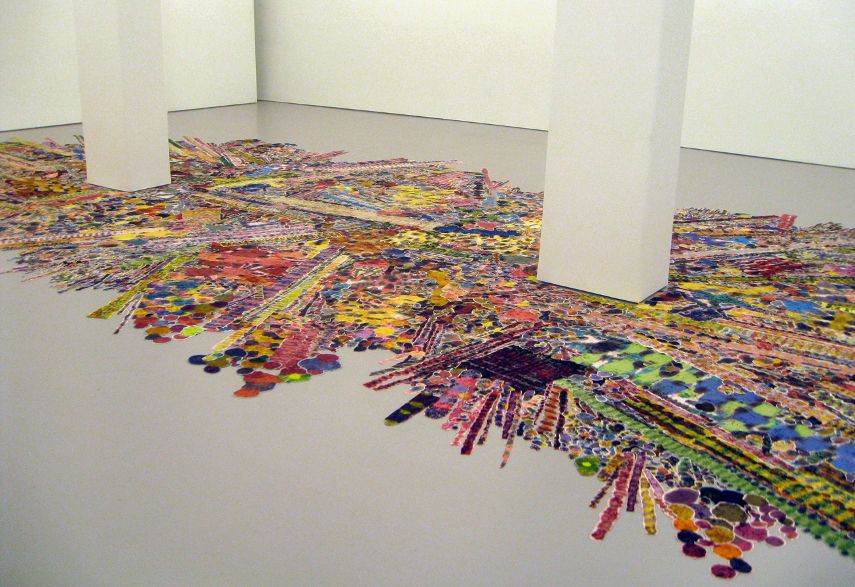 The Games Of Color and Shape
Polly's method starts with careful planning and mapping of the design she wishes to eventually achieve. These schemes come in all shapes and sizes, depending on the mood Polly is in whilst working. If the piece is to be displayed on ground as it usually is the case, she continues with arranging pieces of fabric on the floor before she begins painting them with dye. The way she puts her components on the ground makes it seem as if her abstract compositions have fallen from the walls - therefore the fallen paintings nickname. This is also backed by the fact her art doesn't normally show any signs of borders or limits - it seems as though it has crumbled from the nearest wall. However, not all of her art is made to look as a fallen mosaic of abstract shapes. Some pieces are conceived to hang from walls or even ceilings. Her art has a strong abstract note, but due to long planning and careful geometry design, we can't call her artwork a full-on piece of abstraction. Interestingly, Polly admitted she sees her huge canvases as big macho structures, so a part of her work has been attributed to emasculating her own art. Besides paint which is obviously the focal point, Polly uses a variety of other materials, such as plasticine, clay and inkjet prints. Occasionally, she has been known to include some found objects into her compositions. Be that as it may, color remains the keyword you're looking for when describing Polly's work. It is this element that holds her pieces both visually and structurally.
The color is what strikes us most when observing Polly's art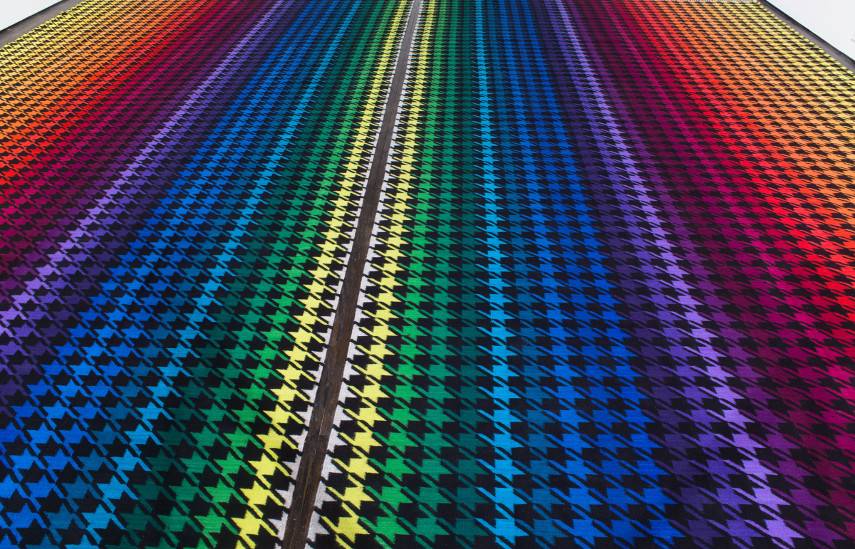 Her Recognitions
Since the 1980s, Polly Apfelbaum's pieces has been regularly displayed in galleries, museums and public spaces. These keenly intelligent solo exhibitions have not failed to attract viewers once for the last thirty-five years as for that time her art hasn't really stopped intriguing us. Among more notable institutions that presented her work are The Institute of Contemporary Art in Philadelphia, The Kemper Museum of Contemporary Art in Kansas City, The Museum of Modern of Art in New York, etc - not to mention the tremendous number of times she was included in various group shows over the years. Polly has received quite a few important grants and awards, including the Rome Prize, a Guggenheim Fellowship and an Academy Award from the American Academy of Arts and Letters. All of this combined with her distinguishable talent helped create an image of Polly as one of the most influential and era-defining artists of our time.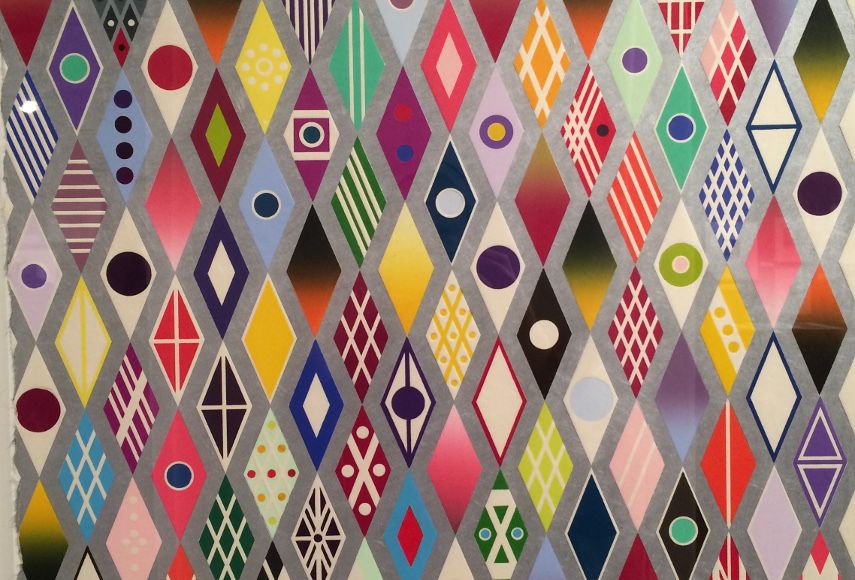 Never Too Much Color
Polly's shapes and colors never stop amazing us. Walking by or over them makes for an adventure everyone should experience at least once. Her art gives a false illusion of simplicity - only when you consider just how much these pieces differ from each other is when you start to realize the greatness this artist represents. Ultimately, Apfelbaum's art is fun. It's entertaining to observe, to walk around, to carefully examine. It seems to evoke the long forgotten child in all of us, those playful little darlings that loved picking up crayons and simply painting colorful doodles everywhere. As Polly herself said best, there is simply no such thing as too much color.
The artist is represented by Alexander Gray Associates in New York, Frith Street Gallery in London, and Galerie Nachst St. Stephan in Vienna.
Polly Apfelbaum lives and works in New York (US).
All images used for illustrative purposes only