The first thing you see on this artist's website will make you wonder (and smile): it is a photo of a dead serious Pradel Fraysse with dozens of snails on the top of his head. Whatever is your reaction to this image, no one can dispute that it's a perfect introduction to the Pradel's artistic world of the animal bestiary.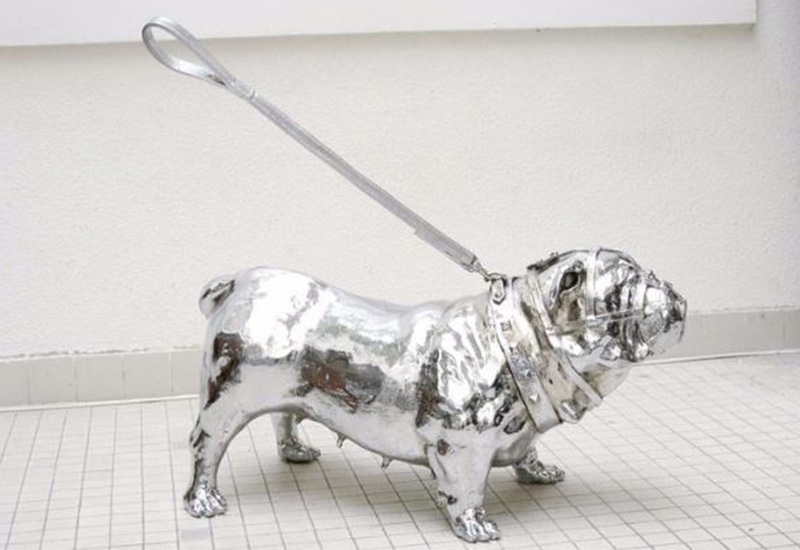 Pradel Fraysse was born in 1963, in Ussel - a commune in the Corrèze department in central France. He graduated from the School of Cinema Studies (ESEC). From 1997 to 2003, Zoo de Vincennes in Paris was listed as Pradel's residency!
Homo homini lupus est
This artist is best known for his sculptures he uses as a pretext: at first glance, his pieces could seem funny and entertaining. But, the fact is that all of them hide one pretty dark, and not so new philosophy about the human kind. There is one Latin proverb: Homo homini lupus est, that aroused centuries of dispute among people of knowledge. One of them was Thomas Hobbes, an English political philosopher, the author of the famous Leviathan:
"To speak impartially, both sayings are very true; That Man to Man is a kind of God; and that Man to Man is an errant Wolfe. The first is true, if we compare Citizens amongst themselves; and the second, if we compare Cities."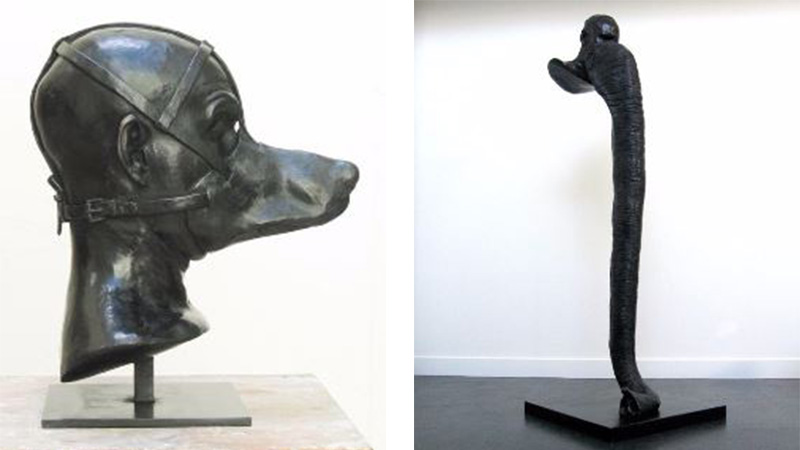 This theory on human behavior goes along with Pradel's irony directed to the civilization, shown through the absence (or transformation) of humans in his work. His animal bestiary sculptures change the role people have in today's world: dogs are walked by the invisible humans, a man is wearing a mask that is actually a muzzle or an elephant trunk (Self-Portrait series)… The border between animals and humans is seriously disturbed, leaving the viewer to reflect on the true nature of man.
Coeur trophée and a Wooden Weaponery
Even though Pradel's animal sculptures are made to arouse some kind of bewilderment and discomfort, they are crafted and polished with scrupulous patience: like the dog muzzle with its system of straps, belts and loops carried out with a great care, striving for perfection in execution.
A human heart represented as a trophy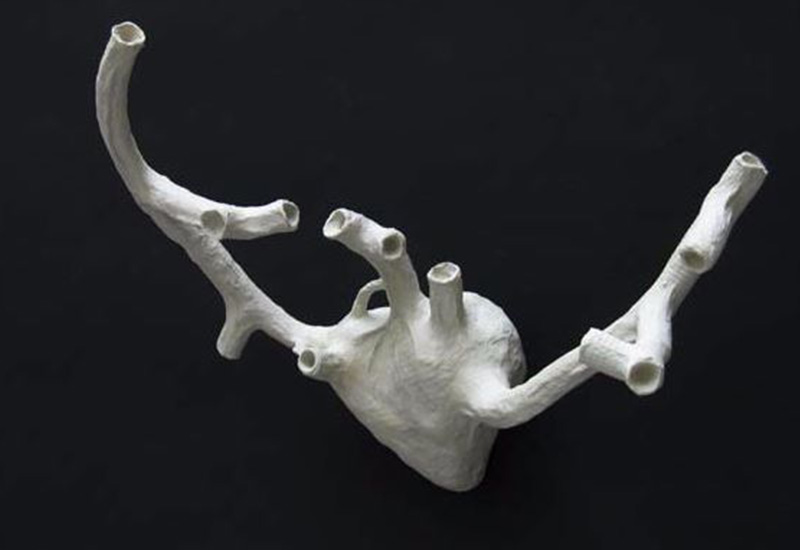 Besides the animal's sculptures and bestial masks, Pradel also created a series he called Coeur trophée (2005), where a human heart is represented as a trophy – ready to be hanged on the wall, just like deer's antlers. No need for further explanation, don't you agree? The metaphor could not be any clearer.
Pradel Fraysse's series of wooden weaponry, dating from 2004, could be interpreted as some kind of didactic revenge for the human kind. One cannot but wonder what would happen in the middle of a fearsome battle, right at its peak, if somehow, by magic, all weapons turn into a mare wooden toys. The soldiers would stand confused and the war might be over, right?
Pradel's wooden weaponry - a didactic revenge for the human kind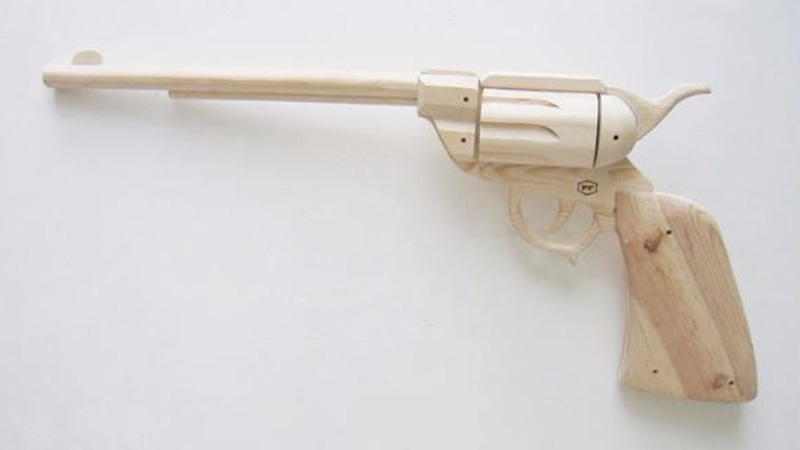 Pradel's subtle, but sharp and clear messages (for those who want to hear it) are fulfilling the ancient purpose of the artist: to make world a better place. Once, it was done by creating beauty, today – unfortunately, that is not enough. This is why we have artists like Pradel, who dedicate their talents, skills and knowledge – in an effort to make human kind more responsible and emphatic. All in all: more human.
This artist is represented by Galerie Brugier-Rigai from Paris.
Pradel Fraysse lives and works in Paris and Aubervilliers.
Image copyrights © artist's website