Prune Nourry is a multidisciplinary French artist, whose training received at the Ecole Boulle in Paris provided her with the skill necessary to create beautiful wooden sculptures. Sculpture, however, is not the only medium that suits her – she has also begun to explore a variety of media, such as film and photography. She further tries to "convert" their two-dimensional nature into sculpture pieces and enable her audience to relate with the artwork.
Background
Academic Training and Inspiration
Prune Nourry was born in Paris, France in 1985. She received her academic training from Ecole Boulle in Paris, where she obtained a degree in wood sculpture. Her in-depth research led her to explore bioethics and anthropology, which served as a main source of inspiration for her work. She also draws form the issue of gender inequality, and the women's role in society throughout centuries.
The Artwork of Prune Nourry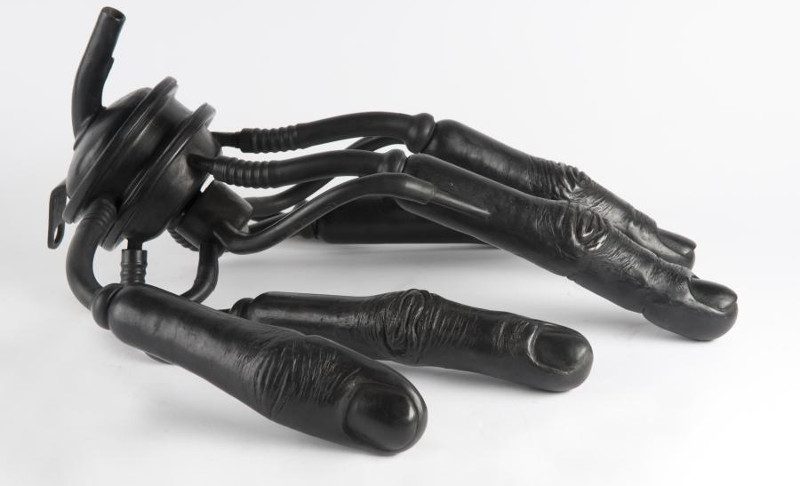 Projects and Performances of Prune Nourry
Les Bébés Domestiques (Pet Babies) and Family Portraits
Les Bébés Domestiques was Prune's first successful project, conceived in 2006. The silicone sculptures explore the boundaries between animals and humans, which has undeniably changed over time, bringing into question the anthropomorphism of pets through genetic manipulation and modification. Serving as an anthropological study as well, Bébés were used in performances in the world's major cities, such as London, New York, Paris and Tokyo.
In 2007 and 2008 in London and Brussels respectively, the baby-pets were a part of Adoption Day events. Several women, including Nourry, were going through the streets, pushing the trollies with Bébés, and giving out the application forms to the passers-by. The forms required the respondents to describe the environment they lived in, and the reasons why they should be the ones to adopt the pet-babies. The "nannies", as Nourry referred to them, narrowed down the list of potential candidates to several families. This project further evolved into another project, titled Family Portraits, where "adoption" was documented. The silicon sculptures were subsequently exhibited at Wooster on Spring in 2006, Art Brussels in 2008 and the Elaine Levy Gallery in 2009.
The Procreative Dinner
The 2009's Procreative Dinner is another Nourry's acclaimed project. The performance mixes science, art and gastronomy and consists of scientists, guests (who become a part of the act) and the artist's sculptural works. The artist encourages the debate on IVF (in vitro fertilization), assisted reproduction and gene manipulation and selection. The whole performance takes place over dinner, which is cooked by a renowned chef. The courses and dishes are specifically designed to present a certain human feature, and the participants of the debate choose their meals according to how they envision the perfect child to be. This performance was first held in Geneva and Paris.
In Vitro and The Spermbar
In Vitro is a series that began in 2010, and is taking place to this day. Here, Nourry still delves into the possibilities of science-induced procreation and generic modification. Drawing from genetics, Prune creates unique sculptures using laboratory glassware.
In 2011, Nourry went to New York and she became interested in the American sperm-bank industry. For her Spermbar, she asked men to donate their sperm on a website. Associating each donor trait to an ingredient, the artist offered the genetic cocktail to passersby on Fifth Avenue in a traditional food cart. The Spermbar was a part of "Crossing the Line" festival in New York City in 2011.
Genesis
In 2013, Nourrey introduced a project titled Genesis at Casino Vernier during Venice Biennale. Genesis seeks the solution to issues of sexuality and gender, by presenting them through history and further examining the relationship between sexual identity and religion. The venue plays an important role here, as the word casino used to mean a house of pleasures and games, and today it is a colloquial term for brothel in Italian.
In this project, Prune employs various media – dance and interactive video, sculpture, which is still the main medium, and also culinary skills. The concept of blending sculpture and dance echoes the Adam and Eve videos. The idea behind this project is to explain that human sexuality is not a simple binary, but that it is fluid and existing on a spectrum. Genesis also draws a parallel between our desires and inhibitions – what "we want" and what is "allowed". It strives towards raising questions, not provoking a feeling of shock.
Genesis, 2013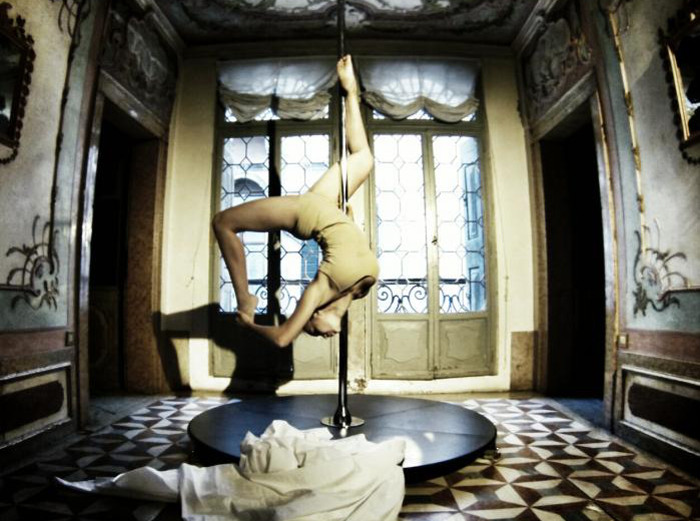 Projects in Asia: Indian and Chinese Daughters
Holy Daughters
In September 2010, New Delhi witnessed the presentation of Holy Daughters, Prune Nourry's sculptures depicting a kind of mythological creature, a blend of a cow and a girl. Apart from Holy Daughters, the project also included similar looking sculptures made of bronze. It drew parallels between women, and the deprived conditions they live in, and the cow, a sacred animal in the Indian culture.
Since India gained independence, the number of girls compared to boys has decreased drastically; this was largely due to the possibility of parents to determine the child's gender by using the ultrasound. This resulted in sex-selective abortion, and it is one of the problems Holy Daughters deals with. Nourry juxtaposed the cow part and the human part of her sculptures, and asked how it could be possible that the fertility of cows was highly respected, while those same people didn't seem to care about the eventual fertility of girls.
The success of the project was certain, and Nourry gave a lecture in Paris about gender selection in India. A few months later, in September 2010, the same talk took place in Delhi.
Holy Holi
Holy Holi was a sort of a sequel to Holy Daughters, taking place in India as well. Holi is a spring festival during which the participants throw color pigments at each other. Even though anyone can partake, there are not too many female participants, since men take this holiday as an excuse to consume alcohol and can become violent. With this project, Nourry created a "shadow-holiday", one where only girls participated, and where they threw milk at each other, another symbol of fertility.
Holy Holi performance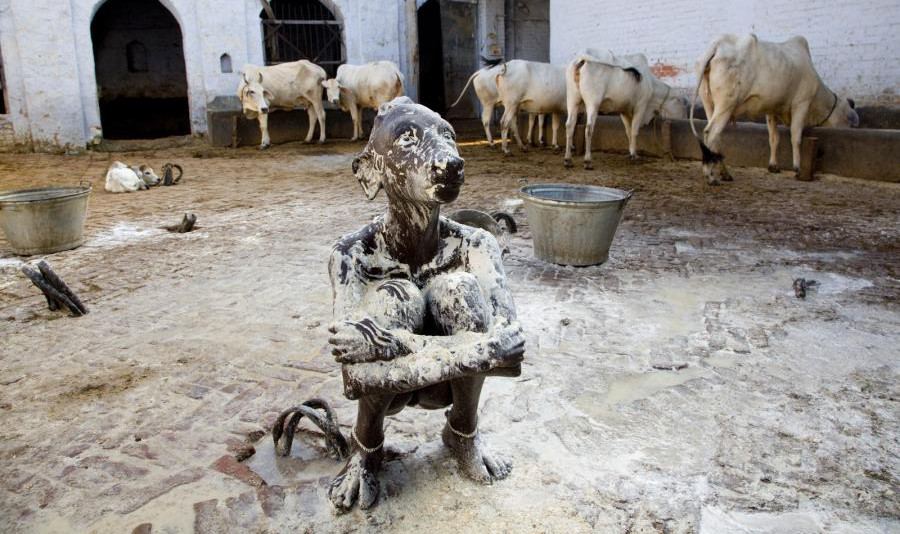 Terracotta Daughters
The Holy Daughters project got its Chinese counterpart. In 2014, Prune Nourry presented Terracotta Daughters, a set of 108 sculptures depicting Chinese Terracotta warriors. For this project, she collaborated with Xian Feng, an artisan who is an expert on the copies of the terracotta soldiers. Just like its Indian counterpart project, Terracotta Daughters accentuates the gender inequality and preference in China
Envisioning 8 Chinese girls from an orphanage, Nourry created 8 life-sized Terracotta Daughters, after which she gave the craftsman a table of 108 combinations. Based on this document, they use the molds interchangeably to create an army of 108 daughter-warriors. Feng also had a role in the creation process – personalizing each of the warriors' face to make her different and distinguishable.
The set of sculptures traveled the world and were shown in Paris, Zurich, Mexico City, New York City and Shanghai.
Mini Terracotta Daughters (Army), 2013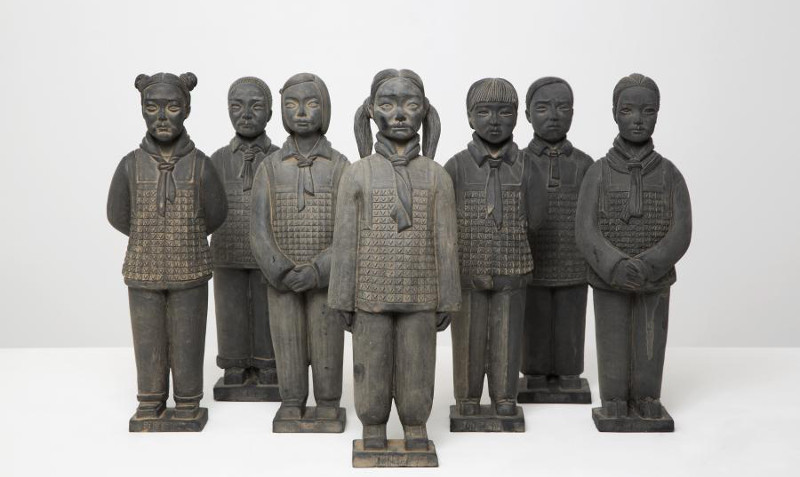 Exhibitions by Prune Nourry
The diversity of Prune's work and the complexity of the problems it tackles have earned her both critical and public acclaim. Her projects were exhibited across the globe. 2008 was the year when her Les Bébés Domestiques project took over galleries like Elaine Levy Gallery in Brussels, and Max Lang Gallery in New York. Holy Daughters has started exhibiting in 2010 in New Delhi, India, and has since visited venues such as Polka Gallery in France, The Invisible Dog Art Center in New York, and Galerie Henrik Springmann in Berlin. The 2013's project Terracotta Daughters was first organized by Magda Danysz Gallery in Shanghai, then at the same gallery in Paris in 2014. Apart from these solo exhibitions, her works participated in numerous group shows and festivals.
She is represented by Magda Danysz Gallery.
Prune Nourry currently lives and works in New York.
All images copyright © the artist