How extreme is too extreme? Where do we draw a line between productive artistic aggression and simply going too far? This debate is an interesting and polarizing one, but no matter which side they support, the name of Pyotr Pavlensky seems to appear on the lips of many people that either support of do not support the extremes in art. Just so you can get a taste of how this performance artist from Russia works, he has wrapped himself in barbed wire, sewn his lips shut and caused the world to wince with his now-infamous stunt of the scrotum nailing in Moscow! A constant target of the authorities that try to keep him detained and quiet by circling around him tirelessly, we bring you the biography of the Russia's most notorious political artist that will make you both wonder and give you chills.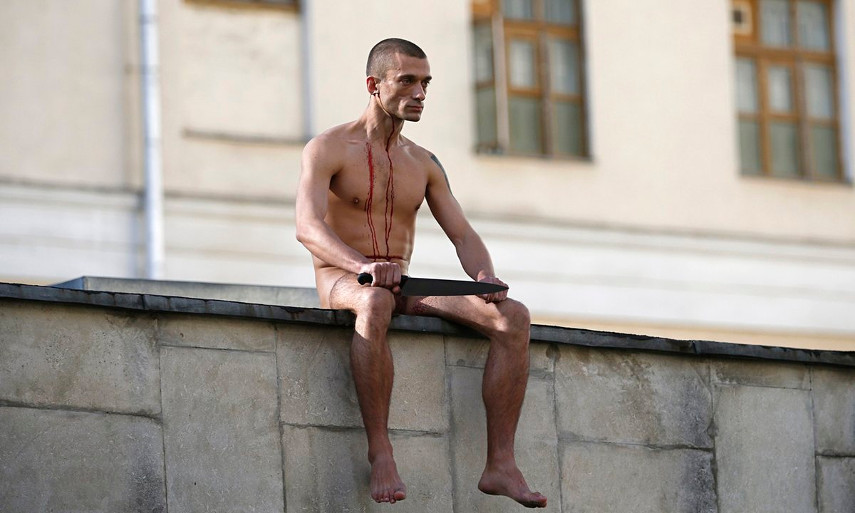 An Identity Veiled In Mystery
There are not too many pieces of information concerning Pavlensky's private life that are available to the public - for starters, we know he was born on the 8th of March during the year of 1984 in Leningrad. We also know he studied monumental art in Saint Petersburg Art and Industry Academy, as well as that Pyotr took additional training at Arte Foundation for Culture and Arts. He claims he has no direct ownership over any kinds of properties - which comes pretty in handy when he finds himself in the midst of problems with the law, as you will soon come to see for yourself. Oksana Shalygina and the artist founded an independent online newspaper Political Propaganda in 2012, which dedicates its efforts to analyzing contemporary art through the prism of the political context, feminism and gender equality. This publication was awarded the Alternative Prize for Russian Activist Art during the year of 2013, but there is where we draw the line - we do not know anything more about Pyotr Pavlensky! His identity is veiled in mystery and it is obvious he desires to make his work speak for him. Judging by the way he uses his own body, we can safely claim that Pavlensky seeks to point that he is nothing more than a material and an insignificant part of something much grander than an individual.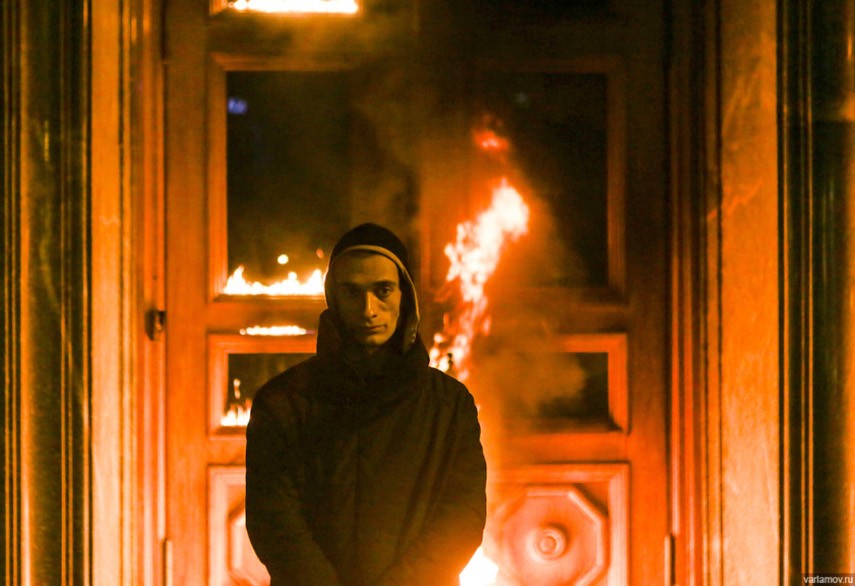 First Performance/Protest
Pyotr first became noticed for sewing his mouth shut as a sign of protest against the incarceration of the musical band Pussy Riot, a Russian feminist punk rock group. On July 23, 2012, Pavlensky appeared at Kazan Cathedral, St. Petersburg with his lips sewn up and holding a banner that stated: Action of Pussy Riot was a replica of the famous action of Jesus Christ (Matthew.21:12–13). The photos of Pavlensky taken during this protest took the world by the storm and he became an install symbol of fighting against repression - however, for Pyotr, the whole situation was a troublesome one as he was taken to a mental institution for a psychiatric examination. He was ultimately deemed sane and was released shortly after the incident. These are the kinds of things we were applying before - Pyotr Pavlensky does not seem to care what happens to him, he is just a mean to an uncompromising end. The focal point of the radical protest was to state the complete lack of regard for artists in contemporary Russia.
Pavlensky first extreme performance came in the year of 2012 when he sewed his mouth shut in order to protest against the arrest of The Pussy Riot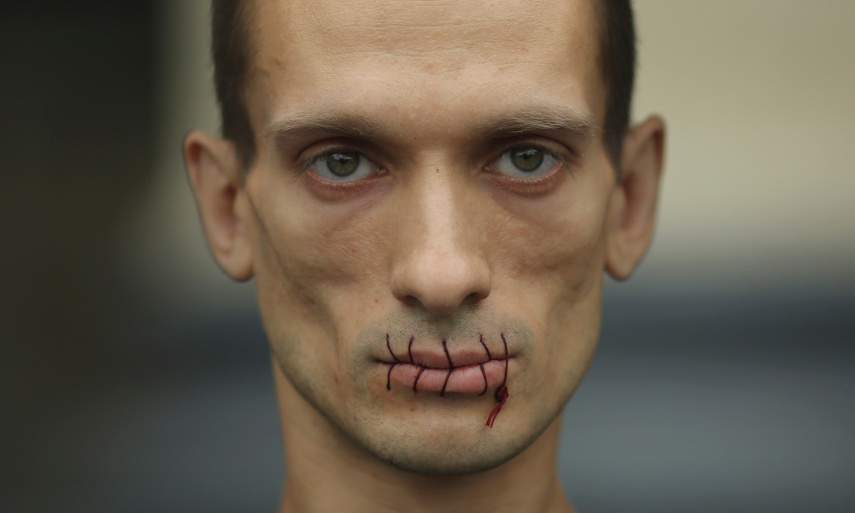 The Carcass Sleeping In The Bed Of Barbed Roses
On May 3, 2013, Pavlensky held another political protest against repressive government policies that are strangling the modern artists in Russia. This time around, it seems that Pyotr was a bit more organized than the time he sewed his lips shut. Unlike its predecessor, this performance protest had a name as Pavlensky titled it The Carcass. He had assistants bring him naked and wrapped in a cocoon of barbed wire, placing him in front of the Legislative Assembly of Saint Petersburg's main entrance. The artist remained silent, laying still in a half-bent position, not reacting to anything around him and remaining that way until the police came and freed him from the barbed wire's grasp. In a sense, the authorities set him free from the barbed wire only in order to place him into a new kind of restriction. Pyotr Pavlensky later explained the meaning behind The Carcass: A series of laws aimed at suppressing civic activism, intimidation of the population, steadily growing number of political prisoners, the laws against NGOs, the 18+ laws, censorship laws, activity of Federal Service for Supervision of Communications, Information Technology and Mass Media, promotion of homosexuality laws – all these laws aren't aimed against criminals, but against the people. And at last the Blasphemy law. That is why I organized this action. The human body is naked like a carcass, there is nothing on it except the barbed wire, which by the way was invented the for protection of livestock. These laws like the wire, keep people in individual pens: all this persecution of political activists, governmental repressions is the metaphor of the pen with the barbed wire around it. All this has been done in order to turn people into gutless and securely guarded cattle, which can only consume, work, and reproduce.
One of the most extreme performance protests that Pyotr put into action is The Carcass from the year of 2013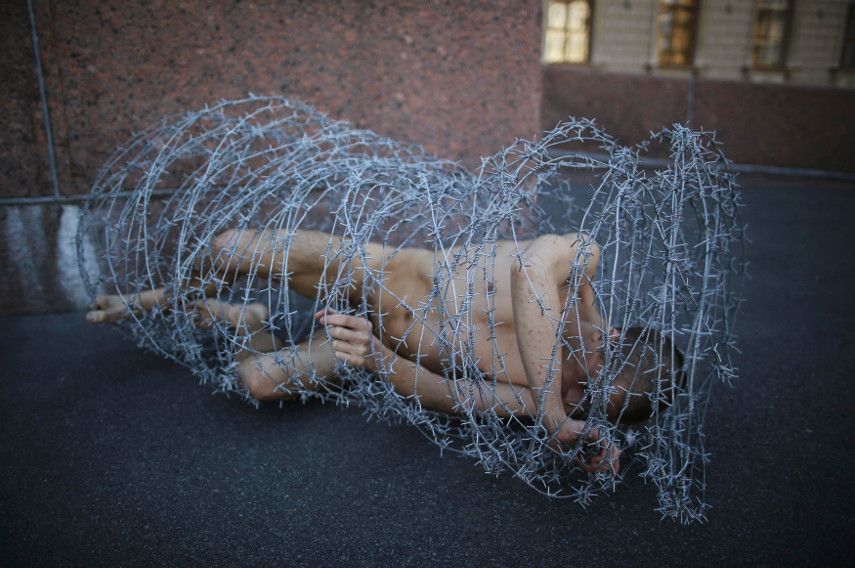 The Red Square Incident And Later Troubles With The Law
On November 10, 2013, came the arguably most notorious performance piece Pyotr Pavlensky ever put into action so far in his career - while sitting naked on the stone pavement in front of the Lenin's Mausoleum on the Red Square, Pavlensky hammered a large nail through his scrotum affixing it to the street! The timing was intentionally decided so the protest would coincide with the annual Russian Police Day. This time around however, Pyotr was not detained and sent to a mental institution but instead he was arrested to the fullest extent of the law. The artist later explained his protest and its consequences as such: A naked artist, looking at his testicles nailed to the cobblestone is a metaphor of apathy, political indifference, and fatalism of Russian society. This will not be the last time Pyotr would get himself arrested - in February of 2014, Pavlensky organized the action named Freedom, a protest supporting the Ukrainian Revolution. The artist and his friends built an imitation barricade and burned it down, shouting Maidan slogans. The group was arrested as a result and they were held for two days until the administrative case against Pavlensky and his assistants was dropped. This, however, was not the case for Pyotr's next protest - on the night of the 9th November 2015, the artist doused the front door of Russian Federal Security Service in Moscow and set it on fire. The Lubyanka's burning door was the reason behind Pavlensky's arrest and the most serious charge he ever stood against. He was charged with debauchery and vandalism, although the artist himself demanded to be charged with terrorism.
Putting his body through an incredible amount of trauma, Pavlensky nailed his testicles to the pavement in front of the Lenin's mausoleum in Moscow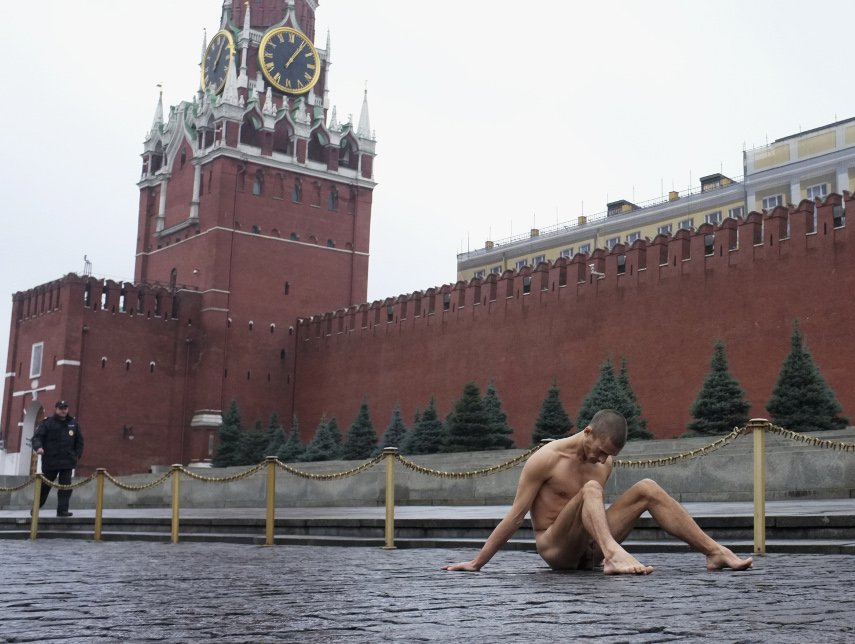 Pushing It To The Limit
The one performance act that we've left for the end in order to make a point is the time Pavlensky cut off his earlobe with a chef's knife while sitting naked on the roof of the infamous Serbsky Center in protest against political abuse of psychiatry in Russia. With that, we make a full circle and return to the beginning of this short biography - how far is too far? Sure, Pyotr seems to push his body to the extremes in order to prove something and that may seem excessive and too brutal for some - but, every single thing Pavlensky does has a solid background and reasoning behind it. In a sense, his work may be comparable to violent movies that present some scenes that may be a bit too hard to stomach - yet, if the violence has a meaningful role in the scenario and a true part to play in order to convey a story, then it makes sense to include it into a film. Violence in itself is meaningless. The same goes for Pavlensky as every single one of his extreme performances are accually deep and direct messages about troubles of Russian society, which automatically allows him to push the very limit of what we find acceptable.
Pyotr Pavlensky lives and works in Moscow, Russia.
Featured Image: Pyotr Pavlensky - Photo of the artist - Photo Credits The Guardian
All Images Photo Credits Pyotr Pavlensky