Davide Quagliola, better known simply as Quayola, is an Italian visual artist. By employing software, computational functions and algorithms, he successfully brings together space and form, the old and the new. He is prominent in computer-generated art and video installations, all of which he skillfully merges with software programming. Quayola's art investigats the concept of historical value and intellectual property.
Background and Inspiration
Born in 1982, Quayola grew up in Rome, his native city. His interest in art started to develop from a very young age. His brother studied architecture, which was Quayola's first contact with art. He would try to copy the structures on the computer, or simply draw them on a piece of paper, and from that, his passion grew bigger and bigger. But then he realized that it was not the structures in the real world that held his attention; he was rather fascinated by the images themselves. In 2005, Quayola received his BA degree from University of the Arts in London.
He has always been inspired by Kandinsky's paintings – the paintings that are based on sound and music. And like Kandinsky, Quayola developed his own system of relationship between sounds and their visual representations, a sort of a language of his own.
A New Kind of Experience
The purpose of Quayola's art is to inspect and explore the real and artificial, the old and new, and the relationships that exist between them. Highly critically acclaimed, and very well received by the audience, Quayola takes the already existing artworks as basis for his immersive video installations, and processes them through different softwares, engaging visual analysis and complex geometry. Quayola thus offers completely different and new points of view, and provides his audience with alternative experience of masterpieces.
Strata
Quayola's Strata series is a series of audiovisual installations that started in 2008 as a personal exploration of Roman baroque churches. The name comes from geology and is defined as formation of multiple layers of rock. The project itself comprises several films, prints and video installations that explore the relationships between classical art and architecture and the modern digital technology. This union of the contemporary and the classical yields completely new and fascinating formations.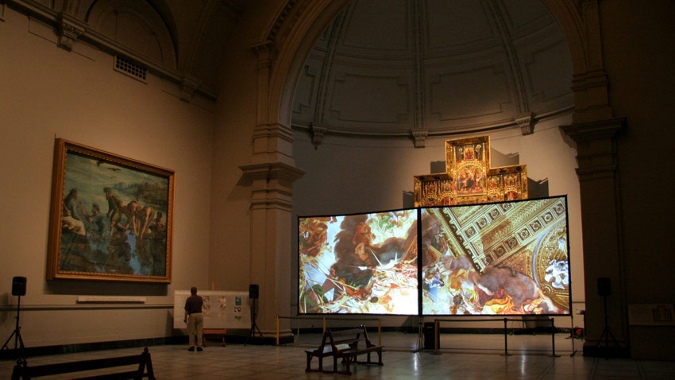 The obstacle that Quayola had encountered at first was getting a permit to film and photograph the churches in Rome, especially in Vatican. Once he did, however, he developed a film called Strata #1, which was an exploration of Chiesa del Gesù, a famous Roman church. Quayola soon realized that it would become a series of work that he would want to explore and build on even further.
Quayola collaborated with quite a few musicians and sound designers, especially for Strata. The music would always come after a video is made. However, for the 2009 piece Strata #2, it was the other way around. Mira Calix, a London-based South African artist, provided him with music in advance. Quayola then visited many churches and museums in Paris, listening to Mira's music, trying to bring the images he was seeing to life in his head.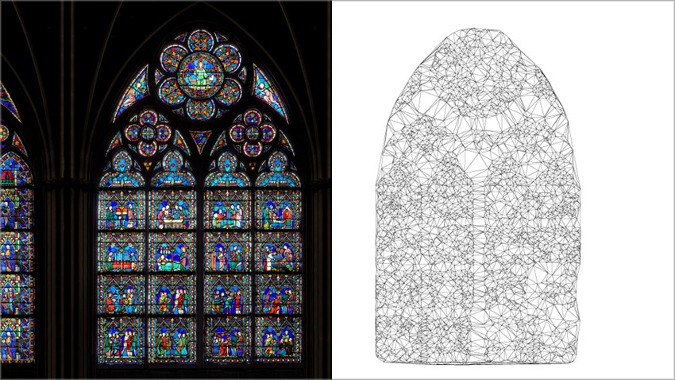 Strata #4 is 2011 audiovisual project that was commissioned by Palais de Beaux Arts in Lille. This piece explores the museum's section of the Flemish collection of paintings, focusing mostly on Rubens and Van Dyck. For the major part of the project, Quayola collaborated with the photographer James Medcraft. Strata #4 explores the universal concept of beauty, which can be found both in classical and contemporary art. It came about as a result of a close analysis of the paintings' figures, depths and colors, and then implementing the findings in the process.
All of the Strata projects are tied together. They are envisioned as a single, unique project that had developed over time.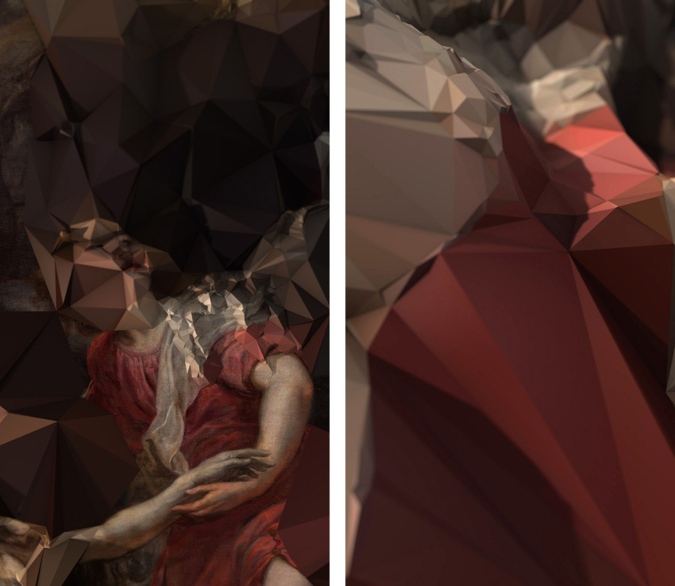 Topologies
Topologies, a 2010 project, is a sort of extension of the Strata series. Unlike its predecessor, which describes a process of transformation, Topologies is about already transformed objects. Commissioned by "British Film Institute" and "onedotzero", this video installation uses two paintings from the collection of the Prado Museum as a foundation: "Las Meninas" by Diego Velazquez and "The Immaculate Conception" by Giovanni Battista Tiepolo. By using the custom software, Quayola has converted the two paintings into their "digital counterparts". The result is not a narrative film (like the Strata), but rather, the unique "virtual" paintings. The installation is conceived as a parallel screening of both digital paintings.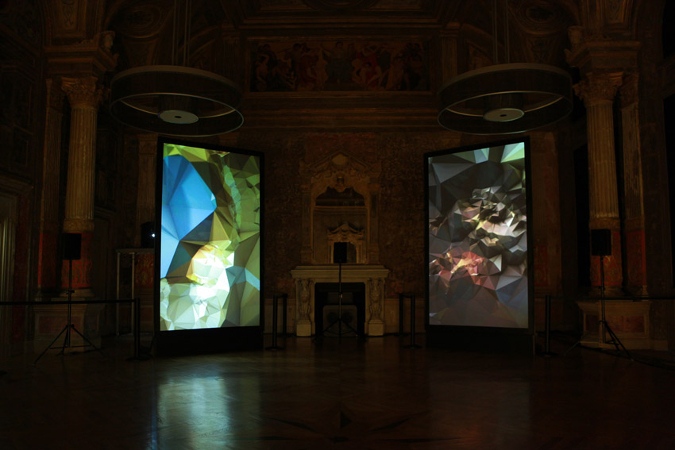 Matter
Commissioned by "Audemars Piguet", Matter is Quayola's 2012 piece. If Topologies can be called digital paintings, than Matter is most definitely a digital sculpture, and like the name suggests, it celebrates matter. As a starting point of this piece, Quayola took Rodin's avant-garde piece "The Thinker", symbolically, as the famous sculpture is now thought of as a bridge between modern and classical art. Matter is about a constant and dynamic dialog between simple forms and complex geometry.

Iconographies
Iconographies is an ongoing project, a series of prints that Quayola has been developing since 2012. The purpose of this series is not to generate the digital counterparts of famous paintings, but rather to offer a bit different contemporary forms of the original paintings. Through programming and multiple algorithms, Quayola analyzes these renaissance and baroque pieces, and converts their color schemes and composition to new abstractions, allowing the viewers to experience these paintings in a new way. The linguistic difference between the originals and their computer-generated alternatives is accentuated in Iconographies. Quayola mostly uses Rubens' paintings as a basis. For Iconographies #10, #11 and #12, he chose "The Descend from the Cross", "Martyrdom of St. Catherine" and "The Ecstasy of Mary Magdalene", respectively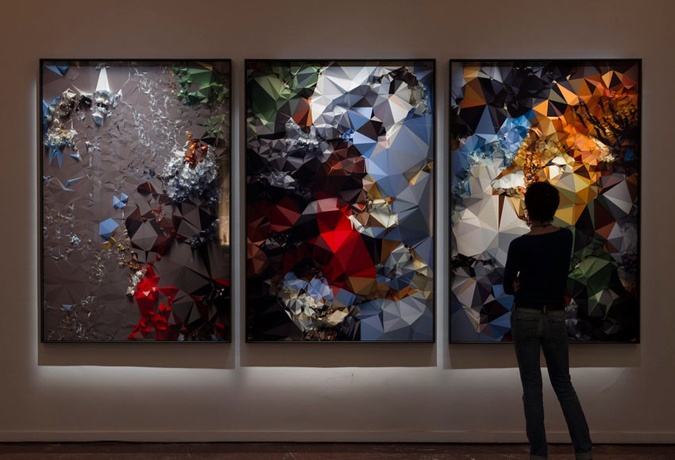 Captives
In 2013, Quayola started developing Captives, a series of sculptures that are both virtual and physical, and he has been working on it ever since. The series is a modern interpretation of "Prigioni", Michelangelo's unfinished work, and his technique of "non-finito". Captives explores the balance between matter and form. Taking the Renaissance sculpture as a reference only, Quayola emphasizes articulation of matter itself. Just as the classical sculptures are, Quayola left his unfinished, succeeding in "recording" their history and creation. Computer-controlled robots brought the virtual sculptures to this world, producing their life-size unfinished counterparts.
Exhibitions, Installations and Screenings
Quayola has exhibited all over the world. A digital art pioneer, Quayola also participated in numerous festivals and shows, including the 54th Venice Biennale at Italian Cultural Institute in London; STRP, Eindhoven; onedotzero in London; Sonar in Barcelona; Elekra, Montreal, and many others. His artwork was exhibited in many cities, such as Sao Paolo, Tokyo, Moscow, New York, Brussels, London and Barcelona, among many others.
In 2013, he received the Golden Nica award at Ars Electronica.
Quayola is represented by NOME gallery. He currently resides and works in London.
Images copyright © the artist