As one of the few New York graffiti artists who managed to conquer gallery and museum spaces during the 1980's, Lin Felton aka QUIK developed recognizable satirical and arrogant comic imagery that he spreads far beyond the simple tagging, introducing both social and personal topics into his paintings. The racial inequalities present in the American society became the essence of his thematic interests, combined with the cynical juxtapositions of popular cartoon characters, pin-up girls, and graffiti lettering. Becoming celebrated after the famous Beyond Words show held in 1981 at the Mudd Club, where he exhibited alongside Jean-Michel Basquiat and Keith Haring among the others, QUIK's work found his place in more than 150 exhibitions over the past thirty years.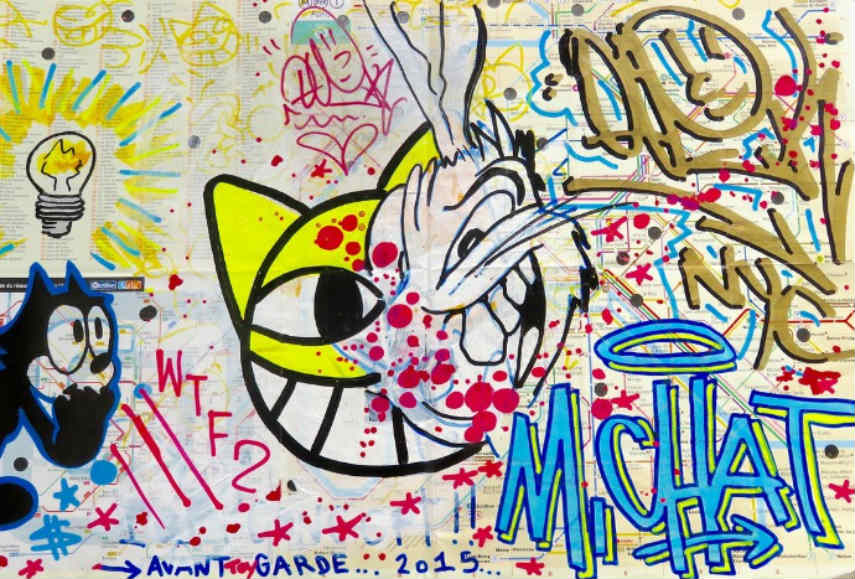 From Graffiti Art to Museum Spaces
Born in 1958 in Queens, New York, Felton belongs to the second generation of street artists, which appeared in New York in 1971-1972 and that spawned some the most famous graffiti names. At the age of ten, he has already signed his name on metro trains, tagging the "Star 10", as he called himself at first. Two years later, he shifted to QUIK pseudonym, by which he became recognizable internationally. In the early 1980's he attended the PRATT Institute and Parson's School of Design, when he was discovered by a renowned Dutch art dealer. Instead of building attempting career of the financial accountant with the computer giant IBM, he decided to follow his artistic strivings and accept Holland's support finding Europe more open for the racial and social equality that was the often processed subject in his works. His work involves the viewer into the raw and direct universe that represents the expression of revolts and injustice to the African American minority.
QUIK's name is among the greatest American graffiti artists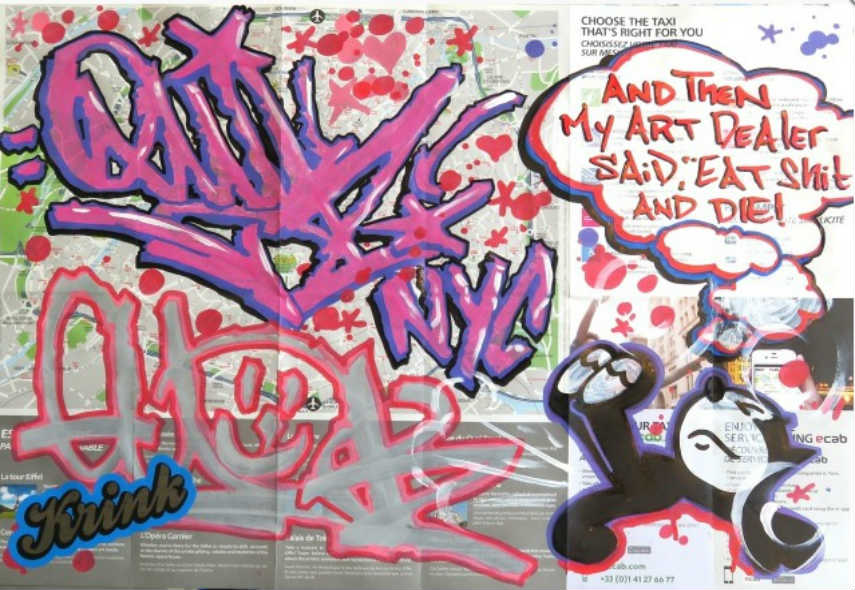 QUIK as Internationally Recognized Artist
Even today, over thirty years after its debut, the intensity with which Lin Felton works is impressive. Although his works can be seen in numerous galleries and museums in the United States, Japan, Europe, and Hong Kong, his real passion remained outside, on the walls and trains because of which he was in prison for several times. QUIK's work is a part of the permanent collection at the Studio Museum in Harlem, The Museum of the City of New York, the Groninger Museum in the Netherlands and several other distinguished collections both private and public. His clients have included the US Embassy in France, UNESCO, Jan Van Eyck Academie, Maastricht, famous brands such as Sony, Nike, Dickies, MTV, KIDROBOT, and countless others.
The artist is represented by Galerie Brugier-Rigail and Green Flowers Art.
Featured image: QUIK - Artist's portrait
All images courtesy of Green Flowers Art Gallery.