An artist duo that dwells on materials, space and the transitions in between, Quintessenz comes from Germany and consists of Thomas Granseuer and Tomislav Topic. They have started off as a team in 2008 and now have their studios in Berlin and Hannover. Both of them have their roots in the graffiti scene and have worked together on various projects during their time as students at the University of Applied Arts and sciences in Hildesheim. The accent is on film, installation, mural art, and painting. Always thinking "processual", handmade is a strong priority for them. In their work, they combine the analog and the digital, and that's apparent in their workshop and in the many objects and installations they have built in the past. The duo enjoys going on tours, seeing where the road will take them next – this freedom to experiment is what gives them the inspiration to explore new paths and ideas, and to continue producing great work.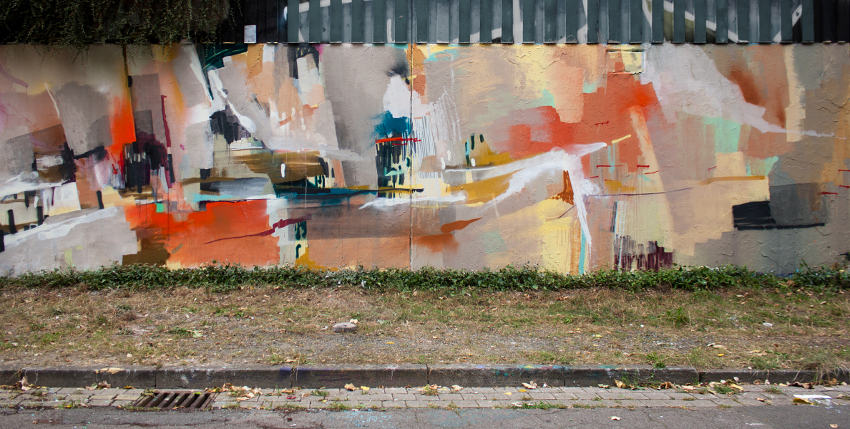 Quintessenz – Beginnings and Inspirations
They met at the University of Applied Arts in Hildesheim in 2006, with both of them were already active as graffiti artists. "The studying shaped and morphed the graffiti attitude in something different. When we started in young age with graffiti we didn't expect anything from that, we were just going crazy with our crews and had a good time. It shaped our understanding of colors and shapes." Not just that – there were also the planning of big murals as a team, doing bombings, panels, and wholecars as fast as they could. These experiences have trained them in many ways and have brought them up to the place where they are today. Their biggest influence is the combination of their graffiti roots and the art and design education they received at the University. There were so many different influences – the Professors at the school, the graffiti scene itself and other artists such as Olafur Eliasson, Katharina Grosse, Frank Stella, Dan Flavin or Mark Rothko. It was always important for the duo to work interdisciplinary and look between different genres. They experiment a lot with different materials and this inspires and influences them a lot. Speaking of inspiration, the very fact they are a duo means they always inspire each other somehow – this might be the greatest inspiration since you always have someone to exchange and to reflect with. And, of course, Berlin and its people are a great and subconscious source of inspiration.
Both of them came from graffiti, and it shaped their understanding of colors and shapes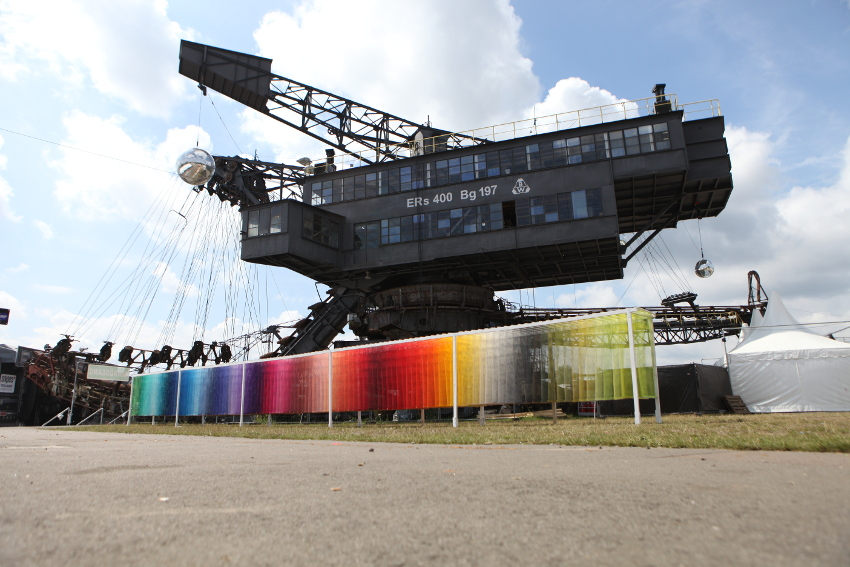 Style and Creative Process
In terms of techniques, mediums, materials they use, Quintessenz state that their artworks and their style have to surprise them. There are plenty different techniques they have explored and are still exploring. The style is, of course, very colorful – "this is the main topic for us as abstract artists; it's all about the colors, the quantity, the contrasts and the shapes in which they appear. We're building abstract and colorful installations, paint murals and used to do stop motion films. Everything comes together somehow, mainly through the colors and the way we work with them. People from the outside really define us through the colors because every artwork appears in its shape and material differently." Their creative process includes trying to figure out the big works outside, as they always mean something special. It's really important for them to see the place before they start to build an installation. With the murals, (if it's possible) they often try to choose the colors on-site. Also, the composition and the shapes of a mural are based on the architecture and moods surrounding the wall where they paint on. When working in a studio, a significant amount of pieces is a direct result of some sort of experimenting. Sometimes even the mistakes in a certain experiment can introduce new possibilities. "When we have the freedom we're not planning every single step previously. What happens during a current process of a project brings us many times the influences for the next project."
People from the outside usually define Quintessenz through the colors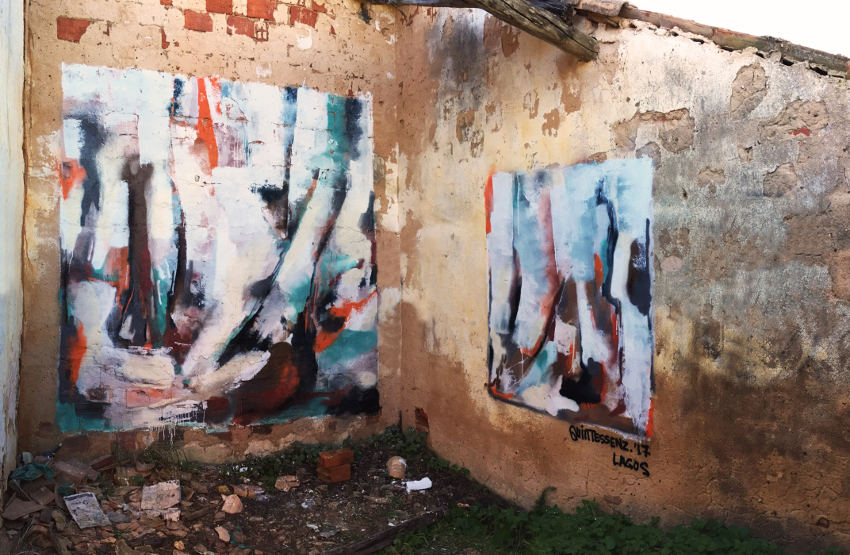 Themes and the Evolution of Style over the Years
"One of the main topics is contrast. The relationship between colors and shapes, between environment and artwork, between analog and digital. The most important thing is that we surprise and don't repeat ourselves, this way of thinking defiantly goes into our work. The worst thing we can imagine is to do the same work again and again, just with small varieties. We don't transport any political statements or stories in our work, it's all about here and now, it's about current feelings and emotions, it's about our experiences and it's about the relationship between the people and us. We're trying to break the view habits of the viewer and us." Both Tomislav and Thomas were drawing before graffiti, and after enrolling at the University, every single influence along the way pushed their evolution forward. In 2008, they made their first stop-motion film – it was about colors conquering an abandoned area. Until 2011, they produced 6 stop motion films, and these have really pushed their personal style. One of them was titled "True Colors", and it was Tomislav's diploma work. The artists only had four months to work on the film, but the results were amazing. There was so much positive feedback, and many festivals invited them to participate. In 2015, Quintessenz were elected by a New Yorker Photo stock agency as one of ten most creative and unique creative studios in Germany, which was an incredible honor for the duo. Besides art, they currently teach at the University of Applied Sciences and Arts in Hildesheim, where the work with the students really reflects the duo, their work and how they communicate it.
Their work is about current feelings and emotions
Important Milestones and the Messages They're Trying to Send
Surprisingly, the most important moment in their careers was not the biggest work or installation. Instead, it was their solo show The part of me. They previously never had their works together – because of the variety of their works and the different ways they work, it can be rather hard to understand the connection between the different works. On that very special day, every single work by both of them came together, and just like that, everything came together for the artists. Suddenly, everything made sense, and every work was connected with other works. This show might not have been their biggest one, but it was certainly the most important one. Speaking of the relationship with the viewers, Quintessenz states that they have never tried to send conscious messages to them. "Obviously we're not sending any political or provocative messages. It's more about subconscious things, the way colors and shapes bring a contrast to the outside world. It's more about the beauty and feeling of materials and the way how they appear." With so much struggle going on, the artists are just trying to create something the people can understand, something that simply exists.
Thomas Granseuer and Tomislav Topic live and work in Berlin.
Featured image: Quintessenz - portrait
All images courtesy of Quintessenz