Rabarama, alias Paola Epifani, is an Italian sculptor whose elegantly crafted pieces exude extraordinary beauty and harmony. Her pieces are versatile and puzzling - she sculpts male, female as well as hybrid sculptures whose skin is profusely decorated with a variety of signs, glyphs, and symbols. Rabarama's work has a certain suggestive and exciting feel because it describes, in a metaphorical may, many sorrows and joys of human beings. Body postures of her pieces suggest many different conditions and emotions, from slavery and sadness to absolute, transcendent freedom.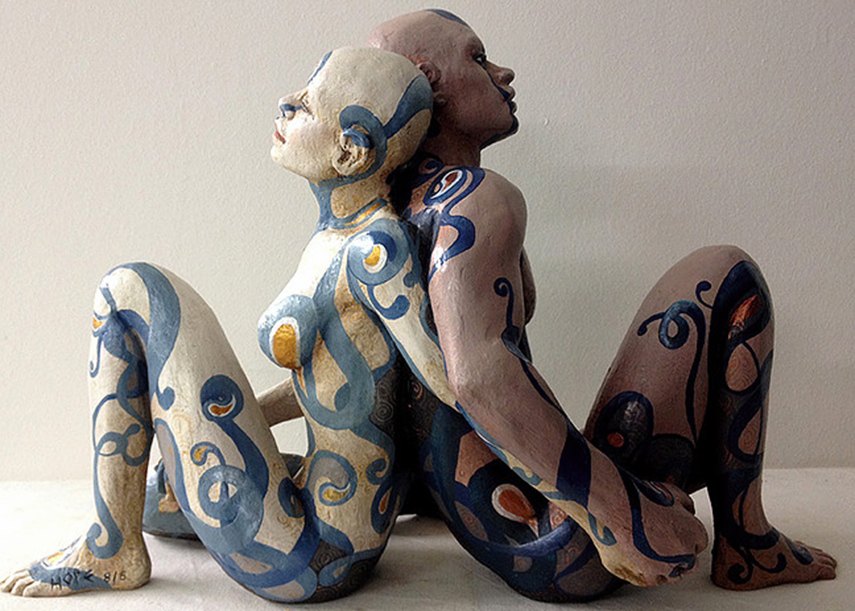 Highlight on the Language of Symbols and Glyphs
Rabarama was born in 1969 in Rome, Italy and she has shown a special talent for sculptures since her early age. Her creative background is quite strong - first, she attended the Art School of Treviso and later on she enrolled at the Academy of Fine Arts in Venice. After the graduation in 1991, she started to participate in many national and international sculpture contests. She was very successful and she won a lot of praise from the audience and critics. Rabarama has developed her very own, specific style, that features sculptures and sometimes paintings of a man, woman and eccentric genderless hybrid creatures. The key of her work lies in the way she decorates the skin of her creations. She uses various symbols, letters and hieroglyphics to make a sort of membrane around her sculptures. These letters and symbols are so tightly packed and rich in colors that they appear dynamic and alive, as if they were changing and fluctuating. Rabarama believes that hieroglyphics, puzzles, and various shapes are the symbols of the human genome and the manifestation of mental labyrinths each of us possesses. It is important to note that Rabarama isn't only a sculptor - she often collaborates with other artists, especially performers engaged in body painting and dance. She also produces the terracotta and marble works, resin inclusions, monotypes in silicone resin, unique jewelry as well as paintings inspired by her sculptural pieces.
Rabarama uses various new symbols, letters and hieroglyphics to make a membrane around her sculptures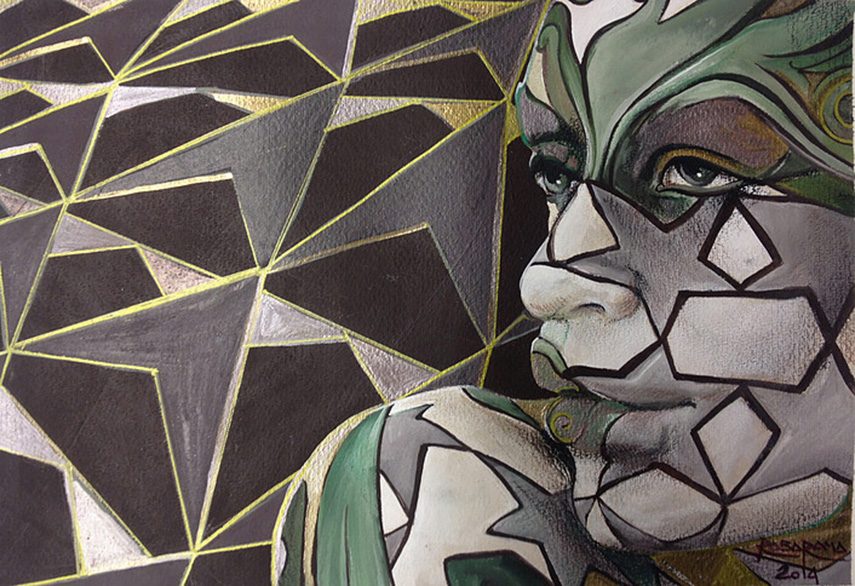 Skin Art Manifesto
Rabarama is well-known for composing a writing called Skin Art Manifesto. In this text, she emphasizes the fact that our body, especially our skin, is the part that connects us with others and with nature - skin enables us to feel the human touch, but also air, water, earth and many other components of the world which surround us. Because of this, skin is the perfect symbol for the relational function of the body and this is why it is so important in Rabarama's creative world. She also considers our bodies as temples of harmony and vitality as well as vehicles of existence and perception, because they have the primal relationship with everything around them.
Rabarama is well-known for composing a writing called Skin Art Manifesto, which speaks on the relationship and love between humanity and nature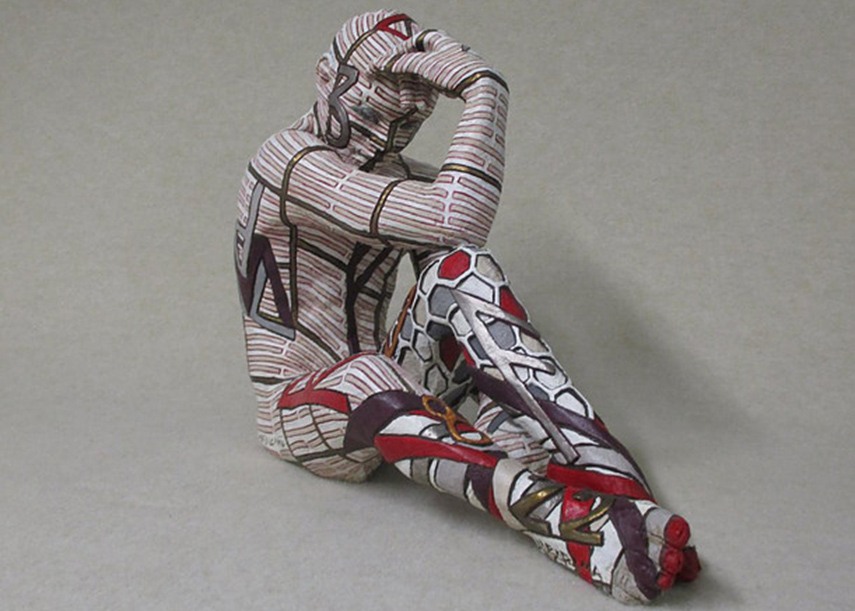 International Success
Rabarama's work inspired by wellness and spirituality has been popular among both art critiques and wide audiences, who consider her work extremely energetic, wholesome and powerful. Rabarama's deep and honest dedication to her work brought her in 2011 to present at the prestigious 54th Venice Biennale. In addition to this great success, her pieces have been exhibited in major international art venues, such as Paris, Florence, Cannes, Miami, Shanghai. Her works are also the part of important public and private collections, such as the Art Museum of the Beijing Biennale, the Shanghai Sculpture Space and Copelouzos Museum of Athens. In 2014, Rabarama became the main inspirer of the Skin Art Festival, which is held in Merano, Italy. In 2015, Rabarama won the international competition held by the Municipality of Vallo della Lucania and after this victory one of her monumental marble works was placed on display in this ancient district of Southern Italy. Rabarama regularly collaborates with Cirque du Soleil as well as with many galleries and museums in France, Holland, Belgium, England, Turkey, Switzerland and the United States.
Rabarama regularly collaborates with Cirque du Soleil as well as with many galleries and museums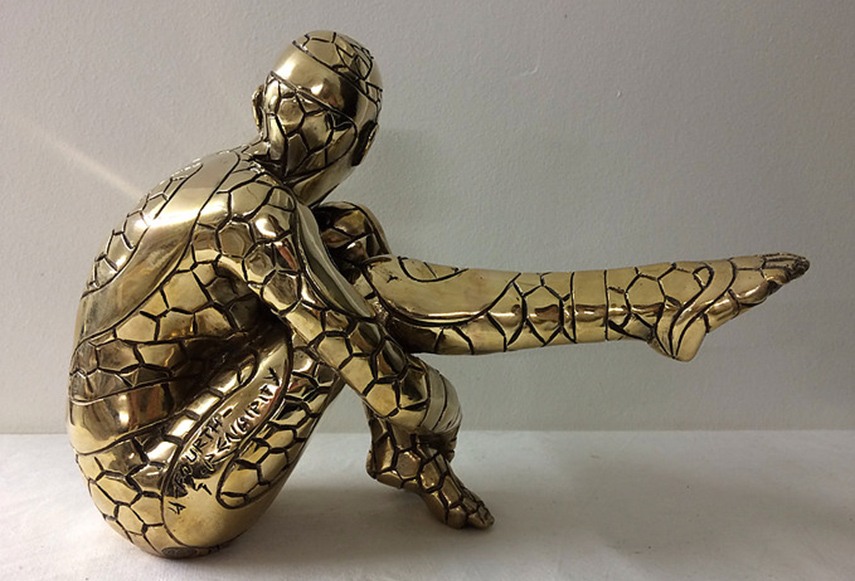 Meaningful Grace and Wisdom
Rabarama's pieces, as well as her philosophy, resemble the New Age movement, because of their emphasis on the connection between people and nature. Especially in the nowadays world when this connection seems broken because of the digital technologies and different lifestyle, it is very refreshing to see the artist's sculptures, whose colors and patterns are lively, optimistic, yet with a mystique allure that calls for reflection and meditation.
The artist's partner galleries in the world include Galerie Hegemann in Munich, Gallery Van Loon & Simons BV in Vught, Netherlands, Italian Fine Art Gallery in Positano (SA), iSculpture in San Gimignano, SimonBart Gallery in Porto Cervo, Il Novecento in Poltu Quatu (Costa Smeralda) and Salerno, Bel-Air Fine Art Gallery in Geneva, Cafmeyer Gallery in Knokke-Heist, Belgium and Galeries-Bartoux.
Rabarama lives and works in Padua, Italy.
Featured image: Artist's Portrait - Photo credits Hikari Kesho
All images courtesy of the artist.