Rachel Ann Stevenson is a talented British artist and sculptor, known for her figurative bronze and mixed media sculptures which portray various characters from the world of literature. The young emerging artist combines her sculptures with elements of taxidermy and antique glass domes, in order to create eerie and elegant pieces of art. Stevenson is influenced by literature and fantasy tales.
She went to Newcastle-under-Lyme College, and attended art and design courses. She also studied figurative sculpture at The Oval School of figuritive sculpture, portrait sculpture at The Royal Society of portrait sculpture and taxidermy. Her tutor was Mike Gadd, a specialist in bird taxidermy. After finishing her studies, the artist worked abroad, at Chenzhen studios in Hong Kong and Steve White Studios in California, United States.
Mixed media works
Her works are based on narrative and characters. Seductive and macabre at the same time, they resemble Tim Burton movies, Lewis Carroll books and old antique shops, full of unusual objects. Her dream-like art is detailed and delicate. Mysterious and charming characters are adorned with carefully selected elements of taxidermy, evoking scenes that we might have seen in a dream.
Taxidermy and a dome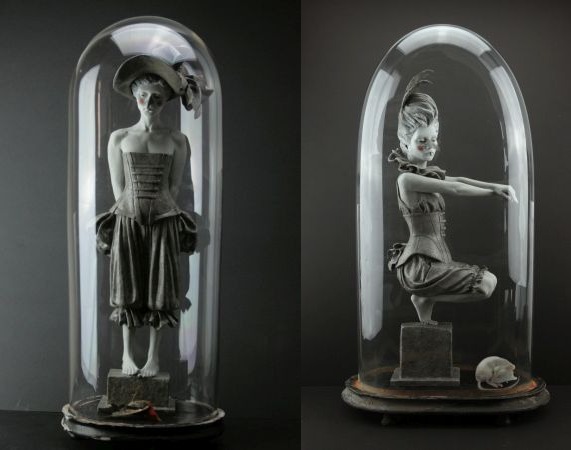 Stevenson has exhibited her works throughout the United Kingdom, in exhibitions and leading UK art fairs. She had solo shows in London, Brighton and Bath. She is represented by Arusha Gallery in Edinburgh, United Kingdom.
Rachel Ann Stevenson works and lives in London, United Kingdom.
All images copyright © the artist