Rae Martini is an Italian painter and street artist who discovered his passion for writing in the late 80s. For over twenty-five years he serves as one of the greatest exemplars of the Italian Graffiti movement. Born in 1976 in Milan, Martini defined himself as a graffiti artist in his teens, painting the streets and trains in his native country and beyond since the late 80's. While his works adorn walls in numerous European cities, the artist has simultaneously pursued a gallery career as a painter.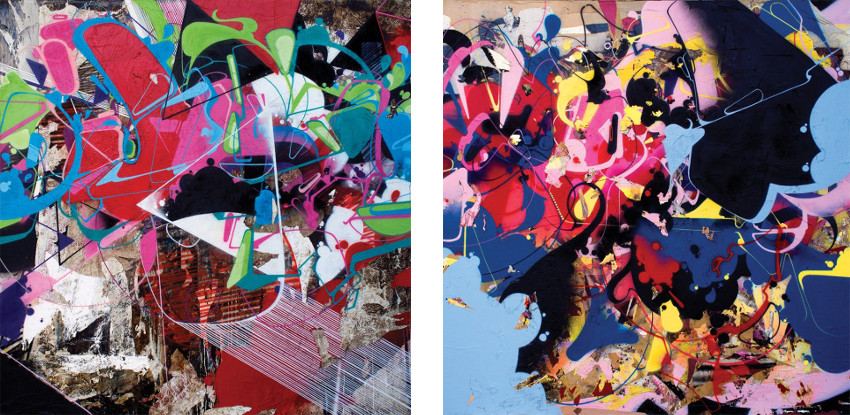 Graffiti-Inspired Abstract Paintings
Rae Martini's abstract works emulate the grit and urban texture with graffiti-infused flourishes of color. Often useing fire and dirt to create the desired effect, Martini's approach includes researching, building, and destroying, then rebuilding in a process were aesthetic meaning evolves. In his paintings, writing and abstract painting domains intertwine and influence each other with the aesthetics and experiences of two worlds, distant, yet close. His canvases resemble stunning ruins of urban landscape painted not in imagery, but painted in more abstract forms.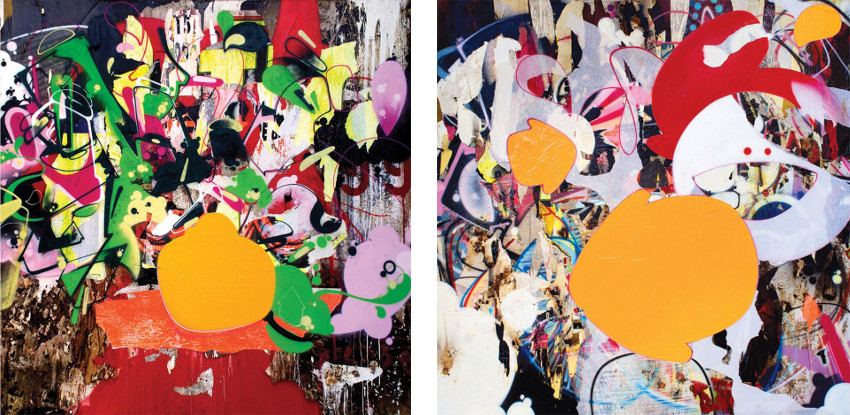 24 Carat Dirt – Monograph by Rae Martini
The development of both Rae Martini's graffiti and fine art is documented in 24 Carat Dirt, a 208 page hardcover book published in spring 2012 by Damiani and accompanied by a short film. The project was sponsored by clothing and lifestyle brand WeSC. The complex process of Martini's evolution from the letters' early form to the complexity of Wild Style two decades later is expressed sequentially throughout the sections of the book - the walls, trains and canvases, with a small closing chapter about the recent production. Moreover, 24 Carat Dirt highlights the expressive features of one of the several authors capable of distinguishing himself on the international scene, not only for the quality and quantity of his work, but also for his constant evolution.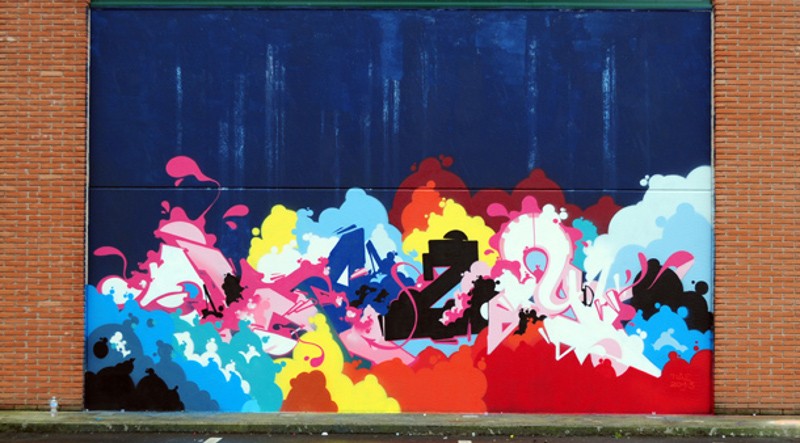 54 Venice Biennale and the ARTYOU award
Rae Martini has participated in numerous individual and collective exhibitions in museum and galleries worldwide including Hausammann Gallery, Miami, USA (2015); Galerie Openspace, Paris, France (2013); Edward Cutler Gallery, Milan, Italy (2013); Prague City Gallery, Czech Republic (2012); Unruly Gallery, Amsterdam, The Netherlands (2013); Museum Recoleta, Buenos Aires (2008); Santa Maria della Scala Museum, Siena (2008); and Henxs Gallery, Amsterdam, The Netherlands (2006); to name a few.
Martini exhibited at the 54 Venice Biennale International Art Show Special Project, Pavilion Italy – Lombardia, Palazzo della Regione, Milan, Italy in 2011, and participated with the Graffuturism group for In Situ during Art Basel in 2011. His mixed-media painting titled 1-2-1 won the ARTYOU award 2012 in Basel, Switzerland.
The artist is represented by Artstübli, an exhibition and project space in Basel and Hausammann Gallery in Miami, FL.
Rae Martini lives and works in Milan, Italy.
Featured image credits Graffuturism; Images copyright © the artist and Hausammann Gallery; Rae Martini – Mural at Amazing Day photo credits © Il Gorgo