We should all strive towards finding things we both love and are good at, for when such circumstances occur, amazing things are bound to happen. So was the case for Rafael Lozano-Hemmer, a Mexican-Canadian electronic artist who's work can be described as a bridge connecting artistic expression and pure technology. He makes incredible installations using his vast knowledge of electronics and these pieces can not be, in all honesty, compared to anything we've seen before. Lozano-Hemmer's pieces differ drastically when compared to each other - they include everything from seemingly simple computer chips nailed to the wall to breathtaking video performances that border visuals from modern science fiction films.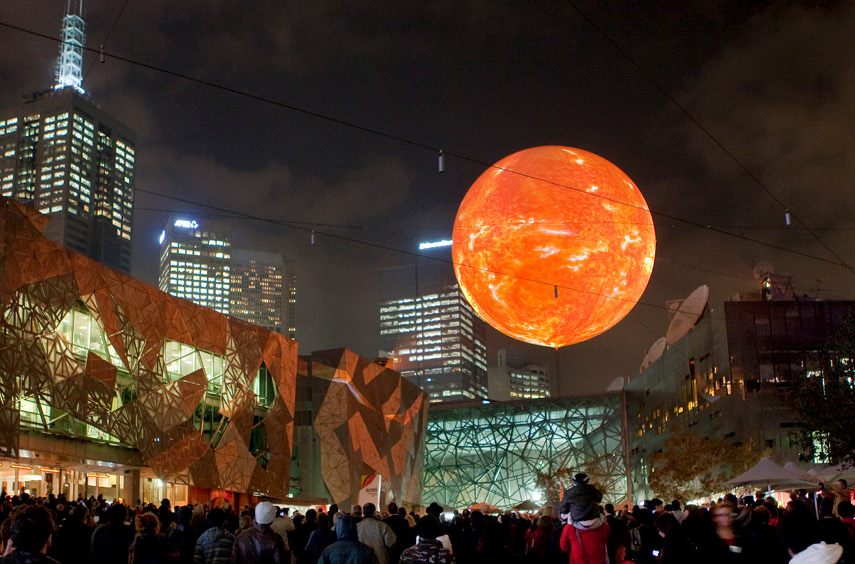 Working In A Lab
Rafael Lozano-Hemmer was born in Mexico City in 1967. His parents were nightclub owners, so naturally young Rafael spent many days surrounded by electronics and learned a lot about how to make machines do what he wants them to. After turning 18 years of age, he moved to Canada to study at the University of Victoria in British Columbia and then at Concordia University in Montreal. He had a very diverse education as he studied many different fields he found interesting - from pure physics to art history. Lozano-Hemmer loved learning new stuff, so in order to keep himself satisfied, he constantly explored options by enrolling in different classes. Ultimately, he graduated from both institutions with flying colors. After finishing universities, he initially worked in a molecular recognition lab in Montreal, showing great ability and dedication as evidenced by his publications in Chemistry journals. As was expected, Lozano-Hemmer turned out to be a fantastic technician. However, even though he worked as a scientist, this was never something he desired to pursue. He needed something more, something that was able to challenge him continually, unlike repetitive work the lab provided. It didn't take long before Lozano made the decision to quit and test himself as an artist. Nevertheless, the time spent working in the lab provided him with a conceptual inspiration and a practical way of thinking he later used on his art. This time marked the beginning of the next chapter in his life, the one that would prove to be even more spectacular then Lozano-Hemmer ever dared to dream. And it's an interesting chapter as well, as we haven't seen many artists who get inspired by things such as phantasmagoria and animatronics.
Most of Lozano-Hemmer's pieces are intended to be witnessed by accidental bypassers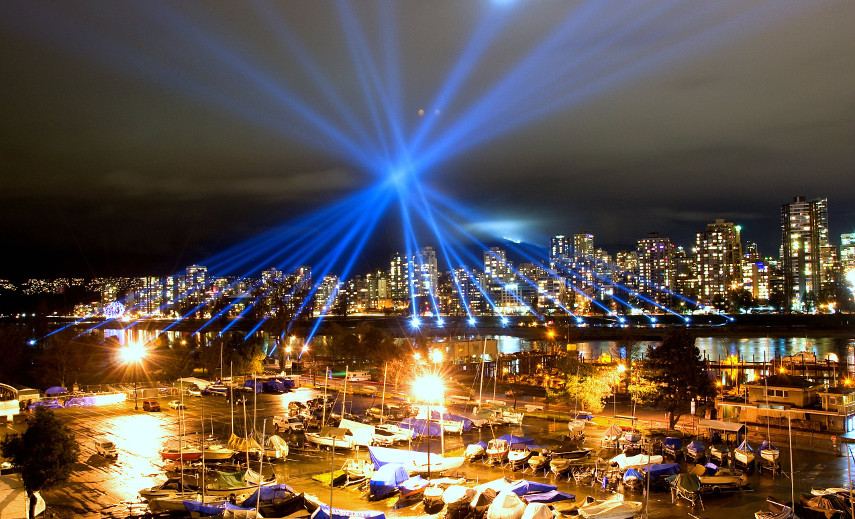 Electronics = Art?
Being so skilled and imaginative, it didn't take long for Lozano-Hemmer to make a name for himself. A master technician full of bright ideas of how to entertain and amaze us - who wouldn't be interested in seeing that? Soon after deciding to leave the job he had in the Montreal lab, Lozano-Hemmer became famous for his interactive installations that are at the intersection of computer and performance art. As is often the case with creative installations, there are not many rules - Lozano-Hemmer uses both large and small scales, indoor and outdoor settings and a wide variety of audiovisual technologies to achieve his expressive goals. He kind of blurs the line between an artist and a technician as he can pass as both of those things without any problem. His main intent is to create platforms available for public participation and he usually achieves this goal by diverting technologies such as robotics, computerized surveillance or telematic networks. What helps Lozano-Hemmer is his extensive knowledge acquired on the universities he studied - if he was not such an entertaining artist, we could easily feel as we've lost an incredibly talented scientist! He created an impressive number of pieces in public spaces across Europe, Asia and America. The main goal of these installations is to interrupt the increasingly homogenized urban conditions and provide the accidental audience with a platform for participation. When video and audio experiences simply aren't enough to convey a message, Lozano-Hemmer's installations turn to the use of words and sentences to add additional meaning. Some of the text based installations, such as Third Person and Subtitled Public, place words upon the viewer himself. There's no need to explain just how much reflective power can be achieved this way. Of course, there are installations like the 33 Questions Per Minute that rely upon the willing participation of the viewer.
Not all of Lozano-Hemmer's installations rely on your accidental participation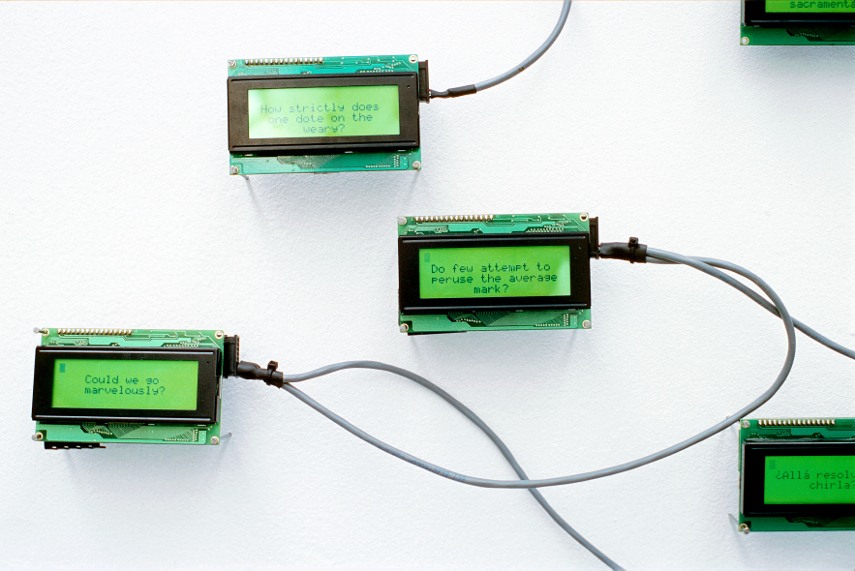 Lozano-Hemmer's Honours
Lozano-Hemmer held many solo and group exhibitions over the years, attracting nothing less then extreme interest from audiences every single time. However, the natural habitats for most of his pieces are public spaces that differ from galleries. Like early avant-garde movements suggested, placing something in a gallery or a museum immediately gives it an artistic feel, but it also takes a part of the soul that piece of art originally possessed. In that sense, Rafael's work has much more in common with graffiti and architecture then with anything you can find in a gallery. The exceptions, of course, are his pieces intended for indoors displaying - like the 33 Questions Per Minute piece. His large-scale outdoors installations have been commissioned for events such as the Millennium Celebrations in Mexico City in 1999, the Cultural Capital of Europe in Rotterdam in 2001, the UN World Summit of Cities in Lyon in 2003, the opening of the YCAM Center in Japan in 2003, the Expansion of the European Union in Dublin in 2004, the memorial for the Tlatelolco Student Massacre in Mexico City in 2008, the Winter Olympics in Vancouver in 2010 - just to name a few. He has also been awarded for his work on many occasions - most notably when he received the BAFTA British Academy Awards for Interactive Art in London and a Golden Nica at the Prix Ars Electronica in Austria. Considered to be a talented artist and a successful technician, Lozano-Hemmer has been invited to hold speeches at numerous universities and schools, such as Goldsmiths college, Harvard, UC Berkeley and MIT. He also gave lectures in programs of prestigious institutions, including Guggenheim Museum, Netherlands Architecture Institute, Danish Architecture Cente, ICA in London and the Art Institute of Chicago.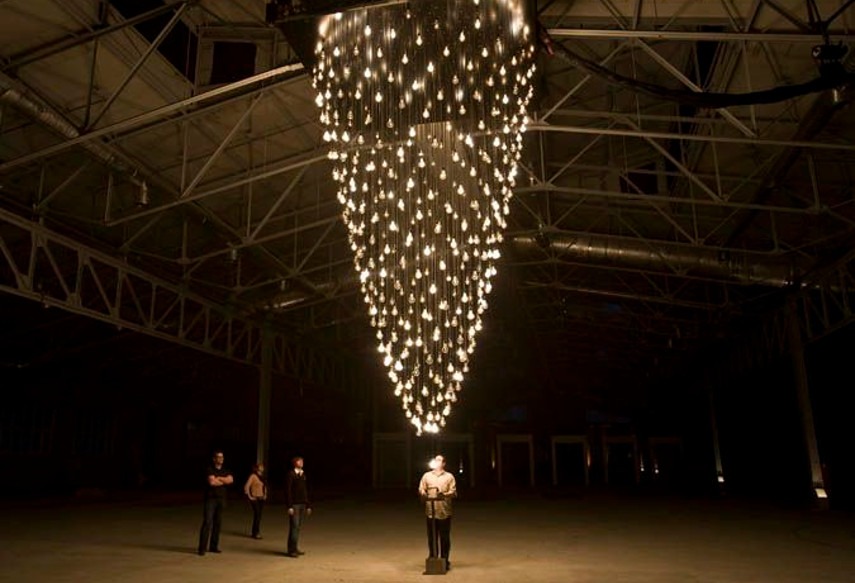 A Real Modern Artist
As was mentioned before, Rafael is quite different from what we've come to expect from artists in general - instead of brushes and such, he uses robotics, real-time computer graphics, film projections, positional sound, internet links, cell phone interfaces, video and ultrasonic sensors, LED screens and other devices. In a way, artists can not get more modern from the level Lozano-Hemmer managed to achieve. He is an excellent example of how artistic expression can be able to keep up with the world that's starting to completely rely on its technology-based culture and on the exact elements Rafael uses to make his installations. For those reasons, we can never be wrong when calling Rafael Lozano-Hemmer a genuine contemporary artist of our time.
Rafael Lozano-Hemmer lives and works in Montreal (Canada) and Madrid (Spain).
Featured Image: Rafael Lozano-Hemmer - Photography of the artist - Photo Credits Alchetron
All Images Photo Credits Rafael Lozano-Hemmer