Can we escape from a nightmare? Originating in subconscious, dreams can be a powerful source of fear, but also a powerful inspiration. Rain is a Ukrainian-born contemporary painter, whose surrealist works has been described as dysphoric and silent, elegant and vulgar, horrifying yet romantic - dualities uncontrollable by will. Dreams are elusive. Eroded by time, abstractions born within them slowly turn to ghosts, but not before they are used as an inspiration. From infancy, night terrors plagued her sleep, inadvertently fueling her curiosity that has become her faithful companion in psychology and art.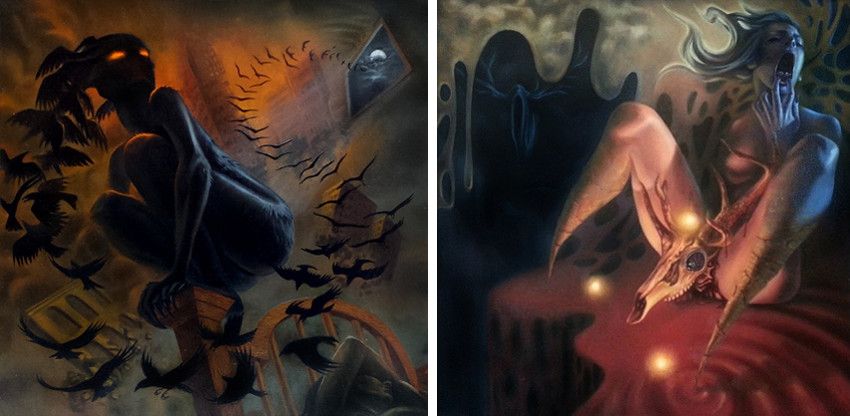 Who is Rain?
Born in Ukraine, Rain moved to the United States in 1999, where she received a Bachelor in Illustration from School of Visual Arts. She works as a full-time tattoo artist but uses her free time to pursue the language of the fantastical and macabre. Recently, her work has been mostly inspired by "Les Chants de Maldoror" by Comte de Lautreamont, published in 1868. After its publication, Les Chants de Maldoror was virtually unknown and ignored. It remained like this until the 1930's when surrealist artists rediscovered the text, basing their own artistic movement on its dreamlike writing style and controversial questioning of morality through the use of humanity at its darkest and most ethically questionable moments. Salvador Dali, René Magritte, Max Ernst, and André Breton are the most famous among them. Rain created a series of works titled Songs of Maldoror, illustrating the novel of the same name. By depicting moments from the novel's poetic cantos that represent a myriad of moments of contemplation and action by the main character, the anti-hero Maldoror, Rain questions the true nature of humans and contemplates our primal urges.
Rain created this new series inspired by Les Chants de Maldoror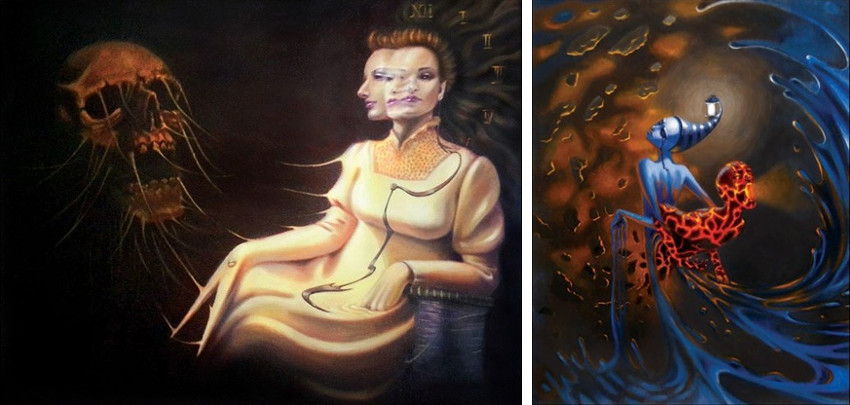 Songs of Maldoror
The series of paintings illuminates the raw, impulsive, and very human shadows that lurk behind what we think and what we say, ultimately claiming that Maldoror resides within each of us. A classic anti-hero, he commits unspeakable behaviors, including violence, depravity, and cruelty, becoming a fallen angel who questions humanity's values in their most basic forms, but also the very origins of man. Rain's paintings aim to shake conventions and reincarnate Comte de Lautreamont's antagonist through the anarchistic corners of her own subconscious. As she states: "The beautiful eloquence of his narration starkly contrasts its grisly anecdotes that upon first glance serve as the macabre ramblings of a madman, however, upon closer inspection the philosophical implications of his tales weaved through allegorical characters expose a visionary relevant to this day… The author, artist and viewer interchangeably walking opposite sides of the same mirror." Songs of Maldoror is Rain's latest solo show that'll be on display until October 23, 2016, at Haven Gallery, Northport, NY.
She is represented by Haven Gallery.
Rain lives and works in Queens, New York.
Featured image: Rain – portrait
All images courtesy of the artist