Ralf Gschwend, better known as Ralfonso, is an acclaimed Swiss artist, known for his kinetic, light and interactive sculptures. Through his body of work, he has pushed the boundaries of traditional, static art forms to introduce visual experiences through the interaction with the environment such as wind, light and water. Unlike other artists, Ralfonso's artistic practice has developed in a reverse order – from large to monumental scale outdoor public art work to small, indoor kinetic sculptures for private homes.
Wind Sculptures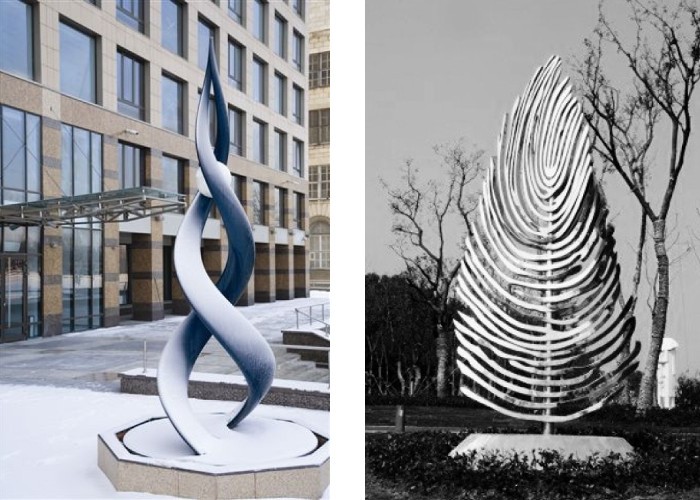 Born in 1959, Ralfonso always wanted to be an artist. Since he was a very young boy, he was always fascinated with engineering, mechanics and design. But it was clear to him that he wanted to be free from financial pressures in his art and creative endeavors. As a result, he wanted to get a business education first. Ralfonso received his undergraduate education both in Europe and in the US. He later continued his formal business education at the Wharton School of Finance, receiving an MBA in 1985. Later, while working in the real estate field in San Francisco, the artist began a series of kinetic sculpture drawings. Without major financial stress, these drawings slowly became the basis for his very first large kinetic sculptures in public places. One of the early public designs was the Wind Rings, later renamed G-Rings, which are still being exhibited in various exhibitions.
Union #2 in Orlando
Created from stainless-steel, fiberglass and Kevlar laminates, his sculptures are mostly inspired by nature, by the shape and natural interaction of all the elements. Each design is unique and relies upon mechanics and a bit of engineering, and has the power to change shape as they move in the wind, or when pushed by hand.
Clients for his large, site-specific public sculptures are mostly cities such as Orlando, Beijing, Zhengzhou, Wuhu, among others. The second largest group of clients are developers of large, master planned developments, such as the Mass Transit Railway Corporation (MTR) in China, Hong Kong Special Administrative Region or large corporations, such as the RBI Holding in the Russian Federation, or the Royal Caribbean Cruise Line Corporation in the USA.
His sculptures have so far been exhibited or permanently installed in Switzerland, The Netherlands, the Russian Federation, China, Germany, the United Arab Emirates, France and the United States.
Ralfonso's Dance with the Wind is a 10m tall wind sculpture that was commissioned and permanently installed at the Olympic Park in Beijing, China, in 2008. His project UNION #2 represents a group of 6 wind driven kinetic wing sculptures, commissioned by the City of Orlando and permanently installed in 2013 in the Central Lake Eola Park, Orlando, Florida, USA.
With his passion for Kinetic Art, Ralfonso co-founded the Kinetic Art Organization – KAO, which has now became the largest kinetic art organization in the world.
Small Sculptures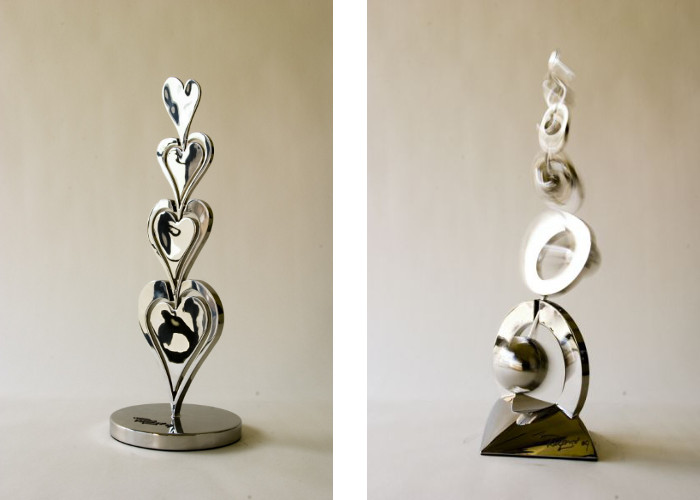 After 15 years building very large to monumental public sculptures around the world, the artist is now focusing on small kinetic and still sculptures. Beijing Museum of Contemporary Art - MoCA, has recently acquired a small kinetic sculpture for their permanent collection. In addition, Ralfonso has been asked to consign a small Dance with the Wind kinetic sculpture for the special Contemporary Curated Sotheby NY Auction, which will be held in March 2016.
Ralfonso works from his studios in West Palm Beach, Florida, USA and Geneva, Switzerland.
Featured image - Twist sculpture, created for MEI, in Switzerland
All images copyright © the artist