Observing the work of Ralph Heimans is almost like having your own little time machine. Before the era of digital cameras, in order to get a representative picture of yourself or your family, you were forced to sit still for hours upon hours while a paid artist painted your portrait. It's easy to imagine such a process as excruciatingly dull and seemingly endless, but it was usually worth it, especially when you account for the fact that some of the greatest paintings ever made were portraits. Heimans manages to bring the portrait genre into the 21th century and successfully modernizes it. More impressively, he can stand shoulder to shoulder with the greatest painters of portraits in history.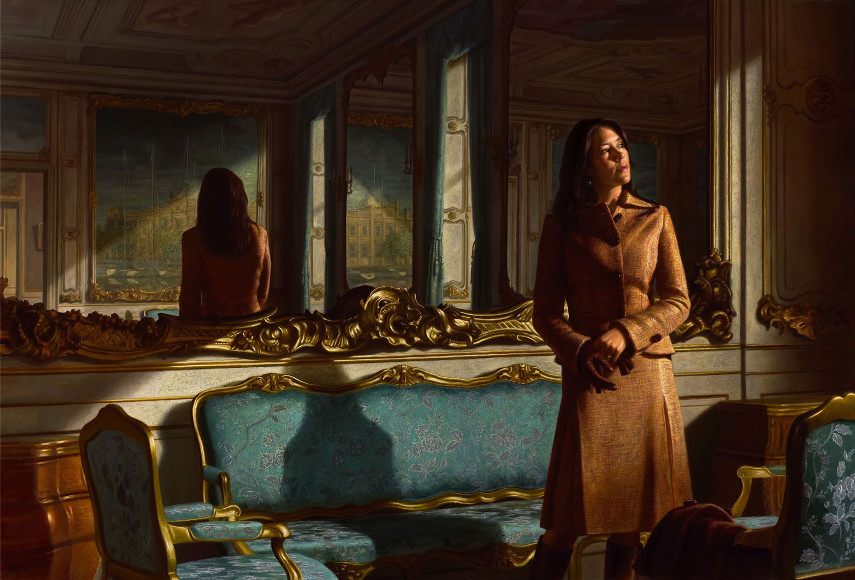 Meet Heimans and His Work
It may seem that we're just hyping Ralph's work a bit too much, but after spending only mere seconds watching any of his portraits you will be assured our claims are well-founded. The first thing you will notice is that Ralph's paintings are large. And we do mean large. The huge scale he uses comes from the artist's obsession with details and the dimensions of his work allow him to fill it to the brim with accessories. After the initial awe, you will next come to see the amazing beauty Heimans manages to install into his paintings. When it comes to the virtue of realistically portraying people, you needn't look any further then Heimans. His work is simply flawless. Another aspect that makes Ralph's paintings even more attractive is the fact there are so many engaging narratives concerning his subjects' life stories. His sitters mostly include exceptional individuals who have made significant contributions to science, law, politics and art - so logically they have some amazing stories to tell. Heimans creates an interesting integration of subject and context. He positions figures in complex arrangements that fit their psychological profiles and are underlined by an innovative use of geometry, reflection and perspective. Both Ralph's theoretical and practical knowledge was acquired at the University of Sydney and at the Julian Ashton Art School. These prestigious institutions were an essential stepstone that launched Ralph's creative side in the right direction. After many years of trial and errors in portraying his countryman, Heimans perfected his work and in the year of 1997 he took his first overseas commission from the European Court of Justice in Luxemburg.
Until you look closer, it's easy to mistaken Ralph's painting for photography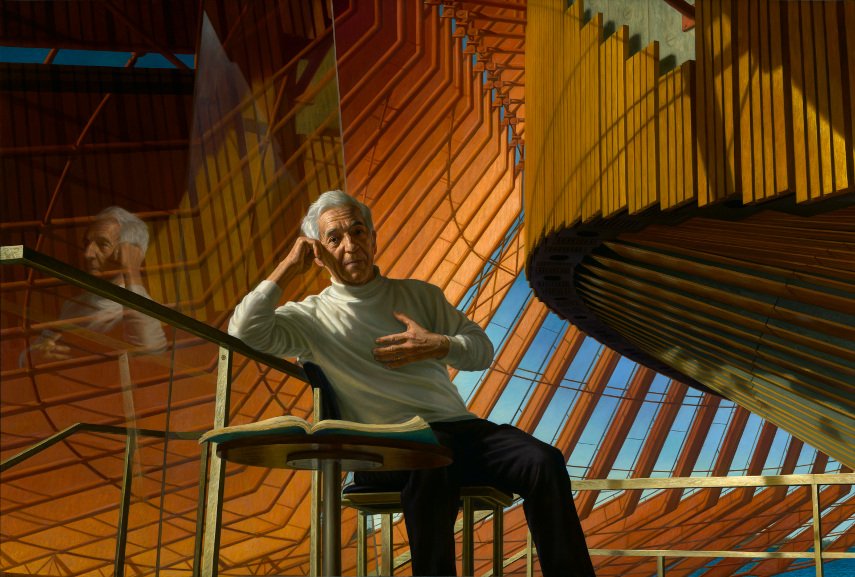 Ralph's Clientele
When it comes to the world of Portraiture it all comes down to who you are portraying. You can have an amazingly gifted hand - which Ralph undoubtedly possesses - but if you do not find the proper clientele, your artwork might just end up sitting in your drawer or hanging over your dinner table. Luckily for Heimans, and for us as well, his customers could not get any more elite. First of all, he is the only artist chosen to paint an Official portrait of the Queen in Her Diamond Jubilee Year. This portrait was unveiled at the National Portrait Gallery of Australia in 2012 and it actually managed to set a new record of visitors present at one time in this studio. It was later acquired by Westminister Abbey and placed in its permanent collections.
Portraying Her Majesty is the highest peak of Ralph's career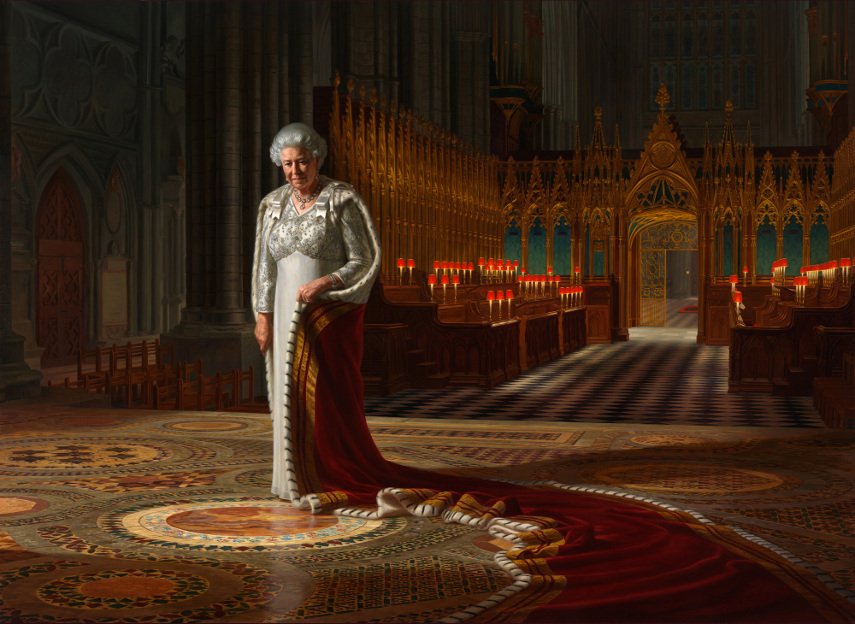 Amongst other royal clients, Heimans also did a portrait of the Danish Crown Princess Mary, displayed in the Danish National Portrait Gallery. Ralph also painted the portraits of the Russian pianist Vladimir Ashkenazy and the Governor-General Dame Quentin Bryce for Australian Parliament House. The list of important people Ralph painted does not end there - his other subjects are the likes of HRH Prince Edward, HRH Princess Sophie and Sir Ben Kingsley, not to mention his exhibition of leading authors for the Random House Shakespeare series. In 2017, he painted a portrait of His Royal Highness The Duke of Edinburgh for the National Portrait Gallery in Denmark. It was on display in Denmark in 2018, as part of an exhibition which aimed to explore historical and cultural connections between Royal Families of Great Britain and Denmark.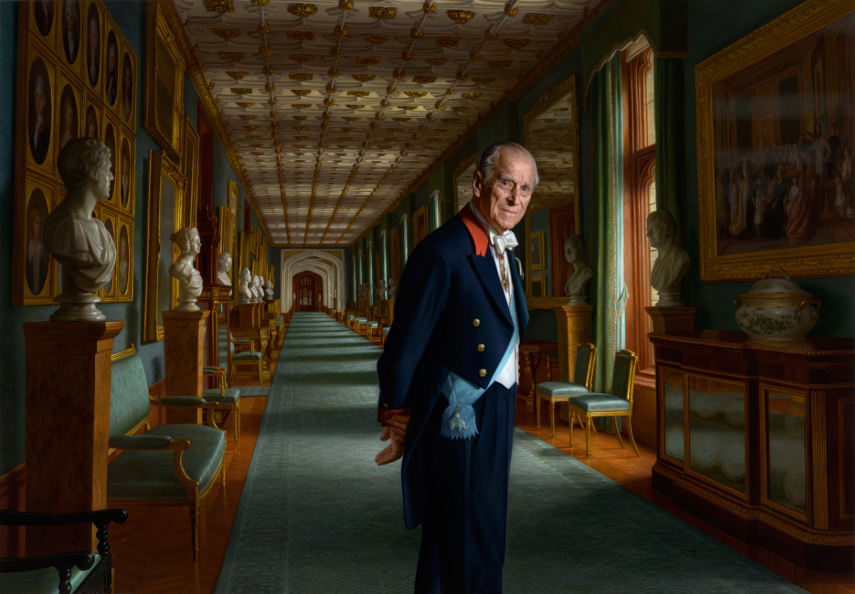 Portrait of HRH The Prince of Wales
Set in the tapestry room at Dumfries House, Scotland, the portrait of HRH The Prince of Wales by Heimans shows HRH standing by a window through which a large oak tree, a national symbol of wisdom and strength, is seen. The expansive tree is reflected in the lid of a grand piano inside – bringing nature 'into the room' and referencing HRH's advocacy for the integration of nature, architecture and art. The artist drew inspiration from the Prince's writings and his commitment to environmental protection and sustainability, architectural preservation and notions of harmony between the natural world and the built environment. The portrait was commissioned by Australian philanthropist and Founding Patron of the Prince's Trust Australia, Anthony Pratt.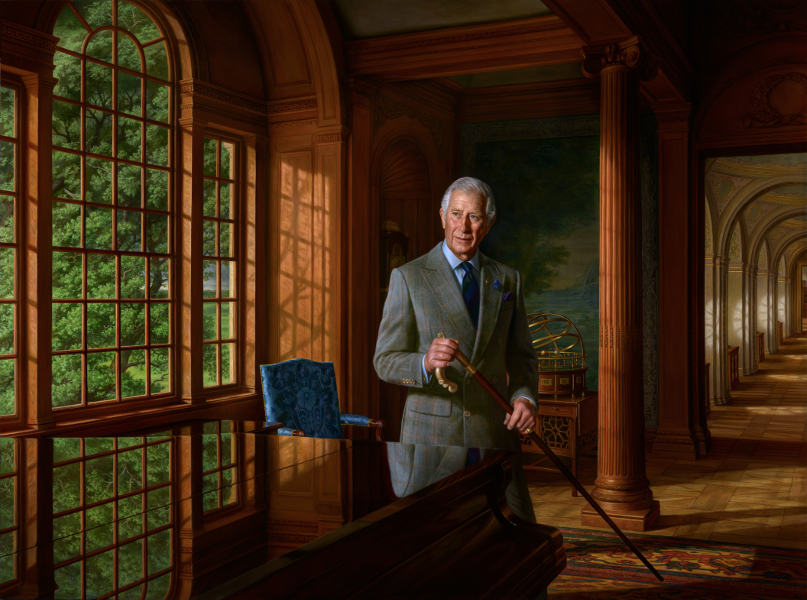 Observing The Way Heimans Works
Technically speaking, Ralph has reached the peak of human ability. There is literally not a way how he could make his portraits any more perfect: the precise placing of elements inside the compositions, the method of shading that is simply incredible, Ralph's complete mastery of the coloring pallet, the amount of emotion he captures in one portrait - all of the above has been brought to a level where there is no more room to advance. Heimans gives us a gift of pure visual brilliance. His portraits are held in some of the world's most renowned institutions including Westminster Abbey, The Royal Collection, The National Portrait Gallery of Australia, Frederiksborg Castle in Denmark, and the European Court in Luxembourg. If you were an aspiring artist, these are the locations you would dream of displaying your artwork. But be careful, as there is a reason why only a few made it as far as Ralph Heimans has.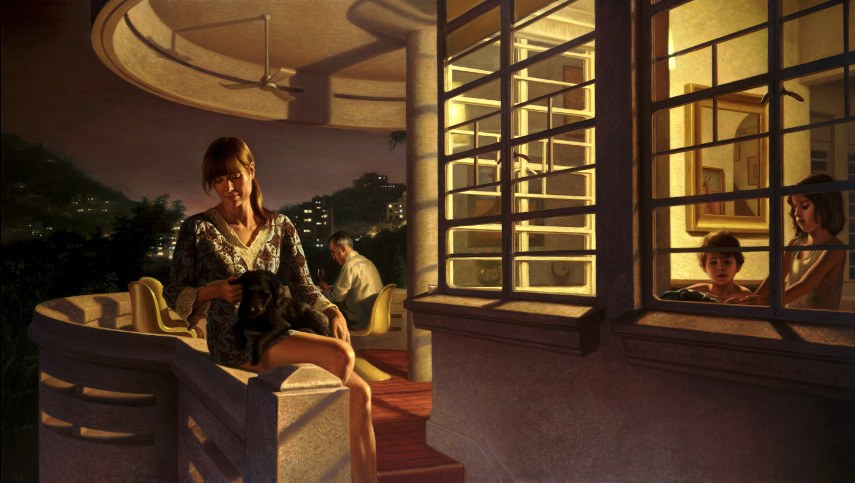 Ralph's Completeness
So what's next for Ralph Heimans? He has already perfected his technique so much that it's not likely he will achieve any more development. Perhaps the biggest problem concerning his work is the confiding nature of the portrait - it does not allow too much room to maneuver. Portraits demand one thing only and that is to depict a person or persons. Nothing else is required to make it, so it's not like Ralph can add elements to his work if he still wants to stay true to the principles of Portraiture. If you are searching for an abstract painting or a mythical composition, you've unfortunately come to the wrong place. But, if you are looking for a perfectly formed painter of portraits, welcome to the most elite company you can find. Stand up and give a round of applause to Mr. Ralph Heimans.
The artist is represented by Cat Street Gallery in Hong Kong, China.
Ralph Heimans lives and works in Sydney (Australia).
Featured Image: Ralph Heimans - Artist in his studio - Photo Credits Jewish News
All Images Photo Credits ralphheimans.com.