Ramon Bruin is a Dutch photographer who makes complex optical illusions. His elaborative style is emphasized with a usage of special airbrushing. Illusions appear three dimensional like they are going to step forward and come to life. The drawings are made in a special technique, so they will appear 3D only from a certain angle. What is amazing about Bruin's work is that he uses only pencil and few sheets of plain white paper. No special effects! However, drawings must be photographed from a certain angle, and thoughtfully fixed camera will show subjects in 3D. At first, these pieces appear magical and it takes time to digest them and understand how they were made.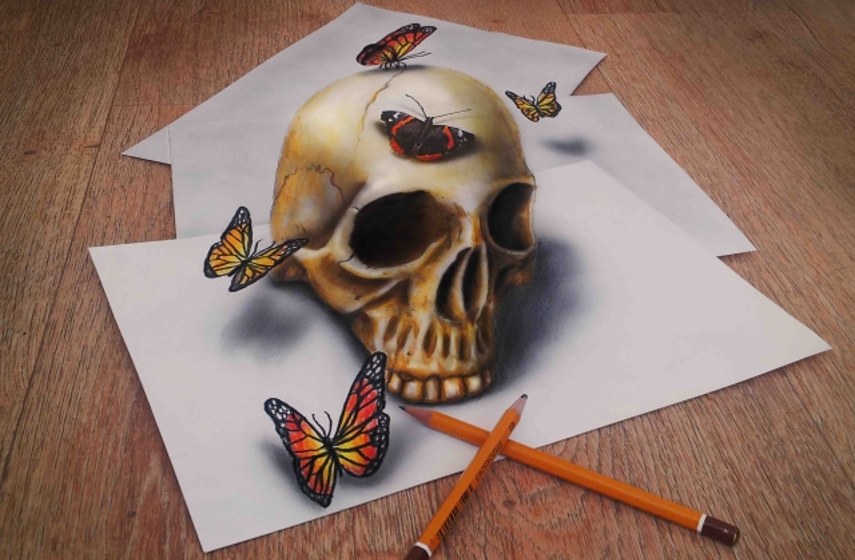 Who is Ramon Bruin?
He was born in 1981 in Alkmaar in Netherlands. He wanted to pursue an artistic and technical education, so he attended the Airbrush Academie in Lelystad, where he graduated in 2010. He likes to define his style as Optical Illusionism in which he uses the combination of the photography and drawing. Although it takes an enormous amount of skill to draw such fine lines on few pieces of paper, Bruin likes to state out that it is more about the photography than the pencil-and-paper skills. The angle has to be right, the focus has to be set, and at the end, the picture must come to life, at least to another dimension. Bruin has combined his 9-year experience in airbrush and knowledge from the Airbrush Academie studies in order to establish a company on his own, which specializes in making amazing customized work. Bruin claims that the only purpose of this unusual company is to create kick-ass airbrush works. The talented artist regularly posts his newest pieces on various social media channels, such as facebook, instagram, and his own website. Needless to say, Ramon Bruin has an enviable number of followers - some of them are 3D art enthusiasts themselves, eager to learn some tips and tricks from Bruin, who is a true master of three-dimensionality.
Bruin's pieces are very popular on social media - thanks to his successful 3D works, many other artists find this artistic style very challenging yet appealing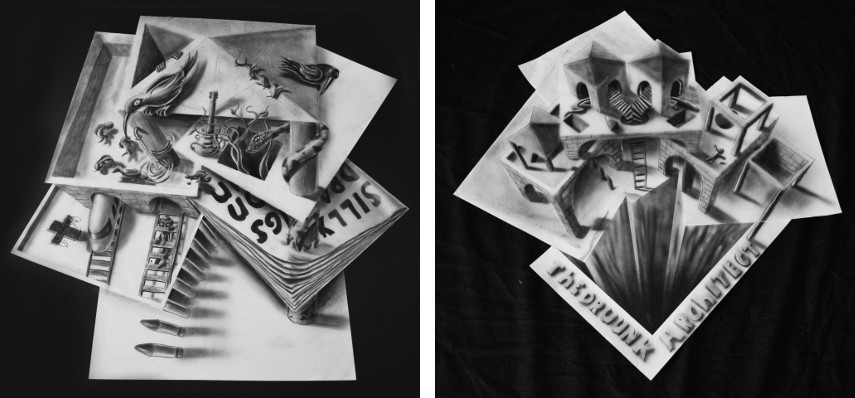 3D Pencil Drawings that Pop Out
A special feature to his artwork is drawing on several pieces of paper. The Multi Layered Illusion style consists of drawing on few pieces of paper, that have to be arranged in a dynamic and connected way, so the image could bring the object to life. He uses just a simple graphite pencil, but also ink, color pencils, and acrylics. Airbrushing is the big part of his creation process. To make the images really pop out he uses shading technique that gives them depth. He will often leave pencils near the drawing, so they can increase the effect of the illusion even more. When it comes to the main topics and motifs in his works, there are plenty of them - human figures, architectural details and structures, as well as everyday objects. Bruin seems to be a real prolific artist, with boundless sources of inspiration. Nowadays, his work can be found in both black and white as well as color variations, which increases the versatility of his imaginative ideas and visions.
Multi Layered Illusion style consists of drawing on few pieces of paper, that have to be arranged in a dynamic and connected way, so the image could bring the object to life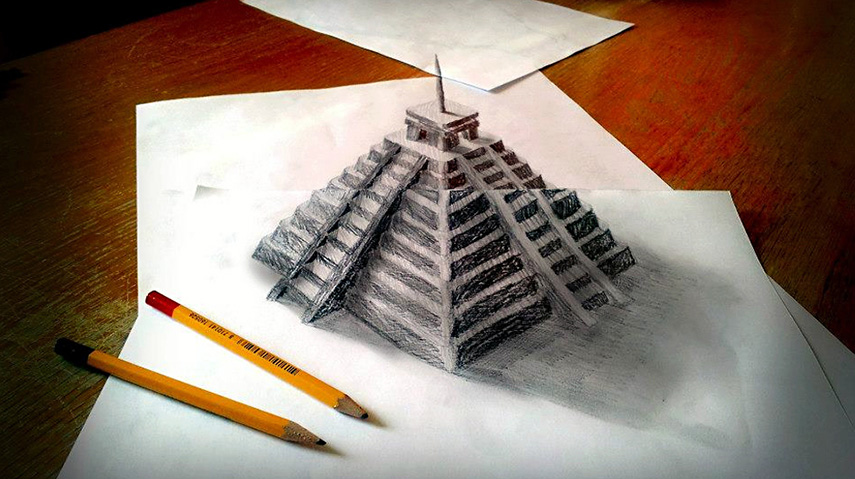 Promoting 3D Art on Various Picture Sharing Platforms
It is interesting to mention that this technique called 3D pencil drawings is getting more and more public exposure and in the last couple of years it has become a movement on its own. According to BoredPanda website who promotes many of these artists, there are currently around 22 young artists who specialize in this type of drawing. The most famous names, besides Ramon Bruin, are Alessandro Diddi and Fredo. These three artists have developed a highly technical form of art despite the fact that the tools they use are simple – in fact, these are just pencil and paper. In order to create pieces like theirs, one needs a whole lot of practice, talent, and dedication - they can be created in a split second! There are also many videos on how to create this type of art. In addition to these paper-based 3D works, another similar movement which is popular nowadays is pavement painting, as well as pavement drawing and sidewalk chalk art, which is done by artists from all over the world. The technique used in these works are similar to Bruin's visual strategies but they need to be executed on a larger-scale. Through the study of anamorphosis used in the paintings of the Renaissance and Baroque masters to give an illusion of expanded height and broadness, these artists have developed a new form of street and paper-based art, the 3D street painting, to produce three-dimensional impressions on a two-dimensional horizontal surface, which is either asphalt or paper.This new art form of painting has been gaining in importance all around the globe and it is actively disseminated by numerous artists. It is admired at street painting festivals as well as promotional events and it has a very large audience.
Every drawing is made with the shading technique and we can see many great examples of such drawings on Bored Panda website
Airbrushing as a Crucial Part of Illusions
He has a company JJK Airbrush where he promotes the airbrush technique. With it, an artist can achieve depth and realistic appearance. Combined with shading, it will successfully give the illusion effect. His passion towards motorcycles got him to learn how to paint on different surfaces, so now he paint on motorcycle helmets, bikes, and even guitar. Bruin also likes to paint using the neo-pop approach. He likes to make mosaic portraits made of many colored squares, where variation in tone determines the lines in portraits. We're positive that talented Bruin will continue to create and promote his incredible 3D pieces and present them to the international audience via many online channels.
Ramon Bruin lives and works in Heerhugowaard, Netherlands.
Featured image: Ramon Bruin - Self Portrait
All images courtesy of the artist