Many artists draw from their own past experiences in order to portray a subject and carry messages, stories, and emotions through the canvas to the recipient. Ranging anywhere from bliss to horror, we've seen both sides of the spectrum described through artistic means; for the Toronto-based artist Ray Caesar there's a bit of each, both in his past and in his oeuvre. Influenced by nearly two decades of employment in The Hospital For Sick Children, his modeled characters and architectural environments describe the artist's subconscious world of darkness, humor, and hope built on the foundations of a younger mind.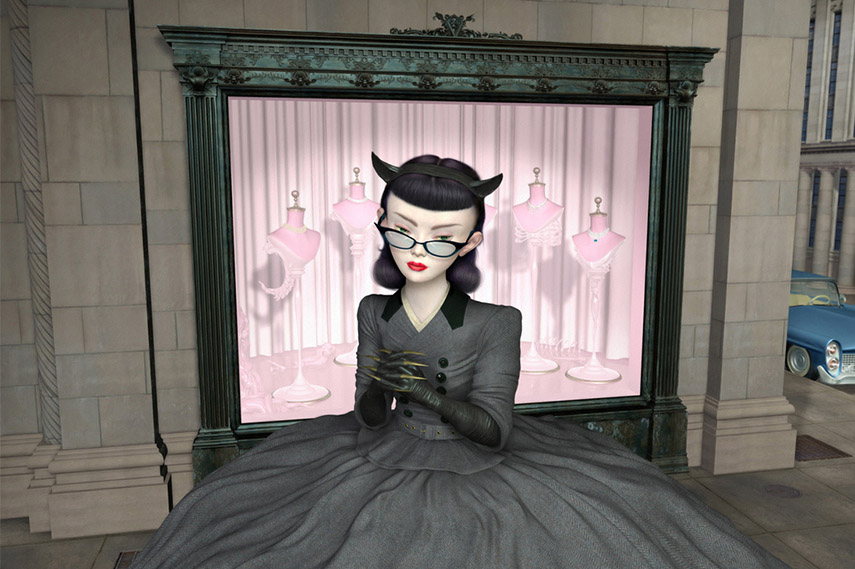 Puzzle that is the Mind
What marked the younger years of Ray Caesar's life was the part that he had in the Art and Photography Department of The Hospital For Sick Children in Toronto. Documenting the results of child abuse, surgical reconstruction, animal research, and everything in between that transpired in the facility, it couldn't but leave not only a strong impression on his persona, but change it altogether. The 17-year long experience in the hospital would turn out to sculpt his present artistic practice, one that is, in a way, a psychological puzzle made out of pieces of various shapes and sizes formed in this place. Having seen both misery and miracles, Caesar keeps pursuing his dreams as an artist and he does so for all of those that have crossed his path during those years, but that won't get the same chance.
Through his prints, Caesar portrays a psychological puzzle created by his memories and emotions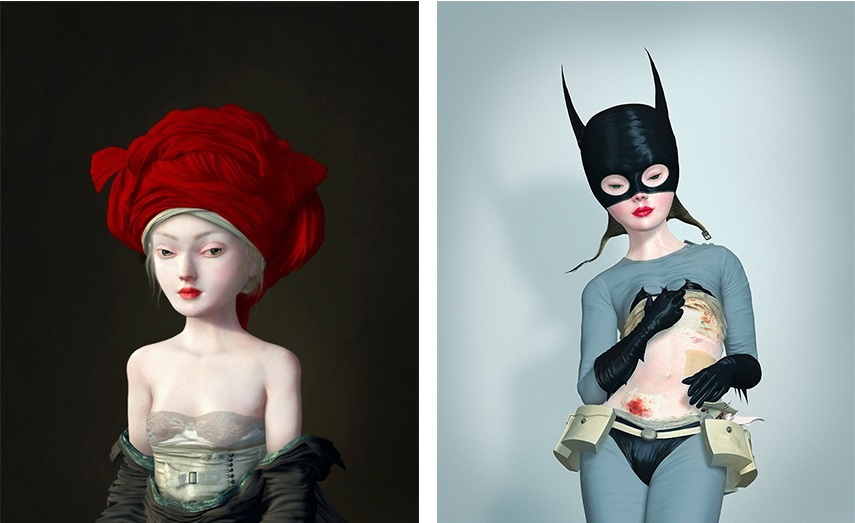 A Haunting Realm Much Like Our Own
There's one thought that keeps haunting Ray Caesar's mind along with his eventful past. Having spent nearly two decades working within the hospital space, he moved on to digital animation that he produced for television and film industries. This period allowed him to practice and perfect 3D modeling using the software called Maya which helps him create his models to this day. Constructing a skeleton of a sort for his characters, he is able to position them in virtually any pose, placing them in the environments he had previously created. The final printed pieces look stunning, and given that they're created based on a three-dimensional space existing as a part of a computer program, they are consequently giving out a sense of "unreal reality." Caesar has exhibited his pieces far and wide across the globe, but there's a lingering thought that persists after the curtains are down - a fascination with the fact that though his work is done and his computer is off, there's a realm out there still existing, containing scenes frozen in time; and who knows…perhaps our own reality might not differ much in regards to another, unknown one.
Ray Caesar is fascinated with the realm of 3D modeling
Grandfather of Digital Art
One of the most recognized pop-surrealist artists, Ray Caesar's pieces and the characters they depict are at the same time alluring, pretty, and slightly disturbing. Representing the emotions and memories that took root in his younger days, Caesar utilized his modeling knowledge and skill to bring his consciousness to the canvas. Titled as the grandfather of digital art, his use of the Maya software leaves behind a trail of glamorous works, each sensible yet unsettling in its own details.
The artist is represented by Corey Helford Gallery.
Ray Caesar lives and works in Toronto.
Featured image: Ray Caesar - Mother and Child (detail), 2013. All photos credit the artist.
All images used for illustrative purposes only.