Raymond Pettibon is a witty American illustrator and cartoonist, best known for his comic-like drawings which always contain intelligently disturbing, ironic messages. Pettibon's art is sometimes violent and almost always rebellious, against the system. His medium of choice is ink on paper and many of his early drawings are black and white. However, Pettibon likes to experiment and he introduces colors to his pieces through the use of watercolor, collage, gouache and acrylic paint. Pettibon's exciting career started in the Southern California in the late 1970s and 1980s, influenced by pop and punk culture. Many of his famous illustrations can be found on the legendary album covers of rock stars, in various comics and as a part of concert flyers.
[caption id="attachment_286964" align="aligncenter" width="855"]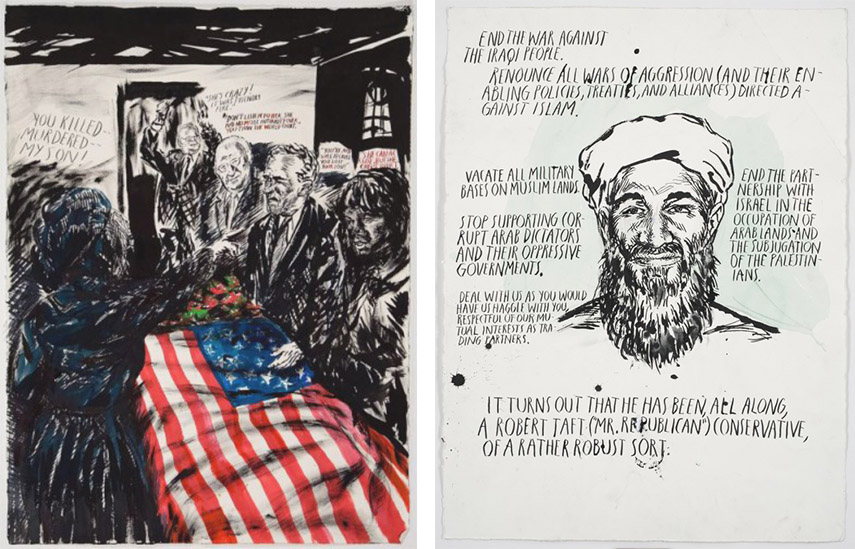 Raymond Pettibon - You killed Murdered, 2007 (Left) - End the War..., 2007 (Right)[/caption]
Early Career and Main Sources of Inspiration
Pettibon was born in Tucson, Arizona in 1957 as Raymond Ginn. He changed his name to Pettibon because his father gave him the nickname petit bon, which means a good little boy. His educational background wasn't originally related to visual arts. Pettibon studied economics and became a high school math teacher before his decision to return to college. Eventually, he graduated with a BFA from the prestigious UCLA. Pettibon's visual style and ideas became quickly recognizable and appreciated in the colorful, liberated world of the late 70s. The artist's drawings encompass the large spectrum of cultural issues - the deviances of the marginalized youth, literature, sports, sexuality, and even religion. There is also a common set of motifs and personalities depicted in many of Pettibon's pieces and these are Charles Manson, surfers, baseball players, Elvis Presley and violent young punkers. Pettibon's paper-based pieces combine images and text, often borrowed from literature. Even though some of Pettibone's images are stand-alone works, they are much more often paired with handwritten text. When it comes to Pettibon's influences in literature, these are all preeminent writers, such as Henry James, John Ruskin, William Faulkner and James Joyce. Pettibon claims that his interest in combining illustrations with text is rooted in the influence of poets such as William Blake. Pettibon is a prolific artist who made hundreds and hundreds of original drawings. In 1978, he started to publish them arranged as limited-edition booklets, called Superflux Pubs. These booklets are considered the sum of Pettibon's brilliant ideas and visions. By the mid-80s, Pettibon has changed his style and started working in collage. He was using prevalently newspaper and magazine pieces combined with simple black and white images.
In 1978, Pettibon started to publish his works arranged as limited-edition booklets

Album Cover Artworks
Some of Pettibon's best-known illustrations are featured on popular album covers. In the late 70s and early 80s, the artist has produced a large number of uniquely humorous artworks on fliers and similar promotional materials, such as posters, stickers, and finally album covers, which were really well received when it comes to the international marketplace for art. His most appreciated work from this period was an illustration for his brother's band known as the Black Flag. Around the same time, Pettibon has worked with many other popular punk and rock bands, such as the Dead Kennedys, the Ramones, and Meat Puppets.
Some of Pettibon's best-known works are featured on album covers
[caption id="attachment_286960" align="aligncenter" width="755"]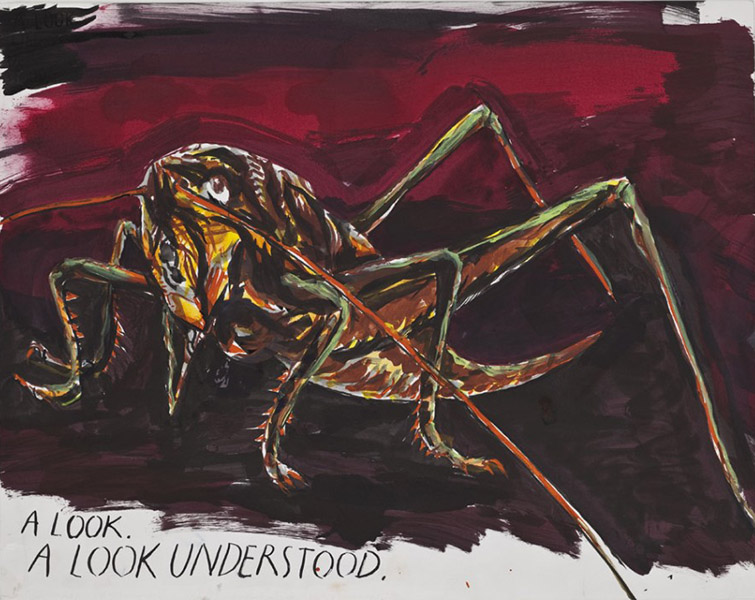 Raymond Pettibon - No Title (A look A), 2010[/caption]
Success Related to Gallery Exhibitions and Museum Collections
Pettibon's exhibiting career started in the 1980s. By the early 90s, he was already quite famous and he the won the Louis Comfort Tiffany Foundation Award. In the late 90s, he released an anthology of his pieces called Raymond Pettibon: A Reader. A few years later, in 2001 Pettibon won a brilliant international award for his work – it was the Wolfgang Hahn Prize from the Ludwig Museum in Cologne, Germany. In 2004, the prestigious Whitney Museum of American Art in New York awarded him the Bucksbaum Prize. Because of the universal nature and wide acceptance of his artistic style, Pettibon's work has been exhibited widely throughout the United States and abroad. Most important venues which have held his solo exhibitions are the Kumu Kunstimuuseum in Tallinn, Estonia, Kunstmuseum Luzern in Lucerne, Switzerland, Kestnergesellschaft in Hanover, Museum of Contemporary Art in San Diego and the Whitney Museum of American Art in New York. There are also many museum collections who proudly feature Pettibon's pieces and these are the Centre Georges Pompidou in Paris, Hamburger Bahnhof - Museum für Gegenwart in Berlin, The Israel Museum in Jerusalem, The Museum of Modern Art in New York, San Francisco Museum of Modern Art and also Tate Gallery in London, among others.
Because of the universal nature and wide acceptance of his projects among fellow artists and audiences, Pettibon's work has been exhibited throughout the shows in the United States and abroad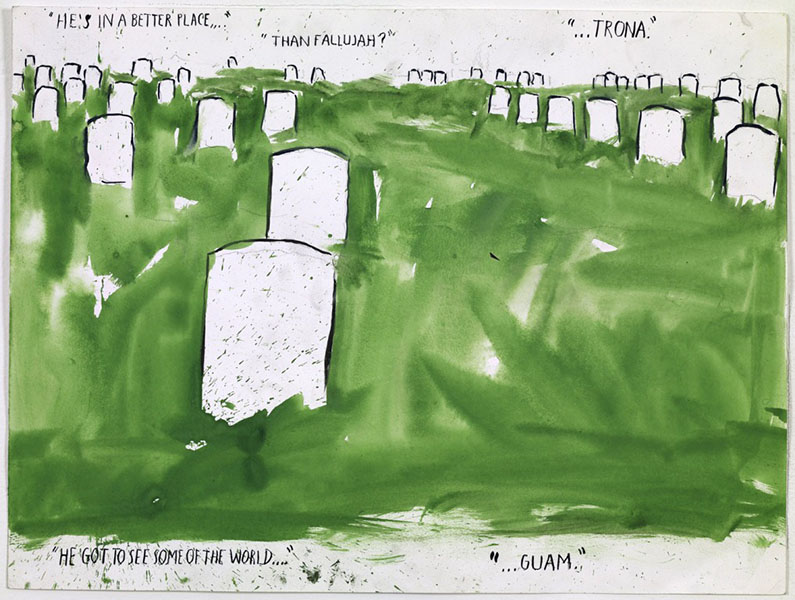 Homo Americanus
Pettibon's most recent show is called Homo Americanus and it is currently on view at the Deichtorhallen Hamburg - Sammlung Falckenberg in Hamburg (from February 28 until September 11, 2016). It is a major retrospective of the artist's pieces and it encompasses more than six hundred artworks from every period of his career. It is also interesting to mention that the majority of pieces available at this show have never been exhibited before. Accompanying the exhibition is a brand new publication by D. Zwirner Books, made in collaboration with Pettibon. The publication is curated by Ulrich Loock and the biographical notes are written by Lucas Zwirner. After its premiere in Hamburg, the show will travel to Museum der Moderne in Salzburg.
Pettibon's most recent show is called Homo Americanus and it is a major retrospective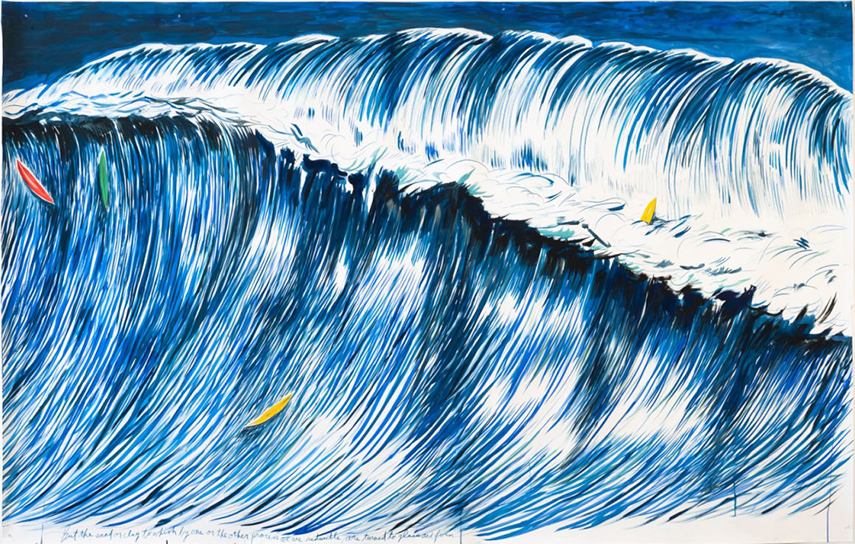 Guide Through High and Low American Art and Culture
Raymond Pettibon's work is of crucial importance because it features a wide spectrum of American issues belonging to both high and low culture. With his humorous style full of irony, easily recognizable illustrations and strong punch lines, Pettibon has covered many universally appealing topics, such as the life of marginalized youth, art history, literature, sports, religion, politics, and of course sexuality. Pettibon remains a very active artist, eagerly following the ever changing topics and issues of the modern society and lifestyle.
The artist is represented by David Zwirner London, David Zwirner 20th Street New York, and Galerie Fluegel-Roncak.
Raymond Pettibon lives and works New York City.
Featured image: Raymond Pettibon's Portrait - image via huckmagazine.com
All other images courtesy of D. Zwirner Gallery.