Using found objects as a baseline for art has been around for just over a century, starting with some of the greatest artists that have ever lived - Pablo Picasso and Marcel Duchamp. Defined as making non-artistic objects into an art piece or its part, "ready-mades" have truly been invoking a reaction from the viewers as their usual perception of such products completely changes. Inspired by these pioneers of the craft, especially Duchamp, the French duo of Adrien Bertrand and Vincent de Mestral going under Ready Made France have been creating vivid, enticing artwork built around the idea of material recovery. Based in Lyon, they create a surrealistic world built on a variety of components.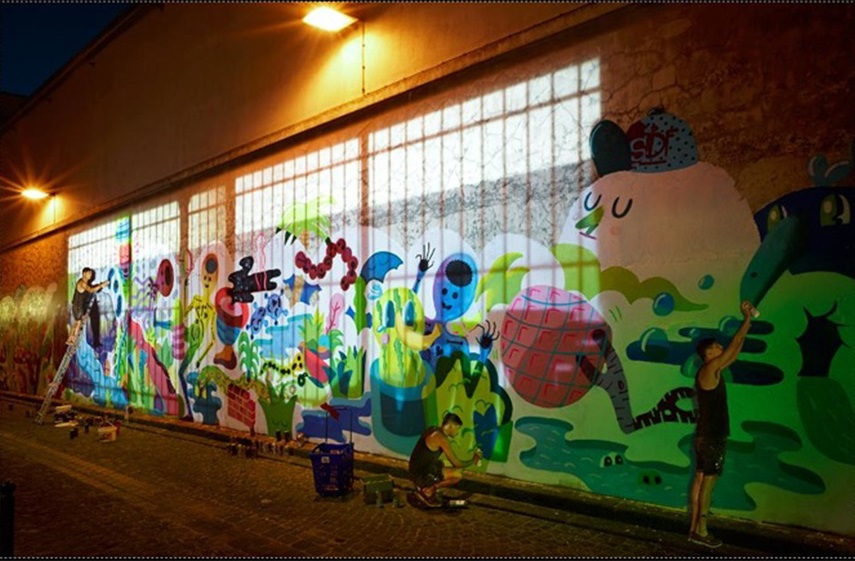 The World of Readymades
French artists Adrien Bertrand and Vincent de Mestral are two halves of Ready Made France (or RMF) duo, noted for their simple and universal forms. Brightly-colored, their paintings and sculptures invite us to a sunny and dreamlike world. Hailing from Lyon, France, the artists have developed a colorful and fun world filled with pineapples, watermelons, freshness, and nature. The name of the duo is a reference to the famous Marcel Duchamp's Readymades - ordinary manufactured objects that the artist selected and modified. The name is not given by chance - Ready Made France duo loves to recycle and recover different materials, creating art on all surfaces such as cardboard, wood, and textile. The duo has also been working on theater scenery and for a lot of brands including Jagermeister, Vice, Hartford and Grolsch. They had several exhibitions in Lyon and Paris. Some of the artists Adrien and Vincent listed as their influences include Keith Haring and Roy Lichtenstein.
Ready Made France duo creates a surrealistic world built on a variety of components
Surreal Everyday
In their use of a spectrum of materials, the Ready Made France duo creates and pulls us in a new surreal environment. Their dreamlike sculptures and paintings are repeatedly vivid and pleasant on the eyes, with each piece emitting a positive vibe. Regardless of what the parts were previously meant for, the colorful whole that they now form radiates with energy that the artists instill in each of their works, creating art adorns both the streets and gallery walls.
The artists are represented by the Dope! Gallery.
Ready Made France duo is based in Lyon.
Featured image: Ready Made France working on a new piece. All photos credit the Dope! Gallery.
All images used for illustrative purposes only.