Red Grooms aka Charles Rogers Grooms is an American multimedia artist known for his lively and colorful pop-art pieces portraying busy urban life scenes. His unusual, endlessly amusing painted collage sculptures depict both fictional and observed scenes and they are characterized by Grooms' strong talent for stylization and his sharp sense of humor. He created his most famous pieces using the complicated, painstaking technique of putting together various painted depictions into so-called sculpto-pictoramas, which are a unique combination of painting and sculpture. After he moved from Nashville to New York in the mid-50s, Grooms collaborated with other creative people belonging the Pop Art movement.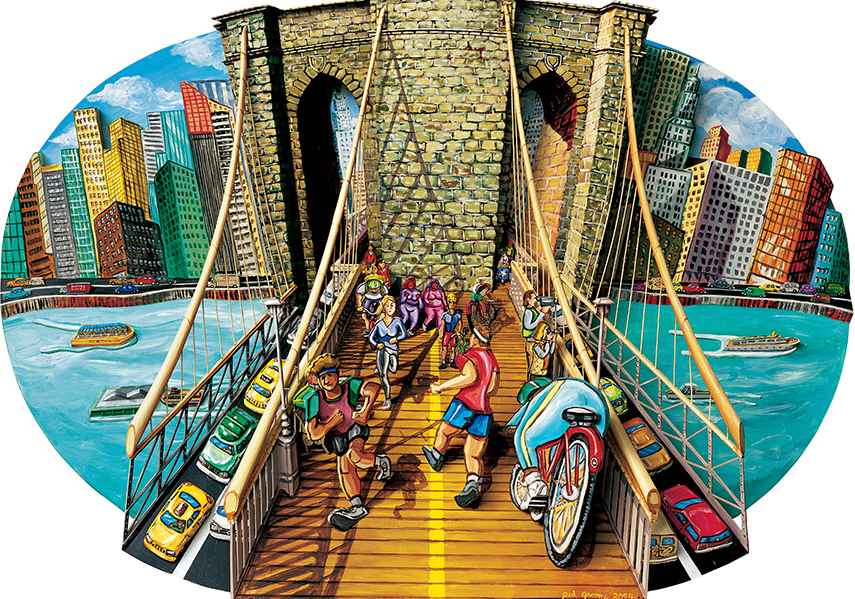 Commentator on the Human Condition
Grooms is originally from Nashville, Tennessee and he was born during the time of Great Depression. He studied fine arts at the Art Institute of Chicago and Peabody College in Nashville. Grooms decided to move to New York City in 1956, where he enrolled in the New School for Social Research. Around the same time, he attended a summer session at the Hans Hofmann School of Fine Arts in Provincetown, Massachusetts. He got his nickname Red while living in Provincetown, where he worked as a dishwasher at a restaurant before he became a full-time artist. It is important to underline that Red Grooms belongs to the generation famous for the intelligent sense of humor and keen desire to comment on the human condition. Grooms is often compared to the Marx Brothers because of his impetuous, unstoppable energy and ability to be both solemnly serious and extremely witty, depending on the occasion. He was also compared to Marcel Duchamp, who is again a notably witty, tongue-in-cheek commentator of the human condition.
Red Grooms belongs to a generation of artists who were famous for their intelligent sense of humor and their keen desire to comment on the human condition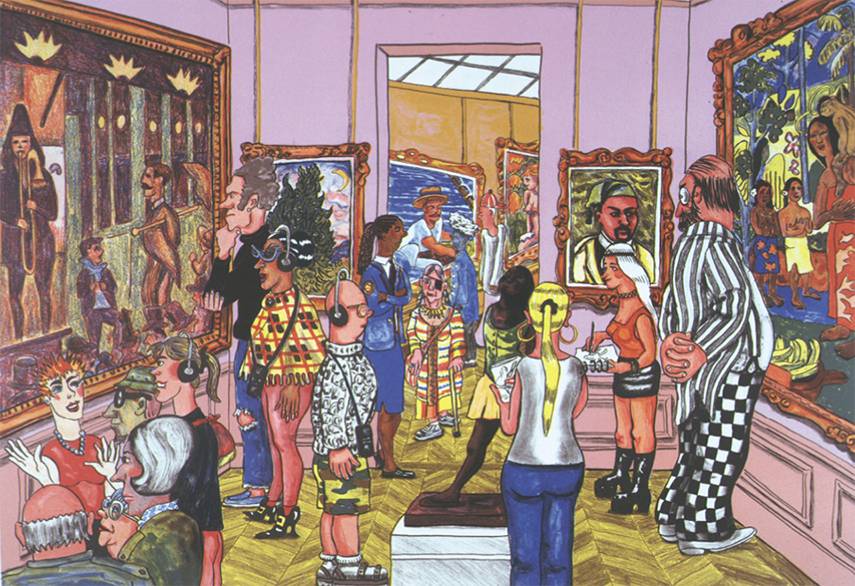 Interest in Performance, Painting, and Sculpture
One of the first projects Grooms participated in happened in the spring of 1958. Together with Yvonne Andersen and Lester Johnson, Grooms painted twelve-foot by twelve-foot panels, which were placed on telephone poles on a parking space close to the amusement park in Salisbury, MA. We can call these panels an old fashioned version of today's billboards. but what is really important is that Grooms' distinctive talent for visual arts already at that time won the considerable amount of public exposure. In addition to visual arts, Grooms was also fascinated with performance and acting, which dates back to his childhood days in Nashville. During the late 50 and early 60s in New York, he created Happenings, which were traveling events staged by a group of young performers, still outside of the established art world of New York City. These performances were a wild, chaotic blend of improvisation and studio practice. The best-known happening was The Burning Building, which was staged at Grooms' studio in Lower East Side of Manhattan.
Grooms has always been a very prolific and versatile artist and today he's considered one of the pioneers of site-specific sculpture and installation art. One of his first worldwide renown pieces was City of Chicago, from 1967 - a large, walk-through installation containing sculptures of celebrities such as Mayor Daley, Hugh Hefner, and Abraham Lincoln, with a burlesque background music. This installation is confirming Grooms' amazing capability to create humorously bizarre compositions. His another famous sculpo-pictorama, from 1975, is called Ruckus Manhattan and it consists of a number of mixed-media installations which became Grooms' signature works. Ruckus Manhattan features colorful three-dimensional constructions and cartoon-like characters, inspired by the most diverse inhabitants of New York City. Grooms' talent for creating caricatures is more than evident in this series. He literally transformed the Grand Central Terminal into a hilarious 3d caricature of Big Apple and its people. In addition to Grand Central, this installation features other typical NYC locations such as Central Park and the Appolo Theater as well as figures of tourists, shoppers, taxi drivers, gamblers and prostitutes.
Ruckus Manhattan features colorful three-dimensional constructions and cartoon-like characters, inspired by the most diverse inhabitants of New York City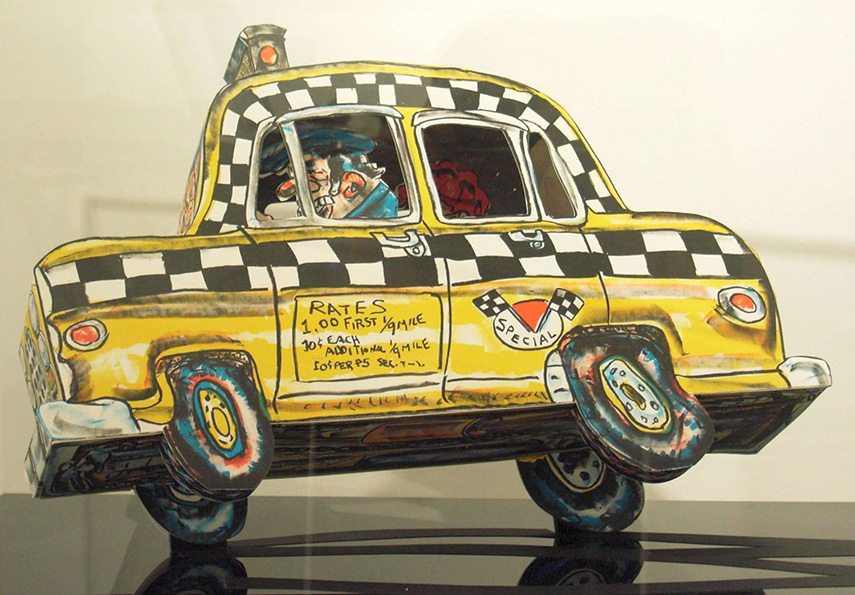 Prints and Lithographs
Besides his famous paintings, sculptures and installations, Grooms is also renown for his dedication to printmaking. He is quite creative and experiments with non-traditional printmaking techniques – he creates woodblock prints, uses spray-painted stencils and constructs elaborate three-dimensional lithographs. After he bought a hot-glue gun in 1973, he started creating stunning pieces of paper sculpture. Later on, in 1979, Grooms spent some time at the University of New Mexico, where he first learned to work even in bronze.
After Grooms bought a hot-glue gun in 1973, he started creating stunning pieces of paper sculpture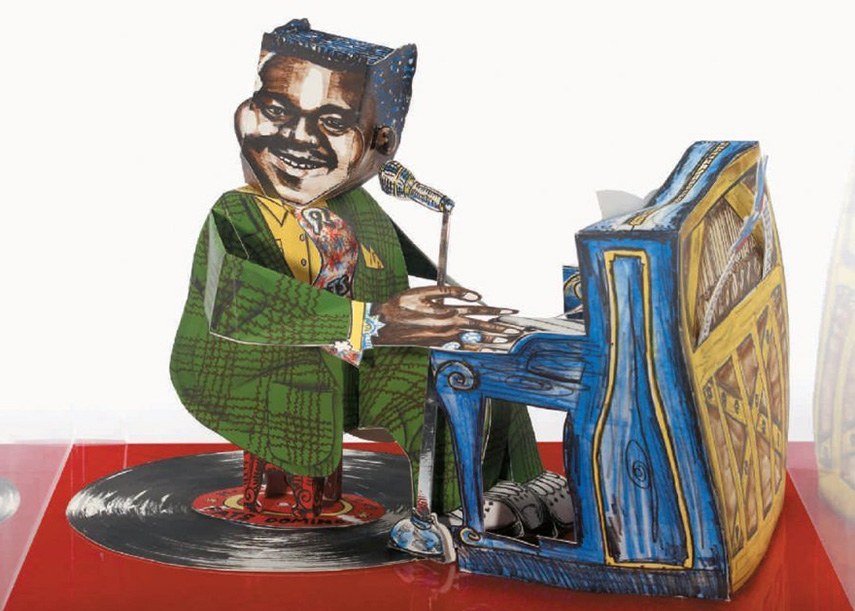 Homage to New York City
Grooms talent to reveal the city's dark side and frenzy as well as its sparkling allure turned Manhattan into an exciting wonderland. His warm-hearted parody and satirical approach pay homage to Big Apple in a unique way and his work is highly appreciated and loved for its comic-like character. Grooms' pieces have been shown across the United States, Europe, and Japan and they are included in the permanent collections of roughly 40 museums Grooms was given the Lifetime Achievement Award for his innovative and humorous work that won the hearts of his audience and art critiques.
The artist is represented by Gregg Shienbaum Fine Art and Puccio Fine Art.
Red Grooms lives and works in New York City.
Featured image: Red Grooms - Self-portrait with Frame, 2004 - image via pafa.org
All images used for illustrative purpose only.