Rene Gagnon found his true calling when he was an adolescent boy. He started drawing when he was two years old, and since then, never stopped expressing himself in color and street culture. When he discovered hip hop and rap subculture he started drawing graffiti on notebooks and school book covers. He was influenced by movies and music and has been active on the scene since the 80s. Gagnon defines his style as contemporary, post-graffiti abstract expressionism mixed with graffiti art. He paints graffiti using stencils, but he also draws, illustrates and works with wheat pasting in the Massasuchats area and all the way to New York.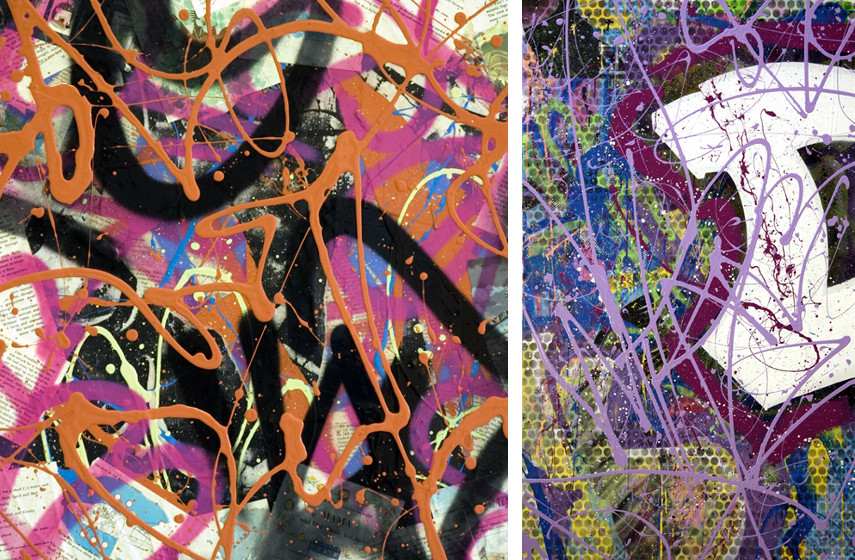 Spraypaint, Stencils and Wheatpaste
Rene Gagnon was born in 1971 and knew at an early age that he wanted to explore and define his artistic identity through street art. When he was young he met another graffiti artist named Ster and he started learning new techniques and worked on different styles. Gagnon's alias was called SNO and under that name he started exploring the rebellious nature of urban street art. In more mature years he started reflecting on the bare nature of street art and realised that in order to really express his soul he needs to incorporate different techniques. To overcome his teenage fame he started mixing expressionism with urban art and developed more subtle and elaborate fusion of styles. He worked with spray paint, stencils and wheatpaste on the streets, and in his studio he mixes all of it with more elegant techniques such as painting.
The artist worked with spray paint, stencils and wheatpaste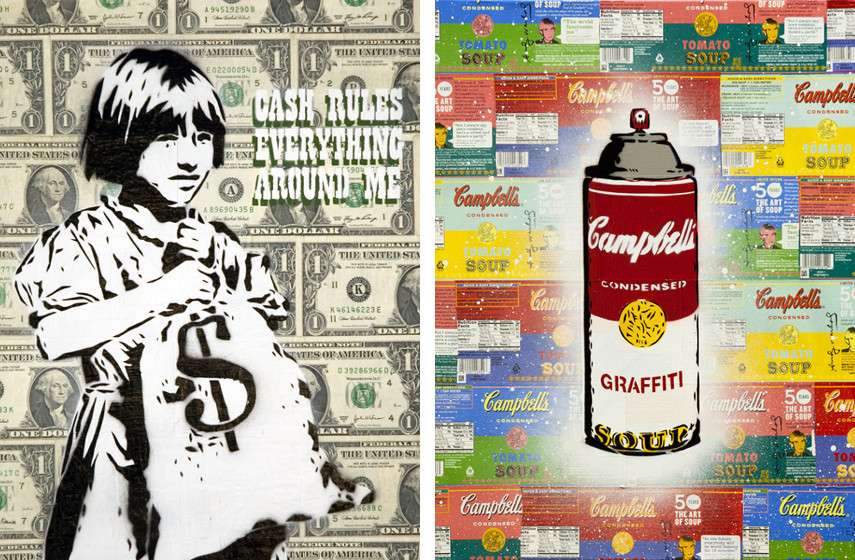 Transcending the Label
The street philosophy of graffiti art still suffers from the stereotypes such as vandalism and rebellion without a cause. Also, many street artists have sunken deep into the subculture, so there is a constant struggle to fight for dominance. Gagnon is matured and evolved as an artist and being backed up with his amazing talent he had managed to overcome the limitative label. His transcendence moved him from the streets into the college and he graduated from the Massachusetts College of Art in Boston, with BA in Fine Arts. After years of working as a freelance illustrator and designer, he took a job as a high school teacher of Visual Arts. In his artistic exploration, he managed to master the various techniques of screen printing, painting and color mixing all by himself.
Everything that Gagnon makes is a product of personal beliefs and formed opinions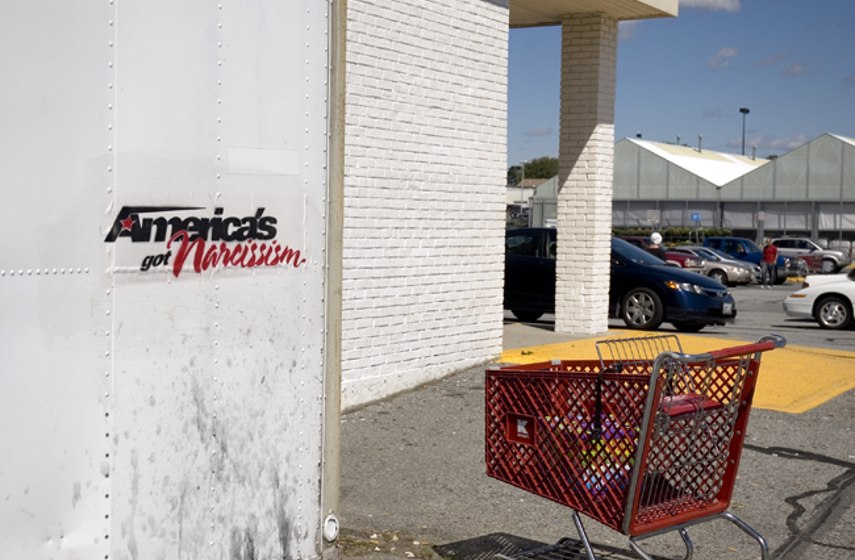 The Evolution of the Artist
Gagnon's art is personal, intimate and yet universal in its metaphorical power of transferring ideas. Everything he makes is a product of personal beliefs and formed opinions on various political, socioeconomic and cultural issues. Finding his place between classical graffiti art and advanced painting, he uses every one of his pieces as a token of self-exploration and a utility to discharge his emotions. He uses pop culture references such as classic Hollywood stars and motives from the Star Wars franchise and even takes his turn on an urban version of Picasso. Sticking to the mantra that in order to be successful one must do what he loves, Gagnon found his inner voice in painting, abstract art, and in making his personal statements visible in his unique fusion of post-graffiti urban expressionism.
The artist is represented by Street Art Anarchy.
Rene Gagnon lives and works between Los Angeles and New York.
Featured image Rene Gagnon - Street Art 158
All images copyright of Rene Gagnon