American street and studio artist Retna has done something that was a big novelty in the world of street art - he invented a distinctive constructed script and incorporated it, in one way or another, in all of his paintings and murals. Because of the uniqueness and visual appeal of these constructed letters, Retna became one of the most prosperous street artists, nowadays working with high-end clients and campaigns. But everything started from a simple idea - to transform the usual graffiti style into something that people who appreciate street art are not familiar with.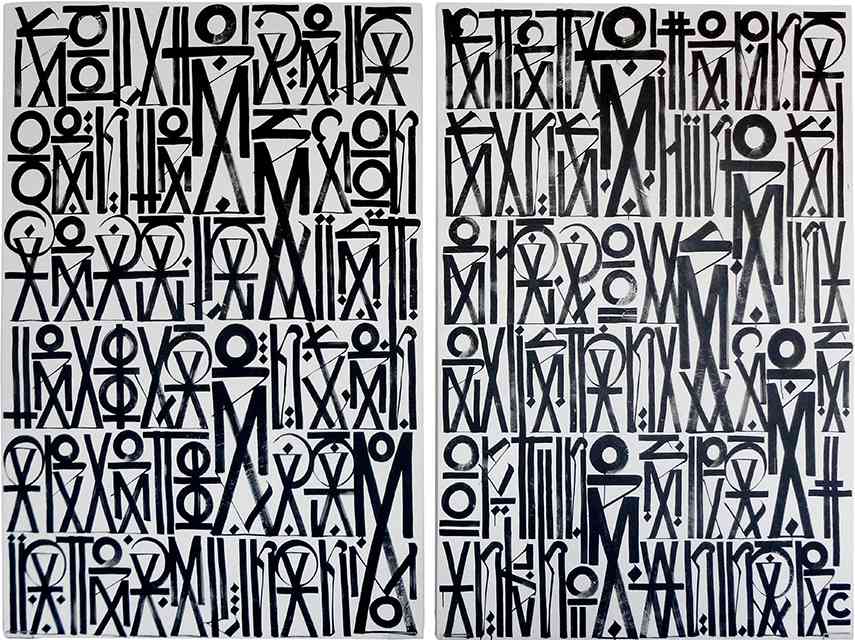 Graffiti Culture in LA
Marquis was born and raised in Los Angeles, and has African-American, El Salvadorian and Cherokee origins. As a child, he moved between several schools in the Los Angeles area, each time becoming more intrigued by and involved in graffiti culture. In 1996, he chose the pseudonym Retna from a lyric in one of the Wu-Tang Clan's song. The name itself evokes the timeless power, dynamics and visual vibrancy behind the artist's acclaimed work. Retna's projects merge photography with graffiti style and paint, time with color, fashion and couture with street culture, the spiritual with the sensual, and fluidity with grit. Whether his paintings hang in a gallery or wall on the streets of Los Angeles and many other cities, they serve as a retina through which we view the urban journal of contemporary art.
At an early age, Retna was introduced to L.A.'s urban art and mural culture. While still attending high school, he was a leading member of one of the largest and most innovative graffiti collectives the city had witnessed. He is perhaps best known for appropriating fashion advertisements and amplifying them with his unique layering, intricate lines, text-based style and incandescent color palette reflecting an eclectic artistic tradition. Retna is best known for his original, distinctive and easily recognizable script, constructed from elements of Blackletter, Egyptian Hieroglyphics, Arabic, and Hebrew calligraphy, as well as more traditional types and styles of street-based graffiti. At first glance, his artworks look like an undiscovered ancient script, a series of hypnotic symbols, complex, beautiful and captivating.
Retna talks about his work in his LA studio
Influences
Retna cites many various eclectic artistic influences, such as illuminated manuscripts, Renaissance imagery, and modern text-based artworks. Religious architecture and décor have long been a focus of his endeavors. He has mentioned masters such as Degas, Klimt, Basquiat, Haring and the Art Nouveau movement as historical references. As for his graffiti writing, Saber and David Choe are cited as particular influences, among other street-art figures. Still, it is impossible to point out who was the most influential factor among these references, since Retna's projects are a unique blend of modern and classic artistic style.
Retna's influences are illuminated manuscripts, Renaissance imagery and modern graffiti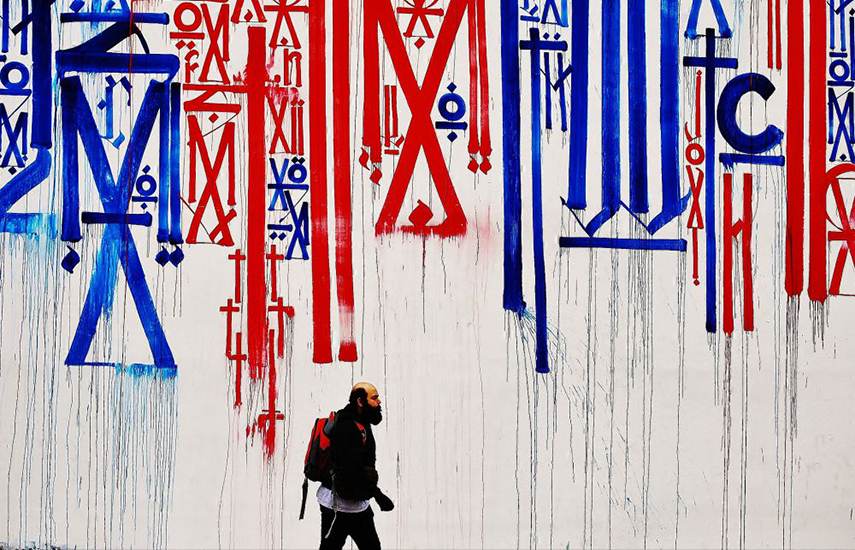 Building His Own Style
Retna became just as notorious for his variegated painting technique as his timeless style - he used paintbrushes mixed with the traditional spray can. Many of his pieces blur the line between fine art and graffiti, between power and opposition, between tradition and advancement, between the past and future. Also, when he was once asked if there was any verbal element behind the writings on his artworks, Retna said: There is. It could be a poem, it could be just stuff that I'm thinking about, for me it's just a very meditative process; I'm just having a conversation with myself. Sometimes I allow the music to influence what I'm writing. […] They all say something.
American flag became one of Retna's artistic challenges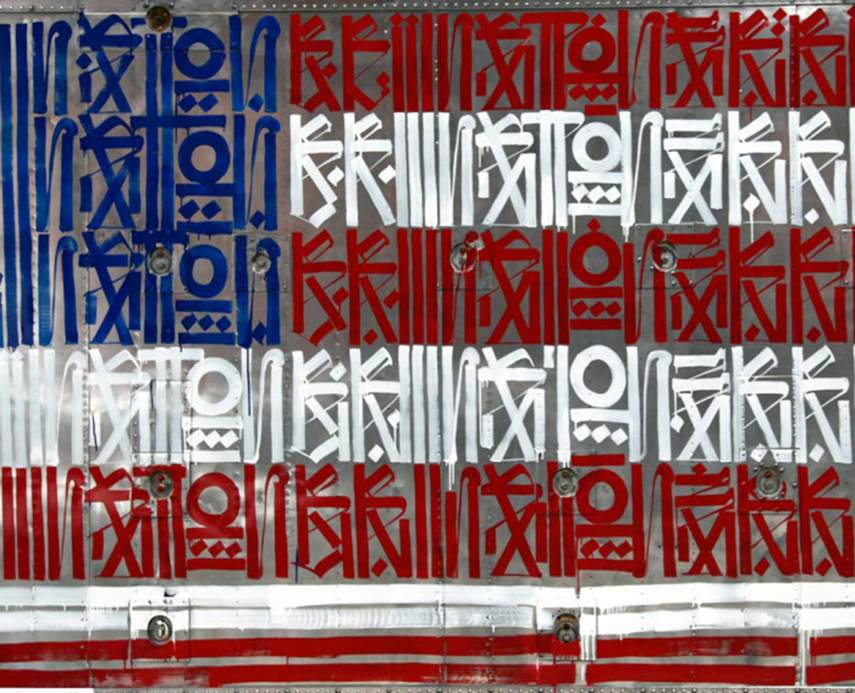 Important Projects
In 2000, he had his first group exhibition at the Contemporary Corruption Show at 01 Gallery in Los Angeles. Today, Retna traverses between the galleries, studio and commissioned work, and street-art circles with ease. In addition to being aligned with the Art Work Rebels and Mad Society Kings Art Groups, he is a member of the internationally exclusive collective, The Seventh Letter, whose influence on contemporary street art encompasses the globe. He has garnered attention from Usher, an R&B singer, who commissioned the artist to create a portrait of Marvin Gaye. Recently, Retna teamed up with Justin Bieber to create the cover of the singer's long-awaited album, entitled Purpose. Using his signature calligraphic scripts, Retna covered up the photograph of Bieber in the nude, thus making a final design for the album cover.
Retna's collaboration with another street artist, El Mac
Understanding the Audience
The key of Retna's success is his long-term awareness and interest in graffiti and street art culture, which helped him understand how to affect people and get their undivided attention. Constructing a new script, in a way, equals to constructing a new language. Consequently, Retna's idea of a new language which combines the mysterious symbols of the past with the modern lines that resemble graphic design projects became a million-dollar project, something that people are bound to interpret, decode or simply enjoy for its sheer beauty.
The artist is represented by Hang-Up Gallery.
Retna lives and works in Los Angeles.
Featured image: Retna's portrait
All images copyright © the artist.