In the attempt to make things more beautiful, artist Jason Williams, better known as Revok explores the themes connected with the human experience using materials from his urban surroundings. Starting from the streets of his birth town, he became one of the most prominent graffiti writers of the Los Angeles urban scene. As a passionate artist he got into the troubles with the law, but after the hard times, he managed to direct his talent toward the new kinds of expression creating pieces that could be compared to the color studies of Josef Albers in a combination with the hard edge painting and Revok's distinctive lust for texture.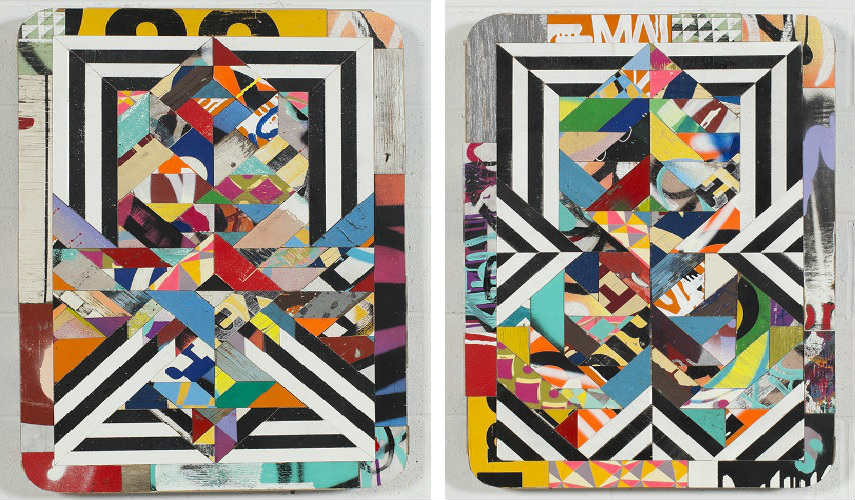 From Jason Williams to Revok: Member of the Seventh Letter and MSK Graffiti Crew
Jason Williams was born in 1977 in Riverside, California. Discovering arts in his early age thanks to his father's collection of album covers of 60's and 70's music albums, comic books and his interest in skateboarding culture, he started sneaking out from his parents' home to write graffiti. He is a member of the Seventh Letter, famous West coast collective of artists and Mad Society Kings (MSK) that is a world-known graffiti crew. Since his teenage beginnings, Revok successfully develops a reputation not only as an influential graffiti painter, but also the prolific artist whose work has been exhibited worldwide in both gallery and museum spaces. Starting from the old school graffiti writing, his style is constantly improving, moving the boundaries of known expression.
Jason Williams aka Revok is a member of prominent graffiti crews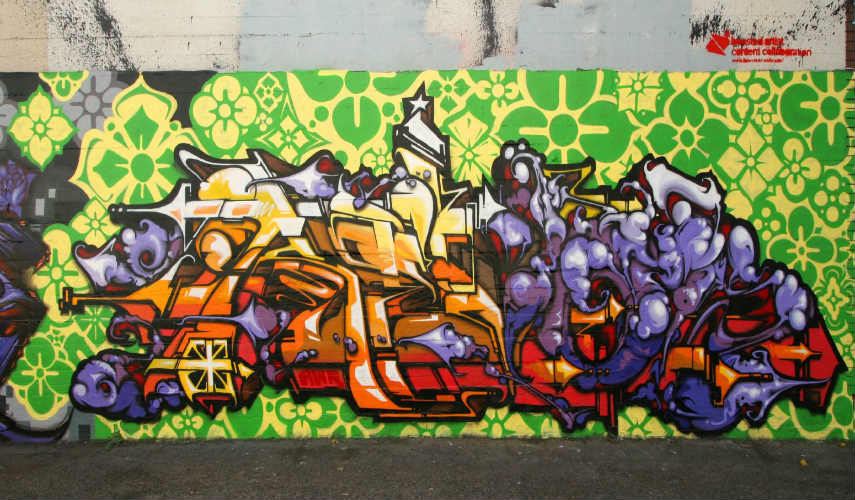 Revok's Graffiti Crimes and the Shift to Studio
Due to his troubles with the law, during the time, Revok became a much different artist. After his first arrest in 2009, that was followed by the second in Australia at the same year and the legendary one in 2011 when he was determined the 320,000 dollars' bail and 180 days in prison because of previous unpaid penalties for graffiti crimes. Disappointed by the fact that can no longer paint murals in Los Angeles, not even commissioned and approved ones, he decided to get away for a while, in 2012 he moved to Detroit, where he spent two years creating a series of assemblages made of waste materials that he gathered throughout the city. With the aim of embellishing the neighborhood, he painted murals along with his friends within the project Detroit Beautification that he founded.
His first L.A. solo exhibition has been held in 2015. It was his big comeback that represented the Revok in the new light. He started to create the works that reflect the future, instead of his earlier recycling the past. Astonishing the audience with the variety of his works, Revok showed series of complex geometrical 2D and 3D pieces of oil enamel and synthetic polymer resembling computer generated images and stunning assemblages made of objects found on the streets. His journey from Los Angeles to Detroit and back woke up a hidden abstractionist in him. He started to make in a different realm where he has yet to be proved. These works represent the culmination of his ideas since returning to the city. Created of the materials from his immediate surroundings, his assemblages constitute the prime focus of his book Revok: Made in Detroit, published in 2014 and led to sold-out exhibitions in New York, Dubai, Detroit, and Hamburg. Changing his priorities, Revok developed a very complex aesthetic based on the idea of singularity.
Revok's assemblages are created of the materials from his immediate surroundings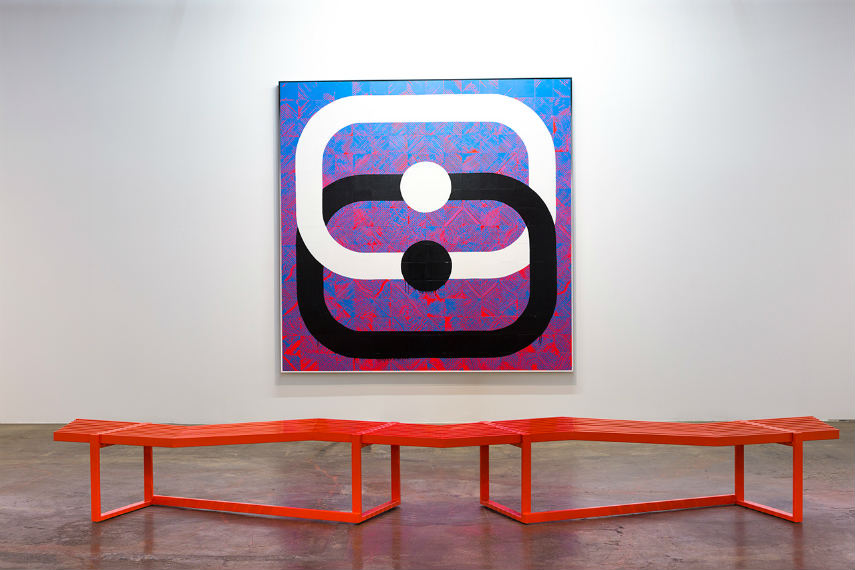 Overcoming the Boundaries of Street Art
Celebrated as one of the pioneers of the sub-culture of graffiti and one of the most influential urban artist of his generation, Revok's distinctive style enabled him to overcome the boundaries of street art, stepping into the world of fine art and gallery spaces, but with the retention of characteristic visual language even when it comes to assemblages. His move to Detroit was a fresh start that enabled him to focus on making a new body of work. Revok has exhibited at the Museum of Contemporary Art Los Angeles as well as the Pasadena Museum of Contemporary Art. His work has been shown in the United States, Europe, and the Middle East and is in a number of important private collections worldwide.
Revok lives and works in Los Angeles.
Featured image: Revok - Artist in front of his work, Image via lataco.com