Rich Simmons is a young British artist who combines pop art, comics and street art to create provocative murals that capture the eye and attention of the audience. The piece that catapulted him into the public eye was a 2011 mural about the upcoming royal wedding titled Future ***King, where he portrayed Will and Kate as punk rocker Sid Vicious and his girlfriend Nancy of the Sex Pistols, set on top of a huge 3D Union Jack flag. The humoristic twist of the mural captured the feelings of a nation in an innovative way, and images of the piece went viral within hours. "Hopefully they will like it. I wanted to do something that would make William and Kate accessible" he said. "They are the modern breed of royals and they're not like the others, they are more down to earth - they're not the snooty types."[1]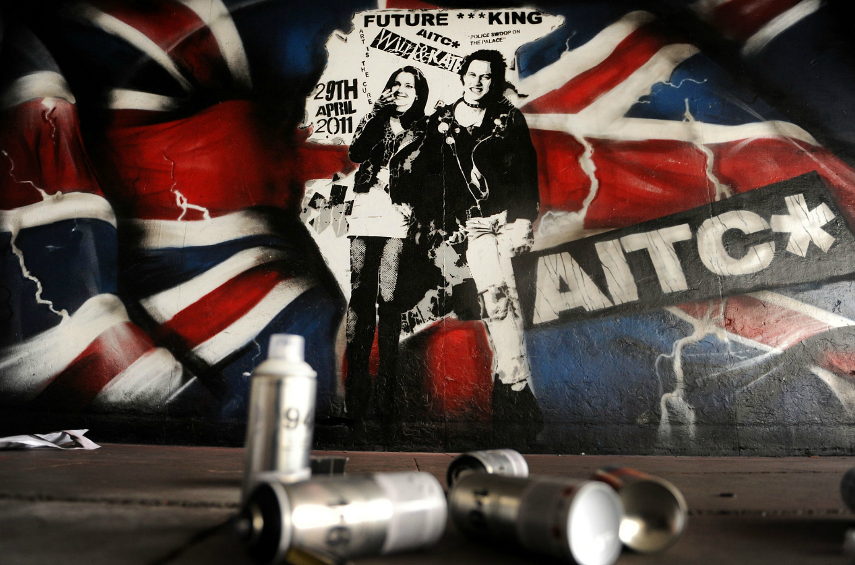 Superheroes Have No Time For Stereotypes
Simmons is known for witty, tongue-in-cheek works that elicit reactions by putting together themes and subjects that normally share little ground. His murals in London and New York, depicting a passionate kiss being shared by everyone's favorite superheroes Superman and Batman, turn the heads of passers-by without fail. In an attempt by the artist to spark a conversation about equality "by taking the two most alpha male superheroes and placing them in this embrace, the notion of heroism is also challenged. "It is sometimes more heroic to simply stand up for your beliefs, stand up for equality," Rich says. "If you were in need of being saved from something, would it matter if the person who could be your hero was gay or not?" he asks.[2] The work has indeed ignited online debates and provoked homophobic reactions; the mural in London wears a slash from a sharp object done by an unknown viewer.
Simmons' Murals are Sure to Capture Your Attention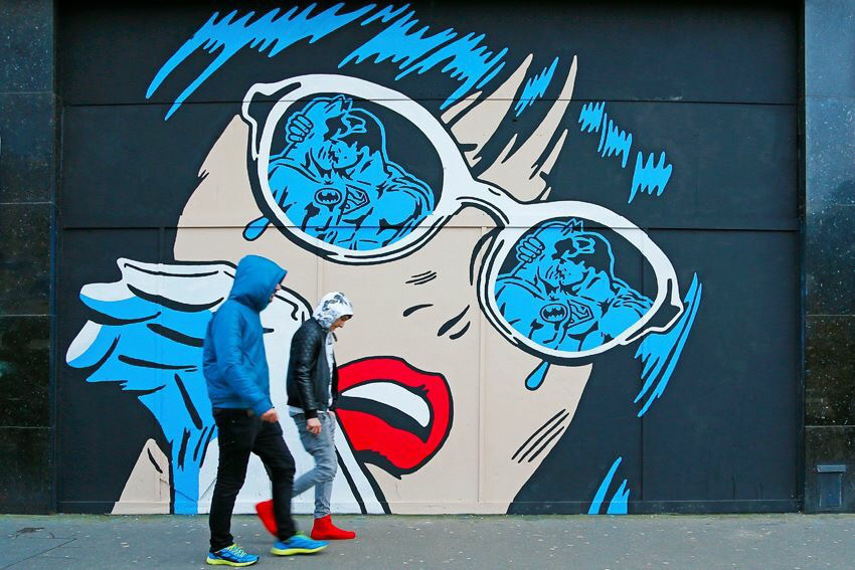 Using Creativity as Medicine
Having struggled with depression, social anxiety, and mild autism throughout his life, Rich found solace in artistic expression and the outlet it provided, allowing him to manage negative emotions in a productive way. It represented a good natural release for him, and he shared his art on Myspace. Receiving a message from a girl he had never met, about how she started to experiment with art and channel emotions that way instead of resorting to self-harm, motivated Rich to further explore the idea. In 2008, on his 22nd birthday, Simmons founded Art Is The Cure as a way to share his story and inspire others. "It is a new kind of outlook on creative therapy being done by people in their own way, with whatever creative release they had, in their own time and space was formed and quickly gained momentum on Myspace. People heard this story and recognized they too were using creativity to overcome problems in life without realizing the power of what they were sub-consciously doing."[3]
Rich (not to be mistaken with Richard) Simmons is one of the up-and-comers of the English art scene; collectors and curators alike watch his progress to see what the young artist has in store in the years to come and how his body of work will grow.
The artist is represented by Imitate Modern.
Rich Simmons lives and works in London, UK.
References:
Anna Edwards (2011), Surely not Sid Vicious and girlfriend Nancy?: How Kate and Wills have been transformed into punk 'royalty', Daily Mail UK [February 11, 2011]
Chiara Piotto (2016), Superman And Batman Are Kissing For Equality In New York City, Huffington Post Italy [April 4, 2016]
Featured image: Rich Simmons 2016, via artist's facebook page