Art can be so much more that an expression of a single person. Sometimes it becomes a voice of an entire people, focused in the visual tales of an individual. Richard Bell is an Australian contemporary artist, but of Aboriginal descent. His people have been victims of ignorance and racism over many years, and he's taken upon himself to shed some light on this painful subject so that the enchanted circle could finally be broken and everyone could move on to some brighter future. The majority of his artworks are based in his troublesome growing up and all the negativity he's experienced that was based solely on the color of his skin and belonging to a specific ethnicity.

The Liberation Art
Because of his origins, Bell's work is often misinterpreted as Aboriginal art, where in fact the bigger part of his opus isn't Aboriginal art – it's 'regular' art, which often carries strong political messages about oppression and injustice. He calls it the Liberation art. His respect for the Aboriginal art is immense, and he holds a grudge against any Australian artist who appropriates it. In fact, in one of his pieces, he actually named all the ones he thought were claiming to be something they are not. Bell thinks that no artist who's not black and not from the desert areas of Arnhem Land shouldn't be appropriating Aboriginal art.
His work is often misinterpreted as purely Aboriginal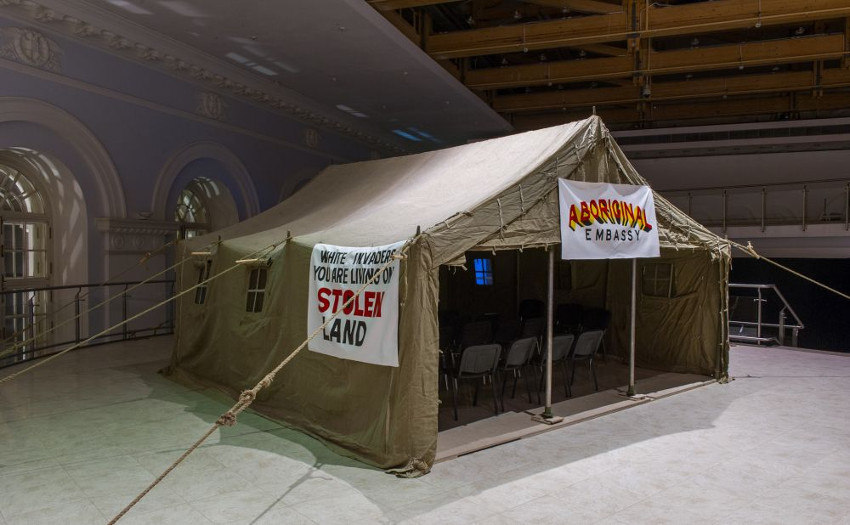 Strong Messsages
Strong political messages are imbued in the art of Richard Bell. He is 'inspired by Edward Bernays, who is considered as the father of the American public relations, and uses his ideas to send messages that are perfectly clear and understandable by many, similarly to propaganda or commercial ads. The artist frequently uses lines, small dots, squares, creating a background in the red/brown palette that typifies traditional Aboriginal art, just so he could paint strong statements over them, statements such as There is no black problem; We were here first; Western art does not exist.
The artist overlays the Aboriginal-looking background with political statements
The Controversy
Entire Bell's work is controversial, not just because of the themes and messages he sends, but also because he appropriates other artist's work, while at the same time fighting against the appropriation of the Aboriginal art. In one series, he completely takes Lichtenstein's work and modifies it so it would serve his purposes. The piece titled The Peckin' Order (2007) is an obvious rip off of the original piece called Shipboard Girl, who he laid against the left side of the canvas, reversing the expectations, while at the same time changing her skin color into more black-ish and finally adding the thought bubble that states ''Thank God I'm not Aboriginal''. Bell is also inspired by some historical moments, such as in his piece We Can Be Heroes (2014), which was made in collaboration with Emory Douglas, and it depicts the 1968 Olympic Games in Mexico, when Australian sprinter, Peter Norman, stood in solidarity with Americans John Carlos and Tommie Smith while they protested against inequality and discrimination.
He fights the appropriation of the Aboriginal art, but he appropriates the work of other artists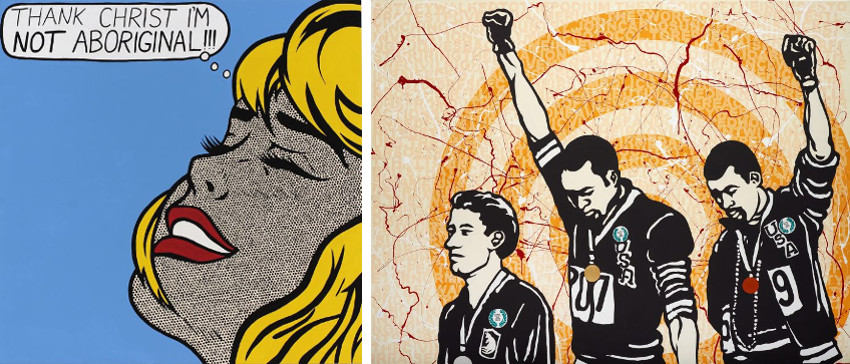 Political Art
In recent years, Bell had to rethink the idea of appropriation because of the lawsuits Jeff Koons and Richard Prince faced. His work has nevertheless been provocative and controversial, stating the truth from the perspective of the oppressed, and that, in combination with his own artistic sense, has certainly caused reactions from many people. The experiences of racism are the root of his art, and he projected them in a way that gave the voice to all Aborigines who are fighting to take back the control of their homelands. Bell's art is political and speaks in a way that other artist cannot.
Richard Bell lives and works in Brisbane.
Featured image: Richard Bell – portrait, image © Robert Nolan-Neylan
All images used for illustrative purposes only