Contemporary artist, Richard Denny was born in Great Britain and is living in Melbourne. Richard's style of choice is mixed media, and this story starts in 2009 when Denny was living in Marseille, France. Here, by the garbage truck, he found a box of maps. This unexpected discovery consisted of a solid collection of maps, showing a great part of France. What a lucky coincidence it was that he found these, in a country whose language he didn't speak. Thus, maps became Denny's tool of communication and a basis for his distinctive style.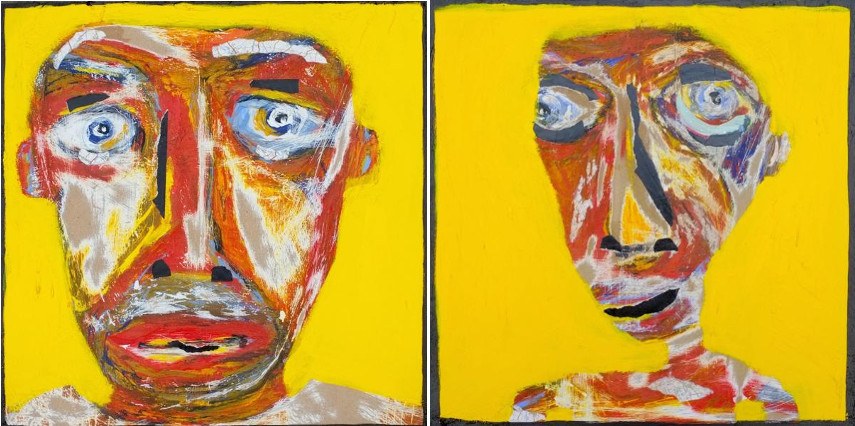 Signs along the Way
Denny is a self-taught artist, who found his inspiration in a form of discarded maps which, symbolically showed him the way. Soon after, the artist had decided to use these maps as background to his work. Not only were these maps going to waste, at this modern day and age, where everything is going via technology, rapidly developing, we can say that maps as such are slowly going obsolete. Denny has entirely repurposed them, giving them new meaning and form. The content of these maps is used to full extent. Characters that Denny creates are brought together one geographical fragment at a time. Shapes of rivers, borders, mountains and oceans now become parts of a face and expression. All the rest of the lines he uses as markings on the paper.
Denny creates characters out of discarded maps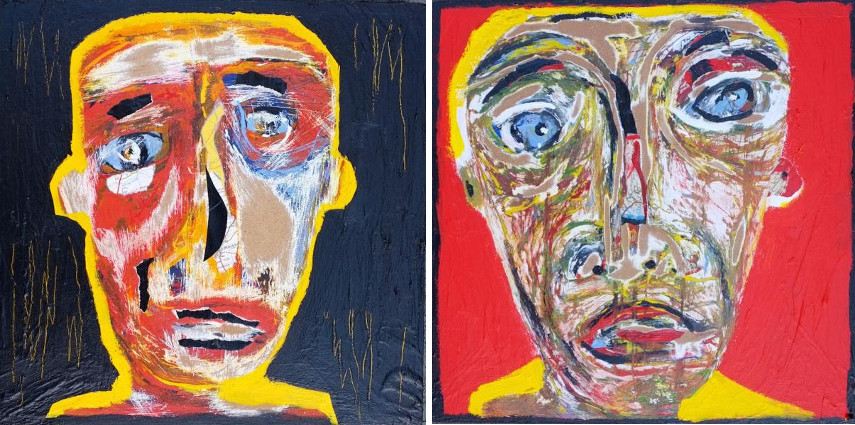 Mixed Media Approach
In his artworks, Denny uses colors of his liking, and his favorite is red, which is why he usually signs his works in that color. This mixed media approach forms a dynamic style, which employs a variety of techniques, such as layering, enamel, acrylic, pencil, and oil. His method is unique, using irregularly cut shaped pieces of painted canvas, linen or paper with regional maps from around the world. These pieces are then arranged in the desired shape and fixed onto paper, wood or old doors, even stretched linen.
Richard's method is unique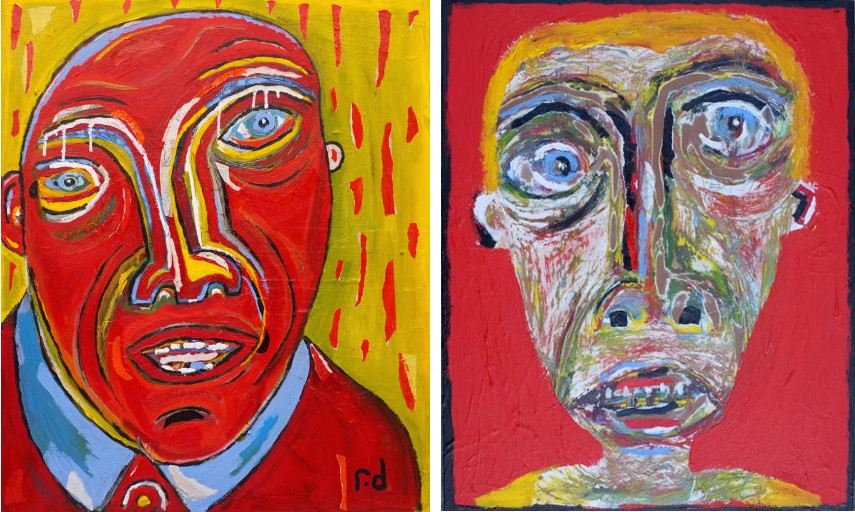 Path of Coincidences
Richard's style could be called figurative and expressionist. Having had so many coincidences involved in his evolution to an artist, it is no wonder that his works are widely recognizable. It is not every day that a person finds a pile of maps by the garbage and decides to become an artist. Denny's work is held in public and private collections all over the world. His works have been exhibited around Europe in 2015, with his group exhibitions. In 2016 his artworks were exhibited in Australia. The artist is familiar with charity work as well, having his works auctioned in 2013 for a charity organization. Denny was a resident at The Mark Rothko Center in Daugavpils, Latvia in 2014. He remembers sitting alone with Mark Rothko's art, giving in to all its greatness, and then going upstairs to work. It must be he felt a special bond during this residence in Latvia, as his grandfather was Latvian. Maybe, this is yet another coincidence we should thank for Denny becoming an artist
Richard Denny lives and works in Melbourne, Australia.
Featured image: Richard Denny - artwork - photo via rooftopartspace.
All images via 19karen.com