When World War II ended, people around the World had to live with memories of the terrible events that have just occurred. At the time a new art movement started to develop in the USA which will later become the first internationally successful art movement hailing from America, abstract expressionism. Richard Diebenkorn was one of its lead representatives, especially his early work before he joined the famous Bay Area Figurative Movement of the 1950s and 1960s. Diebenkorn achieved world fame with his large-scale canvas based oil paintings and vivid abstractions known as the Ocean Park which included more than 140 of his paintings. What made Diebenkorn great were the unusual combinations; at the same time his work is easily understandable, yet it has a strong mystery to it. In an article for New Yorker, Adam Gopnik gave the clearest description of Diebenkorn's art: Diebenkorn's art is never just pretty.[1]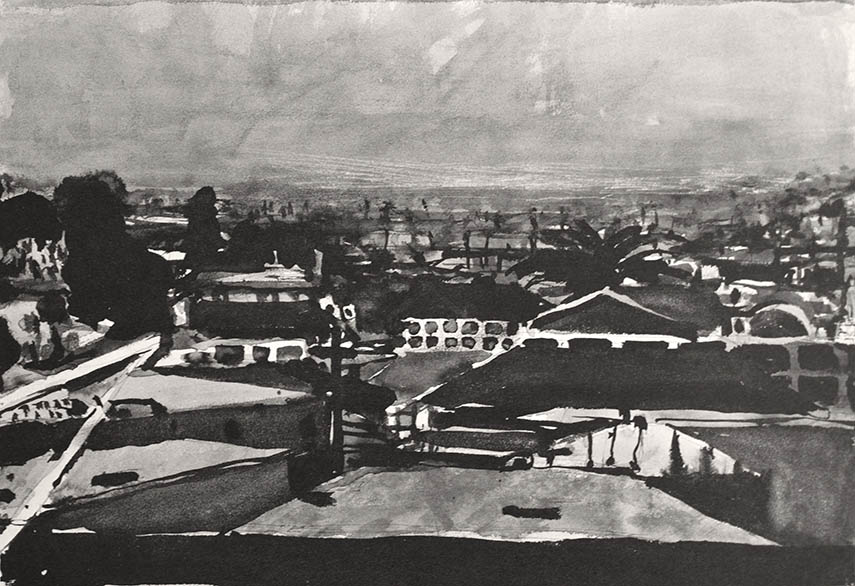 Formal Art Training and Early Biography of Richard Diebenkorn
Although born in Portland, Richard Diebenkorn was raised in California, where he spent most of his life. Already at the young age, he developed an interest in medieval heraldry and Bayeux Tapestries. When it comes to artists, Diebenkorn found his early influence in the work of American illustrators Howard Pyle and N. C. Wyeth. However, his first great influence came from Edward Hopper, who left a huge mark on Diebenkorn's projects. Daniel Mendelowitz was the one who introduced him to Hopper's work and he was also his formal art teacher at Stanford University which he attended from 1940 to 1943. Besides Hopper, Mendelowitz also managed to intrigue him with the Ecole de Paris movement and creators such as Marc Chagall and Max Ernst. Diebenkorn's study was suddenly interrupted when he went to service in the Marine Corps during World War II. Nevertheless, the war didn't stop his passion. While he was stationed at Quantico, VA, he would often visit the Phillips Collection in Washington, DC. There, he familiarized himself with Henri Matisse's Studio, Quai Saint-Michel. Matisse's unique piece which exposed the painting process through indoor/outdoor combinations left a permanent mark of Diebenkorn and his art. Diebenkorn returned to California to continue his education in 1946 at California Academy of Fine Arts. There he met David Park who persuaded him to look at the work of Joan Miró and Pablo Picasso. Later he got his MFA at the University of New Mexico in 1951. The project from that period was highly influenced by the abstract school of New York, such as Albuquerque No. 3 and Albuquerque No. 4, which were characterized by the contact of linear planes and fluid lines.
The painter returned to California to continue his education in 1946 at California School of Fine Arts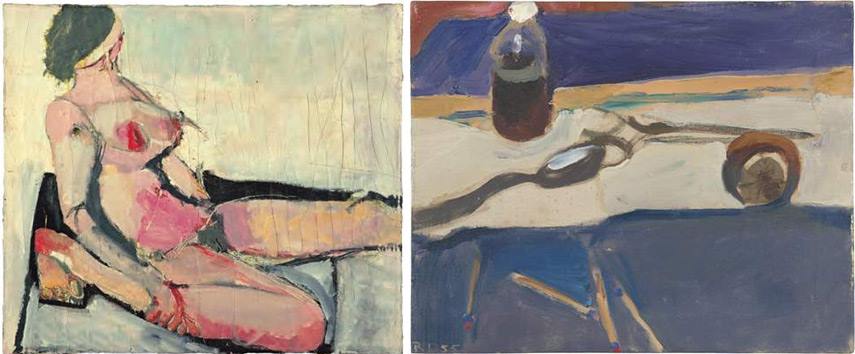 Establishing a Studio in Berkeley
Just two years later, in 1953, Richard established his own studio in Berkeley, where Berkley series were made. Similar to the Albuquerque series, they also have the impression of an aerial landscape view, but here Diebenkorn used colors which were influenced directly by Berkley such as green and red. Diebenkorn always paid close attention to his current location, which he would incorporate into his work. This is why Berkley is mostly green, while Albuquerque is yellow/gray dominant. These landscapes were Diebenkorn's direct response to the abstract expressionism which became popular as the years went by. By the mid-1950s, he already established himself as a respected artist as he shifted to a more florid style of painting where he started to experiment with figure studies. It was here that the Matisse's influence finally came completely to the surface. This influence will follow him through his entire life and can also be seen in his most famous works such as the Ocean Park oil paintings, especially the influence of Matisse's French Window at Collioure and View of Notre-Dame. Thanks to Matisse, Diebenkorn managed to create something completely new which he could call his own. By combining figurative painting with abstract expressionism, he created a style which displayed a well-crafted balance between planes and surfaces which can be seen only in the most prestigious gallery and museum world. The first exhibition that directly portrays the influence Matisse had on Richard Diebenkorn was opened at The Baltimore Museum of Art on October 23, 2016.[2]
By combining figurative painting with abstract expressionism, the artist Richard Diebenkorn created a style which displayed a well-crafted balance between planes and surfaces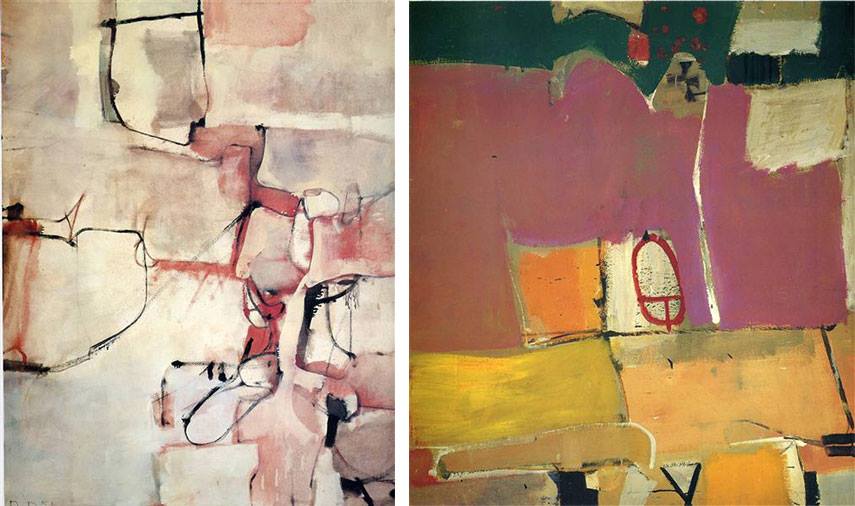 Richard Diebenkorn, Bay Area and the Twist of Fame
While in the 50's abstract expressionism was growing in its popularity thanks to the Jackson Pollock's innovations, another story was developing in San Francisco. The Bay Area Figurative Movement was an art movement consisted of creators located in the San Francisco Bay Area who decided to abandon abstract expressionism as a prevailing style and return to figuration. The movement itself consists of three phases: the First Generation, the Bridge Generation, and the Second Generation. Diebenkorn was part of the First Generation, painters who came from abstract expressionism. Besides him, the First Generation consisted of David Park, Elmer Bischoff, Wayne Thiebaud and few others.Diebenkorn was the one who took the biggest risk with the return to figuration as at this point he was already widely known for his abstract works. His return had a slow pace as it was not until 1966 that he started to do more complex figurative paintings and exhibit them in gallery circles. Nevertheless, the risk paid off as it helped him to evolve as an artist. It was Diebenkorn's knowledge of both art movements that proved to be his most distinct feature. This unusual combination made his art unique while it was balancing between the abstract and figuration. This fluidity made Richard Diebenkorn's art modern, distinguishable and respected by many.
Diebenkorn was part of the First Generation, painters who came from abstract expressionism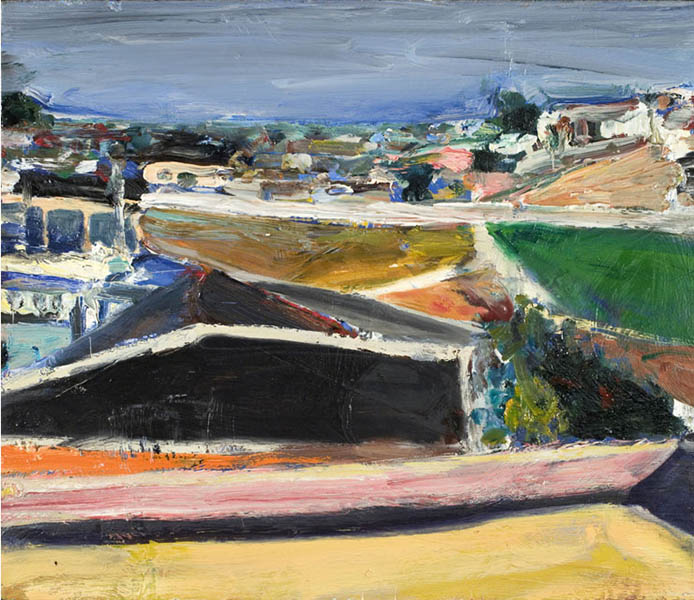 Ocean Park Series
The highlight of Diebenkorn's career was his Ocean Park series which began in 1967 and evolved through the next 18 years. Most of the paintings from these series are aerial landscapes, most likely inspired by the view he had through his studio window. The broad planes of color created an impression of redefining the space through the relation of line and colors. Ocean Park paintings are a return to his earlier non-objective abstraction, but they are a great example of merging abstract expressionism, color field painting, and lyrical abstraction. In his art, Diebenkorn always went from own experience which he combined with the momentary impression the surrounding would leave on him. The series was named after a community in Santa Monica, where his studio was located. Another information worth mentioning is that besides being a successful painter, he was also widely respected in terms of printmaking. He began printmaking in early 1962 at Crown Point Press and had a distinguished position in the printmaking circles, despite the fact he only made around 100 prints and exhibited them in American galleries and museum shows. Although painting was his main work he regularly returned to printmaking until his death in 1993.
The highlight of Diebenkorn's career was his Ocean Park series which began in 1967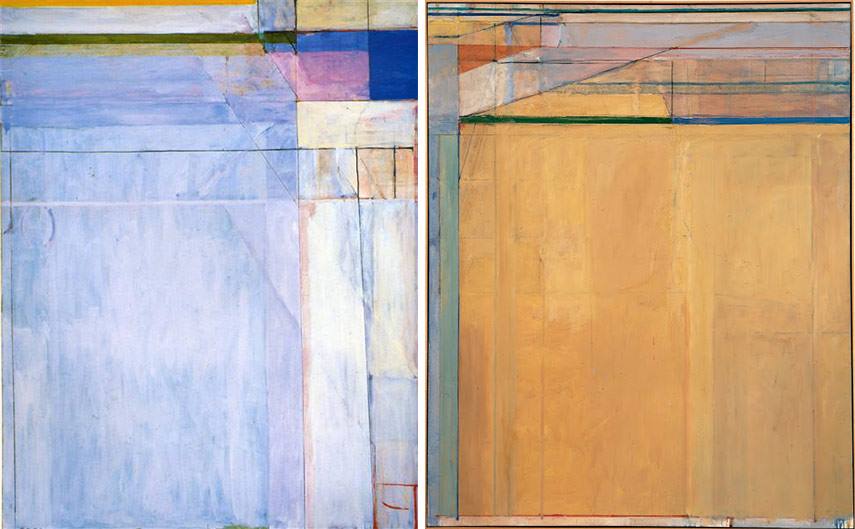 Merging Abstract Expressionism with Lyrical Abstraction
In his career, Richard Diebenkorn made a full circle by starting with realism, turning to abstractionism and in the end combining the two styles. This enabled him to find a connection between air and the flat surface below him, rational and irrational, abstract and figuration, something he himself called tension beneath the calm.[3] His approach wasn't something any artist would've dared, as the weight of coping with two polarities is often challenging and requires a great creativity. Nevertheless, Diebenkorn managed to do just that through the pure creativity and never turning down the opportunity to express himself. Diebenkorn's achievement took years of efforts through trial and error. In 1978, he represented the United States with a solo exhibition at the Venice Biennale and in 1991 he was awarded the National Medal of Arts.
The artist is represented by Gregg Shienbaum Fine Art.
Richard Diebenkorn lived and worked in California, United States.
References:
Livingston, J., Richard Diebenkorn: The Catalogue Raisonné, Yale University Press, 2016.
Bancroft, S., Richard Diebenkorn, Harry N. Abrams, 2015.
Cantor Arts Center, Richard Diebenkorn: The Sketchbooks Revealed, Stanford University Press, 2015.
Featured image: Portrait of Richard Diebenkorn - image via pinterest.com