The context and the roots of street art are much clearer when the work of Richard Hambleton comes in sight despite the fact the artist himself categorized his production as public art. The way he articulated his personal urban experience was always a direct reaction to the existing situation, so his works provide a refined insight in social and political shifts of the times. Therefore, the whole artistic practice of Richard Hambleton, a godfather of street art, as he was called very often, is considered as conceptual one.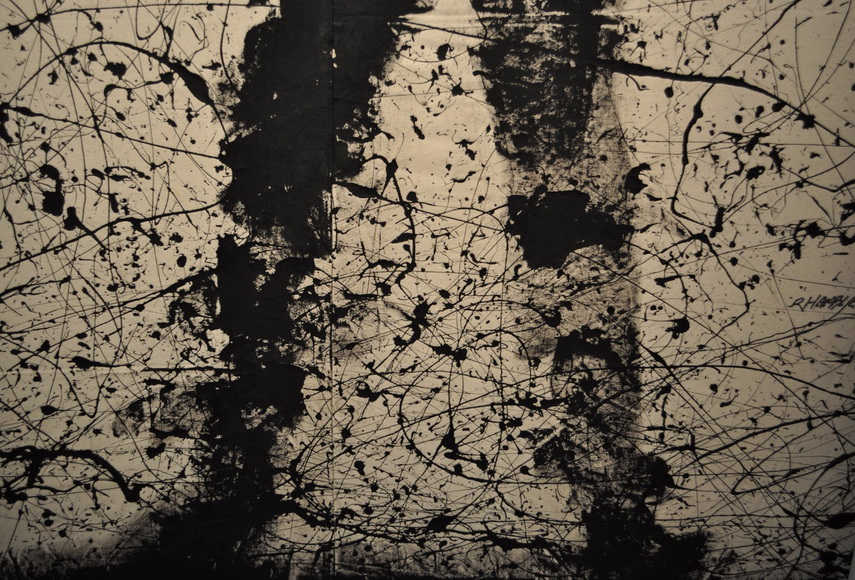 Artistic Education
Richard Hambleton was born in 1952 is in Vancouver, Canada. He earned Bachelor in Fine Arts degree at the Emily Carr School of Art in Vancouver 1975. Hambleton was Founder and Co-Director of Pumps Center for Alternative Art, which was an art gallery, performance, and video space, and shortly after went on to graduate from the San Francisco Institute of Art in San Francisco. He was the member of a group, together with Keith Haring and Jean-Michel Basquiat, coming out of the New York City art scene during the booming art market of the 1980s.
The mysterious "suite" portraits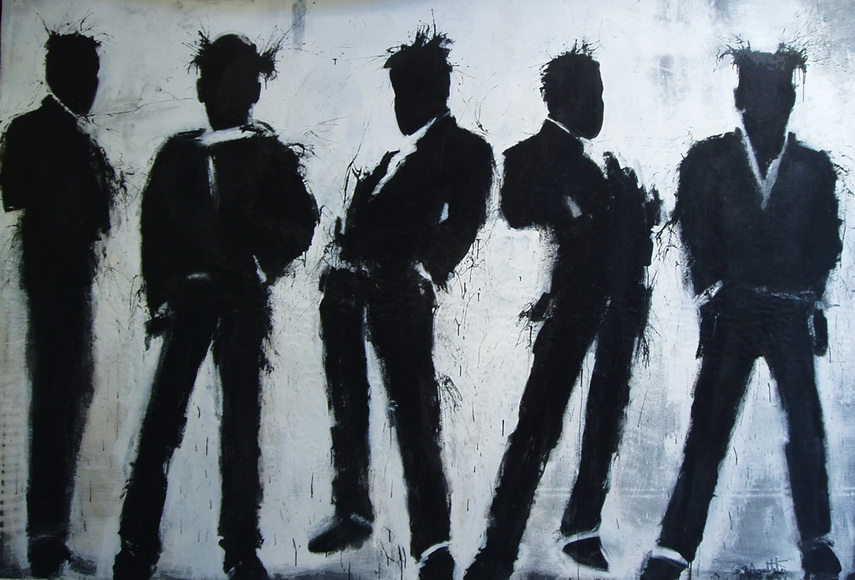 Street As A Source Of Inspiration
Quite early Hambleton decided to expose his works on the street walls as opposed to exhibiting them in galleries, despite the fact that such an artistic expression was already present in public spaces long before. Nevertheless, his name came to prominence in between 1976 to 1978 when he was releasing fictitious murder scenes by painting with a police chalk outline around bodies of volunteer homicide victims. The works titled Image Mass Murder were splashed with red paint on the outline, leaving behind a realistic looking crime scene. These paintings were done on the streets of 15 major cities across the United States and Canada, and would often have the effect of startling or shocking passersby.
With these works, Richard Hambleton focused on the power of the viewer's imagination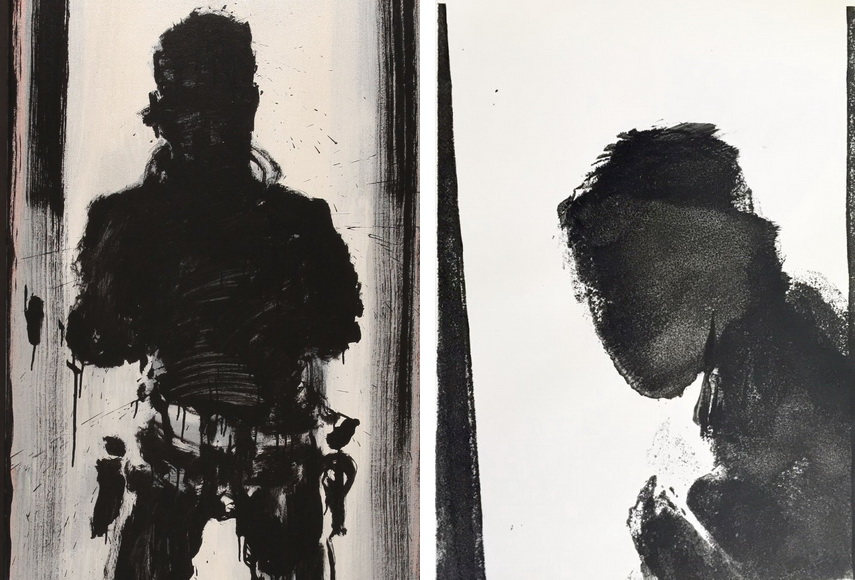 Further Development of Richard Hambleton
The artist's reputation grew and he was even described as a Psychic Terrorist and a Sick Jokester by the press. In 1979, Hambleton moved to New York and started working on a new project called Shadowman. Those works depicted a life-sized silhouetted image of some mysterious person and were splashed and brushed with black paint in an authentic manner. Located on hundreds of buildings and other structures across New York City, Shadowman series were usually painted in dark allies or lurking just around a street corner. The project was later extended to other cities, including Paris, London, and Rome.
This project was an extension of the previous concept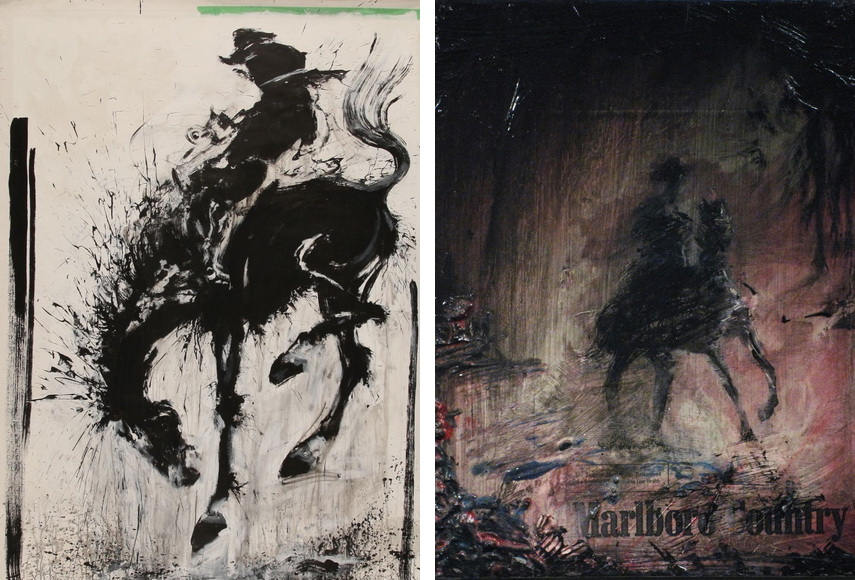 Shadow Play
The apparent fascination with mystery was later upgraded, so the shadow entity was no longer a completely displaced character, it had become a riding figure, a cowboy or the Marlboro Man. Under that title, Richard Hambleton painted the series on canvas and other materials, so they can be displayed in a gallery space. He was inspired by the Marlboro (cigarette) advertisements and created a composition with a ghostly figure often followed by the Marlboro lettering font. Those works possess at the same time sensibility typical of New York New and No Wave scene of times as well as the reference to Pop Art. In 1983, fashion icons Malcolm McLaren and Vivienne Westwood collaborated with Hambleton to create a Shadowman jersey skirt.
Despite the flow of time, Hambleton remained loyal to depersonalized portraits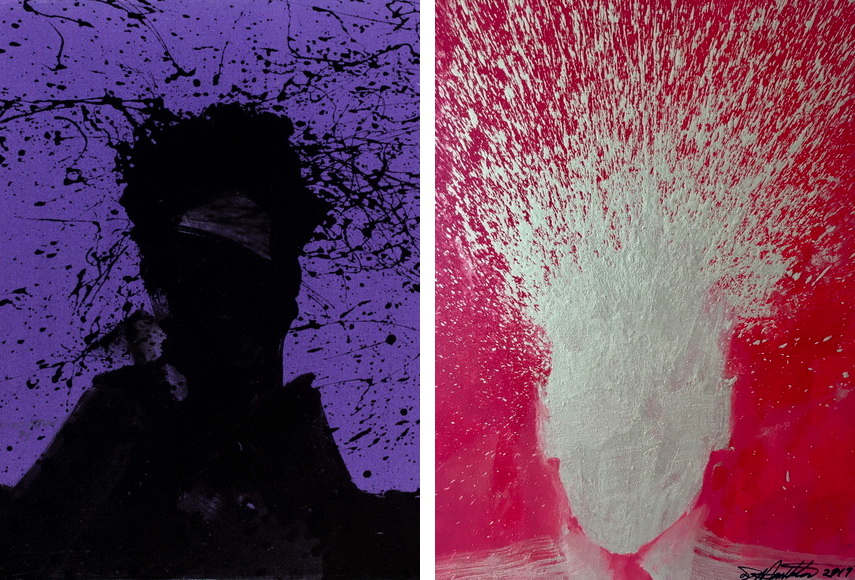 Tough, Yet Productive Time for Richard Hambleton
Similar to his before mentioned peers Basquiat and Haring, Hambleton let himself go the charms of decadence. The drug culture took him over, so he practically disappeared from the art world. Nevertheless, in retrospect, the artist showed the body of work which he had produced regardless of addiction and decay. It was a series of quieter landscapes titled Beautiful Paintings, which differed much from his black and white style. Namely, he used transparent paint on a metallic leaf background in order to reflect light and color and according to the artist's words a reaction against the abundance of figurative paintings displayed in galleries at the time.
Hambleton continues to be a working model for emerging street and conceptual artists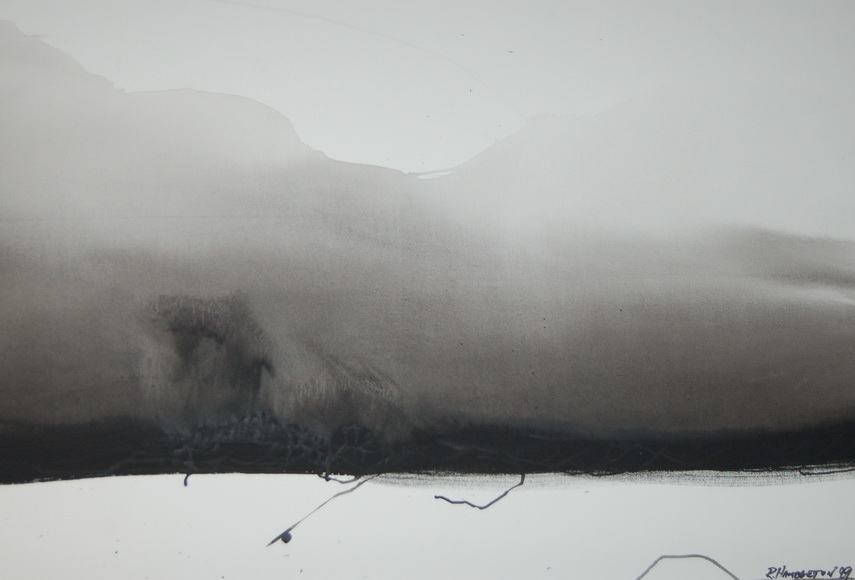 The Significance of Hambleton's Work
The works of this established artist have been shown internationally and can be found in major museums and private collections. In addition to his international success is the fact that in 1984, he has released 17 life-size figures on the East side of the Berlin Wall, returning a year later to paint more figures on the West side of the Berlin Wall. Hambleton's rise to success in the New York art scene, as well as his widely reported struggle with drug addiction, became a central story of the film Shadowman which was directed by Oren Jacoby. Although Richard Hambleton became best known as a conceptual artist and was one of the founding figures of the Lower East Side art movement in New York City, he continued producing fresh, inviting and inspiring artworks until his death on October 29th, 2017 at the age of 65.
Featured image: Richard Hambleton, photo credits Hank O Neal
All images are used for illustrative purposes only