What does it take to reach the top? Simply said, everything. What does it take to remain on the top, to become appreciated to the extent of being referred to as a living legend? The answer is – even more. Richard Schmid is an American artist, considered as one of the greatest living realist painters. Critically acclaimed and worshiped by his audience, he's made realism evolve beyond comprehension and without turning it into something else. His skills and experience have only grown throughout the years. Even now, when he's in his 80's, the artist continues to produce high-quality paintings, while his dedication to art is setting examples for anyone interested in pursuing the similar path.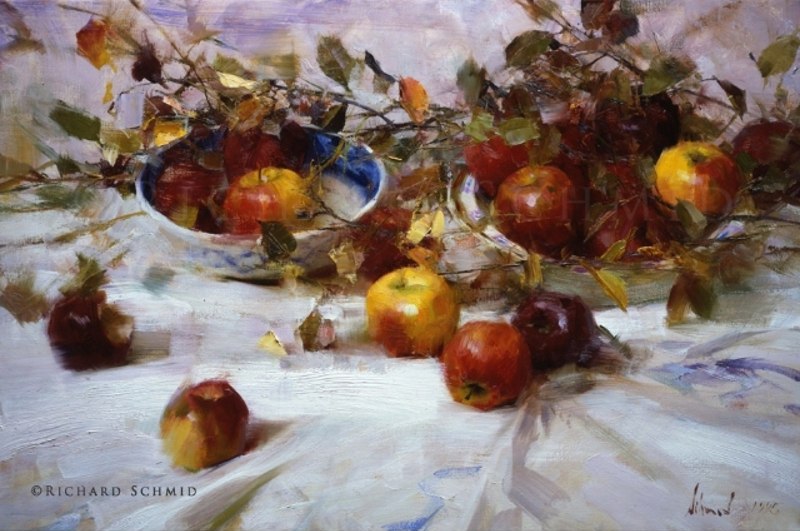 Biography and Everything I Know About Painting
Born in Chicago, Illinois, Schmid's introduction to the world of art came from Julian Oates, his maternal grandfather, who was an architectural sculptor. Interested in creation from an early age, he began his informal studies at the age of twelve, learning under Gianni Cilfone, a Chicago painter. Subsequent studies in anatomy and figure drawing allowed his entrance at eighteen into the American Academy of Art in Chicago where he continued into the full range of classical techniques under William H. Mosby. Schmid worked exclusively from life, Mosby's signature trait. At first, he used conceptual and technical methods of Spanish, Dutch, and Flemish masters, continuing chronologically to the late 19th century American and European painters. When he wasn't busy painting people and landscapes around him and never having forgotten the significance of good teaching, the artist began writing a book that would be titled Alla Prima: Everything I Know About Painting. As the name suggests, it contains every grain of his artistic knowledge that has gathered over the years. It took him more than fifteen years to complete, only to face another problem. Thinking there is really no economic reasons to support this kind of book (as there wasn't an audience big enough), various publishers turned down this project without realizing what it was about. Schmid never once had the idea of earning money from the book, he just wanted to give back to the community that had given him so much throughout his life. So, in the end, he started his own company in 1998, publishing the book himself. Alla Prima received so much attention and appraise from critics that, in 2014, the second edition appeared: Alla Prima II - The Expanded Edition, a major revised and expanded edition of the original Alla Prima. Also, anyone further interested in "the visual tale of an artist and his life long romance with the colors and light of our earth", should take a look at Schmid's The Landscapes.
Schmid's books are extremely popular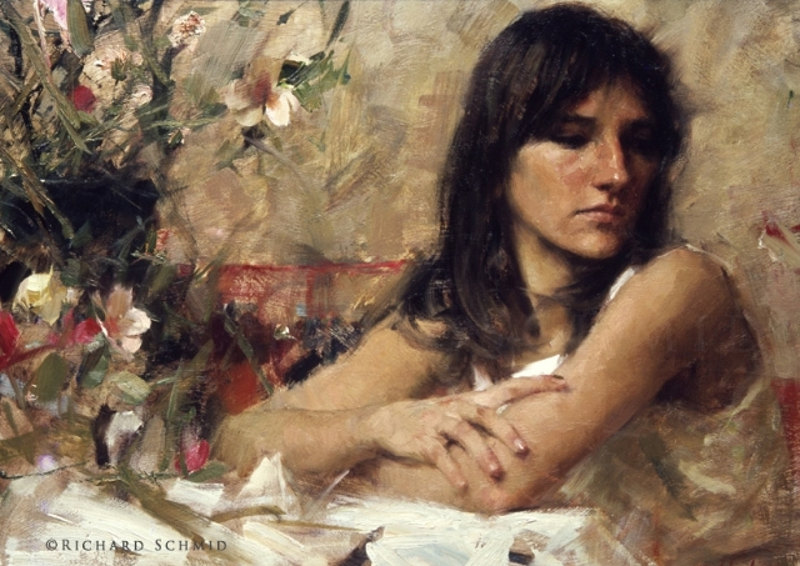 Paintings of Richard Schmid
The rise of the Pop Art, Abstract Expressionism, and other movements in the second part of the 20th century meant that the representational painting was no longer in the spotlight. However, Schmid kept alive the precious knowledge he'd received not just from his teacher Mosby, but also Mosby's circle of luminaries that included Edgar Degas, John Singer Sargent, and Claude Monet to the point where Schmid himself is considered as an American Master. Known for his portraits and landscapes, the artist has set up a list of rules that make the whole process significantly easier. Starting on quick oil sketches, the accuracy begins with identifying a simple shape, one that is easy to see, and putting it down before moving on to a next simple shape, re-creating it at the proper distance from the first.[1] If these important things are done properly, all the subsequent mistakes will be clearly visible, as they will be judged against something the artist knows is right. Among the first tasks is getting the likeness, including the exact proportions, dimensions, and relationships, with all the little shapes of color. When working on a portrait, he unmistakably has to capture the person who is sitting for him. Next, bound inextricably to the previous requirement, is the need to capture the look his sitter is projecting. During the process, the model can express a whole array of emotions, going from anxiety to fatigue. Usually, he chooses to go for the nose and eyes at an early stage, and by the time he reaches the mouth, the subtle change in the expression may have already taken effect, so a portion of ambiguity can appear in the piece.
His landscape and portrait works, executed by using oil paint, are at the very top of contemporary realism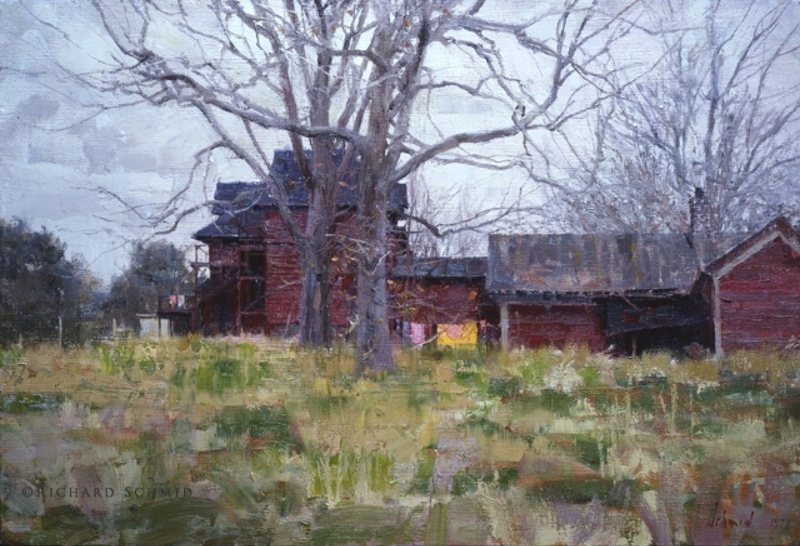 Legacy
There is no better way to discuss the legacy of Richard Schmid than to take a closer look at his widely praised book. In Alla Prima: Everything I Know About Painting[2], he has broken some of the misconceptions that usually follow art. He said that anyone can become an artist, regardless of their natural talent. It is fine to copy the work of others, as long as one is trying to become better by learning from their knowledge. Painting isn't easy, even when you have considerable skills. It is always a challenge, because as our painting improves, so too do the standards we set for ourselves. Accepting that a painting simply 'doesn't work' is an easy way out. There are three areas where problems usually occur: it's the subject, the circumstances, or something that the artist is doing wrong. By following a process of elimination in these areas, it is usually possible to isolate the cause of the problem and fix it. The book represents an incredibly useful guidance for anyone aspiring to become a painter. Combined with Schmid's oeuvre, they truly are one of a kind artistic experience certainly worth paying attention to.
He is represented by Gallery 1261.
Richard Schmid lives and works in New England.
References:
Schaber G. Richard Schmid: The Power of Simplicity in Portrait Paintings, The Artist's Magazine [April 2001]
Schmid R. Alla Prima: Everything I Know About Painting, Stove Prairie Press, 1998
Featured image: Portrait of the artist, via West Wind Fine Art
All images are courtesy of the artist