Best known for his large-scale minimalist sculptures, Richard Serra is a celebrated American artist whose art has graced numerous exhibitions in museums and galleries throughout the world. Working mostly in steel, he has managed to create both minimalist and monumental, site-specific structures which are self-supporting, reflecting the nature of the material. Serra's colossal, strangely balanced pieces have explored and redefined man's relationship with the surrounding world. His work doesn't only occupy space, but radically seek to discover its essence and purpose. Over the years, Serra has become a beacon of inspiration for those creatives who examine the vast field of urban interventions and installations. Amongst sculpture, his rich body of work includes painting, drawing, video, performance, writing and dance.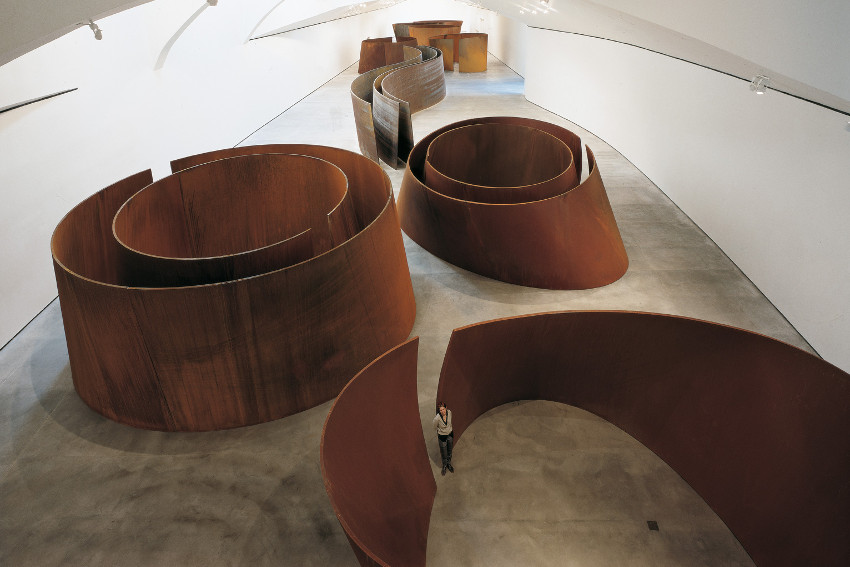 Academic Background
Serra was born in San Francisco, CA in 1939. During World War II, Serra's father worked as a pipe fitter for a shipyard near San Francisco, and afterward the family bought a spec home on the western edge of the city. His mother tried to teach her three sons—Tony Jr., Richard and Rudy—to embrace cultural pursuits.[1] As a teenager, Serra worked in a steel mill to help send himself to school. He studied English literature at the Berkeley, University of California. In addition, he transferred to Santa Barbara University where he graduated in 1961. One year later, Serra continued his education in School of Art and Architecture, within the M.F.A. program at the Yale University and then in Florence and Paris - thanks to receiving a Yale Traveling Fellowship for Paris, and a Fulbright grant for Rome. While living in New York in the 1960s, he met and befriended with a number of artists, dancers, playwrights and musicians whose experiments helped redefine what art could be. Serra and his colleagues like Robert Smithson, Eva Hesse and Bruce Nauman, put down their paintbrushes and started making radical artworks using materials like dirt, rubber and wax. Serra decided to experiment with lead and steel.
In the 1960s, Serra started making radical artworks using materials like dirt, rubber and wax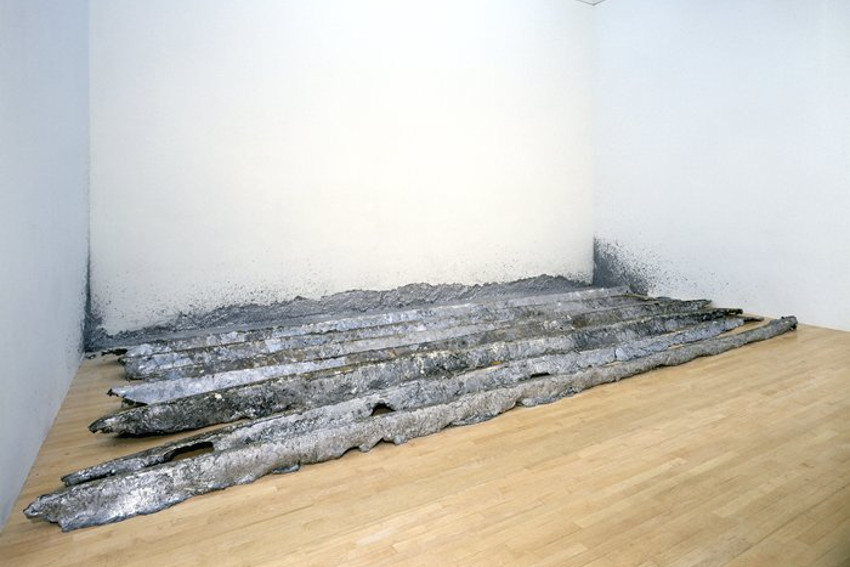 Early Works
Serra's work has played a very important role in a development of the modern abstract sculpture. Some of his earlier works of art were made out of fiberglass and rubber. As he used to work in steel mills while studying, the strong influence of this material and its production process is obvious in his later work. Serra's early sculptures are minimalist constructions made from large rolls and sheets of metal - Cor-Ten Steel, fabricated in Germany and installed by Budco Enterprises. Although he would become best known for his colossal pieces, Serra began his career making works that were less monumental and mostly process-oriented. Along with other process artists, his work emphasized the process and act of artistic creation rather than the resulting work that comes out of it.
"I'm not interested in the notion that art serves something. Art is useless, not useful." – R.Serra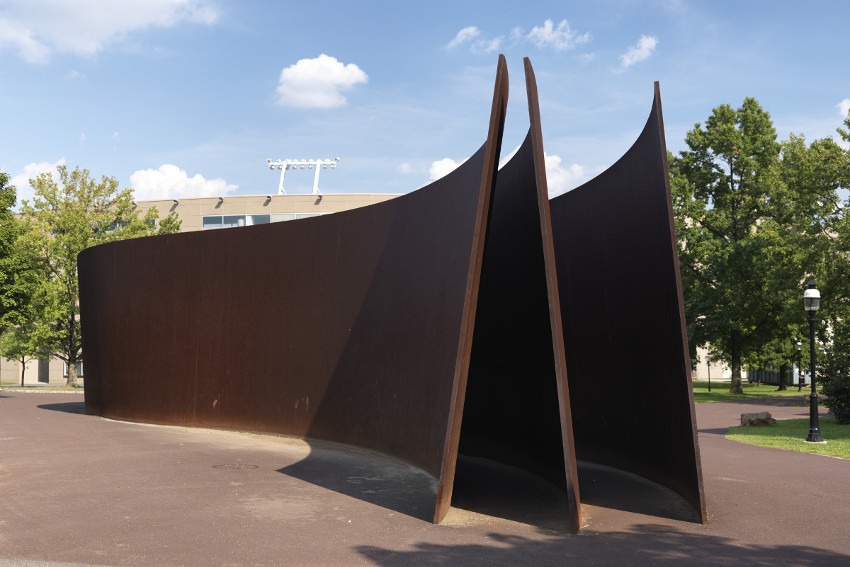 Larger than Life Sculptures
In the beginning of the 70s, Serra focused on outdoors, pioneering large-scale and site-specific pieces that create a dialogue with a particular architectural, urban, or landscape setting. First step was always to make a small model from flat plates of steel and to consult a structural engineer to make sure that the large sculpture retains a balance and stability as its smaller model. Shapes he usually created were monumental arcs, spirals, and ellipses. Some of Serra's first larger commissions were realized mostly outside of US. Pieces such as Shift from 1970 was made for Ontario, while Spin Out (1972-1973) went to Holland.
His sculptures create a dialogue with a particular architectural, urban, or landscape setting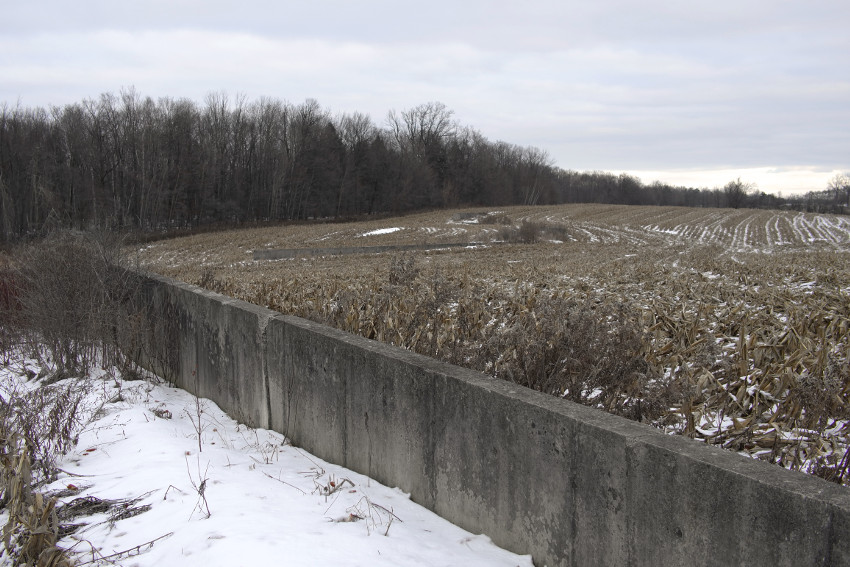 Installation Drawings
In the mid-70s, Serra started producing large-scale drawings on Belgian linen and on handmade Hitomi paper. First, he used only ink, charcoal, and lithographic crayon on paper. After a while, he decided to combine installation and drawing creating monumental works called "Installation Drawings" on canvas or linen and pinned to the wall and later covered with black paint stick, one sort of grease wax crayon.[2] Serra's Abstract Slavery from 1974 or Pacific Judson Murphy from 1978 are perfect examples of this innovative technique. Almost all of his drawings are created once a sculpture is completed – for example, the artwork titled Drawings after Circuit (1972) is based on an installation Serra prepared for documenta in Kassel, Germany. Serra has participated in several documenta exhibitions: 1972, 1977, 1982, and 1987. In 2011, he held an exhibition of these pieces at the Metropolitan Museum of Art. The theme was his old pieces on paper, now destroyed or damaged. He re-created some of them, especially for this show. All of the pieces presented had two dates, when the original was made and the new version.
In 2011, he held an exhibition at the Metropolitan Museum of Art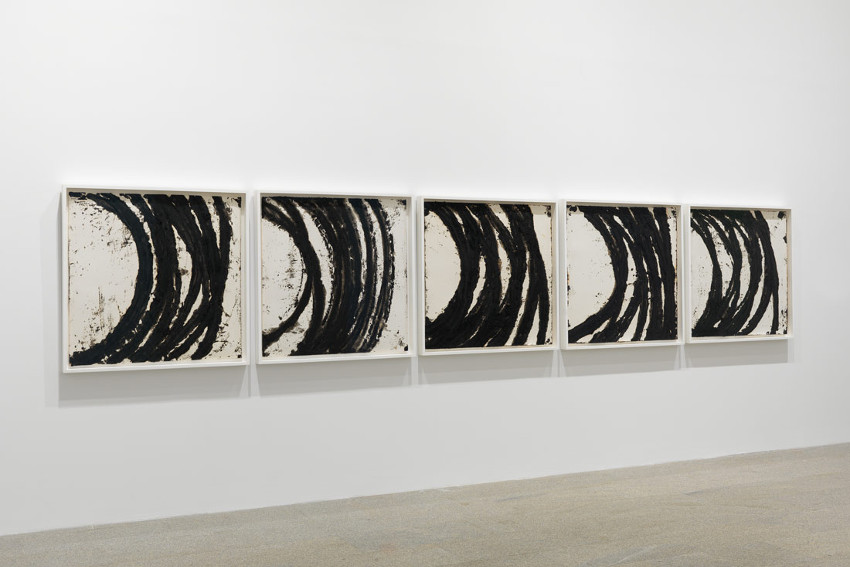 Tilted Arc Controversy
A controversy hit the artist's work in the 1980s – when his, commissioned by the federal General Services Administration, installation named Tilted Arc was presented at the Federal Plaza on Foley Square in Lower Manhattan. This 120-foot-long, 12-foot-high slab of curved steel sculpture[3] was positioned in a manner that did not allow people to simply ignore it. They had to involve with the piece, walking around it just to cross the plaza. Because of its massive and demanding nature and aspect, in 1985 a special jury voted 4 to 1 in favor of removing the sculpture. Tilted Arc was cut up in three pieces and taken from the plaza in the middle of the night in 1989. The artist's methods of creations, his chosen themes and materials are, according to many feminist art historians and critics, some sort of a swan song of masculine themes and artistic processes coming from the Abstract Expressionism.
"I don't think it is the function of art to be pleasing." - Richard Serra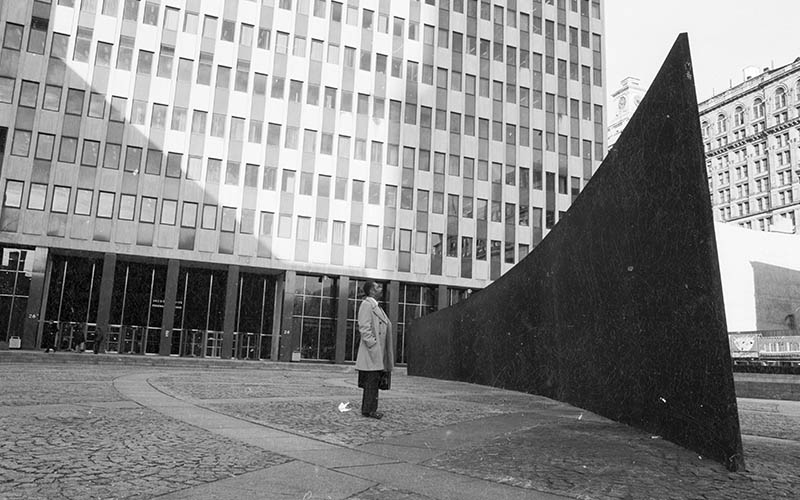 Torqued Ellipses and Snake
During the 90s, Serra created one of his most famous series titled Torqued Ellipses, made from 1996 to 1999. The idea behind this series is that gigantic plates of towering steel create private spaces in large public sites, where they have been erected. A sculpture preceding Torqued Ellipses was titled Snake (Sugea), and was made between 1994 and 1997. The Snake is located in Guggenheim Museum Bilbao – for which inauguration was made in the first place. Both Snake and the Torqued Ellipses seem to defy gravity and logic, making solid metal appear as malleable as felt.[4]
Snake is located in Guggenheim Museum Bilbao – for which inauguration was made in the first place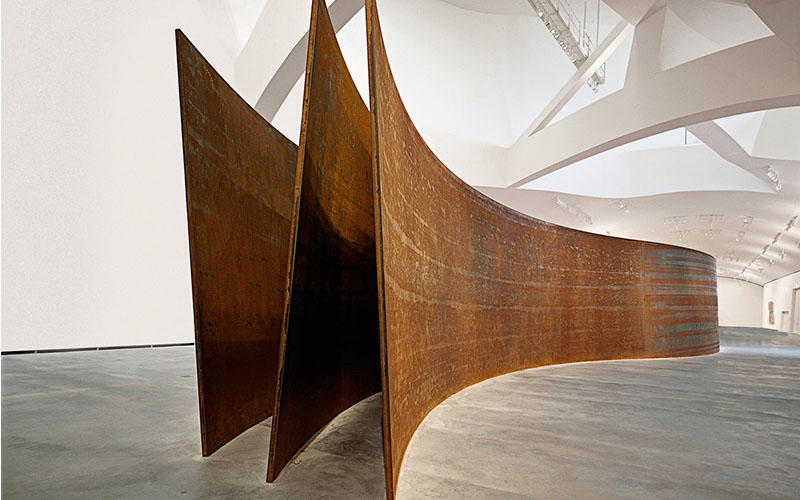 Famous Works
It was not before 2005 that the American artist installed his first public work in his hometown San Francisco. Ballast is a 160 tons piece created in 2004, consisting of two steel blades and it is located in the University of California campus' main open space. A 2008 installation titled Promenade was presented in the Grand Palais at Monumenta exhibition. 17-meters-high Promenade was made out of five colossal steel sheets placed at every 100-foot and it was created especially for this event. Before Serra, that privilege had only Anselm Kiefer, who was invited to fill the 13,500 m² nave of the Grand Palais, in the heart of Paris on the Avenue des Champs-Élysées.
Promenade was made out of five colossal steel sheets placed at every 100-foot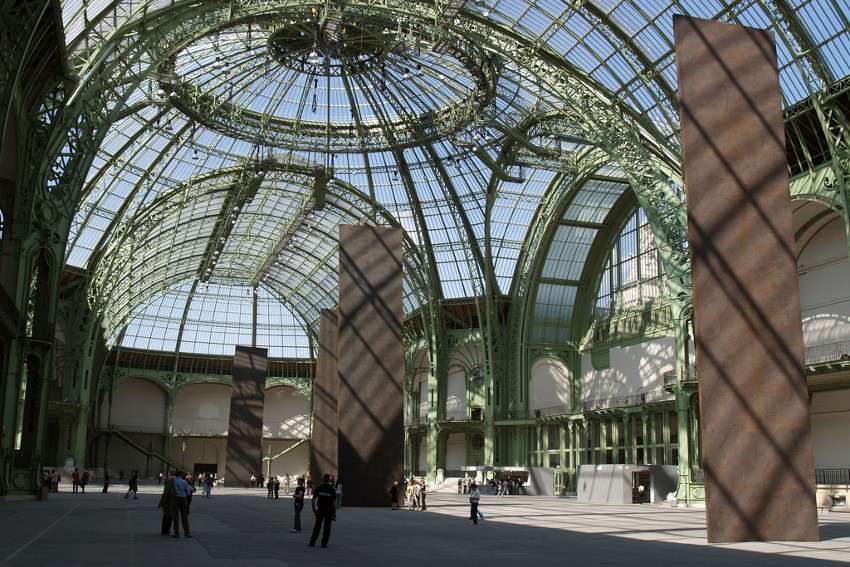 Tribute to Charles M. Schulz and STOP BUSH
During his career, Serra was inspired and dedicated some of his work to such artist as Marilyn Monroe, Charlie Chaplin, Greta Garbo, Buster Keaton, Rainer Werner Fassbinder and the art critic David Sylvester. Serra produced an installation titled Charlie Brown, in 2000 – a year when Peanut's creator passed away. This tribute to Charles M. Schulz is a 60-foot tall sculpture in San Francisco's Gap headquarters. That same year, Serra won the Golden Lion for Contemporary Art at the 49th Venice Biennale. However, there was a time when he was actually uninspired by some of the big shots. In 2006, the artist created quite a commotion when he presented two crayon drawings at the Whitney Biennal. The drawings depicted an Abu Ghraib prisoner, and the caption was: STOP BUSH. Whitney even used this image to design posters for Biennial. But, Serra did not stop there. Inspired by Goya's Saturn, he drew Bush devouring his son. The image was also used by the website pleasevote.com and on The Nation issue in July 2005.
Serra payed a tribute to Charles M. Schulz by a 60-foot tall sculpture in SF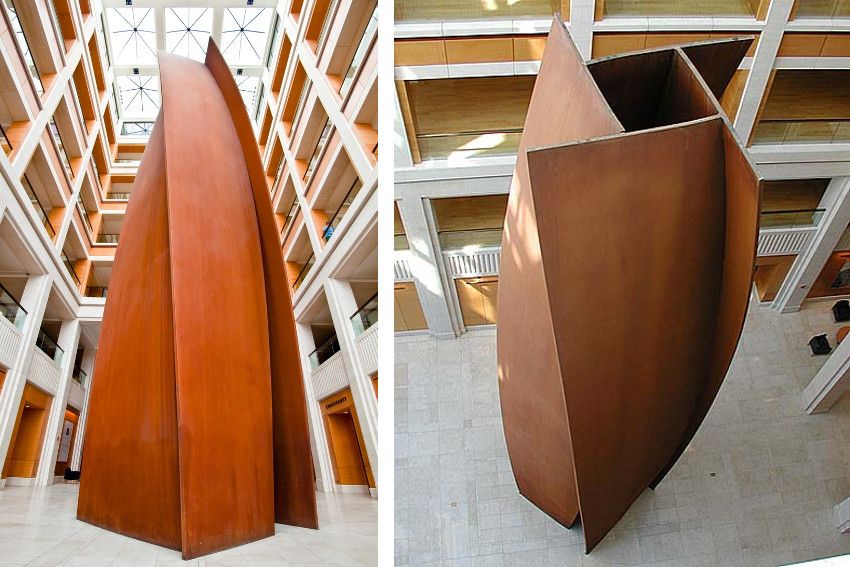 Awards
Serra's oeuvre can't be classified easily - it is primarily a sculpture, an architecture, and even a fragment of modern industry and painting, all at one time. He was awarded many times; Skowhegan Medal for Sculpture, The Goslarer Kaiserring, Wilhelm Lehmbruck Prize for Sculpturein. He received The President's Medal from the Architectural League of New York in 2014, and curiosity is that he was the first artist to receive this prize. He also won honorary degrees of Doctor of Fine Arts by Williams Collegein, College of Arts and Crafts in California, University of Yale and Harvard as well, College of Arts and Design in Nova Scotia, Universidad Pública de Navarra. Serra became a member of the American Academy of Arts and Sciences in 1993 and in 2006, of the American Academy of Arts and Letters and National Academy of Design. In 2015, the American artist received the French government's biggest award, the insignia of Chevalier of the French Legion of Honor. [5]
He received many notable awards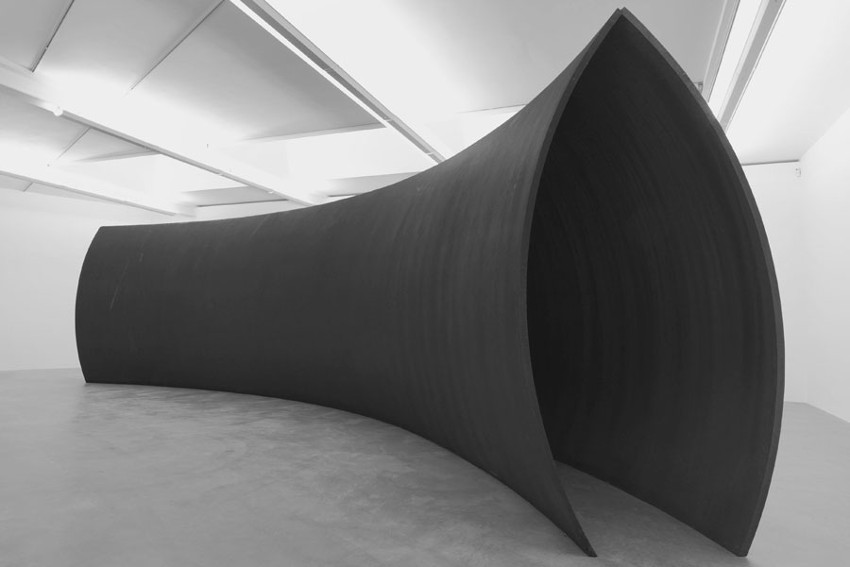 Expanding the Boundaries
Over the years, Richard Serra has become one of the most acclaimed living artists for his challenging and innovative work, which emphasizes materiality and an engagement between the viewer, the site, and the work. He radically changed the traditional idea of sculpture and expanded the concept through monumental scale of his works and meticulously created relationships with the surrounding space. His work is owned by some of the major art museums, including the Museum of Modern Art and the Solomon R. Guggenheim Museum in New York, the Los Angeles County Museum of Art and the San Francisco Museum of Modern Art. Since his first one-man show in 1966 at Galleria La Salita in the capital of Italy, Serra has had numerous exhibitions throughout the world, including a 1986 retrospective at the MoMA.
Richard Serra lives and works in Nova Scotia, Canada and New York, New York.
References:
Crow, K (2015), The Reinvented Visions of Richard Serra, WSJ. Magazine [September 11, 2016]
White, M., Rose B., Garrels G., Dabrowski M., Shiff R., Richard Serra Drawing: A Retrospective, The Menil Collection, First Edition, 2011
Muchnic, S (1998), An Ironclad Visionary, Los Angeles Times [September 11, 2016]
Anonymous. Richard Serra - Torqued Ellipse (Bihurritu eliptiko) Guggenheim [September 11, 2016]
Cunningham H. (2015), Richard Serra Given France's Highest Honor, Observer [September 11, 2016]
Featured image: Richard Serra - portrait, photo via therichest.com