Rick Begneaud is an American mixed-media artist, whose art is recognized for his use of found objects – scraps of materials and fabrics, which Rick gathers during his travels across the globe.
Remembering Robert Rauschenberg
Raised in the Cajun country, Rick Begneaud graduated from the University of Louisiana at Lafayette. His uncle was a famous American painter and graphic artist, Robert Rauschenberg. Inventive, playful and original, Rauschenberg's art predicted the pop art movement, with works such as Combines series made in the 1950s, in which he merged non-traditional materials and objects into an innovative combinations.
As a nephew of the famous artist, Rick Begneaud spent summers on the Captiva Island, near Florida, in the company of Rauschenberg's friends such as Andy Warhol and Roy Lichtenstein. Surrounded by such names of the art world, Begneaud soon wondered to his own artistic journey, and started making his art. As a studio assistant and sidekick to the legendary Robert Rauschenberg, Rick traveled extensively with him and toured the globe from China to Mexico. In such environment, Begneaud love for travels grew, and never faded or left him. As an artist, Rauschenberg was a great influence and a source of inspiration in Begneaud's own artworks.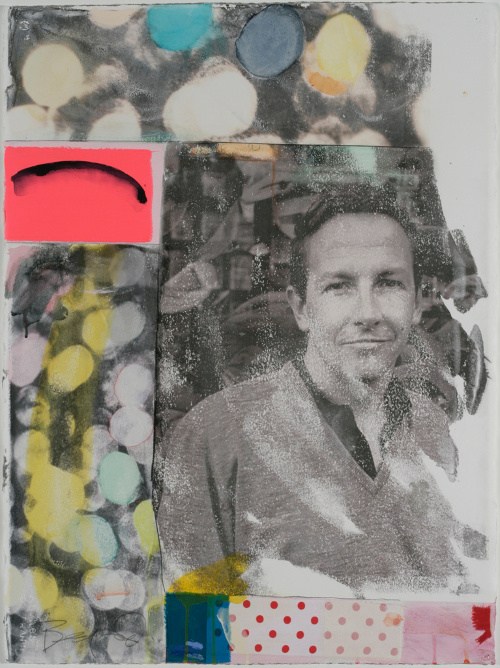 From Scraps to Art – Process of Begneaud's Work
The oeuvre of Rick Begneaud is born of place and experience. Rick uses his extensive travels through Africa, Asia, South America, Europe and the United States as a source of inspiration. His growing career is nourished by these travels, during which he collects textiles and small elements from remote villages throughout the world and embodies these places from a different perspective. As an avid traveler, Rick's oeuvre of abstract works conveys life's circumstances into exciting visual signs, preserving the spirit and breathing new life into these found objects.
Begneaud first started using and collecting scraps of fabric after his journey to West Africa, where he was fascinated by discarded, beautiful, sun-faded pieces of clothes and materials laying around on the floor. Such approach to his art provides the artist an intimacy that bonds him to an undiscovered space, morphing his unique view on places he visited into new creations.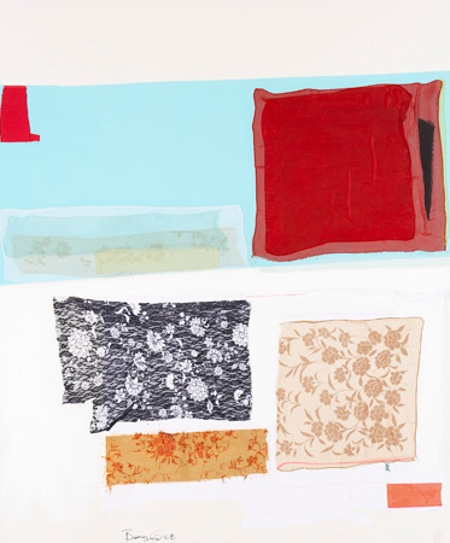 Characteristics of Begneaud's Art
Rick's work deals with implied histories and emotional applications of found elements, abstract painting, and collage on paper or canvas. Unwitting forms and patterns, along with the fabrics create abstracted, angular shapes pulsating with rich color. The artist favors a palette that combines pastels with earth tones, creating an atmospheric and harmonious feeling of his works. Although the sense of spontaneity is noticeable in Begneaud's art, the compositions of his pieces are well-balanced and thought out. Rick uses and appropriates gathered textiles as rectangular shapes, mounting them onto the canvas and combining them with painted accents, such as red color dots, or with elements of timeworn photographs and clips from old newspapers.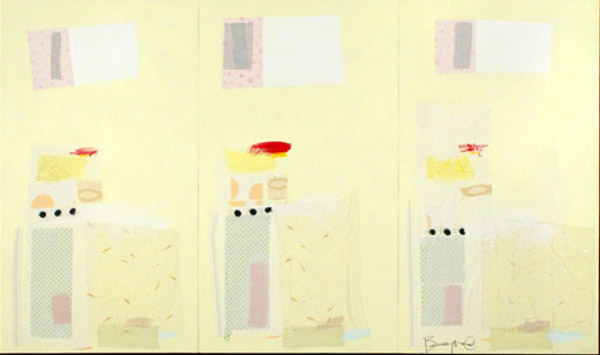 Over the past 30 years, Rick has evolved into a prominent member of the San Francisco Bay Area bustling artist community.
Rick Begneaud lives in California, where he works out of his studio in Sausalito.