Helsinki-born illustrative painter Riikka Sormunen is the recipient of a three-year grant from Arts Promotion Centre Finland, the award having kicked in at the beginning of this calendar year. Sormunen, who has a background in fashion design but who has been focused on watercolor painting since 2007, has a long and successful history of performing illustration work for clients. The grant allows her more time to focus on personal projects.
"It feels like there's no pressure at present but immense pressure looming in the distance," she explains when asked how she sees the grant affecting her work over the next two and a half years. "Lately I've been improving and organizing my home studio so that things can go smoothly and fruitfully as often as possible. I sleep and paint in the same room and finally replaced a romantic metal bed with a boxspring, so I can now easily gaze at unfinished pieces when I'm lying in bed. This feels very important. I'm hoping to shed some rules and rigidity that cause anxiety and procrastination. I'm looking for less suffering, more pleasure and play in both subject matter and execution."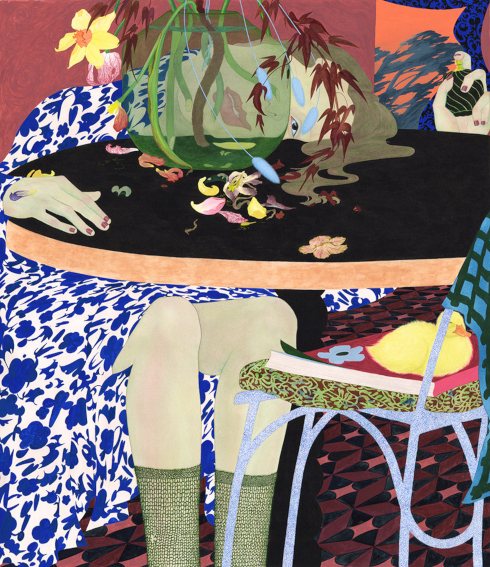 In a recent article in Hi-Fructose magazine, Sormunen had some interesting things to say about her methods, and changes therein. While she used to paint only from memory in her personal projects, and saw any other way of working as a form of "cheating", she changed tactics and now sometimes makes videos of herself acting out the characters she intends to paint, and uses those films for reference when working. Why the change in practice?
She explains: "I wanted to see my work evolve and some sort of a change was needed. Working strictly with just one method tends to result in more of the same. I was drawing from memory and the memories were mostly from the mirror, so the poses would always be those I could easily look at while doing them. I have a difficult relationship with the mirror, so it was a way to give myself a break from that, too."
"I don't exclusively use reference now. I'm just trying to let myself be more flexible and diverse, even though I've got the inner critic complaining that I just want easy results when I don't challenge myself at every possibility. Now I'm often asking myself what's the point of doing things a certain way, is it the exercise or result? Both are worthy, but I just want to know why I do it. You can keep learning the same thing until it's perfected to death, but it's nice to have something alive to feed on. I still think that memory is more interesting than reference, even though they might be the same thing, only separated by the amount of time it takes for the form to travel from brain to hand. Trying to memorize by looking very closely makes my brain come up with notes like, 'ahh that negative space is like a wizard's hat,' and that feels very satisfying to me."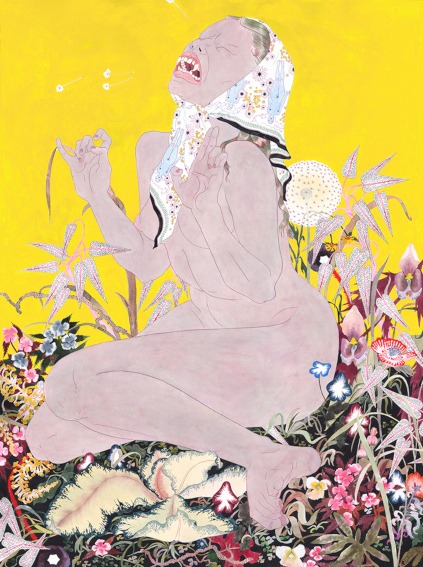 Contrasts come into play in much of the artist's work. We see floral patterns and other background scenery that evokes a sense of lush serenity. But the women who are often the focal points in the pieces don't come off as tranquil. They seem worldly wise in a way that has left them jaded, exhausted, over it, sometimes angry. The overall effect of some of the works is an entrancing play on perspective that juxtaposes sensuality with edgy energy. They welcome the viewer in with peace-inducing elements, then provoke us with the characters' facial expressions and demeanors, which are generally do not suggest comfort.
"Contrasts are a big theme for me," Sormunen relates. "Beauty can trick you into looking at things that are unpleasant, like madness, bitterness, or shame. Most of my paintings from recent years are about the painful love-hate relationship I was in at the time. Now the contrasts I'm working with are more of the tactile, textural and colour variety. I don't know what that means yet, but it feels good."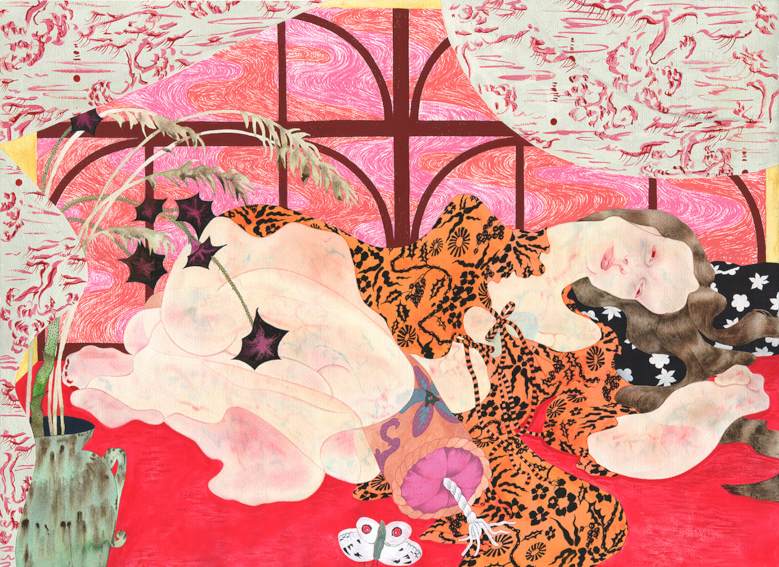 Another striking aspect of some of Sormunen's work has to do with the matter of what is, or should or could be, considered to be feminine beauty. The personalities these women seem to project can be found to be endearing, well at least to those who like a little darkness in the characters of the people in their lives. And there's certainly plenty of viewers of the artist's work who will also find the women to be physically attractive. Yet the characters don't exactly conform to traditional images that movies, TV shows and commercials, fashion magazines, etc. teach us to see as beautiful women. So is Sormunen out to consciously challenge what is generally viewed as female beauty?
"I try to challenge how I relate to beauty. It feels like a personal project, even though I make it public. I often resent how much time and energy I've spent trying to look hot. There are rewards and punishments for sexiness and the whole thing is very hard to ignore.
"At 14 I would increase the thickness of my eyeliner throughout the school day because I felt exposed if I wasn't wearing enough of it. These days it feels similar to refining and adding ornamentation to paintings, except for the feeling while I'm doing it. Instead of anxiety it brings me peace. While I'm working I feel light and genderless."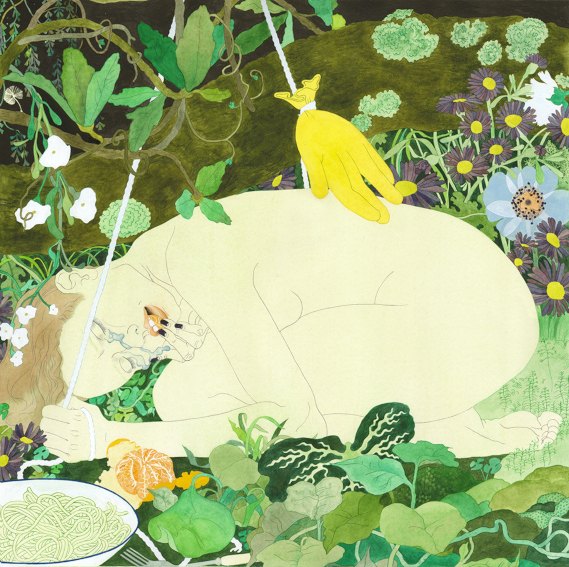 Sormunen, who says she never questions why she chooses to create art, explains that ideas for her paintings often appear in her mind when she's lying down. She says that sometimes her primary motivation for a work has to do with combinations of shapes or colors, and other times it's more about a feeling she wants to communicate. Whatever she works on, though, has to be something that intensely excites her. And it seems she has plenty of ideas that enthuse her now, although the freedom the grant has afforded her also brings on some dilemmas:
"I'm working on finishing at least five paintings and it feels like I'm mentally constipated. While I worked as an illustrator regularly I would always have just one personal piece in progress and I would pause working on it whenever commissions came up. I wouldn't let myself start a new one until one was finished, but now that I'm only doing personal work it's gotten more complicated. The idea was that I could just effortlessly jump from one to another whenever I feel stuck, but it seems like it's slowing me down instead. I can't wait to finish them all to start some new ones but feel like I should probably stick to just one or two so I can concentrate better."
There's a waiting list made up of sketches, including: a tender butt-squeeze in a storm, a squinting snake-lady slithering from under a bed into sunshine, a tired masturbator resting under a pillow. Lately I've become fascinated by light and shadow, which sounds very basic but I haven't really worked with them for a very long time so it feels new and exciting to me. I'm also interested in hidden images, working more intuitively, making stupid jokes."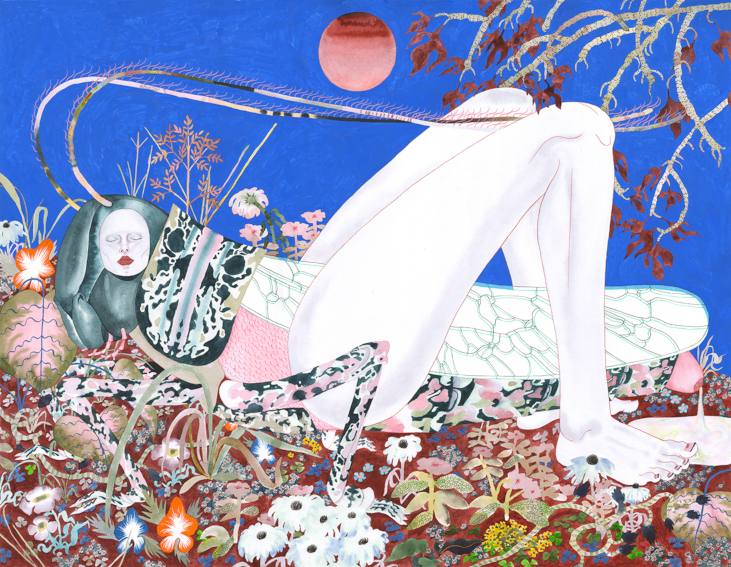 And questioned as to whether the Coronavirus pandemic has impacted her work, she tells, "Isolation, breaking down and self-soothing have been relevant subjects to me for as long as I've been painting. So while my work didn't change, I felt like it started to look like it was about this moment. Which was nice somehow. But it's makes me want to paint sunsets and kittens."
Featured image: Riikka Sormunen - portrait. Text by Brian Greene. All images and text courtesy of the artist