One of the great innovators in twentieth-century painting, Robert Delaunay was a French artist who successfully anticipated many of the current trends in art. He abandoned figuration in 1911 when he joined Wassily Kandinsky's Munich-based Blaue Reiter group, joining forces with such artists as Franz Marc, Albert Bloch, and Paul Klee. The lyricism of Delaunay's color increased from 1912 to 1914, keeping pace with the accelerated perceptual and technical developments of the time. As a leading light of the pre-1920s Paris avant-garde, Delaunay created a new artistic language to express these ideas. A slightly bolder statement would be that he was not only one of the earliest artists to tackle abstraction, but the only artist to present his abstraction as a response to new scientific theories of vision. The colorful, optically driven canvases that Delaunay produced, Hughes shows, set him apart from the more ethereal abstraction of contemporaries like Mondrian, Kazimir Malevich, and František Kupka.[1]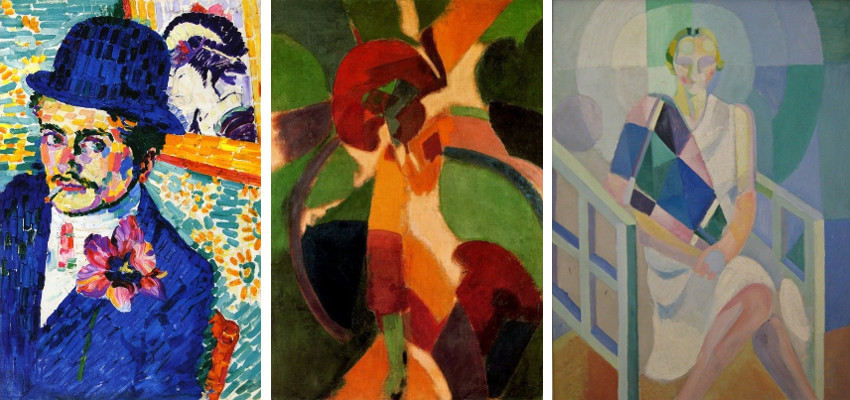 Early Life
Born to eccentric upper-class parents, George Delaunay and Berthe Félicie de Rose, Robert had a privileged yet strained early life. His parent divorced when he was only four years old and he barely saw his father afterward. His mother, an irresponsible character fond of society life, called herself 'Countess' though the authenticity of her claims to French aristocracy is in question. Taken in by his mother's sister Marie and her husband Charles Damour, young Robert was raised in a grand estate in La Ronchère near Bourges, by coincidence mirroring the childhood experience of his future wife, Sonia, also brought up by a wealthy uncle and aunt in St Petersburg. At school, he was a lackluster student, who would spend classes painting with watercolors behind his desk lid. Upon failing his final exam and after expressing his desire to become a painter, his uncle sent him to Ronsin's atelier to study Decorative Arts in the Belleville district of Paris. Here he learned to create large scale theater sets, which would inform his later stage and mural work. After two years, in 1904, he left Ronsin to focus entirely on painting and contributed six works to the Salon des Indépendants. In 1903, Delaunay traveled to Britain, where he became acquainted with Henri Rousseau and turned to painting, inspired initially by the work of the Pont-Aven Group who had painted there from 1886-88. After returning to Paris, he met Jean Metzinger, and two artists became close friends, producing a series of small mosaic-like compositions inspired by the Divisionist techniques of Georges Seurat. In 1909, Delaunay came across a passionate young artist named Sonia Terk, whom he both married and collaborated with, forming one of the most remarkable partnerships in art history.
The biography of Robert Delaunay is actually a story of abstract art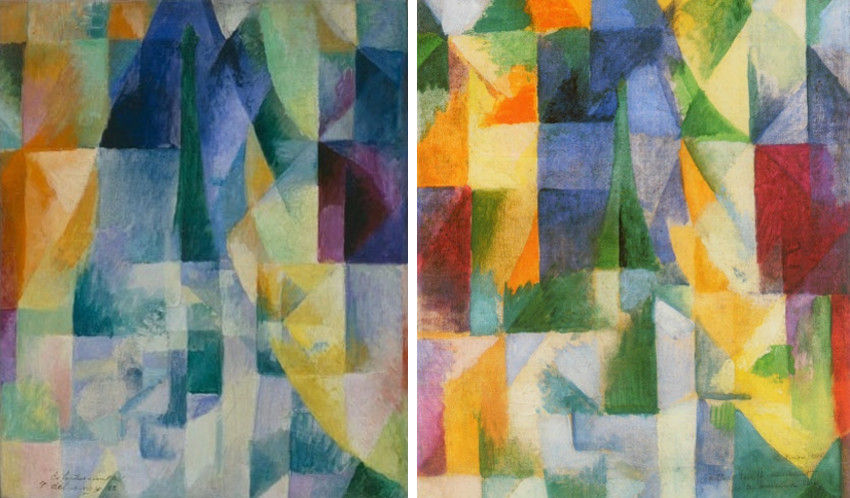 Robert and Sonia Delaunay
Sonia was a wealthy Russian émigré who had recently come to Paris from Germany in order to train at the Academy de la Palais. When she met Robert, she was already married to the homosexual German art critic and gallery owner, Wilhelm Uhde in a marriage of convenience. Two artists quickly began a passionate affair, and when she became pregnant, Uhde willingly consented to a divorce. They married a year later, and Sonia soon realized that Robert was not going to be what was considered as conventional father or husband – for the majority of their mutual life, she was the main breadwinner for the Delaunay family. The couple rented an apartment on the Rue des Grandes Augustins, the same street where Pablo Picasso lived, and embraced the exciting new world around them. On Sundays, they would open their home to other artists, poets, and musicians that included Henri Rousseau, Metzinger, Guillaume Apollinaire, Fernand Léger, Albert Gleizes, Henri Le Fauconnier, and Blaise Cendrars. On Thursdays the group would dance at the Bal Bullier in Montparnasse, turning up late to make an entrance wearing the outlandish simultaneous designs created by Sonia. At the outbreak of the Russian Revolution in 1917, Sonia's income was cut off and she turned to fashion design in order to provide for her family. In 1920, after WWI, the Delaunays left Portugal (where they had spent the war) and returned to Paris. Sonia had established herself as a successful fashion designer, so Robert could freely pursue his own art. Once again, they rented a grand apartment, this time pulling in a new group that included Tristan Tzara, Francis Picabia, André Breton, Jean Cocteau, and Sophie and Jean Arp. The apartment became a living, breathing simultaneous artwork as their Dada and Surrealist friends adorned the walls with paintings, poems, and signatures.
His personal life was always socially interesting, as he married Sonia and befriended many other creative individuals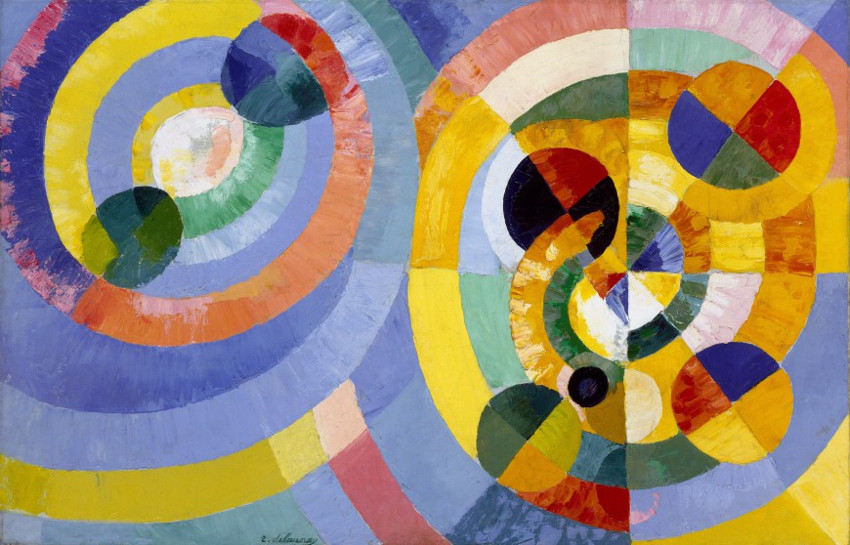 Orphism
Spearheaded by Robert Delaunay, Orphism was a trend in abstract art that derived from Cubism, giving priority to light and color. The term originates from 1912 when French poet and art critic Guillaume Apollinaire identified the new style of Cubist painting. Inspired by the work of František Kupka and the Delaunays (who, although channeling the Cubist vision, prioritized color in their work), Apollinaire felt this use of color brought movement, light and musical qualities to the artwork and therefore referenced the legendary poet and singer of ancient Greek mythology, Orpheus, when naming the movement. The correlation between color and music was an idea that interested many artists at the time. Symbolist artists and writers saw analogies between musical tones and visual hues. The painter Wassily Kandinsky had begun to associate music with the abstract aspects of his art, and he discussed the connections in his book Über das Geistige in der Kunst (1912; Concerning the Spiritual in Art). Orphist painters were interested in the geometric fragmentation of Cubism, but — unlike the Cubists, who removed almost all color from their paintings, and rather like the Fauvists — they considered color to be a powerful aesthetic element. One of the resources that inspired Robert Delaunay and Orphist experiments with integrating color and Cubism was De la loi du contraste simultané des couleurs (1839; The Principles of Harmony and Contrast of Colors and Their Applications to the Arts) by the chemist Michel-Eugène Chevreul.[2] He identified the phenomenon of 'simultaneous contrast', in which colors look different depending on the colors around them. For example, a gray will look lighter on a dark background than it does on a light one. The Delaunays dispensed with form and aimed to created rhythm, motion and depth through overlapping patches of vibrant hues – creating a strand of Orphism known as Simultanism.
If one word summarizes the art of Robert Delaunay, it is color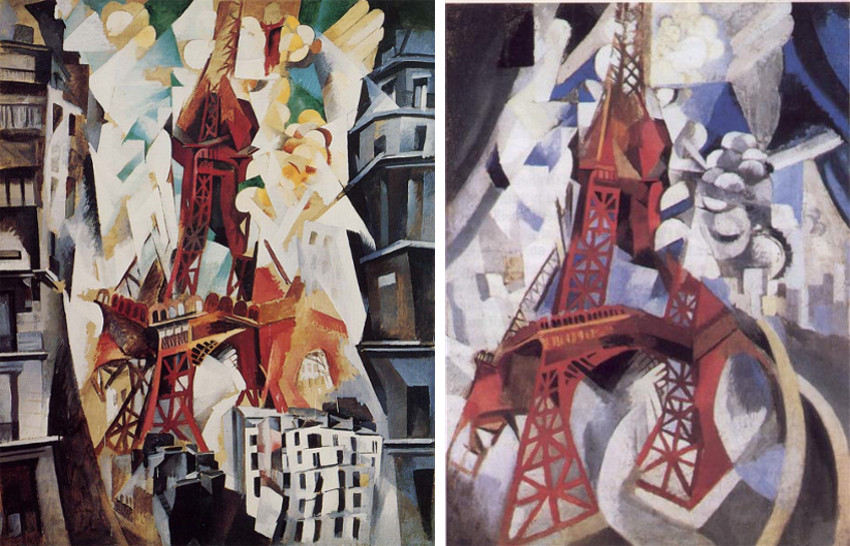 The Eiffel Tower and Other Notable Series and Works
As one of the first non-representational painters, Delaunay greatly influenced abstract art, advancing the style of Cubism. By adding bright and bold shades of color to his work, he was one of the best known representatives of Orphism. Delaunay painted a large number of works centered on the image of the Eiffel Tower as the symbol of modern Paris. The rising form of the tower can just be made out amidst the planes of color. He took his inspiration from a photographic postcard showing a view of the tower looking over the rooftops of the city. The buildings are framed by the suggestion of an open window. Delaunay's pure bright colors evoke intense light and suggest the dynamic interaction experienced in the city. The City of Paris (1910-1912) figured prominently in the art world of pre-World War I Paris and was one of the first acquisitions of Jean Cassou, a freelance journalist and later the director of the Museum of Modern Art during the turbulent days of the Socialist Blum government prior to World War II.
As is characteristic of his early work, Delaunay mixes codes and symbols of the city he lived in. Here, though, he moves beyond the literal to the allegorical - presenting Paris through a montage of three nude women. The first presents Paris as the historical city, with a view of the Quai du Louvre in the background. The second depicts the classical Paris that is represented by a reference to the Judgment of Paris. The third and final panel is recognizable from Delaunay's previous Eiffel Tower series as the modern metropolis. Another wider series of works is entitled Rythmes sans fin, each of which used the contrasts between black and white and color to create a formal energy across the painting's composition. Arguably, the best-known painting from this series is the Endless Rhythm (1934), where Delaunay moved towards total abstraction, away from his existing ideas that color could be used to achieve a 'visual reorganization of the contemporary world'. This painting saw a revival of his profound interest in fully abstract geometric forms, as seen in The First Disk (1912).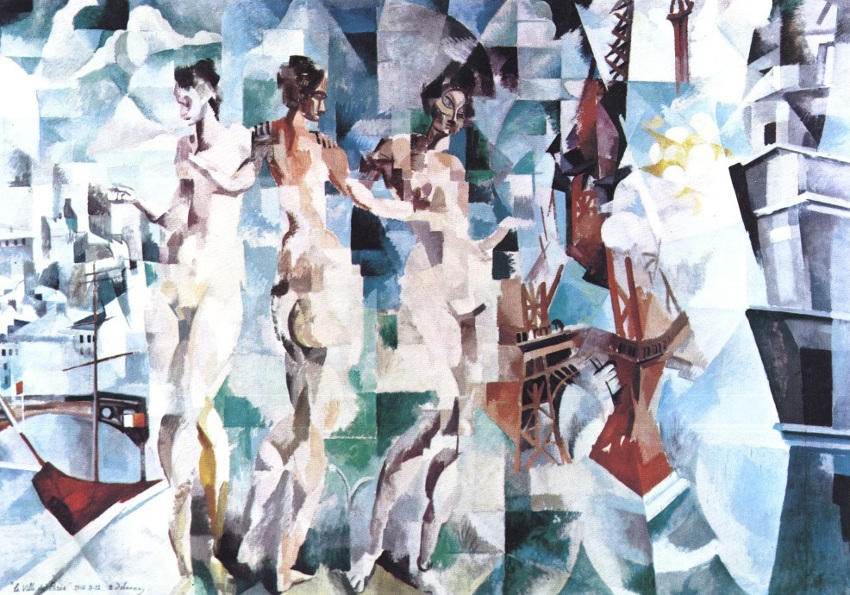 Legacy
At one moment, Delaunay was almost erased from history. Ironically, history was of great importance to him, he knew his place in it, and was particularly fond of pointing out who, or what, was first. And indeed, he was the very first in several areas, a true pioneer or abstract art. After reading his writings on color, it's plain that Delaunay is responsible for much original thinking about painting's formal qualities. Robert and Sonia had one of the most astonishing artistic and personal partnerships in history, inspired each other and made each other better. Even though contemporary discourse may prefer to view Sonia sans Robert, wife sans husband, and she is certainly just as good, if not better, than he. But they broke boundaries together, as a married couple, as a family, sometimes out of necessity, sometimes out of something more nebulous. It only seems fair that their story should be told simultaneously, as both his and her story is one of a man and woman working in harmony as artists. Arguably, it is Sonia that is Robert's greatest legacy, as she kept their shared theories of simultaneity alive through her prolific production of clothing, household objects, book binding, fabrics, and painting, all characterized by colorful abstract forms that were reminiscent of her husband's earlier Orphic works.
Robert Delaunay lived and worked in Paris.
References:
Hughes G., Resisting Abstraction: Robert Delaunay and Vision in the Face of Modernism, University Of Chicago Press, 2014
Anonymous., Orphism, Britannica [December 26, 2016]
Featured image: Robert Delaunay – Autoportrait, 1905-06 – image via wikipedia.org
All other images via wikiart.org