As one of the guys who "got blamed for the 80's", Robert Longo creates works that bridge the gap between hyper-realistic and disturbingly surreal through the images frozen in time resembling the situations which refuse to resolve. Presumptuous and imposing, they manage to escape strict categorization as painting, sculpture or media art, merging the power of photographic and film pictures that Longo exploits as a mean of his research of importance of visual expression in popular culture and stereotypical portrayals of the individual's alienation within a complex society. His concept explains the changing landscape and aesthetic of New York City during the 80's due to the fast gentrification and influence of the stock market. His powerful epic narrative is the result of elevation and transformation of the medium of drawing into the painting through the use of traditional methods of processing light and dark as the primary elements. Starting from the personal and intimate, Longo has found the perfect balance with collective, reflecting contemporary surrounding and questioning the postulates of today's life. Based on photographs, his works are essentially conceptual, but highly abstract at the same time.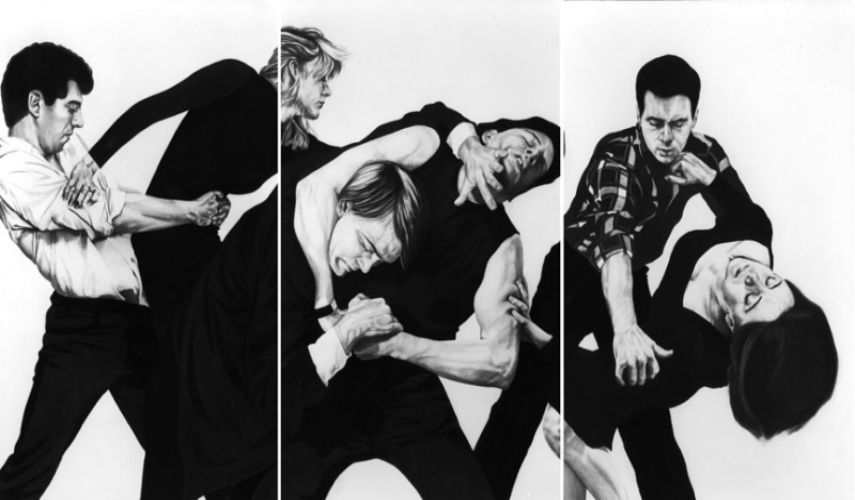 Art for Every Time: Men in the Cities
Longo was born in 1953 in Brooklyn, New York. His earliest childhood was marked by his fascination with mass media, from television and movies to magazines and comic books, that continued to influence his art throughout his career. Never finished the college at the University of North Texas, he later decided to study sculpture under Leonida Finke, who motivated him to follow his artistic strivings. Receiving a grant at the Accademia di Belle Arti in Florence in 1972, he spent some time in Italy and upon his return, Longo received a BFA at Buffalo State College. Along with his friends, he established an avant-garde art gallery in the building of an old ice factory, that became Hallwalls Contemporary Art Center. Thanks to this space, he got an opportunity to meet many local and New York artists and decided to move to Manhattan and be a part of the underground art scene of the 70's. Although he studied sculpture, Longo has always preferred drawing as his favorite form of creative expression. Still, his sculptural training left a trace, giving the very important third dimension to all of his artworks.
Robert Longo made a breakthrough at the very beginning of his career with his series of graphite and charcoal drawings of smartly dressed men and women named Men in the Cities. Starting to work on it in 1979, these pieces were exhibited two years later at Metro Pictures Gallery in New York and marked the next 35 years of his professional life remaining fresh and current in every period of time. Inspired by the Hollywood's stylization of violence, in part by the neo-noir cinema of Rainer Werner Fassbinder, rock star poses in music videos and probably the rise of Wall Street his characters are captured in undefined motion that makes the viewer wonder whether they are dancing or dying. The artist described them as "doomed souls. They're people who built the buildings that would eventually fall on them." On the roof of his apartment building in lower Manhattan, Longo gathered his friends dressed in suits and photographed them in reactive moments caused by throwing objects toward them. After projecting pictures on paper, he drew over them with a great precision. Radiating youthful optimism, these artworks became a symbol of every new generation.
These characters are captured in undefined motion that makes the viewer wonder whether they are dancing or dying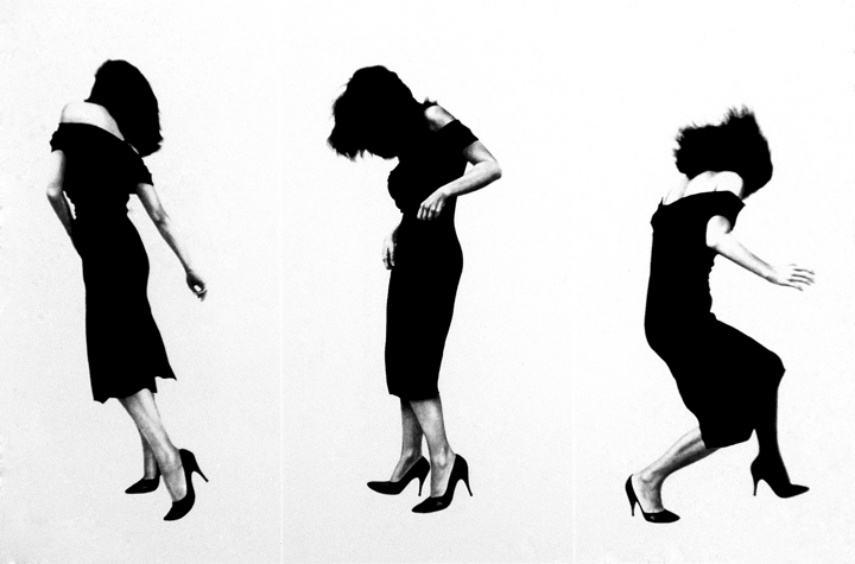 Longo's Works From Drawings to Movies
Processing the themes of power, authority, and patriotism, he created series of darkened, monochromatic American flags, Black Flags (1989-91), as both works on paper and bronze sculptures, folded or unbend and series of oversized guns, Bodyhammers (1993-95). Often putting in front of himself the demanding tasks, Longo worked for one year on the Magellan project (1995), drawing 366 pieces, every day per one, documenting the images that impacted his thoughts, representing his cultural and personal environment through his distinctive visual language. Seven years later, he repeated similar approach with his Freud Drawings (2002) as a reinterpretation of Edmund Engelman's documentary of Sigmund Freud's flat, just before his flight from the Nazis, creating, as he said, "a psychoanalysis of Freud's apartment." For the work Barbara and Ralph, he used projected photographs put on paper and traced with graphite. Removing all the details from the background, Longo let his assistant and long-time illustrator Diane Shea to amend the figures leaving him to provide the "cosmetic" work, making numerous adjustments before it was done a week later. Making the lithographs, Longo used to repeat this process, leaving studio assistant to do the basic preparation. During the 1980's, Longo has very successfully directed several music videos for major hits of famous bands, such as New Order's "Bizarre Love Triangle", Megadeth's "Peace Sells" and "The One I Love" by R.E.M, and was also involved in creation of the front covers of Glenn Branca's The Ascension from 1981 and The Replacements' 1985 album Tim, inspiring the other authors of similar content. His cyberpunk movie Johnny Mnemonic with Keanu Reeves in the main role and short film Arena Brains rounded the work on his numerous performances and theater pieces, such as Marble Fog or Killing Angel, in the late 1980's and early 1990's. As the leader and guitarist of the band called Robert Longo's Menthol Wars, he played punk and experimental music, very popular in New York clubs at the end of 1970's.
Rober Longo often processes the themes of power and authority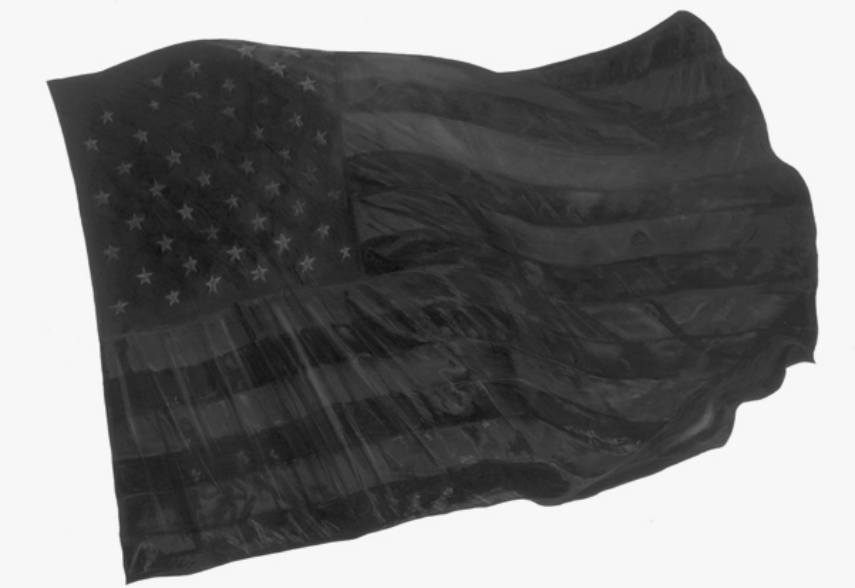 Recent Solo Exhibitions: America 2014 and Europe 2016
One more time, on the occasion of his solo exhibition Strike The Sun (2014) at Petzel Gallery in New York, Longo used American national symbols putting in the limelight the United States Capitol building and the American flag. The image of Capitol is followed by 17-foot high black wax surfaced sculpture of flag that threatens to collapse and drawing of the riderless horseback that led JFK's funeral procession. At the same time, Metro Pictures Gallery showed Gang of Cosmos, Longo's exhibition that consisted of twelve charcoal drawings of famous Abstract Expressionists Willem de Kooning, Adolph Gottlieb, Helen Frankenthaler, Lee Krasner, Norman Lewis, Joan Mitchell, Robert Motherwell, Barnett Newman, Jackson Pollock, Ad Reinhardt, Mark Rothko and Clyfford Still, representing distinctive dialogue and some kind of homage to this important people who influenced his way of thinking. Studying their paintings in museums, he started from digitally manipulated photographs and through his characteristic approach created images that allow recognition of the original artwork, but still making visible details of the complex surface, the tactility of the paint, the brushstrokes and the pattern of the canvas. Exploring his own relation with painting, Longo acted with the aim of highlight the importance of Abstract Expressionism as the first movement that shifted the cultural dominance from Europe to the United States in the years after the World War II, putting it in counterpoint to the American symbols installed at Petzel gallery. His European presentation has been held in Galerie Thaddaeus Ropac in Paris in April 2016, when Longo reviled his large-scale charcoal drawings and sculptures within the exhibition Luminous Discontent. From the first encounter with monumental abstraction Untitled, the viewer remains deprived of determined impression, but initially disoriented, but directed on the shift of focus into his own instincts and intuition. Through the cracked ice of a massive iceberg and bullet hole in a glass window, he comes to the works based on the X-rays of paintings by van Gogh and the Old Masters. This collision of epic images illuminates the history and reflects our chaotic time of uncertainty where the belief in the unseen creates opposite forces, trust, and skepticism, hope and fear.
Longo's works are recognizable for their details of the complex surface, tactility of the paint, brushstrokes and the visible pattern of the canvas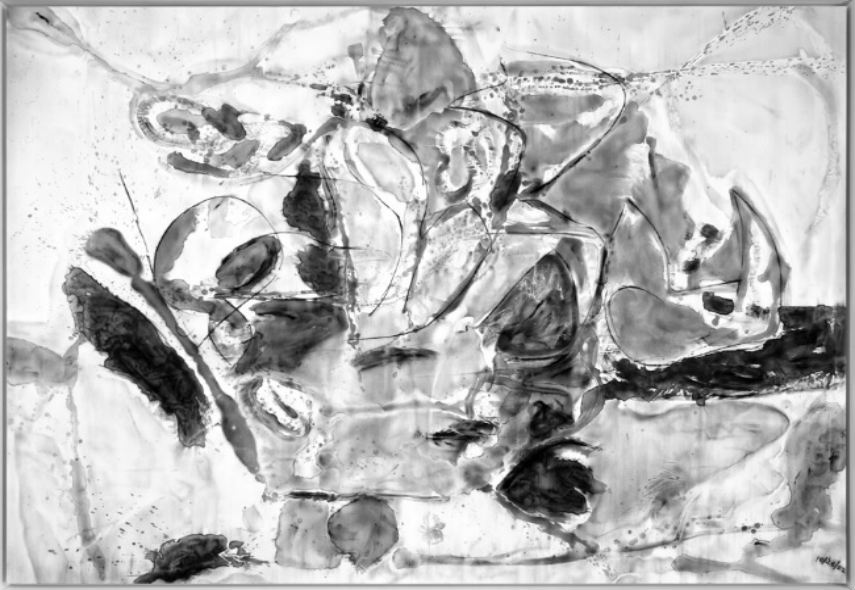 Robert Longo as a Reporter of Life's Truth
Processing the themes of today's world, Longo became known for his socially relevant artworks that masterly balance between emotional and rational. "As an artist, we're reporters. Our job is to report what it's like to be alive now. We're one of the few professions left in the world that has the opportunity to try to tell the truth." Listing the number of influences, Longo mentions the New York Post, the films of Sam Peckinpati, and artists such as Sol LeWitt, Vito Acconci, Robert Smithson, Edward Hopper, and Egon Schiele, but also ancient Greek and Roman sculpture. His major retrospective exhibitions, again and again, prove his value and importance among his generation of artists. His pieces have been exhibited in numerous shows around the globe, including Musee D'Art Moderne Et D'Art Contemporain de Nice in France, Museu Colecção Berardo in Lisbon, Portugal, Albertina in Vienna, Austria, Isetan Museum of Art in Tokyo, and Museum of Contemporary art in Chicago among the others. He has participated in Documenta, the Whitney Biennial, and Venice Biennale. For more than three decades Longo has been a prominent figure in New York cultural scene, shaping the visual language through his artworks, performances, films, and videos. In 2005 he was the recipient of the prestigious Goslar Kaiser Ring in Germany for "outstanding achievements in modern art," and in 2010, he was inducted as Officier de L'ordre des Arts et des Lettres by the French Minister of Culture.
Robert Longo lives and works in New York.
Featured image: Robert Longo's portrait - Image via likesuccess.com
All other images copyright of the artist