Roberto Kusterle is an Italian photographer, born in Gorizia, in 1948. A self-taught artist, his venture into the world of art started in the 1970s, when he began working on his paintings and installations.
In 1988, he gained the interest in photography, which became his main way of expression. Kusterle's magnificent monochrome works are surreal and original, they highlight the thin line between man and animals, real life and fantasy.
His works have been featured in numerous publications. In 2006 the artist won the award for the best photography exhibition at the Ljubljana Mesecfotografije in Slovenia.
The Fantasy World
Roberto Kusterle possesses an extraordinary amount of creativity. His stunning black and white photographs fuse dreams and reality, in order to create a magical world where everything is possible. His dreamlike images have the strong visual impact, they transport us into another dimension. By placing a woman and her body in the center, Roberto Kusterle celebrates nature and human body. His work is a duality between sweet and bitter, dream and reality, true and false.
The Marks of Metembiosis Series of Photography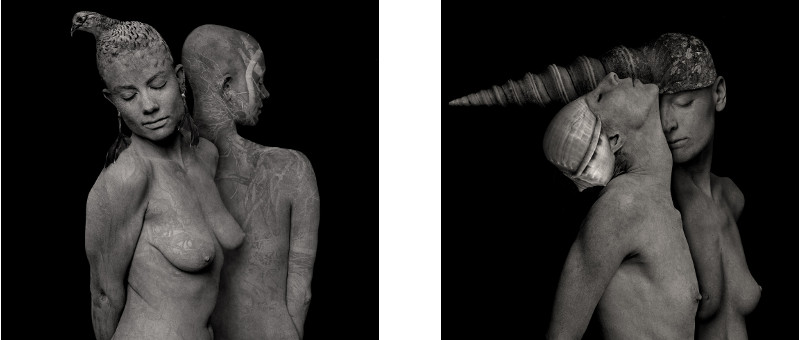 Photography by Roberto Kusterle
Kusterle is not only a photographer, he is a magician. What we can see in the photo is the last act of a complex and articulated creative process. What preceded it were the meticulous preparations. The artist already worked on researching, preparing and creating the character, the setting, lighting, scenography and make up, sometimes even for months. He is a director, a sculptor, a designer, a make-up artist and last, but not least, a photographer dedicated to achieving perfection.
Rites of the Body and Anakronos
In 2003, his Rites of the Body (Riti del corpo) series, exploring the link between man and animal through adding animal eyes, heads and hair on human bodies, were exhibited at the Galleria Regionale d'Arte Contemporanea Luigi Spazzapan in Gradisca d'Isonzoin Gorizia.
Between 2004 and 2006 he created the cycle of works entitled αναχρονος (Anakronos) which just broadened the range of his subjects.
Anakronos Series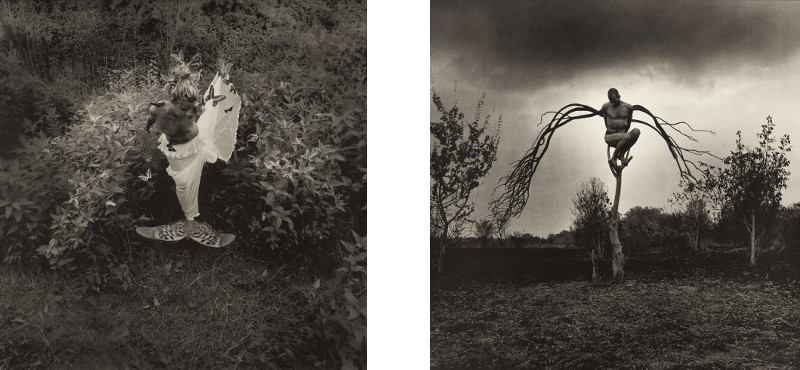 Silent Mutation
(Mutazione silente)
The Silent Mutation (Mutazione silente) is the name of the photographer's first exhibition in the United States, which was hosted in 2009 by the Wool & Lattuada Gallery in New York. In 2011 it was held again at the Garden of the Zodiac Gallery in Omaha. The photographs from this show are metaphysical portraits of female figures with vegetable elements.
The series Mutabiles Nymphae were the first one where Kusterle used digital techniques and graphic manipulation. The works were on display at the Mestna Galerija in Nova Gorica, Slovenia in 2010.
Using the clay on body and adding cracks and crevices to the skin, Kusterle created new archeological artefacts in the series Stone Marks in 2011, which he exhibited in Spilimbergo (Pordenone) and the Antonio Nardone gallery in Brussels.
Silent Mutation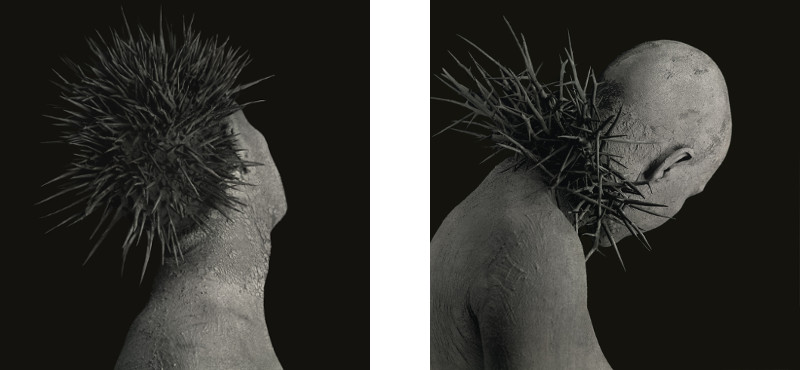 Recent Series of Works by Roberto Kusterle
In 2012, the cycle The Structure of Appearances lacked any of his vegetable and animal elements, this time stone-like body was his main subject. However, in the series The Marks of Metembiosis from 2012-2013 he returned again to the symbiotic relationship between man, animals and plants.
His most recent works are titled Abysses and Low Tides.
Abysses and Low Tides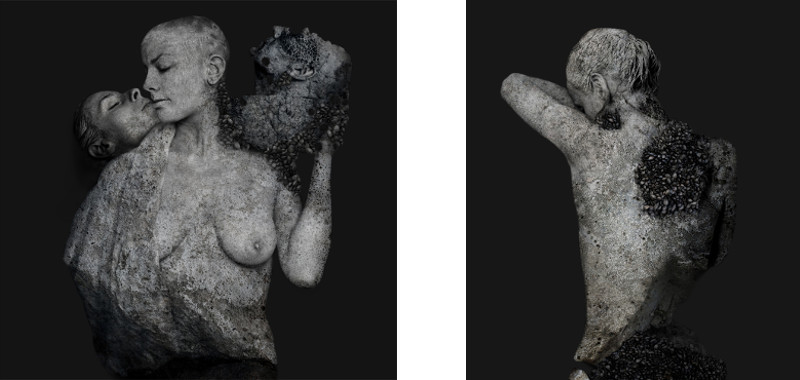 Exhibitions by Roberto Kusterle
Over 70 individual shows and even more group ones prove Roberto Kusterle's extraordinary talent. Recent solo shows have been held at studiofaganel, Gorizia, Italy (2015; 2012); Galleria Harry Bertoia, Pordenone, Italy (2015); Copetti Antiquari, Udine, Italy (2015; 2014); Modern Arts Midtown, Omaha, Nebraska (2014); Must Gallery, Lugano, Switzerland (2014); Galerie Antonio Nardone, Bruxelles, Belgium (2013; 2012), to name a few. His work has been recently included in collective exhibitions at Must Gallery, Lugano, Switzerland (2015); and Photon Gallery, Wien, Austria (2014), among others.
Short Films by Roberto Kusterle
Apart from photographs, Roberto Kusterle is dedicated to creating and producing experimental short films. Together with the filmmaker Ferruccio Goia, he created a number of short films, such as Dancing Water (2008), Stabat Mater (2009), The Last Night (2009) and Flower Sunday (2008), which explore different themes and add temporal depth to his work.
Roberto Kusterle lives and works in Gorizia, Italy.
All images copyright © Roberto Kusterle