Providing the art scene with a unique synthesis of European, American and Latin American visual cultures, Chilean-born artist Roberto Matta was an international figure known for his work which simultaneously incorporated elements from the rather different and popular movements of Abstract Expressionism and Surrealism. He worked through the concepts of these two styles and added an unconventional social and political note uncommon for both abstract expressionists and surrealists. Relying on a fascinating aesthetic vocabulary, Roberto Matta blended abstraction, figuration and multi-dimensional spaces into complex landscapes, making some of the most recognizable series of paintings that emerged from the 20th century.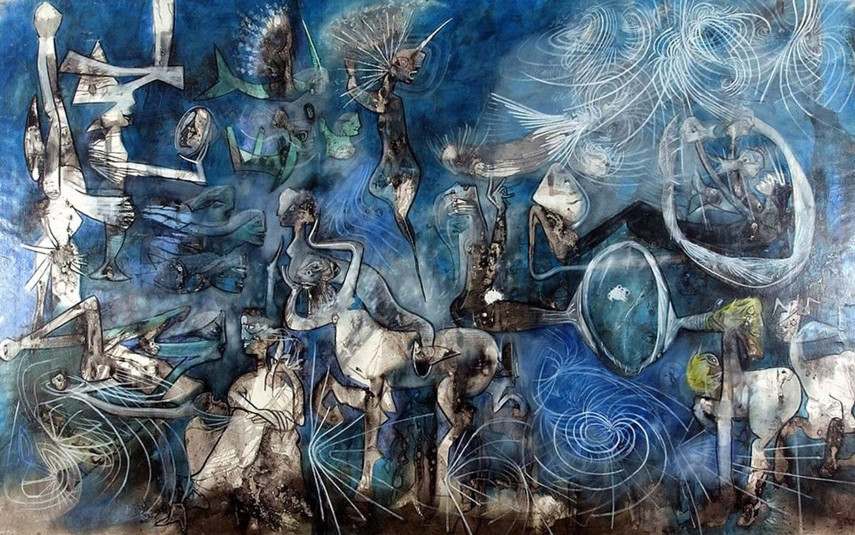 Before Fame and Related Contributors
Matta had a very specific and unusual family bloodline as he was of Spanish, Basque and French descent. He was born Roberto Sebastian Antonio Matta Echaurren in the year of 1911, in Chile's capital and largest city of the state, Santiago. After a very happy childhood, Roberto decided he would like to pursue a career in architecture as this traditional art form intrigued him for years. With such goals, he studied architecture and interior design at the Pontificia Universidad Católica de Chile in his native city of Santiago, where he graduated at the top of his class in 1935. After he received his deserved diploma, Matta wanted to take some time off and enjoy the freedom which he believed will disappear the second he found employment. He journeyed from Peru to Panama, going on a self-exploration trip - a concept popular with the South America's youth as many of them would take such tours with goals of discovering their inner selfs. Whilst voyaging, Roberto Matta would draw sights he saw around him, trying to capture the geographical features he witnessed in a highly surreal fashion.
The amateur paintings he made in this time actually served as a catalyst that burned a fire underneath him - from that point on, Matta became quite interested in the medium of painting and wanted to test himself in this expressive tool, but without disregarding architecture and the affection he still had for it. In the year of 1933, Roberto moved to Paris and started to work alongside the famed architect Le Corbusier. A year later, however, it was a time for a change of scenery, as Matta traveled to Madrid, Spain, where he was introduced to Salvador Dalí. This was a pivotal moment in young Roberto's career as the legendary Dalí encouraged him to start painting in a complete surrealistic style, as well as providing the aspiring artist with an opportunity to present his pieces to the main figure behind the movement of Surrealism, Andre Breton. After meeting with both Dalí and Breton, Matta decided he would join their movement and become an official surrealistic painter, embracing all of their stylistic features and conceptual command. As his duty among new fellow colleagues, Roberto was in charge of producing illustrations and articles for Surrealist journals such as Minotaure. During this period, he was introduced to the work of many prominent contemporary European artists, such as Pablo Picasso and Marcel Duchamp.
Roberto Matta's early works were a celebration of pace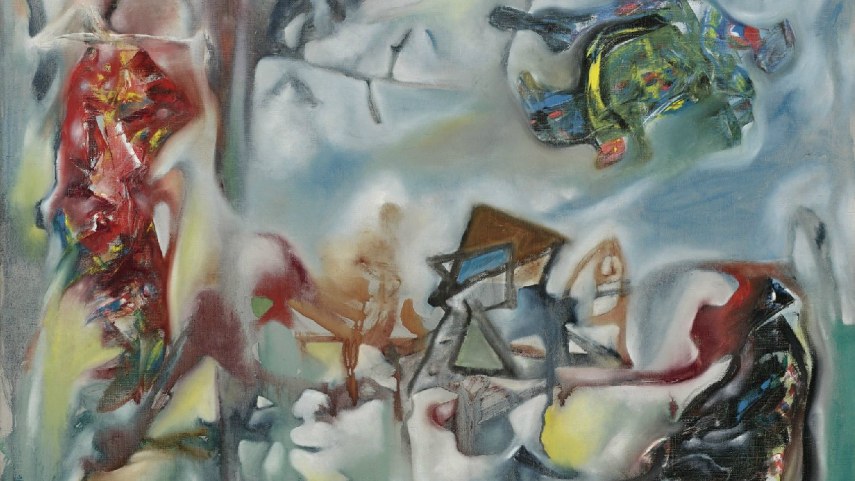 The Darker Half of his Biography
During the year of 1938, Matta left Europe and traveled across Atlantic, finding a new home in New York. Right about that time, his art has shifted and evolved as he finally stopped drawing and began working in oil. For the next decade or so, Roberto lived and worked in the United States, spending most of his free time creating one of the most famous projects of his career - the Inscape series. Unfortunately, Matta went from a respected member of the surrealists to a banished artist in an instant - he was accused of having an alleged relationship with Arshile Gorky's wife, a fellow artist well respected by Breton and the rest of the surrealists. After traumatized Gorky committed suicide due to his unhappiness over the unfaithful wife, colleagues with whom Matta held company saw fit to banish Roberto from their circle, refusing to speak with him or acknowledge his work. Subsequently, Matta's connections with the Surrealism movement were severed beyond repair. Fortunately for Roberto, his reputation as a first class modern artist was already established and the banishment he suffered did not really alter his lifestyle too much, but it did make him a lonely man with many creative insecurities.
After the World War II ended, the disturbing state of world politics found reflection in Matta's work, filling his compositions with images of electrical machinery and distressed figures. This kind of style lasted all through the 1950s as Roberto was obviously not able to shake off the stresses from both the war and the banishment from previous art circles. Matta spent these years between two continents, dividing his time between South America and Europe. Politics continued to over influence his work which was still prevailing in its semi-abstract style he established over fifteen years earlier. Inspired by the old concepts of Picasso's huge canvases, Roberto as well worked on vast surfaces, with the perfect example of the mural entitled The First Goal of the Chilean People, made for Salvador Allende, the president of Chile at the time. By this time, Matta often supplemented an aesthetic of pure abstraction with elements of figuration and precisely rendered, though fantastically conceived, three-dimensional space. Through his canvases, he managed to create new dimension by blending organic and cosmic life forms, effectively making him one of the most creative and chaotic artists of his generation. Severed from the Surrealistic painters of his time, Matta was in no position to influence the future of the style but still had a lot of characteristics that once made him a part of the movement. He continued to explore the unconsciousness through a symbolic language of abstract close forms and these visual investigations effectively turned him into an early and crucial inspiration for the Abstract Expressionists. However, Roberto never officially admitted he was a part of this movement, probably because he was still hurt by the previous ejection from an art circle. His mature years were not as active as the earlier ones in an artistic sense, as he chose to focus more on family than work. Matta died on November 23, 2002, in Civitavecchia, Italy.
Although Roberto Matta was a true art celebrity in his younger years, that all changed in the 1950s as he was banished from the Surealism despite his contributions to the movement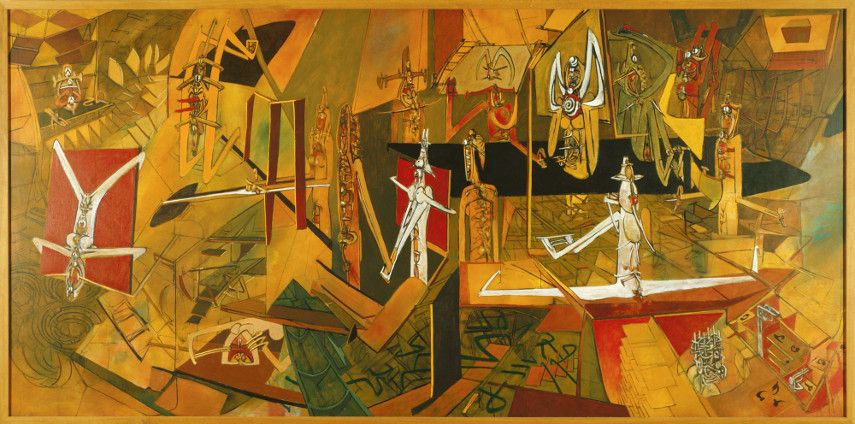 A Compromised Legacy of Roberto Matta
Roberto Matta's legacy is not only based on his art but it also prevails through the works of his two twin sons and a daughter, all of whom are also painters and help in keeping their father's memory alive. This is an excellent thing, as Matta's significance in art history has been often questioned - this is undoubtedly down to his indirect role in the death of Gorky and subsequent banishment from the Surrealistic movement, meaning that all the active and future artists of this style disregarded all of Roberto's art and refused to acknowledge its worth. Unfortunately, questionable decisions concerning his private life took precedence over his art, effectively compromising his importance to the modern art despite his work being one of the most original ones the world has ever seen.
The artist is represented by GREGG SHIENBAUM FINE ART Miami, PACE GALLERY Beijing, Puccio Fine Art and THE JANE KAHAN GALLERY New York.
Featured image: Roberto Matta - Photo of the artist - Image via globalarttraders.com
All images used for illustrative purposes only.