Photography is, by its definition, a way to explore the outside world. Since its invention, it has allowed people to experience places they are otherwise unable to visit. For Roger Ballen, an American photographer, it is more than that. It is a way through which he gets to know himself. An existential journey leading towards a definition of his very being. He is one of the last photographers to shoot solely in black and white, approaching the forms of minimalism, but also avoiding the temptations of capturing the world around himself as our eyes see it.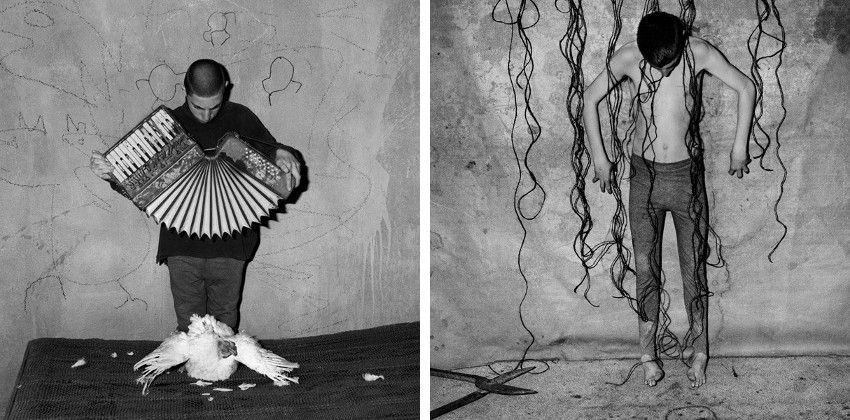 Education and Moving to South Africa
Roger Ballen studied psychology at University of California, Berkeley where he graduated in 1972. That is possibly an explanation of his inward pointed style of photography, as he uses the world around himself as a tool in the quest for a deeper understanding of himself. By the time he obtained his degree, he had already developed a passion for photography. The introduction to the field in which he's so successful today came through his mother, who was associated with Magnum, one of the world's most prestigious photo agencies. She also started one the first photo galleries in the United States and had worked with Henri Cartier-Bresson and André Kertész. Her passing in the January of 1973 had a major impact on Ballen. Fresh out of college and quite restless, he left the country and began a journey that would last for four and half years, an overland trip from Cairo to Capetown. After spending some time in South Africa, he once again took off. This time, the road led him from Istanbul to New Guinea (it lasted two and a half years), during which he completed his first book, titled Boyhood.
In 1977, Ballen went back to the United States and completed his Ph.D. in Mineral Economics at the Colorado School of Mines in 1982. The same year he went back to South Africa to pursue the mining explorations and anything related to minerals, as the country was well-endowed with minerals. He married a local girl and has been living there ever since. Despite the political problems and the issues of apartheid, he liked it there, and in fact used these questions to improve his photography. Since the end of apartheid, he was studying how this political change has affected himself and the people in his surroundings. However, it was still a hobby to him, and not something he would actively do and rely on it to provide money and food on the table. He did not sell his pictures (or offered them in any real way) until about 2000 when his book titled Outland came out. With it, the fame and recognition came. Suddenly, his photographs were high in demand, and Ballen decided to put significantly more time in photography and finally began observing it as a profession rather than a hobby.
The journey led him to South Africa, which became his new home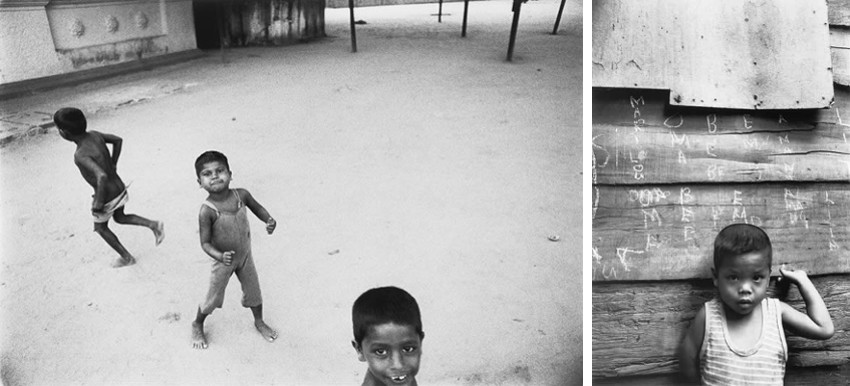 Installation and Composition
Ballen accepted Henri Cartier-Bresson's concept of the decisive moment and states that it is the most important concept in photography. This ultimate moment brings all things together in such a way that there's an authenticity to the meaning that the artist is trying to portray. Speaking of composition, the work of Paul Strand (who used a big format camera and created images that were very tight and formalistic in their own way) was very influential for Ballen. Walker Evans (especially between 1982 and 1986), as well. André Kertész was arguably the most important, as he revealed to Ballen that photography can go beyond being simply documentary and ultimately become art. As for installations and sculpture, so often incorporated in his work, the artist thinks they leave a bigger impact as parts of photography than they could do as individual pieces. The drawings, similar to Art Brut, are made by children, the insane ones or people living on the margins of the society. It is wonderful to observe the evolution of Ballen's style – at first, the faces were in the center, drawing all the focus to themselves. As he began paying more attention to the composition, he moved away from the faces. Every picture is thought-out in its detail, and each element which you can find in them has the same importance as the other elements. The fact that every element is equally important is probably the reason he prefers the square as a format. A rectangular form usually means that the horizontal is more important than the vertical.
Every picture is thought-out in its detail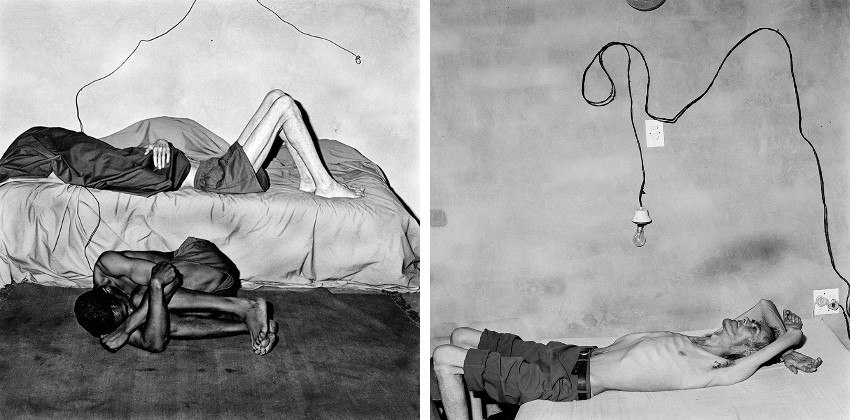 Comments on the Wave of Darkness
Many viewers say the photographs are dark and disturbing. Ballen actually uses the depths of comments to read people's depth of understanding themselves. Looking pictures, we tend to see what we truly are, how we feel, what we are afraid of. Even that dark and disturbing side of us that so often makes us nervous and anxious. The artist thrives on finding the dark and hidden side of himself. However, Ballen never makes a direct reference to a specific concept, as the pictures shouldn't be so unidimensional. They should have multiple meanings, sometimes even opposite meanings. In fact, rather than working with clear and predefined concepts, he works with visual relationships, as they have their own energy and way of integrating into some sort of coherent meaning. That coherent meaning should have multiple relationships and it should elicit people's emotions in ways they can't necessarily put words to. The photographer doesn't feel that the pictures are dark, disturbing, beautiful, or anything. "They actually are what they are and the less words you can find for those pictures probably the better they are."
Rather than working with concepts, he explores visual relationships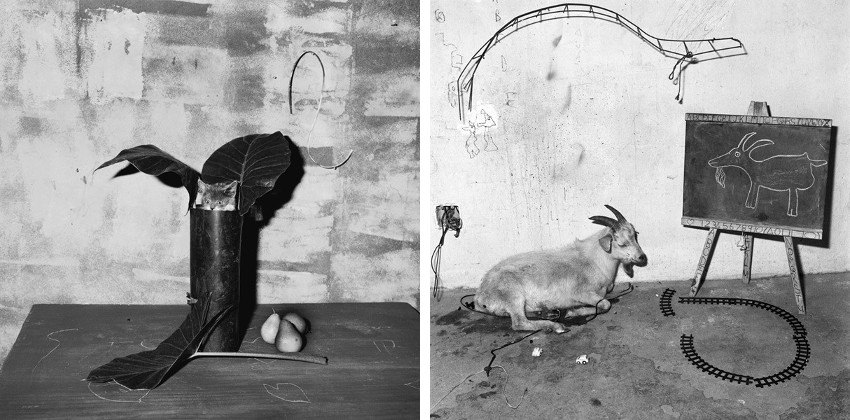 Notable Series
Books have always been the final output of Ballen's photographic narrative, and he pays much more attention to them than the selling of prints. As a part of business, selling photographs is fine, but it's not the goal. The real goal in his career has been geared towards making books, as they have that aura of permanence around them. An exhibition comes and goes, but the book is there to stay. Speaking of them, there are several series that have reached their peak in the form of a book. As mentioned above, his first book was titled Boyhood, exploring the boyhood itself. From the Himalayas of Nepal, the islands of Indonesia, the provinces of China, the streets of America – this four-year long project depicts all the magic of growing up, revealed through boys' games, adventures, dreams, mischief. The viewers slowly begin to realize that the boys everywhere share the concept of boyhood, no matter how different their cultures may be. Outland is certainly one of the most extraordinary photographic books of the late 2-th century. Moving from the small villages in rural South Africa in the late 80's and the early 90's, Ballen shifted his focus on the inhabitants. These isolated whites, undeniably scarred by history, are depicted going through the process of losing the privileges they were given by the apartheid regime. Visually shocking, the images are actually both deep psychological studies and powerful social statements. This series marked his departure from documentary photography, and his embrace of the realm of fiction. Published in 2001, Outland was named Best Photographic book of the year at PhotoEspaña 2001.
Following his Outland venture in the realm of fiction, Ballen explores the underbelly of existence in Shadow Chamber. Taking a big leap into a metaphoric dimension with multiple conscious and subconscious meaning, he created a way of seeing that makes an important and historic contribution to art photography. Blurring the boundaries between documentary photography and other art forms (sculpture, theater, painting), Ballen captured ambiguous pictures of people, animals, and objects posed in mysterious, cell-like rooms that occupy the gray area between fact and fiction. Resulting in complete abstraction, Ballen's images are not defined by the origins or specific location of the characters he photographs. He was rather focused on the interactions between the people, animals, and objects that inhabit mysterious rooms – the shadow chamber. Both animals and people in this series appear isolated, lost and estranged, but at the same time strangely empowered as well. Surreal and intriguing, these photographs are once again powerful psychological studies. Shadow Chamber was published in 2005. The photographs in Asylum of the Birds were all taken entirely within the confines of a house in a Johannesburg suburb, the location of which remains a tightly guarded secret. The cast, consisting of the house's inhabitants, both people and animals, but most notably, the ever-present birds – performs within a sculptural and decorated theatrical interior that the Ballen himself created and orchestrated. Compelling and dynamic, richly layered with graffiti, drawings, animals, and found objects, the resulting images exist somewhere between still life and portrait. Asylum of the Birds was published in 2014.
Between a book and a print, he always chooses the book format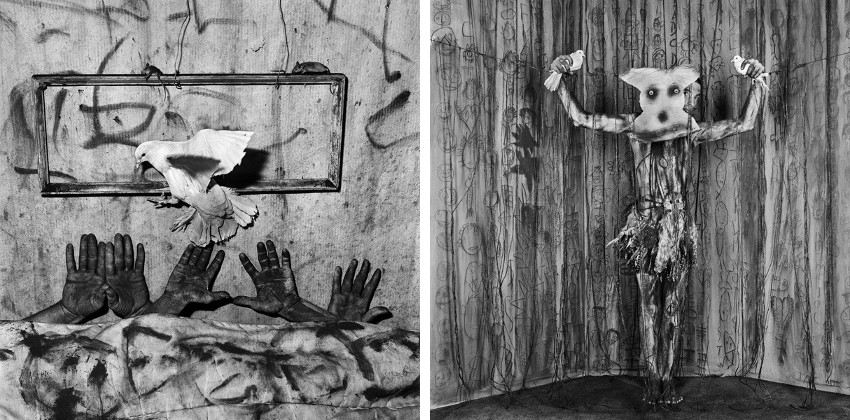 Roger Ballen and the Journey from Within
Through a photograph, Roger Ballen tries to delve into his interior, to mirror the dynamics of that, visually, in some way or another. It's all about doing down one's own shadow zone with a camera and a flash, and once in that place, taking pictures. His images are staged, but they report a certain attitude towards life. It's consists of death, good and bad, dark. Dealing things in front of him, the photographer doesn't try to make value judgments. There's more to life than having to try to deal with the issue of morality. Life's a little short for that. His images follow his philosophy, as Roger Ballen is just trying to look deep inside and figure out who Roger Ballen is.
He is represented by Kunzt Gallery.
Roger Ballen lives and works in Johannesburg.
Featured image: Roger Ballen at MARTa Herford - image copyright Helmut Dietz
All other images courtesy of the artist