Domenico Romeo, known simply as Romeo, is an Italian graphic and street artist, designer and illustrator, known for his calligraphic visual style. Through his body of work, the artist merges love for calligraphy and alphabet with strong references to fashion, street culture and applied arts.
The artist is known for his unique calligraphic visual style, which is still evolving

Based in Milan, Romeo studied law until he decided to try his luck as an artist, and trust his talent, clear vision and follow his passion. From that time on, beautiful signs, shapes and calligraphic letters began to break free from his mind in various mediums and forms. Romeo's love for gothic letters and unknown alphabets, but also for secrecy and intimacy, has strongly shaped his recognizable visual style, which is still evolving.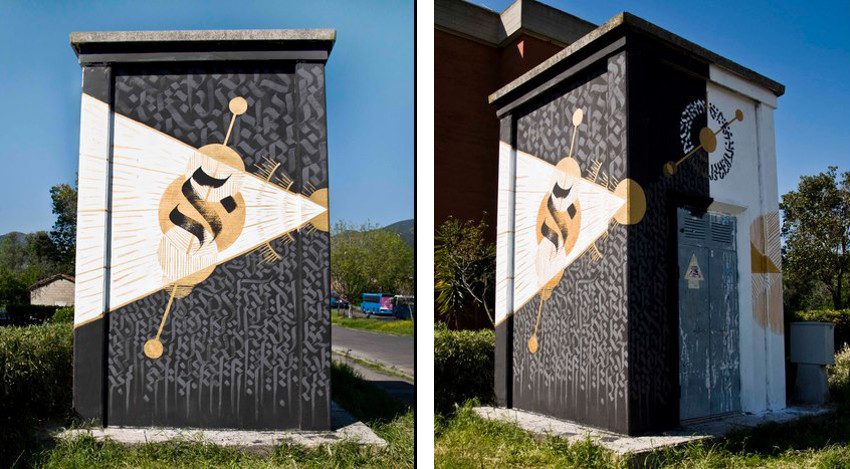 His incredible technical quality and style can be seen in his wall piece located in Via Galvani in Rome. Romeo painted this 60-meters long wall in whole with an ease, creating incredibly elegant and detailed mural, filled with calligraphic shapes that are gradually narrowing towards the center of the circle.
The incredible technical quality is visible in 60-meters long wall, seen below

Romeo's work in different creative fields includes his involvement in the fashion world, where his unique calligraphic design found its place on sneakers, t-shirts and many other clothing accessories. He listed other street artists such as 2501, Tellas, Ciredz, 108, Alberonero, and Sbagliato as the artists he admires.
Domenico Romeo lives and works in Milan, Italy.
Featured image: Domenico Romeo - Reflects, Monza, 2014 - © Grauen Studio
All images courtesy of the artist