Praised for the vibrancy and enthusiasm of his paintings, Miami-based Romero Britto works in a unique visual vocabulary based on the assumption that art and artists have a duty of being agents of positive change. Over the course of his career, Britto developed a distinct, pop-cubist style characterized by bold colors, playful themes and abstractions that imply on the legacy of artists such as Pablo Picasso and Georges Braque. Romero's fantastic art is a testimony of Miami's vitality and South American cultures, presenting the viewers with an amazing world revolving around humor, popular aesthetics and a complete lack of any restraints.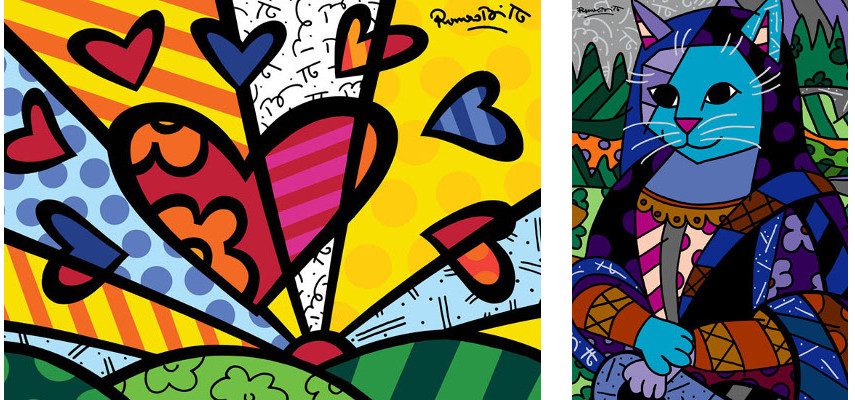 The Rise of Romero Britto
Since he was growing up in a very poor situation, Romero Britto and his seven brothers were forced to make due with what they had. Observed from today's standpoint, Britto feels that art is what kept him away from all the dark circumstances of his childhood, re-focusing his attention on the bright colors and positive aspects of life. When he was at the early age of fourteen, Britto presented his creations to the public for the very first time at an exhibition arranged by the Organization of American States. Despite winning awards for his displayed works and being encouraged by this early success, Britto felt that a smarter move for him at that time was seeking a practical, academic path as this would be a more realistic course. Soon after, he received a scholarship to study law at the Catholic University of Pernambuco. However, after he entered his third semester, Britto had a change of heart - he realized that nothing he learned so far made him as happy as creating his early pieces of art did. Keeping that in mind, Romero packed his bags and set sails for Europe in order to study and paint.
After arriving at the Old Continent in 1989, Britto's art was distinguished almost immediately for its positive and energetic view on life[1], obviously channeled from his early childhood. Since then, Romero's unmistakably modern colorful work is easily recognized without much effort. Interestingly, Britto started to combine artistic techniques of Pop Art and the complex qualities of Cubism, making his work extremely unique and stunning. In the early stage of his career, Romero explored several artistic mediums including watercolor, pencil and ink, serigraphy, lithography, acrylic and even finger paint - all that mattered to the young painter was that his visuals follow his Pop-Cubism visual guideline.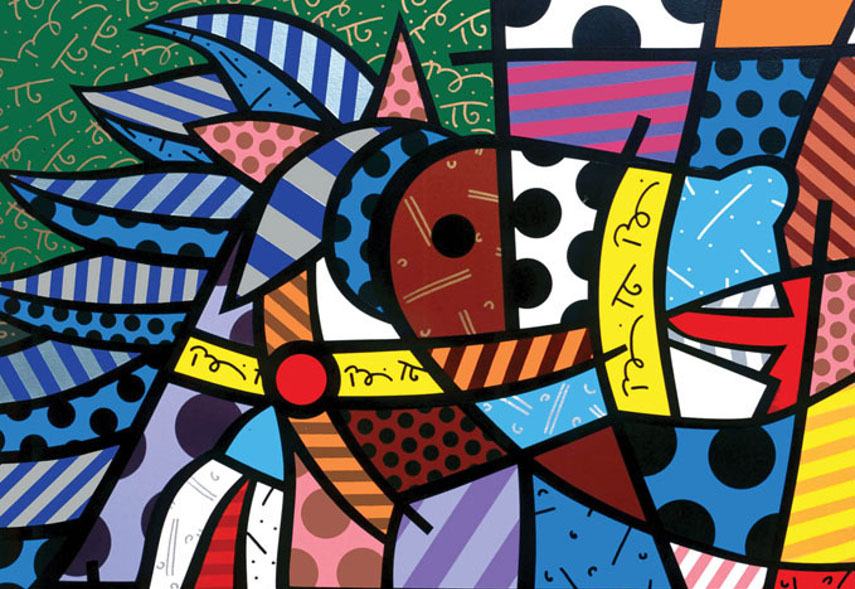 Romero's Fame and The Britto Foundation
After he managed to establish himself as a world-class talent, Britto started sporadically working for institutions and organizations such as St. Jude's Children's Research Hospital, the American Red Cross, and Best Buddies International. Firms were literally lining up in order to hire Romero. Additionally, Britto attended major art fairs such as FIAC Paris and Art Salon Hong Kong, as well as numerous world tours. His colorful works were extremely popular from the moment they appeared at the scene, finding their way into some of the most prestigious collections in the world. Wishing to become a bigger part of the United States scene, Britto moved to Miami, Florida, the city which serves as his home to this day. There, the artist continued to evolve creatively and his Neo-Pop style became a true sensation. Exhibitions of his work were everywhere between New York and Tokyo. His paintings were also quite popular with celebrities or renowned figures from our societies, some of which he has based portraits on, like the case was with Roger Federer, Dustin Hoffman, Arnold Schwarzenegger, Michael Jordan, Gloria Estefan, Andre Agassi, Eileen Guggenheim, David Rockefeller and Senator Ted Kennedy. Simultaneously alluding to influences of early and modern masters, Britto's constantly pulsating colors, pop themes and commanding compositions have led him to become one of the premier Brazilian contemporary artists of his generation.
It should also be noted that Britto's constant charitable contributions and activities have helped with establishing his reputation. Whether it be helping to protect and preserve the Brazilian rainforest, assisting the mentally ill or funding research for AIDS, Romero dedicated much of his time to such endeavors. That trait of his personality was eventually crowned in a form of the Britto Foundation, an organization founded in the year of 2007. The idea behind this Miami-based company was and still is to promote education and humanitarian initiatives for children. Furthermore, the Britto Foundation aims to nurture young people's art and cultural aspirations, engage children in literacy programs and respond to the needs of those within the most vulnerable populations.
Romero Britto paints in a colorful way that combines viusal aspects of Pop art and Cubism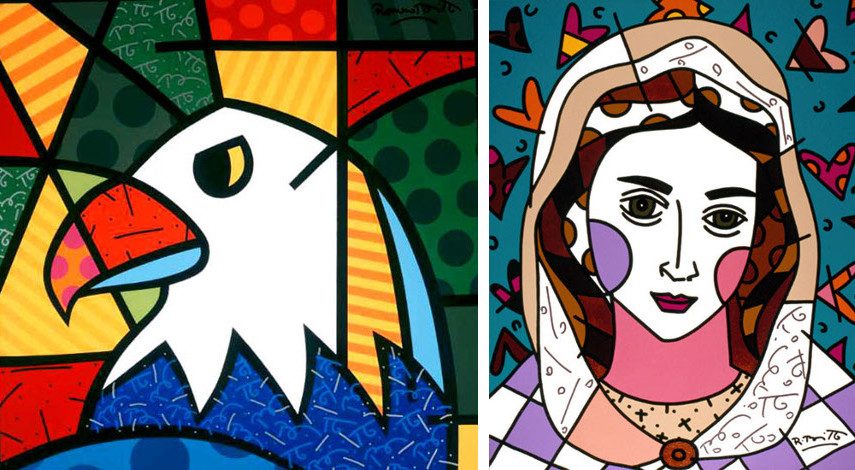 Seeking Happiness Through Art
With his never-ending positive energy, Britto continues to fulfill his dreams to this day. It is rather safe to say that Romero is rightfully considered to be the youngest and most successful Brazilian Neo-Pop artist of his generation[2]. Through his unique visuals, Romero Britto creates a completely new expression that reflects his optimistic faith in the world around him. This always was and always will be his main goal as an artist. The painter explained it best himself when he stated the following: As an artist, I feel lucky to have been given the gift of creativity so that I may share my vision of a better world. I will never forget what it was like to be poor and that is why it is so important to me that my work be accessible to all people. For me, art can reflect the celebration of the simple and good things in life. This is the most important to me. With such goals, we hope that Romero will stay committed to developing and supporting the powerful role art often plays in many of the world's issues.
This artist is represented by Gerard Seiwert Gallery.
Romero Britto lives and works in Miami, United States.
References:
Britto, R., Happy!, Universe, 2010
Britto, R., Official Biography
Featured image: Romero Britto - Photo of the artist - Image via soccer.com
All images courtesy of Romero Britto.