Romina Ressia is a multiawarded fine art photographer from Argentina. Ressia was born in 1981, in Azul, a small town near the capital city of Buenos Aires. Her works are influenced by fashion photography, surrealism and a classical style, which she uses to present modern issues. She is known for anachronism in her photography.
Early Career
She has been interested in art since a very young age. As a child, she took lessons of painting and drawing, and wanted to learn how to photograph. Unfortunatelly, there wasn't any photography course for children in her town at that time. Ressia chose the career of a photographer in her late twenties. Before that, she studied economics and received a Bachelor's degree in Business Administration and Accounting from the University of Buenos Aires. Apart from that, she studied art and fashion photography, art direction and scenery in her formative years. One of the institutions where she studied includes The Teatro Colon. She worked in an international corporation, in the financial department, but wasn't satisfied with her job and the lack of artistic expression, so she quit her job and became a full-time photographer. In the beginning, she was most interested in fashion photography, but slowly moved on to fine art and mixed media.
Beautiful female figures inhabit her images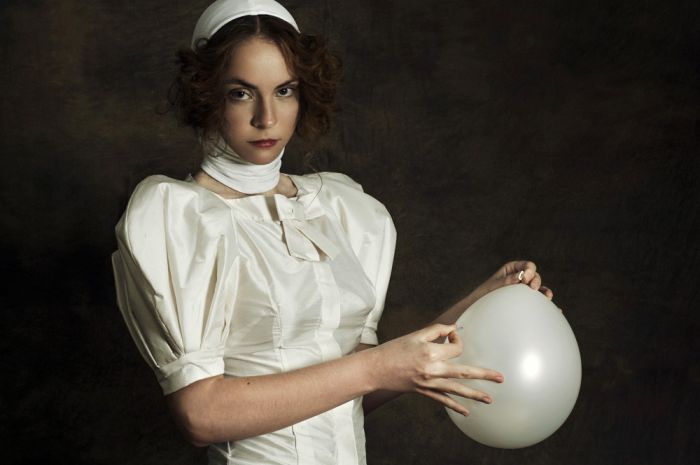 The Art of Romina Ressia
She is known for her use of anachronism and juxtaposition of Renaissance paintings and modern issues. She paints classical scenes with a modern twist, in order to explore human evolution and behavior in a playful and quirky way. Her works do not refer to the past, but present a reference for the analysis of the evolution of society. Ressia's creative process resembles the creative process of a painter. The photographer carefully studies the compositions and decors, before beginning the process. Her creative process starts with specific images she has in mind. The photographer sometimes creates sketches and collages in order to visualize the result.
Her captivating photographs, inspired by the old masters of the fourteenth to seventeenth century, from Raphael to Vermeer and Rembrandt, fuse past and present. They present classically beautiful female figures clad in period costumes and modern accessories. It is Ressia's modern and new take on classical styles and atemporal issues, the ones present in every society. She investigates how they are solved now. Her background in the fashion photography is visible in her fine art works. The photographer likes visiting galleries and museums, reading about history of photography and doing research for her next series. Seeing the works of other artist and learning more about history of photography help her find inspiration for her works. She always attempts to create a different and original art piece.
Her photographs resemble paintings
Exhibitions
The artist has exhibited her works in Milan, Italy; Buenos Aires, Argentina; Zurich, Switzerland; Edinburgh, United Kingdom, Czech Republic and New York, United States. The venues where her art was displayed include Laurent Marthaler Gallery in Montreux, Switzerland; Arcadia Contemporary Gallery in New York, United States; Louvre Museum in Paris, France; Arusha Gallery in Edinburgh, United Kingdom; and Leica Gallery in Milan, Italy. She participated in many art fairs, including Liverpool Contemporary Art Fair in 2015, Affordable Art Fair in London in 2015, London Art Fair in 2015, LAART Show in Los Angeles in 2015 and Edinburgh Art Fair in 2014.
Publications and Awards
Romina was featured in various publications, such as Interview Magazine, Vanity Fair, The Huffington Post, The Wild Magazine, Vogue Italia and many others. Her most iconic work, Pop-Corn, from the series How would have been? is a part of permanent collection of Columbus Museum of Art in Ohio, United States.
Careful studies of the compositions and decors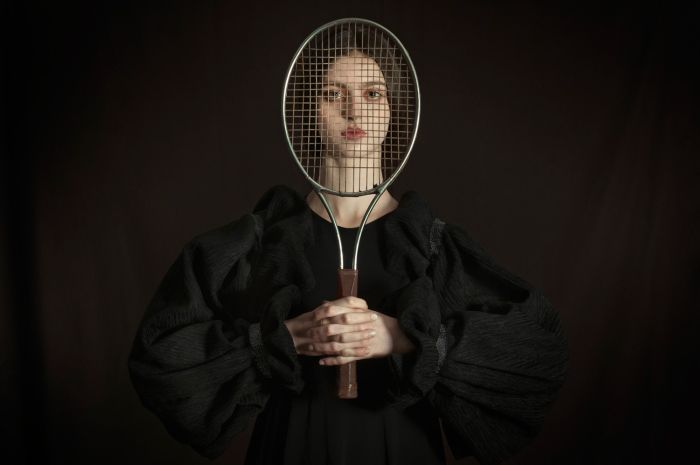 The photographer received numerous awards for her work. In 2015, she was the recipient of the International Photography Awards third prize. The same year she was awarded the second prize at Prix De La Photographie Paris in two categories. In 2014, Ressia was selected for the second and third prize in three categories, at the same event in Paris. In 2014, she also received the third prize at Photo Annual Awards for her work Pop-Corn.
She is represented by Arusha Gallery in Edinburgh, United Kingdom and various other galleries in more than twenty countries.
Romina Ressia lives and works in Buenos Aires, Argentina.
Featured image: Romina Ressia - Blindness (detail)
All images copyright © the artist