Initially starting out as a model maker and puppeteer for children's television shows and all manner of films, London-based sculptor Ron Mueck eventually established himself as a unique author of fine art, hyper-realistic sculptures. Active in the practice that made him famous from the year of 1996, this artist uses resin, fiberglass, silicone and other various materials to construct pieces emphasized by the keen likenesses of human beings. Ron Mueck plays with the scale of his sculptures, often making things a lot bigger or a lot smaller than what they logically should be. He explains such a manner with the following statement: I never made life-size figures because it never seemed to be interesting. We meet life-size people every day. Altering the scale makes you take notice in a way that you wouldn't do with something that's just normal.[1] Before we start, it should also be noted that Ron Mueck is a notoriously private person - he rarely talks to the public and is not a fan of giving interviews too often. For that reason, many like to say that Ron is as enigmatic as the sculptures he creates.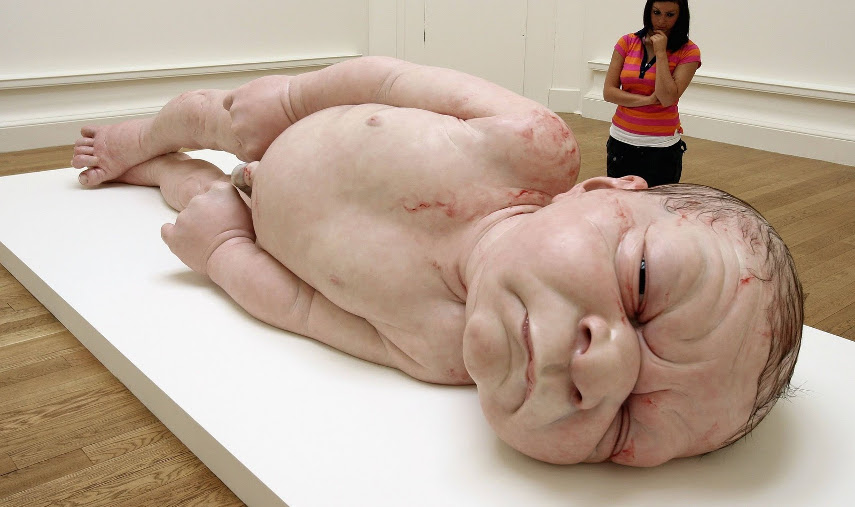 Crossing the Pacific and Atlantic
Ron Mueck was born during the year of 1958, in the capital of Australia, Melbourne, to German parents. The son of toy-makers, he grew up making all sorts of creatures, dolls and outfits in his spare time, experimenting with different materials and techniques. Whilst still a young man, Mueck commenced his professional career as a model maker and puppeteer for children's films and shows such as Shirl's Neighbourhood, The Labyrinth and The Storyteller. As his professional development continued to evolve, Ron eventually started to make photo-realistic props and animatronics for the private advertising industry. After working in film and television in the United States and London, Mueck shifted his focus to the fine arts in the mid-1990s. By 1996, he was completely committed to fine art practices, fully abandoning all the commercial jobs he held in the past. In 1999, he was appointed as Associate Artist at the National Gallery, London.[2]
During the early periods of his life and art, Ron Mueck was taught to use all the tools at his disposal in order to achieve his artistic goals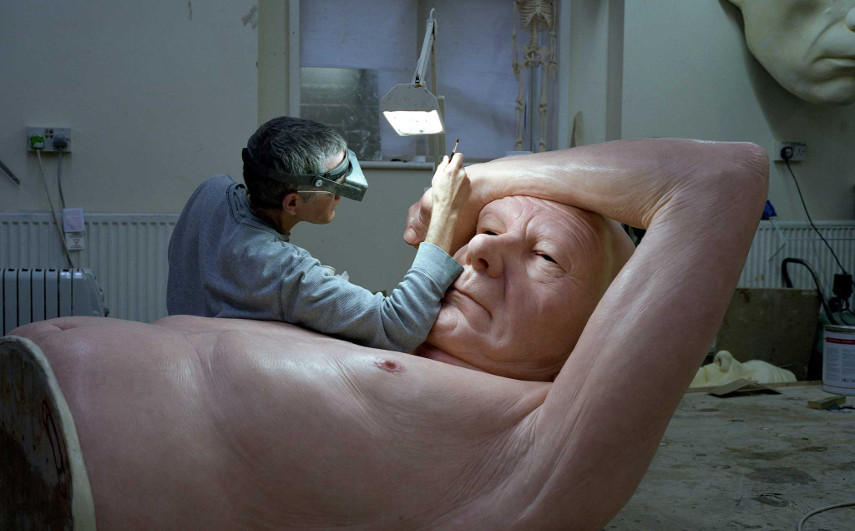 Main Aspects of Ron Mueck's Art
Whilst many artists strive to glamorize the real world through their representations and imitations of it, Ron Mueck does not want to depict our life as something better than it actually is. He wants us to see all the realities, the genuine struggles and real issues in his work, he does not want to make fake interpretations that hide the truth, sweeping it under the rug of dishonesty. Mueck often aims to present his characters in key moments of their imagined lives, covering the mysterious moments such as birth and death. Ron draws upon his own memories, dreams and everyday experiences in order to portray his subjects with extraordinary compassion, injecting a little bit of his own personality into every piece he completes. It should be noted that Ron usually spends over a year conceiving and making each figure in his workshop, allowing the maximum amount of time to find the perfect solutions on both the emotional and technical front. Ultimately, Mueck is able to enrich every feature of his work with astonishing detail whilst successfully underlining every sculpture with the desired emotion.[3]
Interpreting the Mask of Ron Mueck
The naturalism of his work may be achieved with the astonishing level of detail in his pieces, but the entire hyper-realistic approach is undercut by Ron's calculated play with the scale - some figures will fill the entirety of a gallery whereas others stand no more than three feet high. This feature is masterfully used by the author. When he moved to fine art in 1996, Ron started collaborating with his mother-in-law, Paula Rego, to produce small figures intended to be a part of a tableau showing at the Hayward Gallery. However, Mueck brought with him a key feature of making sculptures that heavily influenced his future practice - the props he was initially designing were designed to be photographed from one specific angle, regularly hiding the mess of construction seen from the other side of the facade.[4] Although a big part of his creativity wanted to rid itself of such a method, Ron actually continued to make realistic sculptures that look perfect from one angle and are quite a mess from all the others. His large masks are a good example of how the author was able to maintain his technique whilst also introducing valuable conceptual levels to his art.
By making his sculptures colossal in scale, Ron Mueck aims to make his search for a perfect balance between realism and surrealism a little bit manageable
Key Exhibitions of Ron Mueck
Naturally, Mueck was a part of many great gallery and museum events on an international stage.[5] In 2006 and at the begining of 2007, a major exhibition of his work was shown at the Brooklyn Museum, presenting nine of his pieces. That same year, Ron's wonders also found their way into the halls of the National Gallery of Canada and the Scottish National Gallery of Modern Art. One of his milestone shows was the one held at the Andy Warhol Museum in Pittsburgh in 2008. It featured seven of the artist's realistic human sculptures, including In Bed, A Girl, Wild Man, Spooning Couple, Man in a Boat, Mask II and Mask III. Mueck's first exhibition in Japan opened on 26 April in the year of 2009 at the 21st Century Museum of Contemporary Art, Kanazawa. A major retrospective of Mueck's work was held in his home town of Melbourne, Australia, during the April of 2010, at the National Gallery of Victoria. The time between the November of 2013 and February of 2014was when Ron Mueck was exhibited for the first time in Latin America - the show took place in Fundacion Proa, a modern art museum in La Boca, Buenos Aires. After Argentina, the South American tour of Ron's art went to Brazil, with the nine works following to Rio de Janeiro, where they were exposed between March and June 1 at MAM. The succses of this show marked the biggest audience in the history of that museum.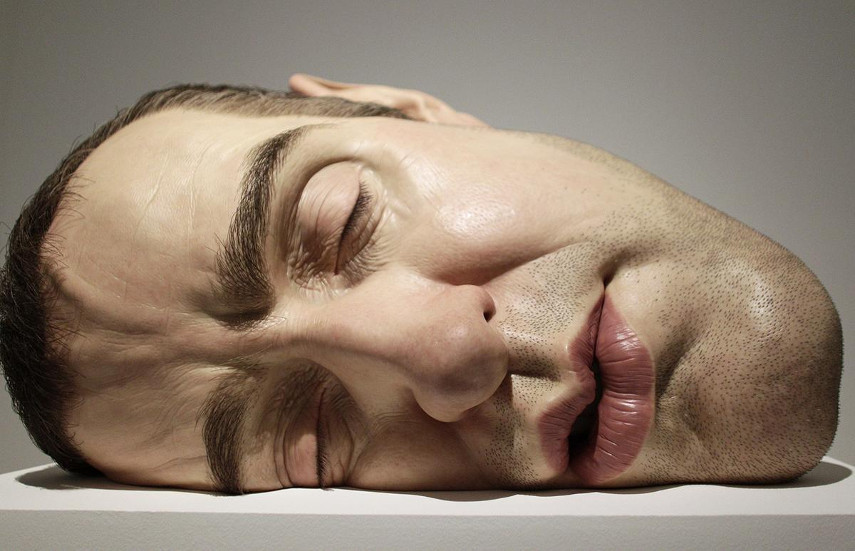 Recent and Popular Interpretations of His Art
Ultimately, many may feel obligated to say that the main aspect and the greatest success of Ron Mueck and his art is the fact he has reached such a high level of making hyper-realistic figures that only a few modern authors of the 20th century and later art can stand shoulder to shoulder with him. And many who would say that would be wrong. The greatest asset in Ron's creative arsenal is his ability to balance the realism with the unreal aspects of his works, how he is able to adjust the perfect amounts of realism and surrealism without compromising either of the two.[6] It is for this reason that Mueck's works command an uncanny ability to amaze all of its viewers - the obsessive surface details are nothing more than a tip of a much larger conceptual mountain that is Ron's art. Appealing and engaging, these figures reveal our own personal needs to validate our humanity.
Ron Mueck lives and works in London, England, The United Kingdom.
References:
Storr, R., Paton, J., Ron Mueck, Thames & Hudson; 1st edition, 2013
Rosenblum, R., Ron Mueck, Thames & Hudson, 2006
Sturgis, A., Presence: Sculpture and the Portrait, Antique Collectors Club Dist, 2012
Hurlston, D., Ron Mueck, Yale University Press, 2011
Greeves, S., Bastian, H., Mueck, R., Ron Mueck, Hatje Cantz Publishers; Bilingual edition, 2006
Hartley, K., Ron Mueck, National Galleries Of Scotland, 2007
Featured image: Ron Mueck - The artist hard at work - Image via imgur.com
All images used for illustrative purposes only