The very act of painting in the work of Rosson Crow seems to thought through the woman's perspective. Although the selection of bright colors, especially bright red and pink, and the motifs are rather suggestive and can lead to defining her work as generally feminine, yet it is the harsh brush gestures, quirky and dark atmosphere and exceptional treatment of the surface which makes it kind of muscular. That kind of ambiguity is one of the most important aspects of Crow's work because she does explore the matters of identity, experience and gender in a broader context of popular culture and history.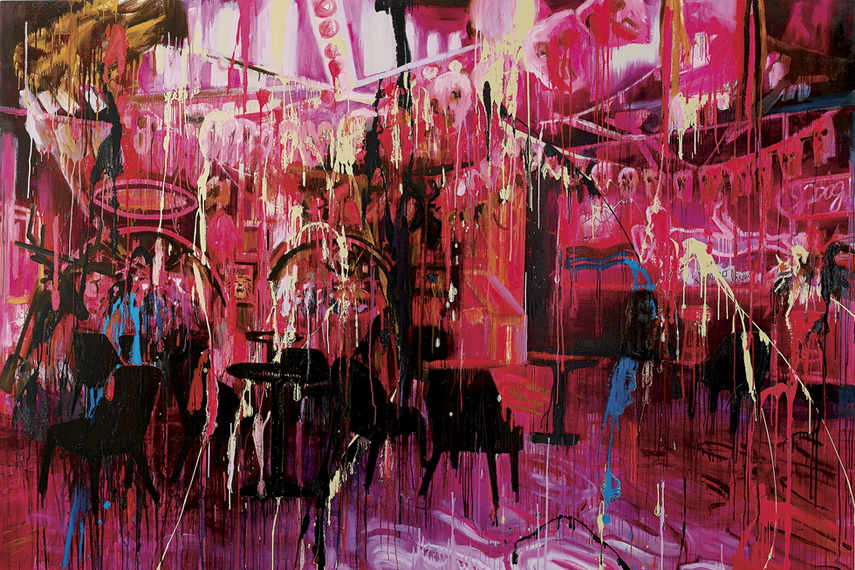 The Story of an Invested Effort
Rosson Crow was born in 1982, in Dallas. She was an eccentric prone to alternative life style and head difficulties of fitting in conservative surrounding. After graduation, Crow decided to migrate to New York and started studying School of Visual Arts, then progressed and collected Master degree in 2006 from Yale. Her career sets off in 2005 after the French dealer Nathalie Obadia discovered the artists work and organized first solo exhibition for her. Soon afterwards, Crow was included in the 2006 Wall Street Journal article which represented selection of ten top emerging US artists titled The 23-Year Old Masters.
The atmosphere of eeriness achieved with hazy coloring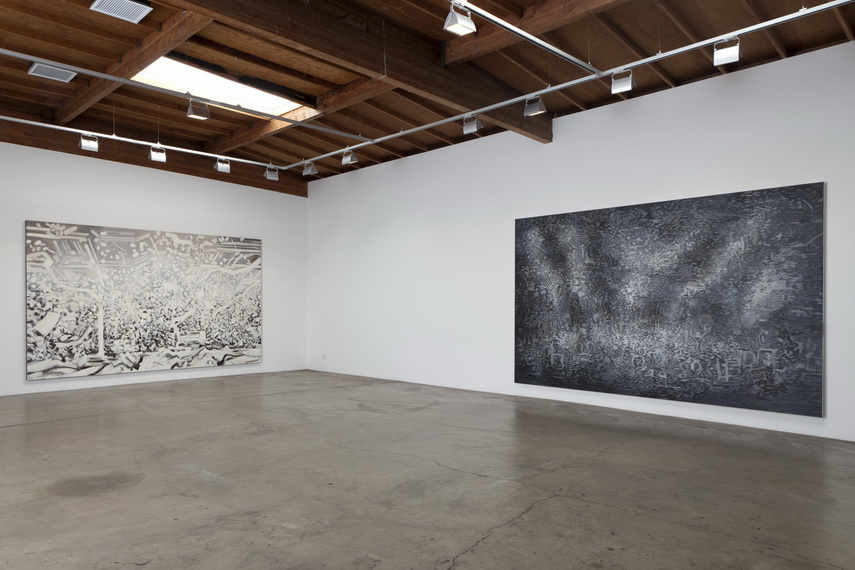 Mishmash of Influences
Large scale and lush paintings often depict decadent interiors and are related with theatricality and conveyed by the obscure historical references starting from the 80's punk and gay culture, over the infamous story of Hollywood C star Black Dahlia murder to the story of a mystery woman who allegedly shot President Kennedy with camera.[1] That is shaped with her strong affiliation to the movies and books. When it comes to art references it is a complete diversity spanning from Baroque and Rococo settings to the work of Goya and Gericault, Las Vegas architecture, works of Bruce Nauman, etc.
Decaying interiors as a backdrop for hidden historical narratives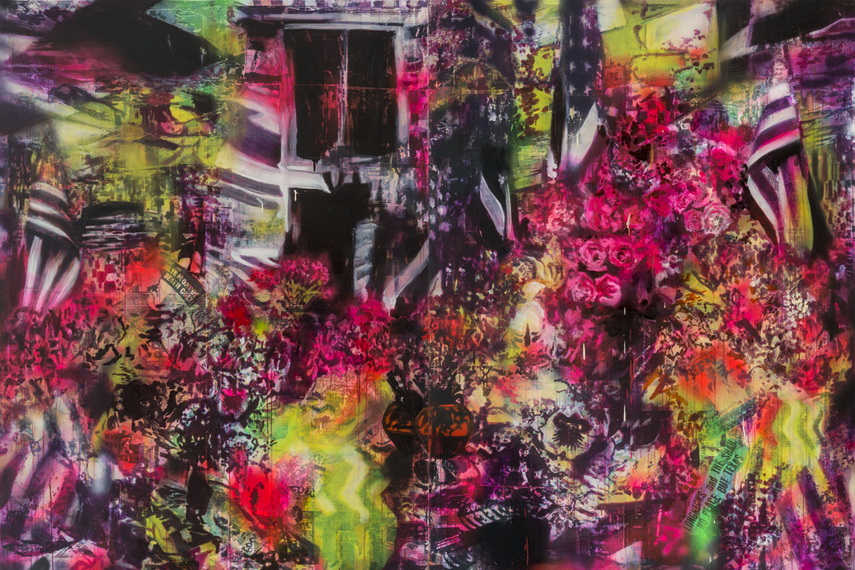 The Process Behind Whimsical Reinterpretations of History
Crow's fascination with personal and collective memories, Hollywood gossips and myths, lead her to produce specific narratives with certain social engagement. The history for the artist does not just represent the static sequence of events, rather it is a wide field for embedding trivia and unofficial speculations in order to deconstruct it. That effect is often achieved by Crow's process of using dyed fabric canvas and painting it with bleach which then makes hazy, blurry or washed trail referring to memories fading away. By carefully choosing the pallet of colors for each series the artist additionally accentuates the importance of atmosphere. The depicted spaces look like a hunted scenography and can be related to the large scale draped feminine installations of French multimedia artist Collete Justin.[2]
Intersecting collective and personal memory in regards to American history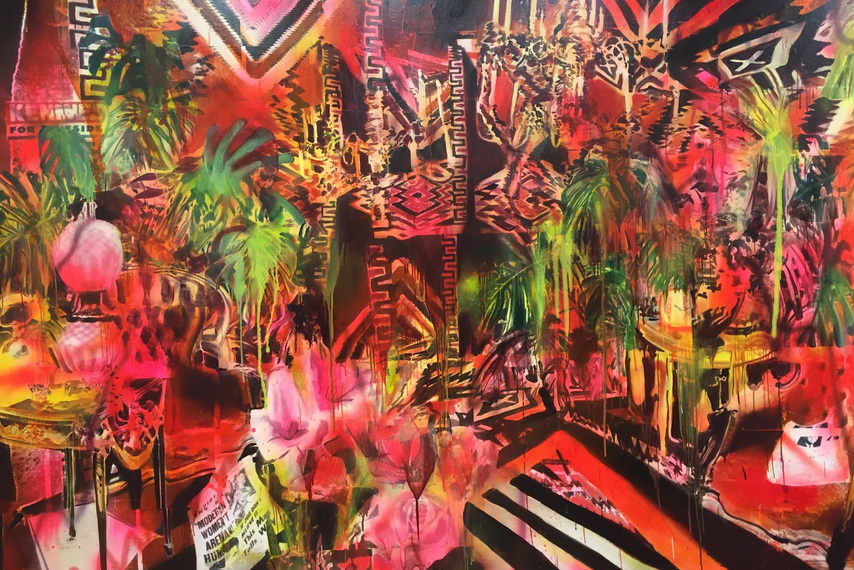 From Present to Past Into The Future
The career of Rosson Crow has been growing in recent years since she has exhibited in referential institutions such are White Cube gallery in London and The Andy Warhol Museum in Pittsburg. That was followed by the coverage of media so the artist received commissions from private collectors and the door was open for the further development of her work. On 2015 Crow shoot her first short film which was a part of her successful exhibition of peculiar title Madame Psychosis Holds A Séance. That was an extension of her work with canvas and marked her transition in regards to the very notion of composing the image. The art practice of Rosson Crow seems to be covering the myriad of references, influences and occupations, yet it is highly focused and precise in articulating one's personal position and identity towards stiffness of historical cannons.
Rosson Crow lives and works in Los Angeles.
References:
Coggins, D. (2010): An interview with Rosson Crow, Artnet [December 06 2016]
Weinstock.T (2014): Rosson Crow - the art world's finest feminist , I-D [December 06 2016]
Featured image: Rosson Crow portrait - photo by Jeremy Rall
All other images for illustrative purposes only