Roti is a street artist, sculptor, painter, stone carver and tattoo artist from France. He was born in 1988 in Thonon, France. Roti's goal is to combine street art and sculpture. His street works can be found throughout France, Spain and the United States, but his best known works include a controversial mural in Atlanta, and a politically-charged sculpture titled New Ukraine.
In 2012, Roti's work was in the spotlight when a non-profit arts group Living Walls commissioned the artist, along with several other street artists, to paint a large-scale mural on a wall in southwest Atlanta, United States. The artist spent a month creating his piece, which presented a hybrid creature, a part-human, part-crocodile and part-fish. Although the aim of the organization Living Walls was to liven up and improve the neighborhood, some residents found the mural "satanic" and buffed it with grey paint, which outraged the residents who liked it, and later tried to scrub off the wet paint. Roti found the experience very important both from a human and an artistic point of view.
A hybrid creature painted in Atlanta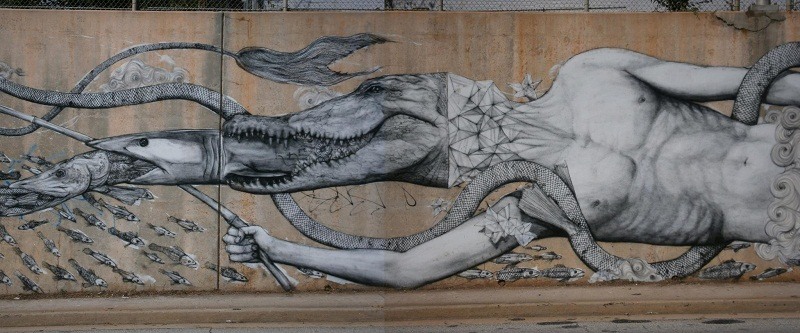 Following his 2013 trip to Ukraine for the Gogol fest when he promised to return, Roti went back to Ukraine in 2014 and created a poignant two-meter marble sculpture titled New Ukraine, which was installed in the center of Kyiv, the capital of Ukraine. The aim of sculpture, depicting a Ukrainian woman emerging from the depths, was to express solidarity with the demonstrators who were demanding the resignation of President Viktor Yanukovych.
New Ukraine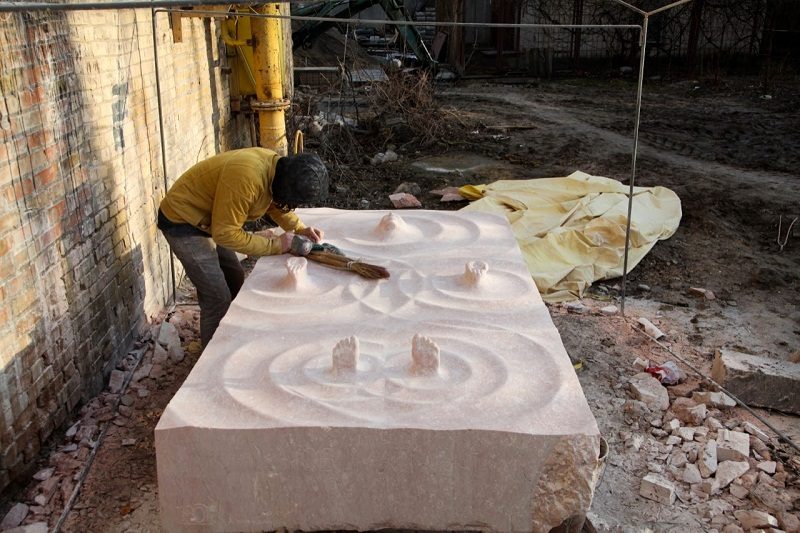 Inspired by his environment and community, the artist's surreal pieces explore the realities that exist in the mind and the spiritual realm. His murals and sculptures present metamorphosis and strange hybrids, resembling creatures from a dream. A true stonecutter at heart, Roti often includes the image of a cathedral in his works.
New Ukraine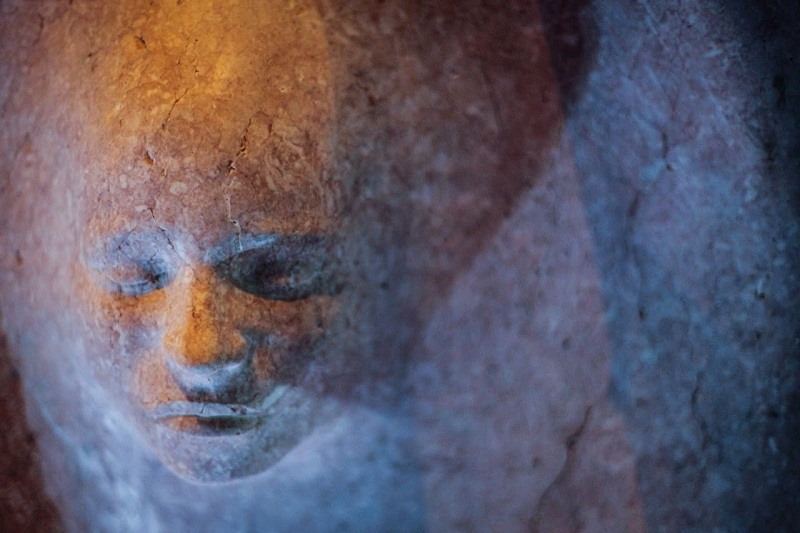 The artist is represented by Paris-based online gallery Artsuggest.
Roti lives and works in Paris, France.
All images copyright © Roti
Images of New Ukraine copyright  © Chris Cunningham and Maxim Dondyuk