Inspired by consumerism and a culture of mass production, the famous Pop Art movement shook the globe and left a deep mark in the 20th-century art. It started in the middle of 1950's in the United Kingdom and spilled over to the United States changing the direction of art. One of the first American Pop artists who achieved widespread renown was Roy Lichtenstein. The painter, sculptor, and printmaker, Lichtenstein is considered, alongside Andy Warhol, one of the most famous artist of the new bold genre which primarily goal was to bring art closer to the general public and to question the boundaries between fine art and popular culture. His paintings based on comic strips, and its use of parody, became synonymous with Pop Art and also provoked many debates over ideas of originality and consumerism.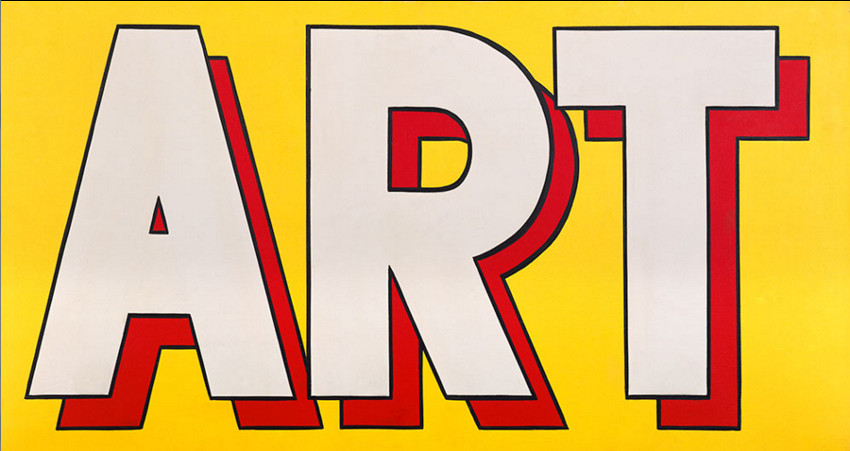 Academic Background
Roy Fox Lichtenstein was born in 1927 in Manhattan, one of the five boroughs of New York City. He was part of an upper-class Jewish family, his father, Milton Lichtenstein was a real estate broker, and his mother, Beatrice Lichtenstein, was a homemaker, as well as a gifted piano player. The artist was raised on the Upper West Side, owing to his affluent background. He attended Reginald Marsh's painting class at the Art Students League in 1941, where he learned to paint directly from the model but was ultimately dissatisfied with the classes' insistence on technique above process. Encouraged by his parents he enrolled at Ohio State University to study art. During World War II he was drafted into the army, serving for three years before returning to school in 1946. Three years later he earned an MFA and continued to teach and to paint in Ohio for several years.
Over the years, Lichtenstein's works became synonymous with Pop Art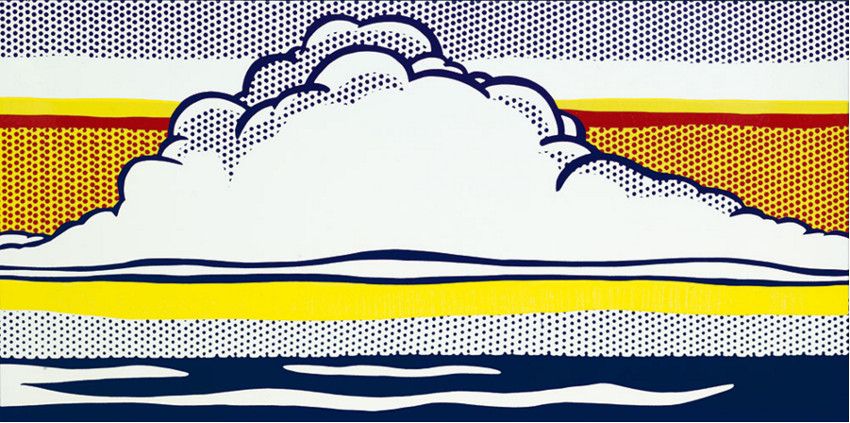 Early Works
In the early 1940's, before employing the Pop Art style we remember him for most, Lichtenstein experimented in expressionistic and abstract painting. Influenced by Reginald Marsh, the artist explored the mythology, American History, and folklore, paying homage to the old masters. His early 1950s works, painted in a European Modernist style, often show originally "American" subject matters such as scenes of western expansion. In the late 1940s, Lichtenstein participated in shows at galleries throughout the USA including Chinese Gallery and Ten-Thirty Gallery. His first solo show was held at Carlebach Gallery in Manhattan in 1951. In 1957, he moved back to upstate New York where he began teaching at the State University of New York at Oswego in 1958. Lichtenstein adopted a series of different artistic languages, first approximating Picasso's style of the 1940s, in 1956 turning to a more ornamental idiom and then to Rococo motifs, and finally turning to abstraction in 1958 in a late variation of Action painting. Though his early works were not successful, Lichtenstein decided to provoke the art world a little and started to incorporate hidden images of popular comic figures such as Mickey Mouse and Donald Duck into his abstract works.
Although his early works were not successful, he became one of the most successful contemporary artists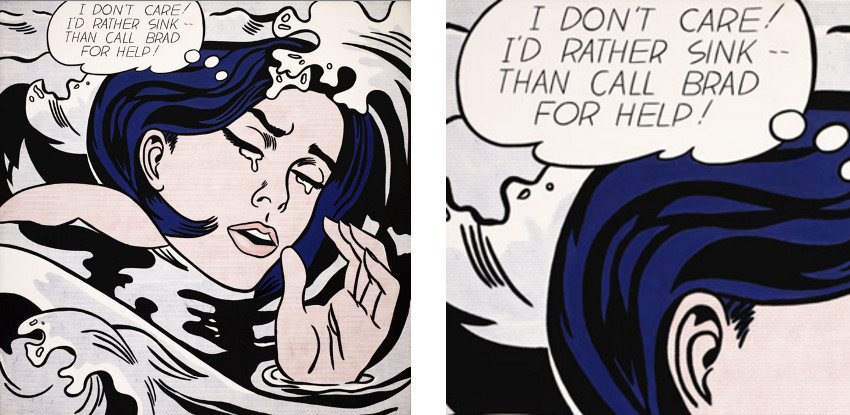 Pop Art
In 1960, Roy Lichtenstein moved to New Jersey where he accepted a position as assistant professor of art at Douglass College, Rutgers, State University of New Jersey. It was at the same time that he began his first pop paintings using cartoon images and techniques derived from the appearance of commercial printing. In 1961, he made his first painting without any expressionism titled Look Mickey, based on an image he finds in one of his children's Little Golden Book series. Look Mickey is notable for its ironic humor and aesthetic value as well as being the first example of the artist's employment of speech balloons, comic imagery and Ben-Day dots - a system used in mass-circulation printed sources such as comics, newspapers, and billboards - as a source for a painting. The work is regarded by art critics as revolutionary both as a progression of Pop Art and as a work of modern art in general. In 1961, Lichenstein met the art dealer Ivan Karp, the director of the Leo Castelli Gallery. The artist showed several paintings to Karp who decided to represent Lichtenstein a few weeks later. A solo exhibition of his art at the Leo Castelli Gallery in 1962 garnered him critical acclaim and notoriety in the art world.
Some of Lichenstein's greatest works evolved from imagery drawn from popular culture: advertising images, war-time comics, and pin-up portraits, as well as traditional painting genres such as landscapes, still lifes, and interiors. Mining material from advertisements, comics, and the everyday, the artist brought what was then a great taboo—commercial art—into the gallery space. In his famous 1963 piece Drowning Girl (also known as Secret Hearts or I Don't Care! I'd Rather Sink) the artist utilizes the conventions of comic book art - a thought bubble conveys the thoughts of the subject, while Ben-Day dots shows the result of the mechanized printing process. Drowning Girl is one of the most representative pieces of the Pop Art movement and part of the Museum of Modern Art's collection since 1971.
Lichenstein's most celebrated image - and one of the best known works of Pop Art - is a 1963 diptych painting Whaam! It adapts a panel by Irv Novick from the Star Jockey story from issue No. 89 of DC Comics' All-American Men of War. Whaam! depicts a fighter aircraft in the left panel firing a rocket into an enemy plane in the right panel, which disintegrates in a vivid red-and-yellow explosion. The cartoon style is emphasized by the use of the onomatopoeic lettering "WHAAM!" in the right panel, and a yellow-boxed caption with black lettering at the top of the left panel. Regarded as the temporal, spatial and psychological integration of its two panels, the painting was purchased by the Tate Gallery, London, in 1966.
When Lichtenstein's oeuvre was first released, the artist was harshly criticized for not creating anything original and drawing solely from the pre-existing artwork. Today, his legacy has risen high above any complaints from his critics, as some of his pieces have sold for millions of dollars. Lichtenstein's most expensive paintings ever sold - Nurse - was made in 1964. Featuring an alluring woman in uniform whose skin is colored with his signature hand-painted Ben-day dots, the piece was purchased on November 9, 2015, by an anonymous buyer at Christie's New York for 95.4 million dollars. Previously owned by some of the most famous art collectors, including Leon Kraushar and Karl Ströher, it is the 29th most expensive painting ever sold.
Lichenstein's most celebrated image Whaam! is one of the best-known works of Pop Art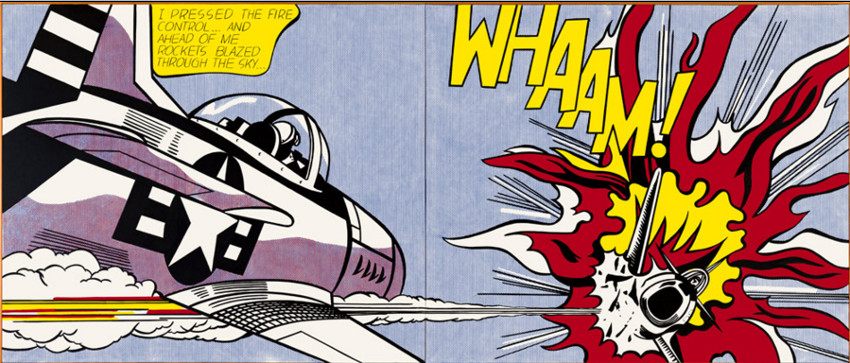 Sculptural Work
Lichtenstein began experimenting with three-dimensional works in the mid-1960s. Some of his first sculptures were For Head of Girl (1964), and Head with Red Shadow (1965). He created many public works during his lifetime including Brushstrokes in Flight, a 25-foot tall sculpture for display at the Port Columbus International Airport in Columbus, Ohio; Tokyo Brushstroke I and II, Shinjuku I-Land Co, Ltd. Tokyo, Japan; Barcelona Head, Spain Ajuntament de Barcelona, Barcelona, Spain; and Mermaid, commissioned by Art in Public Places Committee, Inc., at the Miami Beach Theater for the Performing Arts, Miami, FL.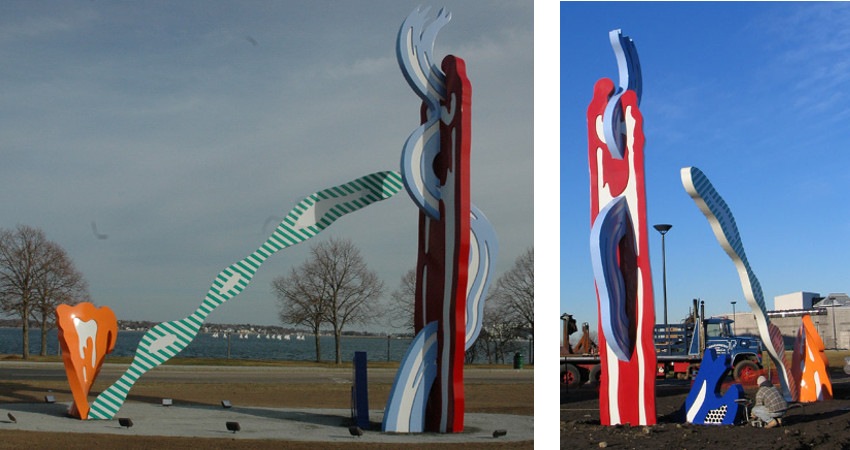 Exhibitions by Roy Lichtenstein
Roy Lichtenstein's work has been included in numerous individual and collective shows in galleries and museums throughout the world. Most recently, in collaboration with the Roy Lichtenstein foundation Gagosian Gallery in New York presented the recreation or Lichtenstein's seminal public work entitled Greene Street Mural. Accompanied by Lichtenstein's paintings and sculptures, the show was on view in September 2015. Some of his solo exhibitions was held at Galleria Civica d'Arte Moderna e Contemporanea, Turin, Italy; Centre Pompidou, Paris, France; Tate Modern London, England; Whitney Museum of American Art; The Albertina, Vienna, Austria; The Morgan Library and Museum, New York City; Mitchell-Innes & Nash Gallery, Chelsea, New York City; Museo Triennale, Milan, Italy; Santa Fe Museum of Fine Arts Santa Fe, New Mexico; MAM (Museu de Arte Moderna), Rio de Janeiro, Brazil; Museum of Contemporary Art, Palma de Mallorca, Spain; and Louisiana Museum of Modern Art, Humlebaek, Denmark, to name a few. His work was included in group shows at Museum of Modern Art, NY; Contemporary Arts Museum, Houston, Texas; Museum Voor Schone Kunsten, Ghent, Belgium; Worcester Art Museum, Worcester, Massachusetts; Galerie Ileana Sonnabend, Paris, France; Galerie Buren, Stockholm, Sweden; Nationalgalerie, Berlin, Germany, among others.
Nurse by Roy Lichtenstein is the 29th most expensive painting ever sold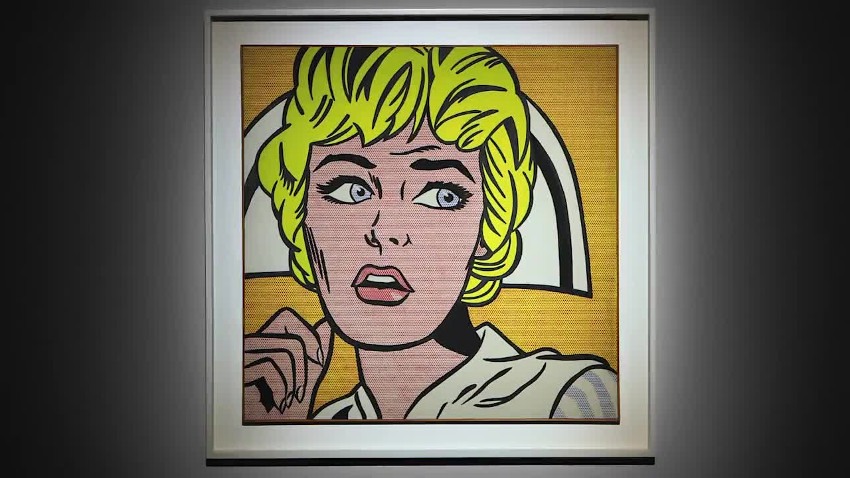 Later Works, Awards and Collections
Later in his career, Lichtenstein stopped using comic book sources and extended his source material to art history, including the work of Claude Monet, Henri Matisse, Pablo Picasso, Fernand Léger and Salvador Dalí. In the 1980s and '90s, he also painted representations of modern house interiors, brushstrokes and mirror reflections, all in his trademark, cartoon-like style. Still Life paintings, sculptures, and drawings, produced from 1972 to the early 1980s, cover a wide range of motifs and themes, including the most traditional such as fruit, flowers, and vases. In his Reflection series, made between 1988 and 1990, the artist reused his own motifs from earlier pieces. The nude is a recurring element in his art of the 1990s, like in Collage for Nude with Red Shirt (1995).
Roy Lichtenstein received many awards including National Medal of the Arts, Washington D.C. (1995); Creative Arts Award in Painting, Brandeis University, Waltham, Massachusetts (1991); American Academy in Rome, Rome, Italy. Artist in residence (1989); and Skowhegan Medal for Painting, Skowehegan School, Skowehegan, Maine (1977), as well as many Honorary Doctorates in Fine Art like The George Washington University, Washington D.C; California Institute of Fine Arts, Valencia, California; Ohio State University, Columbus, Ohio. His work was acquired by major collections around the world including the National Gallery of Art in Washington, D.C., The Art Institute of Chicago, and the Museum Ludwig in Cologne.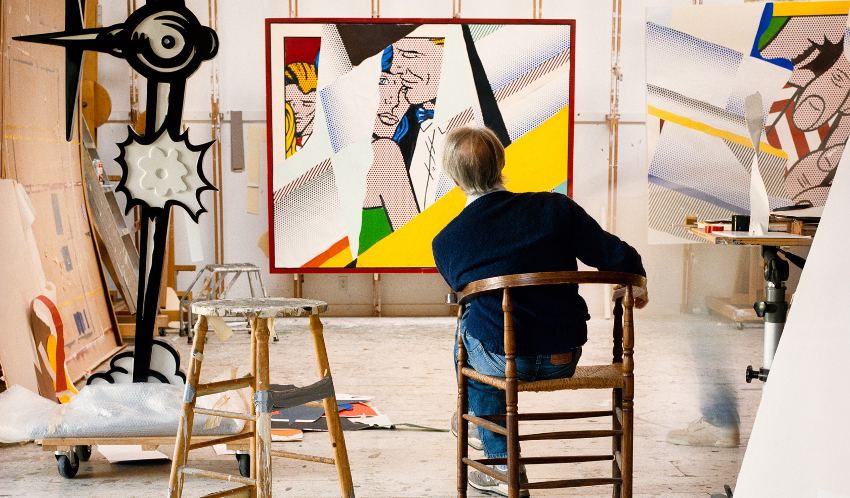 The Influence of Lichtenstein
By hand-painting the usually machine-generated dots, and recreating comic book scenes, Roy Lichtenstein changed the way we look at our world but didn't use that to cultivate his celebrity. Instead, he continued to explore and work on projects that he found appealing until his last days. He died of pneumonia on September 29, 1997, at New York University Medical Center, where he had been hospitalized for several weeks. With his unique combination of a technical invention, humor, irony, and recognizable imagery, Lichtenstein moved the line between mass reproduction and high art. He fused popular and mass culture elements from television, advertisements, films, and cartoons, with the techniques of fine art while injecting humor, irony, and recognizable imagery and content into the final product. Lichtenstein's use of populist iconography expanded the definition of art, while his signature Ben-day dots, stripes, and palette of primary colors made an enormous contribution to contemporary art. Almost two decades after his death his influence on the outcome of art has been amazing and overwhelming.
Featured image: portrait of the artist
All images copyright of the Estate of Roy Lichtenstein New York