Russell Noto, better known as Russ Noto, is a Pennsylvania-born American contemporary artist. He is primarily known for his large format figurative oil paintings, depicting humans and animals, especially dogs. His portraits manage to incorporate the elements of contemporary art into more classical forms and postures.
Academic Background
Noto was born in 1985 in the Pennsylvanian city of Scranton. He started his training as artist at Keystone College, La Plum in Pennsylvania, focusing to sculpture. While still an undergraduate student, Noto was very active outside his classroom. He participated in many different art projects. Scranton Parking Authority commissioned him to paint two large pieces for their collection, in 2006 and 2007. Having acquired a B. A. degree in 2009, Noto continued his education at Savannah College of Art and Design in Georgia, where he received his M. F. A. degree in 2009. He there made contacts with various galleries and collectors, ensuring his successful future as a painter.
Bringing the Traditional and Modern Together
Russ Noto's artistic expression through figurative oil paintings is a unique blend of the traditional and contemporary. He is one of the rare who possesses the skill of classical artists and the understanding of contemporary art at the same time. In form and posture, the subjects of his portraits bear a remarkable resemblance to those in the old masters' portraits. However, Noto enriches his portraits by painting his subjects in absurd contemporary settings, wearing modern clothes, looking displaced and sequestered.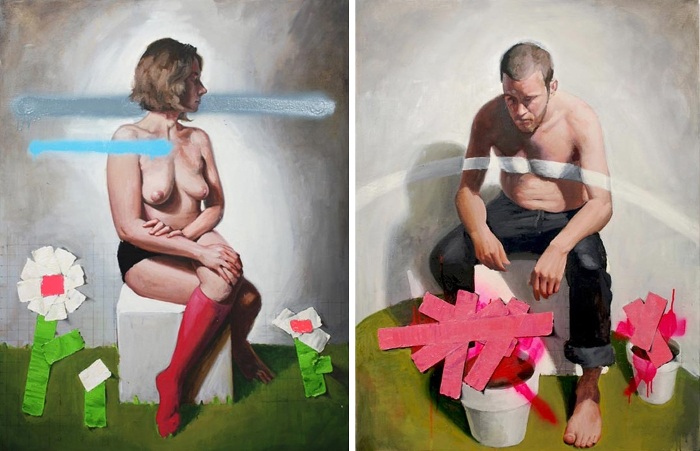 After doing large-scale human portraits, Noto shifted his focus to animals, dogs in particular. He was featured in American Art Collector magazine in 2011 August issue, stating that "there is a scene in the movie No Country for Old Men that is an ominous shot of a black pit-bull in the distance. I really liked that shot and the metaphorical implications it contained. I like the way it relates to the human condition, as there is something so common, so ordinary about these dogs." The dogs in his paintings have different names of colors written on their bodies. The purpose is to consolidate certain figurative traditions and a contemporary language. Furthermore, the artist includes a viewer into his art, making him a performer of a piece.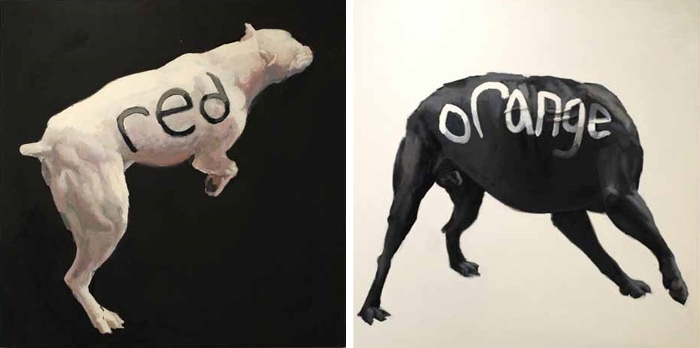 Shows and Achievements
Noto participated in various solo and group exhibitions throughout the US and Canada. His most notable one-person show, titled Users was held at AFA Gallery in his hometown in 2012. Noto's works are in numerous public and private collections, such as Permanent Collection, Savannah and Savannah College of Art and Design, among others. In 2010, Noto won the Painting Memorial Endowed Scholarship. He is represented by Galerie C.O.A in Montreal.