Ryan Callanan aka RYCA is a British contemporary printmaker, known for his works in graphics and for his prints. Working for quite some time on the Street Art scene, Callanan has begun to slowly turn away from his establish aesthetic to a new kind of practice, drawing from his thorough knowledge of craftsmanship and materials, which he gained during his academic training in 3-D design and industrial model making.
Beginning with the emblematic visual sign, Ryan developed his series of works incorporating the smiley face, which stands as an equivalent of the 80s acid house rave culture. Black gilded background and gold inlay, which are usually associated with traditional pub signs, define Callanan's style and materials he uses to create his bas-reliefs and iconic motifs. Ryan acquired and perfected this very demanding technical skill over the course of his prolific career in the sign making industry.
Artworks by Ryan Callanan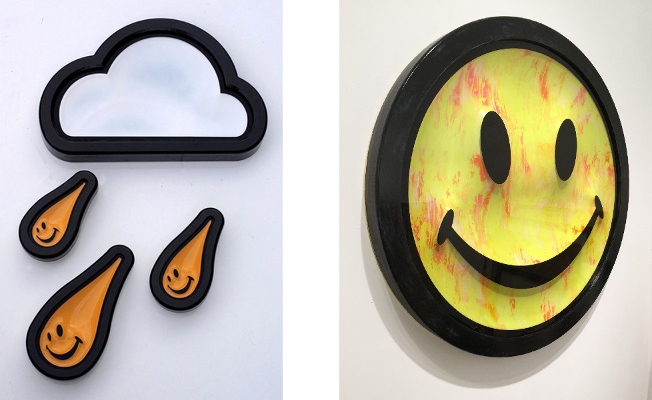 A mastery of such technique provided Ryan with the ability to create a series of works in this visual style. He expanded the range of his motifs, adding the Watermelon and the Cherry of a fruit machine, once again changing the meaning by using this plane visual pun. The reason why Callanan opted for symbols is because they are inherently universal – everyone can comprehend what they refer to, and everyone can enjoy them. Modern pop culture serves as a source of inspiration for Ryan; this includes music, the history of art, and film, among others. All these typical themes can be noticed throughout his practice.
Staying true to his pub style, Ryan transferred his visual aesthetic from symbols to texts. In this case, he again draws from pop culture, mainly the 90s rap and hip hop lyrics of the songs that are significant to him, or everyday colloquial phrases such as "fan-fucking-tastic". The characteristic feature of Ryan's works is this concept of the cross reference. He takes two or more items out of context, blends them together, and provides us with something that feels familiar, but the meaning of this new creation is slightly changed. The effect his pub style has is evident – it is something that exists in the subconscious and collective psyche of the British, making it even more familiar. It becomes an unconsciously absorbed reference point against which the words or symbols can react.
Artworks from the 8 Forever exhibition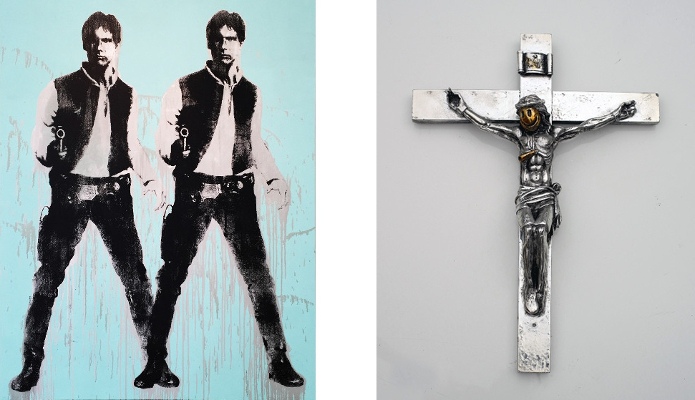 Callahan still continues to develop his practice and style. He is working on a number of public commissions, as well as lyrics-related project. He's been exhibiting since 2011, and has taken part in shows and projects all over Europe and the US. He is represented by Robert Fontaine Gallery in Miami.
Ryan Callanan lives and works in London, UK.
All images copyright © the artist