One of the most original, innovative, and famous figures in history, Salvador Dali was a Spanish artist who left his mark on the art world a few has managed to do before him. Or after. Remembered for his characteristic mustache and extravagant personality as much as for his creative output, he worked as a painter, sculptor, product and set designer, and he was one of the first artists to tackle film. Known for a unique brand of Surrealism, he combined avant-garde subject matter with academic style, paving the way for generations of artists to come. His visual language, as well as his personal behavior and public actions, remain bizarre, intriguing, and inspiring.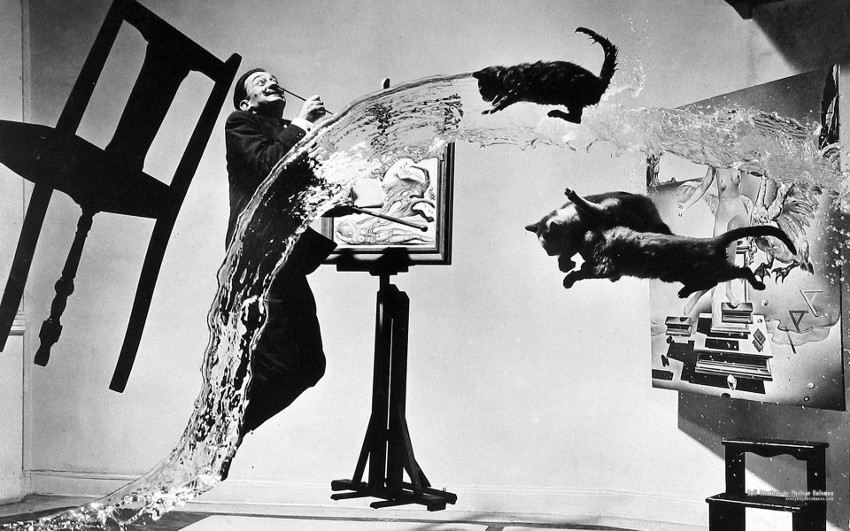 Early Life of Salvador Dalí
Salvador Domingo Felipe Jacinto Dalí i Domènech was born in 1904, in the small town of Figueres, close to the French border in Catalonia, Spain. His father was a middle-class lawyer and notary, whose rigorous disciplinary approach was confronted by his wife who encouraged her son's interest in art. Dalí's older brother, who was also named Salvador had died when he was just two years old, in 1903. As a kid, Dalí was taken to his brother's grave and told by his parents that he was his brother's reincarnation, an idea which he came to believe and later incorporate to his artworks. Dalí's interest in art developed with his attendance at drawing school. In 1917, Dalí's father came to an idea to organize an exhibition of his charcoal drawings in their family home. Dalí's teenage years were marked by a tragic event – his mother died of breast cancer when he was 16 years old. At the age of 18, Dalí moved into the Students' Residence in Madrid. He enrolled into the Real Academia de Bellas Artes de San Fernando, where he befriended Pepín Bello, Luis Buñuel, and Federico García Lorca, who would later become important figures in their areas of interest. Even in this period, Dali knew how to draw attention to himself, either by his looks or by his behavior.
His eccentric fashion style at the time included long hair and sideburns, coat, stockings, and knee-breeches in the style of English aesthetes of the late 19th century. However, it was his painterly skills that earned him the most attention at the academy. At that time, Dali experimented with Cubism, an artistic style not yet known and popularized in Madrid. The only information regarding Cubist art that Dali had was from some magazine articles and a catalog. Still, Dalí never got his degree from the Academy – he was expelled in 1926, right before his final exams when he was accused of starting a conflict. That same year, Salvador made his first visit to Paris, where he met Pablo Picasso, the famous artist whom Dali admired and respected. Picasso had already heard promising reports about Dalí from another renowned painter - Joan Miró, a fellow Catalan who introduced him to many Surrealist friends. Around this period, Dalí grew a flamboyant moustache, influenced by 17th-century Spanish master painter Diego Velázquez. The moustache became a widely recognized and iconic trademark of Dali's appearance for the rest of his life.
Salvador Dalí is responsible for changes in understanding of art that followed his rise to fame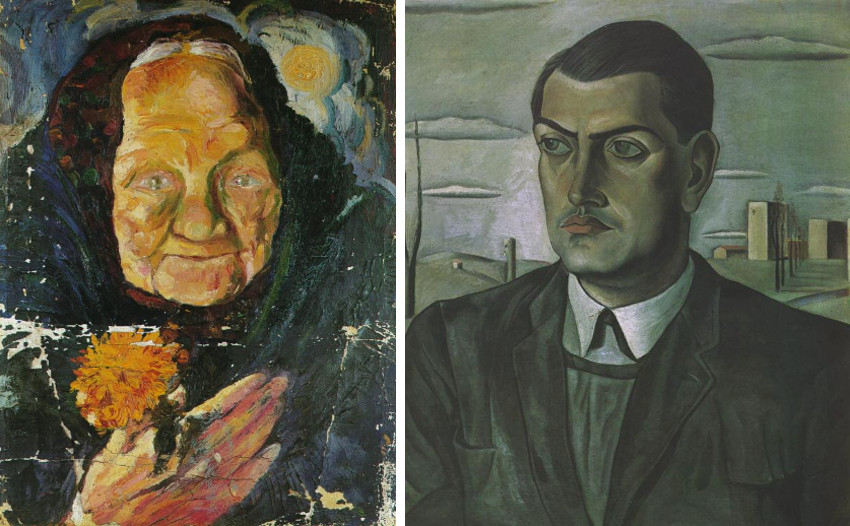 Gala Dali: The Muse
In 1929 in Paris, Dali was introduced to his lifelong muse, inspiration, and future wife Gala. Born as Elena Ivanovna Diakonova in 1894, Gala was a Russian immigrant from the city of Kazan, born to a family of intellectuals. At that time, Gala was married to surrealist poet Paul Éluard, whom she met and fell in love when she was 17. In that same year of 1929, Dalí's career was on the rise – his works were featured in important exhibitions and he had officially joined the Surrealist group in the Montparnasse quarter of Paris. Dalí and his 10-year-older muse started living together since that same year. The couple married in 1934 in a semi-secret civil ceremony, and in 1958 remarried in a Catholic ceremony.
Gala inspired many of Dali's artworks throughout her life. Furthermore, Gala acted as Dalí's business manager, supporting their extravagant and eccentric lifestyle. During the years, she seemed to tolerate Dalí's flirtations with younger muses, secure in her own position as his primary relationship. As they both aged, Dali continued to paint her portraits, producing compassionate and loving paintings of his muse. Their tense, passionate relationship that lasted over 50 years became the main theme of an opera by Catalan composer Xavier Benguerel, titled I, Dalí. In 1940, as World War II was devastating Europe, Dalí and Gala decided to immigrate to the United States, where they stayed for eight years.
Dalí's arrival in New York is considered as one of the catalysts and main events in the development of that city as a world art center in the post-War years. What Paris meant for the art world before the World War II, now the Big Apple signifies for the modern and contemporary art. After the move to the US, Dalí returned to the practice of Catholicism. In 1948, Dalí and Gala decided to move back into their house in Port Lligat, on the coast near Cadaqués in Catalonia, Spain. For the next three decades of his life, Dali would spend most of his time in this house, creating art, taking time off and spending winters with his wife in Paris and New York. In 1968, Dalí had bought Gala a castle in Púbol. In 1971, the relationship between the two of them was trembling, and Gala would retreat to her castle only by herself for weeks at a time. Dali couldn't go to Púbol without written permission from Gala.
This event and a change of heart by his wife further emphasized Dali's fears of abandonment and estrangement from his longtime artistic muse. All of this led to depression and failing health of the artist. At the age of 76, Dalí's health drastically changed to worse, with his right hand shaking as with Parkinson-like symptoms. Apparently, Gala who has been experiencing senile symptoms at the time, had been dosing her husband with a dangerous mixture of unprescribed medicine that severely damaged his nervous system, and ended his artistic capacity. After Gala's death in 1982, Dalí lost much of his will to live. He purposely dehydrated himself, maybe as a suicide attempt, claiming that he had tried to put himself into a state of suspended animation as he had read that some microorganisms could do. At that time, Dali moved from Figueres to the castle in Púbol, which was the site of Gala's death and her grave.
Gala inspired many of Dali's artworks throughout her life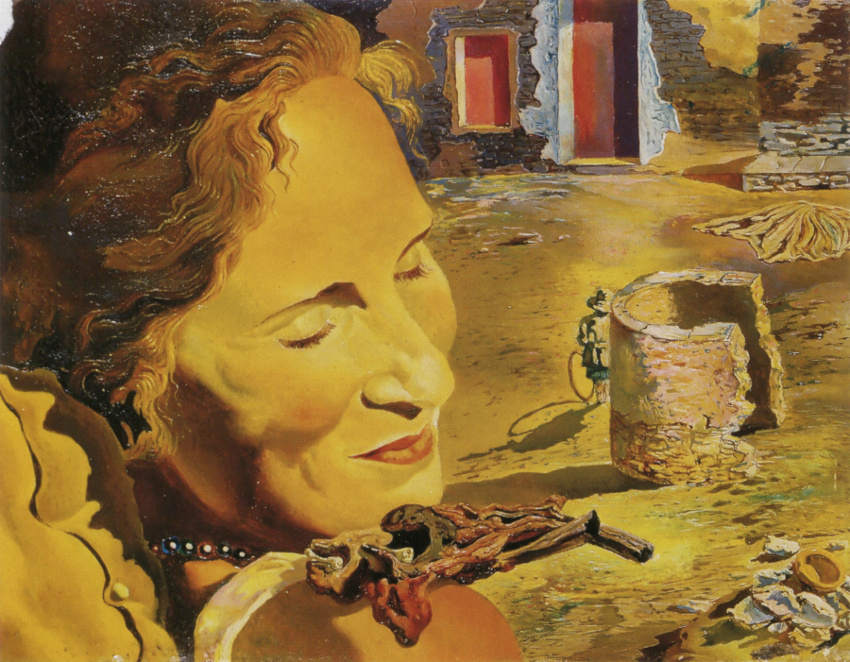 The Persistence of Memory
Painted in 1931, The Persistence of Memory is one of Dali's most famous artworks and one of the most famous Surrealist paintings ever made. As one of the most recognized works of Salvador Dali, it is often referenced in today's popular culture under more descriptive names like 'The Melting Watches' or 'The Soft Watches'. The Persistence of Memory was first shown at the Julien Levy Gallery in 1932. The painting is now in a collection of the Museum of Modern Art – MoMA in New York. The MoMA received it in 1934 from an anonymous donor. Painted as a dream landscape, The Persistence of Memory illustrates Dali's thoughts about time and transience of it, which was central to his thinking at that period. The symbol of melting watches draws upon the relativity of space and time, indicating the collapse of notions of a fixed cosmic order. It's a fact that the artist was fascinated and interested in science, and consequently, it is considered that the painting represents Dali's interpretation of Albert Einstein's Special Theory of Relativity.
However, when Dali was asked about the inspiration for the piece, he responded that the symbol of melting watches was not influenced by the Einstein's theory, but rather by his surrealist perception of a Camembert cheese melting in the sun. Other forms implied in The Persistence of Memory is Dali's often-used symbol of ants. One of the clocks is covered by them, and for Dali, ants represent decay and briefness of life. The whole scenery is considered to be located and inspired by the landscapes of Catalonia, more precisely by the tip of Cap de Creus peninsula in north-eastern Catalonia. Later in his career, Dali returned to the subject of soft watches and time, producing several sculptures and lithographs based on the same theme. He also painted a different version of the painting in 1954, entitled The Disintegration of the Persistence of Memory. This variation depicts the original work's composition fragmented into an array of systematically separated rectangular blocks, revealing a plateau of another dimension beneath the surface of the original work. The Disintegration of the Persistence of Memory is now in the collection of the Dalí Museum in St. Petersburg, Florida.
The symbol of melting watches draws upon the relativity of space and time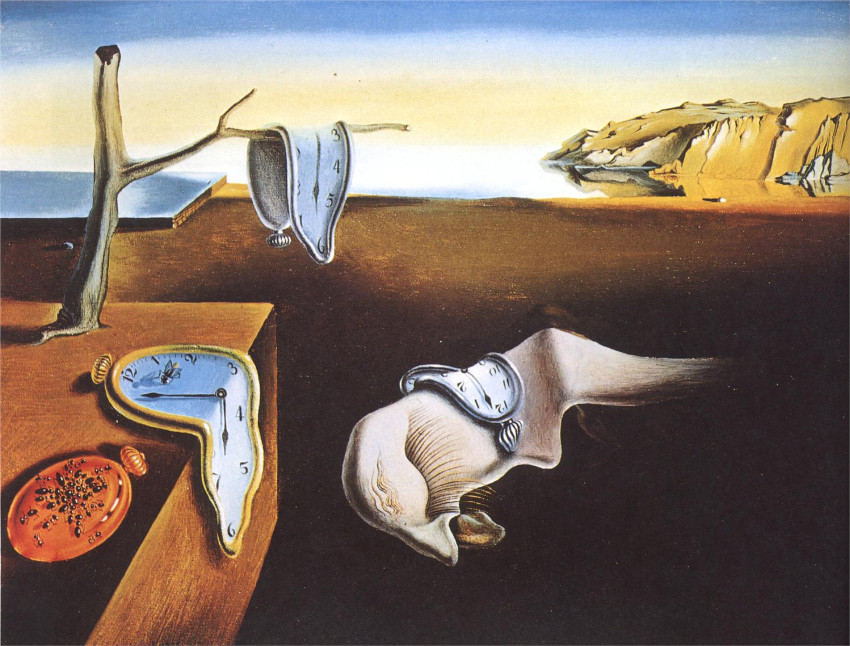 Symbolism in Dali's Work: The Elephants
Dali used many recurring symbols throughout his prolific career. Apart from the previously mentioned melting watches and the notion of time, other often-used symbols include ants, elephants, lobster and food in general, giraffes and an egg. In his later works, he often referenced recent scientific researches, such as the discovery of DNA and mathematical catastrophe theory. The long-legged elephant is a recurring symbol and one of the best-known icons in Dalí's works, widely popular within our contemporary culture. The image of an elephant first appeared in his 1944 work titled Dream Caused by the Flight of a Bee around a Pomegranate a Second before Awakening, and also in The Temptation of Saint Anthony and Swans Reflecting Elephants. His 1948 painting entitled The Elephants differs from the others because it primarily focuses on the elephant image as the main figure, combined with the empty, deserted background. Dali's elephants are a great example of how the sense of phantom reality is created. Dalí contrasts classic associations of strength, dominance and power by giving the elephants long, skinny, almost spider-like legs, creating the idea of weightlessness. Other often-used figures, such as the egg, symbolizes hope and love, as Dali connects it to the prenatal and primal feelings. It appears in works such as The Great Masturbator and The Metamorphosis of Narcissus. On the contrary, Dali sees ants and locusts as symbols of death and decay.
The Elephants are a great example of how the sense of phantom reality is created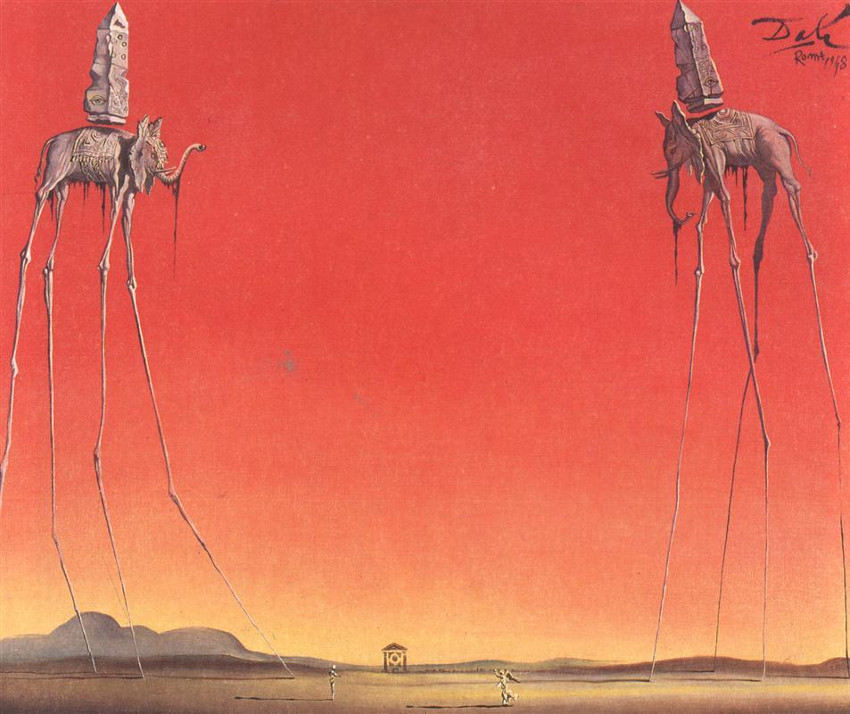 Theatre and Film: Un Chien Andalou
Besides painting, Dali was also an important figure in the film industry at the period. His most famous film Un Chien Andalou, translated as An Andalusian Dog, is a 16-minutes long silent surrealist movie created in a collaboration with Luis Buñuel, a Spanish film director. Initially released in 1929, Un Chien Andalou had its first limited screening at the Studio des Ursulines in Paris, with attending guest such as Pablo Picasso, Le Corbusier, Jean Cocteau, Christian Bérard and George Auric, in addition to the whole of André Breton's Surrealist group. These important guests were a part of le tout-Paris - a French expression that describes the prosperous, fashionable and trend-setting elite of the city. An Andalusian Dog was very well accepted by the audience and consequently ran for eight months after the premiere. Such reception surprised and relieved Buñuel, but disappointed Dali, who expected more and was feeling that the viewers' reaction made the evening much less exciting.
Un Chien Andalou has no conventional narrative, scenes jump from one to another with no particular order or sense, with the chronology of the film fragmented. The whole film is based upon dream logic in story flow that can be described in terms of then-popular Freudian free association, presenting a series of vaguely related scenes, in which the characters and events barely change in a period from "once upon a time" to "eight years later". The idea behind the film emerged from a friendly chat between Luis Buñuel and Salvador Dali. Both of them were fascinated by the dreams and unconscious, and what the psyche could create. Buñuel told Dalí about a dream in which a cloud sliced the moon in half like a razor blade slicing through an eye – a scene that later become one of the most recognized parts of the movie. Dalí responded that he'd dreamed about a hand crawling with ants. These two dreams were the starting point of the whole movie. They agreed on the only rule for the script - no idea or image that might lend itself to a rational explanation of any kind would be accepted. Un Chien Andalou's characteristic and stylistically unique form emerged from this rule - images would change and scenes would switch, leading the viewer in a completely different direction from the one they were previously viewing.
The film is also important because it was the reason behind Dalí's and Buñuel's acceptance into the ranks of the Surrealists by the movement's leader André Breton. Later in his career, Dali worked with several other filmmakers, most significantly with Alfred Hitchcock in his Spellbound movie. Salvador was the mind behind the dream sequence in Spellbound, which heavily digs into themes of psychoanalysis. Another important connection between Dali and the film world was his collaboration with Walt Disney on the short film production Destino, which was completed in 2003, after Dali's death. His untamed creativity has also spanned into the area of photography. He collaborated with several important photographers at the time, including Man Ray, Brassaï, Cecil Beaton and Philippe Halsman. With Man Ray and Brassaï, Dalí photographed nature. As for Philippe Halsman, they collaborated on a series of surrealist portraits of the artist, titled Dalí Atomicus.
The one and only rule for the script was - no idea or image that might lend itself to a rational explanation of any kind would be accepted, which led to the movie being very surreal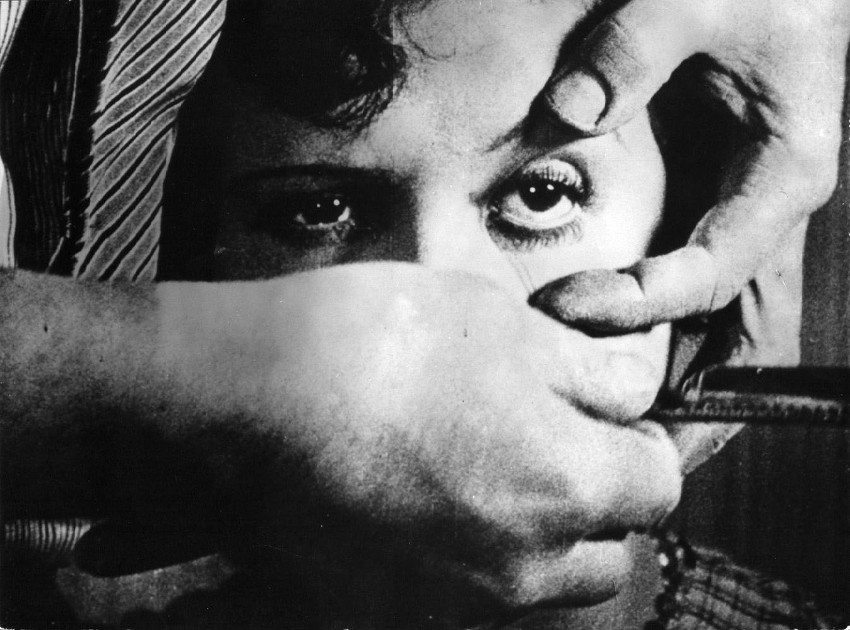 Collaborations with Halsman
Dali and Halsman first met in 1941 and started working together in the late 1940s. Exploring a range of obscure, surrealist themes, the two artists created the famous Dalí Atomica series, the work inspired by Dali's painting Leda Atomica. The photo, realized after 28 attempts, shows an idea of suspension, depicting three cats flying, a bucket of thrown water, Dalí and chair in mid-air, and Leda Atomica painting in the background. In an unretouched version of the image, the devices and assistants that held up the various props can be seen. Halsman and Dalí continued their collaboration with the book titled Dalí's Mustache. Published in 1954, the book features 36 different versions of the artist's distinctive mustache. Another interesting work that emerged from the collaboration between the two artists is In Voluptas Mors, created in 1951. Photographed after a sketch by Dali, it represents his portrait beside a large skull composed of seven nude female bodies.
Collaboration between the two produced, among others, a photograph titled In Voluptas Mors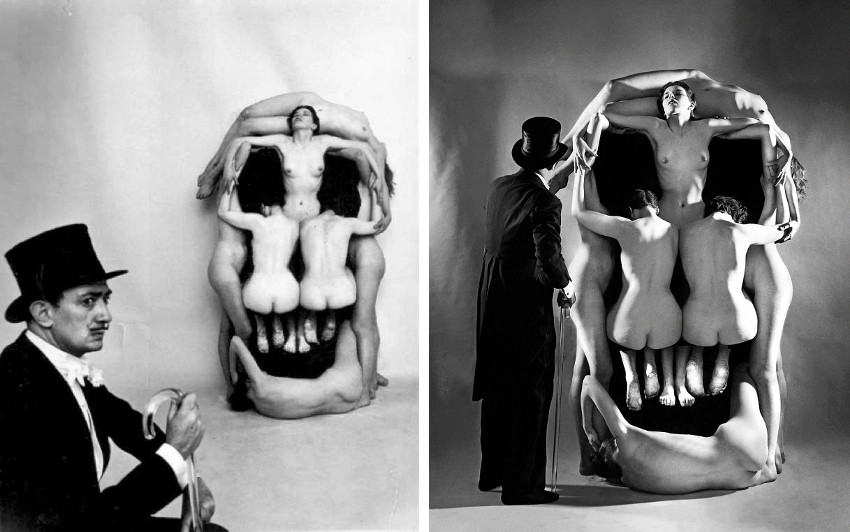 Dali's Sculptures: Lobster Telephone and Mae West Lips Sofa
Salvador Dali created several surrealist sculptures-objects, most notably Lobster Telephone and Mae West Lips Sofa. Lobster Telephone, also known as Aphrodisiac Telephone was made in 1936, and was composed out of an ordinary functional telephone and a lobster made of plaster. Surrealist poet and patron Edward James bought four of them from Dalí to replace the phones in his home. One is now in a collection of the Tate Gallery, the second is located at the German Telephone Museum in Frankfurt, the third belongs to the Edward James Foundation, and the fourth can be found at the National Gallery of Australia. Another object, Mae West Lips Sofa was made by Dali in 1937. This wood-and-satin sofa was designed after the lips of an American actress Mae West, whom Dalí apparently found fascinating.
Beside painting, Dali was also known for his surrealist sculptures-objects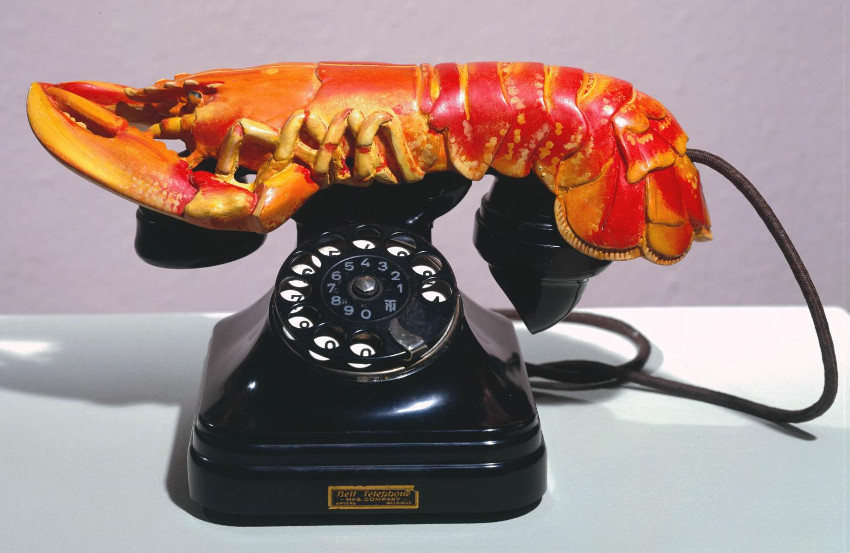 Late Works of Salvador Dalí: The Swallow's Tale
In his later years, during the 1960s and 1970s, Dali focused on experimenting with many unusual or novel media and processes. He explored bulletism – a process that involves shooting ink at a blank piece of paper, pointillism, and half-tone dot grids technique, which was later made popular by the artist Roy Lichtenstein. Other concepts that Salvador explored include negative space, visual puns and trompe l'œil visual effects - an art technique that uses realistic imagery to create the optical illusion that the depicted objects exist in three dimensions, and holography. His playful endeavors influenced many young aspiring artists of the period, like Andy Warhol. Interested in natural science and mathematics, Dali developed a new perspective, and his late works are created in stylistically different visual language. The artist was also fascinated by the discovery of DNA and the figure of tesseract – a 4-dimensional cube, which is incorporated in his Crucifixion (Corpus Hypercubus) painting. At some point in this period, Dalí had a glass floor installed in a room near his studio and used it to study foreshortening - the visual effect that causes an object to seem shorter than it actually is because it is angled toward the observer. Accordingly, Dali started to incorporate dramatic perspectives of figures and objects into his artworks.
Salvador Dalí died of heart failure while he was listening to Wagner's Tristan and Isolde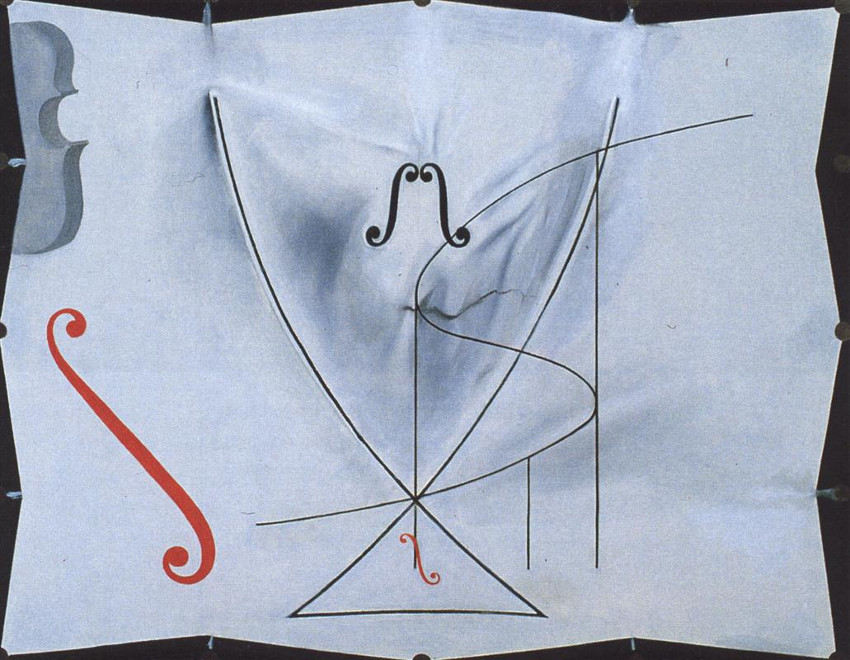 Wagner Until the End
The Swallow's Tail, influenced by the mathematical catastrophe theory and completed in 1983, is Salvador Dali's last painting. Catastrophe theory, developed by Rene Thom, posited that there are seven equilibrium surfaces: fold, cusp, swallowtail, butterfly, and hyperbolic, elliptic and parabolic umbilics. Dali incorporated each of these surfaces into The Swallow's Tail, alongside the elegant curves of the cello. Dali's last painting represents more than just a series of shapes and curves – it is also a precise depiction of his understanding of and interest in mathematical theory. In 1989, while his favorite record of Richard Wagner's Tristan and Isolde played, Dalí died of heart failure at his home in Figueres at the age of 84.
All images used for illustrative purposes only