Sam Dougados is a French self-taught artist whose creative focal point is a form of land art which he appropriately calls beach art - a method of depicting form on beaches around the world during the periods of low tide. The circumstances in which such a piece is placed effectively dooms it from the very start as the sea will inevitably swallow the entire artwork at one point - this fascinating ephemeral aspect underlines the sheer visual beauty of Sam's art, making us appreciate it even more. Fortunately, the fascinating results of Dougados' hard work are captured within the camera lenses, making sure that we are able to enjoy it even after the tide claims the artwork back within hours of its completion.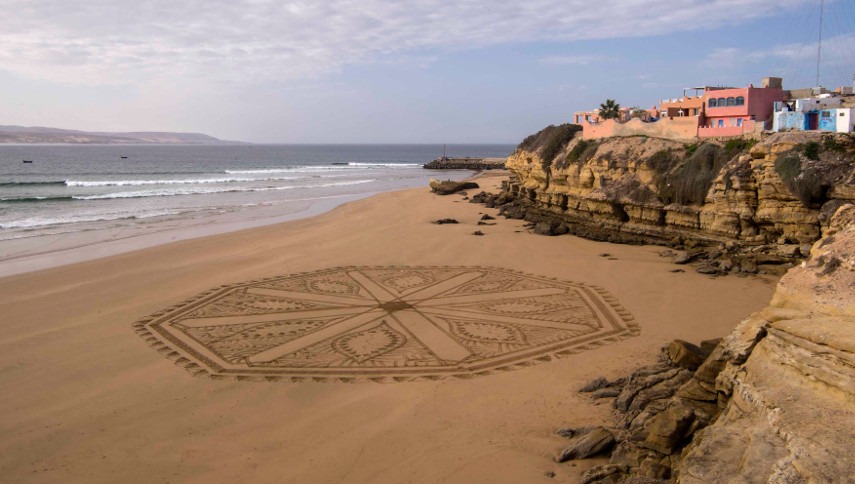 Discovering the Perfect Art for Sam Dougados
As it was stated in the opening sentence, Sam Dougados is a completely self-taught artist. Initially, when he was still a teenager, he started to channel his emotions by writing poems. Soon, young Sam started to explore the possibilities of painting, sculpture and installation art. These creative outputs were a mere hobby for the majority of Sam's young life. However, this all changed in the year of 2008 when he lost his job and went through a nasty breakup, enduring what can now be perceived as a strong wake-up call. From that point on, Dougados decided he needed to pursue what made him feel fulfilled and there was nothing that made him happier than creating art. After a few years of experimenting with different techniques and norms, he decided that the aforementioned beach art might be the perfect solution to all his artistic needs. Dougados finds inspiration within many fields, including all of the contemporary art, street expression and land art - however, Mother Nature is what influences Sam's creative decisions the most as he allows the landscape to dictate what he depicts. Logically, he was always attracted to the artworks with strong ephemeral notes as well.
The crown of Sam Dougados' varied work is his beach art that has truly become the trademark of this French artist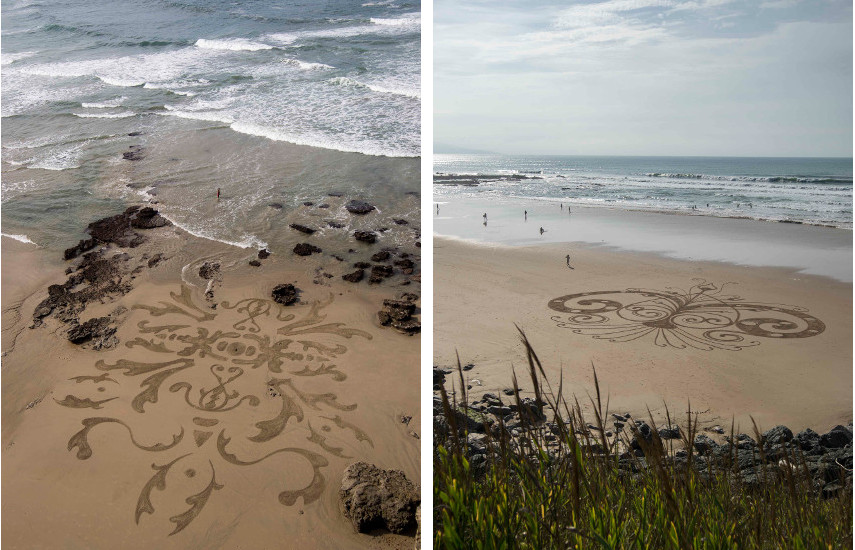 The Fleeting Beauty of His Beach Art
Sam's focal point is his beach art and the photos that come to life after he completes a seaside piece. Unlike many of his similar-minded colleagues, Dougados prefers to improvise a bit during the process of making his pieces, a feature that is somewhat due to the very changing canvas upon which he creates. These works are usually geometric shapes, often very symmetrical, but Sam has been known to author many land graffiti with lettering and calligraphy. The author explains his art with the following words: My work is characterized by geometry and poetry that makes us stop and reflect on the magic of the moment, our relationship with nature and the very essence of our beings. Photographing the finished examples of beach art is a huge part of what Sam Dougados does - by using different aspects of photography, the artist gives a specific atmosphere to the work, a more poetical and personal reading to the piece. His work has evolved quite a bit over the years, almost as if it was developing alongside its author who was maturing as a person and getting better as a visual artist. His ultimate goal has become rather simple, yet quite noble and pure: Open your eyes to your surrounding, be aware of its natural beauty, its fragility and so be aware of yourself. This French author continues to produce interesting installation and sculpture artworks as well as the varied channeling of his talent characteristic to his early age never truly left him.
Here's a video showing Sam Dougados' process of creating his ephemeral art in all its beauty and grace
The Driving Force of Contemporary Art
We can't overstate just how crucial these kinds of original artworks like as the ones of Sam Dougados are to the modern scene. When the entirety of art history is analyzed, it becomes obvious that the major conceptual and visual breakthroughs were made by those who were not afraid to cross the line, risk and experiment - precisely the things Sam has in his creative arsenal. Additionally, the charming nature of his art is what makes it feel so pure and enlightening on every conceptual level. His art is an absolute celebration of life, nature and simple beauty surrounding us.
Sam Dougados lives and works in Biarritz, France.
Featured image: Sam Dougados - Olo Naima Star
All images courtesy of the artist