Sam Francis was an American abstract painter who enjoyed exploring creative processes with an unstoppable driving force. He is known as one of the twentieth century's most successful post-World War II abstract expressionists. He has created thousands of paintings as well as works on paper, prints, monotypes and even sculptures, which brought him a strong, long-lasting international reputation. His pieces can found in major museum collections and institutions worldwide. Francis is considered as one of the best interpreters of color and light and his work holds references not only to abstract expressionism but also to color field painting, French impressionism and Chinese and Japanese painting.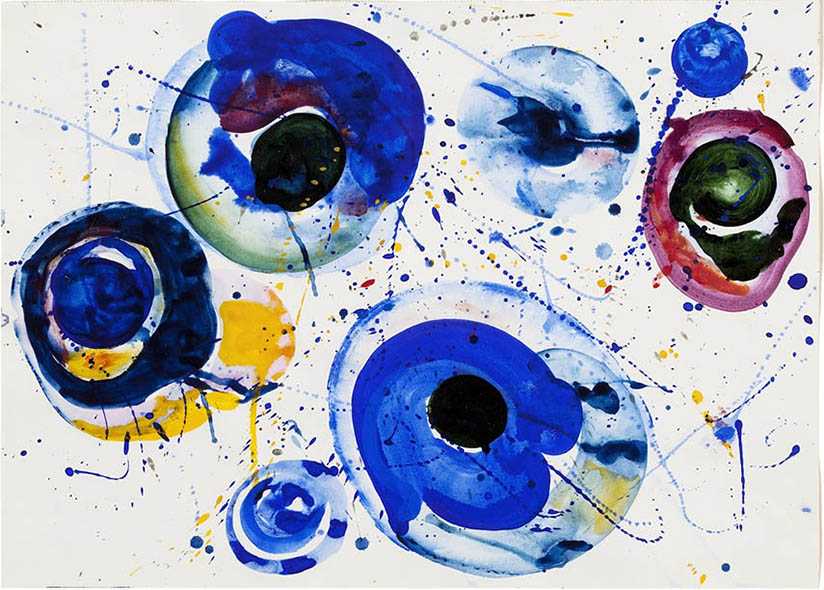 Personal Life and Education
Sam Francis was born in San Mateo in California in the early 20s. As a child, he was initially interested in music and his love for visual arts hasn't developed until his later years. Generally speaking, Francis was a very curious young man interested not only in visual arts, but also in botany, medicine, and psychology. However, before obtaining his BA and MA degrees in natural sciences, Francis has served in the United States Air Force, but eventually he got injured during test flights. It wasn't until the 1950s that Francis has graduated from the University of California, Berkeley. After the graduation, he has moved to Paris and quickly earned the reputation of the most promising American painter in Paris. This period was a transformative era of his career. He was exploring the painters of the great masters – for example, he immersed himself deeply in a study of Monet's Water Lilies. In the next four decades, Francis has traveled lots and maintained a few studios - in Bern, Tokyo, Mexico City and his native California.
During his frequent travels, he was exposed to many styles, artistic techniques and cultural influences, which has speeded up his own development. Francis was known to possess a lyrical and gestural abilities which enabled him to capture, in a very personalized way, brilliance, energy and striking power of colors. His paintings underline his love of literature, music, and science and his emotions had a surprisingly wide range. His interest in the creative processes was synergistic – he aimed at addressing not only artistic issues, but also technology, psychology, science, and medicine through his projects. He was a pioneer investor when it comes to non-renewable energy sources and cures for AIDS. Around the end of his life, Francis was suffering from prostate cancer and he couldn't neither paint nor do any editing with his right hand after an injury. However, using the last bits of energy, he has completed an amazing series of 150 small paintings before he died in Santa Monica. He was buried in Olema, in Marin County of California.
After the graduation, Francis has moved to Paris and quickly earned the reputation of the most promising American painter in the world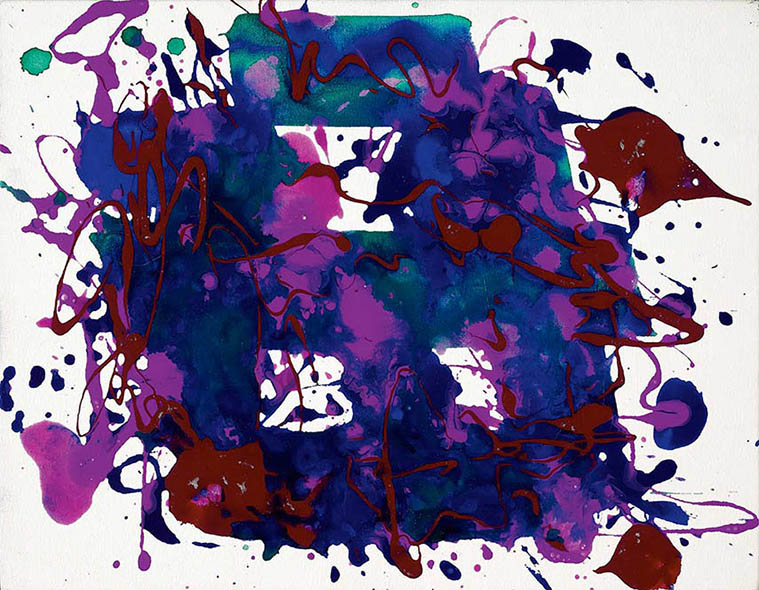 Francis' Career and Contents of his Artworks
Initially, Francis was influenced by the works of abstract expressionists, such as Mark Rothko, and Clyfford Still. However, his influences got changed later and he became associated with the second generation of abstract expressionists, whose main representatives were Joan Mitchell and Helen Frankenthaler. This second generation was notably interested in the expressive use of color.Between 1950 and 1958, Francis was spending his time between the south of France, Tokyo, Mexico City, Bern, and the United States and he picked up various artistic influences from these cities and countries. His development was mostly affected by his exposure to French modern painting and Zen Buddhism in Japan. His works from the 1950s went through an exciting transformation consisting of several stages. Everything began with monochromatic abstractions and it was followed by lively colored murals and paintings that feature large areas of negative space. After his 1953 painting Big Red was featured in the 1956 exhibition Twelve Artists at MOMA in New York, Francis started to gain an international recognition. He painted large murals for the Kunsthalle in Basel in 1956 and for the Chase Manhattan Bank in 1959. Following this success, in the early 60s, he created a few series of works, including his famous Blue Balls series. These paintings consisting of predominantly round forms and drips and even though the work is entirely abstract, it referenced the pain that artist suffered in 1961 due to his renal tuberculosis. Next stage in his career was Fresh Air series from the early 70s. These pieces were created by adding drips and splatters of color to wet paints applied with a roller. Until 1974, most of Francis' paintings had a formal grid or matrix made up of crossing pieces of color. Some of these grid-works were really large, up to twenty feet long. This matrix structure has gradually disappeared from Francis' work after the 1980s. In addition to dedication to canvas-based works, Francis was also known as a printmaker who made numerous etchings, lithographs, and monotypes. In 1984, he has founded The Lapis Press group, with the objective to make unusual texts in visually appealing formats. This means that the versatile artist was interested even in graphic design and typography.
Francis was influenced by the works and views of abstract expressionists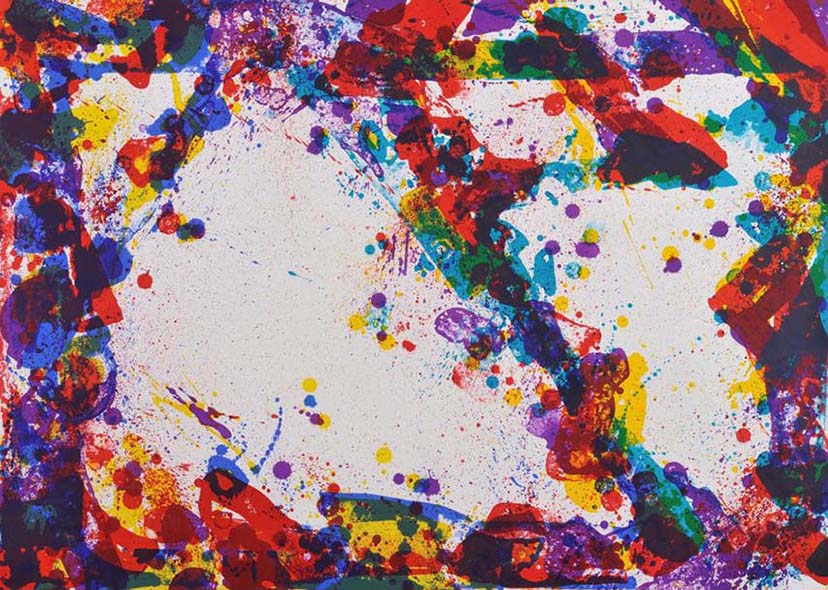 Three-Dimensional Artworks
Francis has also produced a number of sculptures and sculpture drawings. Many of these drawings were made in Japan and inspired by simple classical forms. They combine rings and cones, which rest on squares and rectangular forms or float on the paper, seemingly weightless. These sculpture drawings express a certain degree of dynamics, because of the way how Francis has arranged them on the white paper. In 1966, these works were exhibited in Tokyo at the Minami Gallery and a year later at the San Francisco Museum. The three-dimensional works that Francis started making in Japan actually stayed with him after the sixties as well. In 1979, Francis decided to finally cast some of his drawings, to convert them into three-dimensional works. the sculpture. The geometric forms of his sculptures seem very dynamic and connected to each other. The open spaces he often uses, inspired by the teachings of Zen Buddhism, create a clean energy which is emphasized by the chromed steel and its light-reflecting properties.
The three-dimensional works that Francis started making in Japan actually stayed with him after the sixties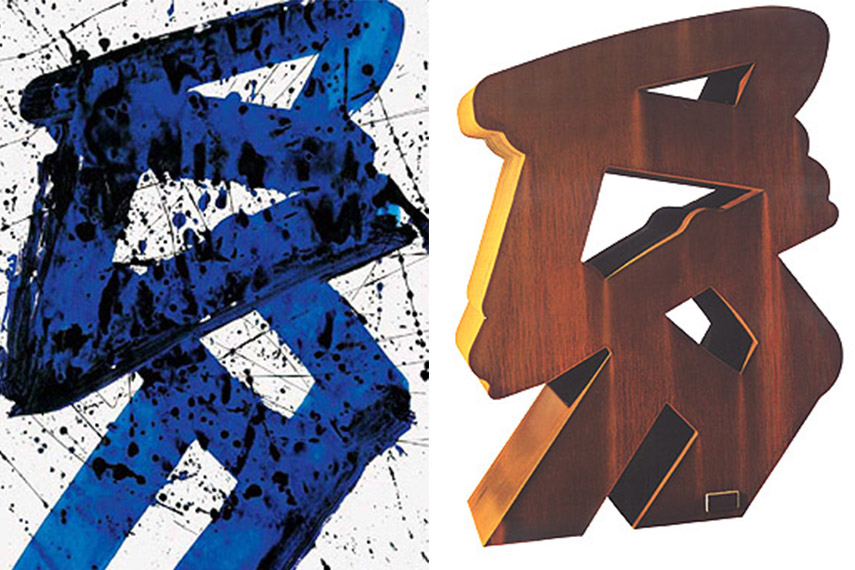 International Collections, Exhibitions, and Auctions
Because Francis has worked and exhibited in the United States, Europe, and Asia, he is considered as one of the most prominent international post-war painters. His work was most often exhibited in Europe and Japan. In 1991, he was elected as an Associate Member of the National Academy of Design. During his lifetime, Francis' work was featured in 113 solo exhibitions in various museums and galleries, with the additional 90 solo exhibits after 1994, when he died.His paintings can be seen in the most eminent international museum collections, such as Metropolitan Museum and MOMA in New York, Kunstmuseum in Basel, Switzerland, Idemitsu Museum of Arts in Tokyo, and the Centre Pompidou. His work is continuously popular and deemed extremely valuable at auctions. For instance, in 2010 his Middle Blue was sold at auction for $6,354,500, which was a record for the artist. Later on, in 2013 his Symphony in Blue was sold at Sotheby's for $1,145,000 and finally, in 2016, his Summer #1, was sold for $11,842,000, which has established a world record for the artist.
Middle Blue was sold at auction for $6,354,500, which was a world record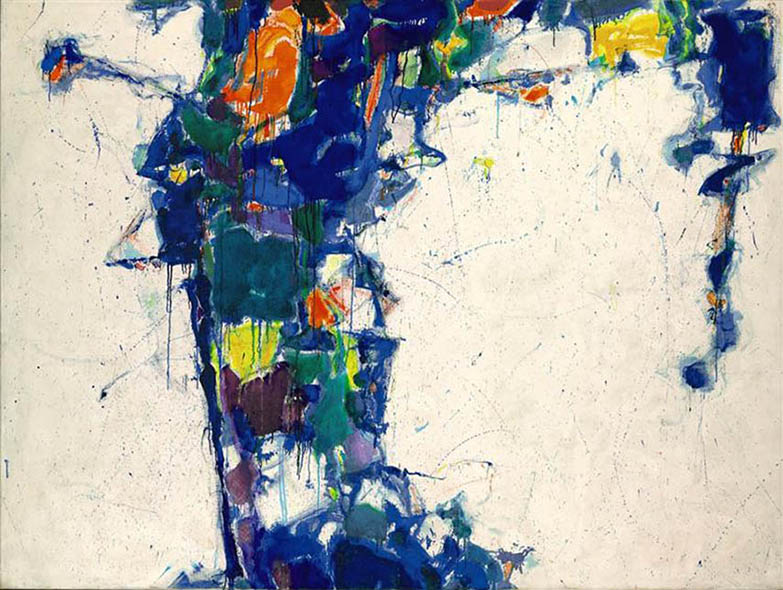 Foundation and Documentary Related to Sam Francis
Sam Francis Foundation was founded soon after the artist's death in 1994. The mission of this foundation is to research, document and protect the creative legacy of the artist and also to promote his uniquely valuable works through many channels, such as education, online sources and social networks.The foundation has recently published, in collaboration with the University of California Press, a Catalogue Raisonne and Panel Paintings, a 1946 – 1994 catalog of Francis' works, which consists of a printed book and 2 DVDs. The whole package also includes photos, writings, video and films about Francis' work. Just like Francis believed that his life was a series of adventures and challenges, the Sam Francis Foundation wants to expand and promote his sense of wonder and his freedom to explore the world through the artistic instincts. In 2010, artist and filmmaker Jeffrey Perkins released the documentary called The Painter Sam Francis. This valuable documentary, filmed between the late 60s and the early 90s, brings together interviews with friends, family, and professional partners of Francis.
Filmmaker Jeffrey Perkins made the video documentary called The Painter Sam Francis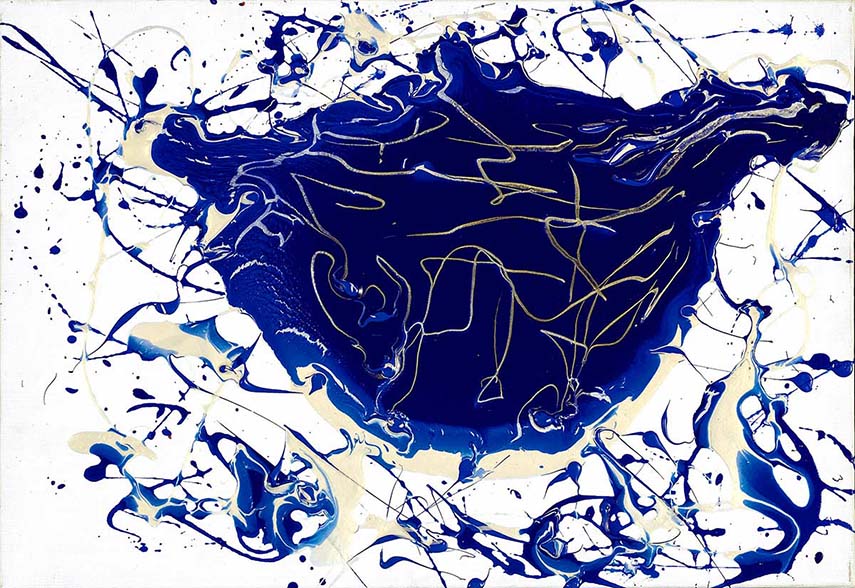 Message of a Modern Renaissance Man
The main elements and the very heart of Francis' work have always been light and space. This is not an innovative element in the world of painting - what is unique in the oeuvre of Sam Francis is the way he translated the everlasting play of light and space not only into the regular painterly works but also into alternative three-dimensional pieces. Francis' paintings are valued historically for their one of a kind aesthetic vision, but at the same time, his curious mind and spirit have won him an amazing legacy of a innovative renaissance man.
The artist is represented by Galerie Thalberg Zurich, Kunzt.gallery, Puccio Fine Art, Rosenbaum Contemporary Bal Harbour, Rosenbaum Contemporary Boca Raton, Jane Kahan Gallery New York and Woodward Gallery New York.
Sam Francis lived and worked between the United States, France, and Japan.
Featured image: Sam Francis' Portrait - Courtesy of Sam Francis Foundation